This website uses cookies to ensure you get the best experience while browsing it. By clicking 'Got It' you're accepting these terms.
Changing the Climate in Our Schools
Apr. 19, 2012 01:01PM EST
Climate
Maybe you've heard. We are facing a climate crisis that threatens life on our planet. Climate scientists are unequivocal: We are changing the world in deep, measurable, dangerous ways—and the pace of this change will accelerate dramatically in the decades to come.
Then again, if you've been a middle school or high school student recently, you may not know this.
That's because the gap between our climate emergency and the attention paid to climate change in the school curriculum is immense. Individual teachers around the country are doing outstanding work, but the educational establishment is not. Look at our textbooks. The widely used Pearson/Prentice Hall text, Physical Science: Concepts in Action, waits until page 782 to tell high school students about climate change, but then only in four oh-by-the-way paragraphs. A photo of a bustling city includes the caption: "Carbon dioxide emissions from motor vehicles, power plants, and other sources may contribute to global warming." Or they may not, the book seems to suggest.
IAT's Coordinated Science: Physical, Earth and Space Science devotes several pages late in the book to climate change, and concludes with this doubt-soaked passage:
Some people take the position that the increase in carbon dioxide should be reversed. They believe this is necessary even though the size of the contribution to global warming is not certain. It is their belief that the consequences would be very difficult to handle. Other people take a different position. They consider that it would be unwise to disrupt the world's present economy. They consider the future danger to be questionable. The big problem is that no one is certain that rapid global warming will take place. If it does, it may be too late to do anything about it!
The danger of climate change as "questionable"? ExxonMobil itself could not have produced a more skeptical approach.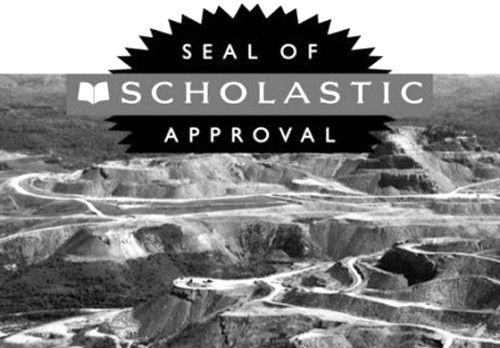 These textbooks are not mere egregious outliers; they are typical of commercially produced science and social studies teaching materials. In fact, a partnership between the American Coal Foundation and Scholastic to create a propagandistic 4th grade curriculum was ended only last year, when educators and environmentalists exposed the lessons' absurd pro-industry biases. Scholastic's curriculum, The United States of Energy, was distributed free to tens of thousands of elementary teachers. It showed gleaming piles of coal, along with many of its alleged benefits. Students didn't learn of a single problem, including coal's huge contribution to climate change.
"...the enormity of the climate crisis demands that educators, scientists, environmental activists, parents, and students join together to pull down the barriers between disciplines, and to rethink the curriculum. The cost of continuing with business as usual is too steep."
But as state legislatures get into the business of writing school curricula, things may go from awful to worse. Take Tennessee. It just became the fourth state—following Louisiana, Texas and South Dakota—to pass a law that requires global warming to be taught as one of a number of "scientific controversies."
The fact that Tennessee is home of the infamous 1925 Scopes Monkey Trial makes the new law ironic, but not funny. As the American Association for the Advancement of Science explains, "Asserting that there are significant scientific controversies about the overall nature of these concepts when there are none will only confuse students, not enlighten them."
If you happen to be a member of the one percent that owns a coal company, oil wells or a pipeline, young people's confusion is a good thing. For the rest of humanity, the passivity generated by this confusion is tragic.
Of course, educators cannot simply blame the lack of climate education on greedy corporations and the legislators they buy. In high schools, too often teachers regard the walls between disciplines as fixed and legitimate. Most social studies teachers thus far seem willing to leave discussion of carbon dioxide, the mechanics of the greenhouse effect, and "feedback loops" to the science department. And science teachers, overwhelmed by the requirements of their own discipline, are reluctant to trespass into the social causes and consequences of climate change. Teachers of other disciplines—drama, language arts, math—may wonder about the relevance of the climate for their subjects. And elementary teachers may think that climate change is too depressing or too complicated for their children.
But the enormity of the climate crisis demands that educators, scientists, environmental activists, parents and students join together to pull down the barriers between disciplines, and to rethink the curriculum. The cost of continuing with business as usual is too steep.
The good news is that addressing this crisis with the urgency that it deserves offers the possibility of revitalizing schools as young people develop the consciousness and commitment that the earth desperately needs.
And this work needn't be grim, as some educators have already discovered. For instance, a workgroup of teachers in Portland, Ore.,wrote a role-play on the impact of climate change on indigenous peoples throughout the world—from island nations like Kiribati to the Yup'ik of Alaska—in which students assume the personas of indigenous activists and propose global solutions.
And of course there's always straight-up physics and chemistry—understanding the mechanics of climate change is classic science education.
A curricular full-court press on the climate offers a compelling renunciation of the numbing test-preparation that passes for education in so many schools these days. As Rethinking Schools editors wrote recently, "This endeavor demands that young people exercise their utopian imaginations to consider alternatives of all kinds. And it invites them to 'talk back' to those interests that promote and benefit from endless consumption—including the publishers of their own textbooks."
This is our chance to develop a generation for whom climate awareness is as natural as logging onto Facebook.
EcoWatch Daily Newsletter
During the summer, the Arctic tundra is usually a thriving habitat for mammals such as the Arctic fox. Education Images / Universal Images Group via Getty Images
Reports of extreme snowfall in the Arctic might seem encouraging, given that the region is rapidly warming due to human-driven climate change. According to a new study, however, the snow could actually pose a major threat to the normal reproductive cycles of Arctic wildlife.
A fracking well looms over a residential area of Liberty, Colorado on Aug. 19.
WildEarth Guardians / Flickr
Pope Francis flanked by representatives of the Amazon Rainforest's ethnic groups and catholic prelates march in procession during the opening of the Special Assembly of the Synod of Bishops for the Pan-Amazon Region at The Vatican on Oct. 07 in Vatican City, Vatican. Alessandra Benedetti / Corbis News / Getty Images
The Catholic Church "hears the cry" of the Amazon and its peoples. That's the message Pope Francis hopes to send at the Synod of the Amazon, a three-week meeting at the Vatican that ends Oct. 27.
The crowd appears to attack a protestor in a video shared on Twitter by ITV journalist Mahatir Pasha.
VOA News /
Youtube screenshot
Some London commuters had a violent reaction Thursday morning when Extinction Rebellion protestors attempted to disrupt train service during rush hour.
Some fruit drinks may appear to be healthier, but many can have high levels of added sugars. d3sign / Moment / Getty Images
By Kristen Fischer
Though the science has shown sugary drinks are not healthy for children, fruit drinks and similar beverages accounted for more than half of all children's drink sales in 2018, according to a new report.

Donald Trump attends the opening of Red Tiger Golf Course at Trump National Doral on Jan. 12, 2015 in Doral, Florida. Johnny Louis / FilmMagic
Acting White House Chief of Staff Mick Mulvaney made two controversial announcements about the 2020 Group of Seven (G7) summit: it will be hosted at one of President Donald Trump's golf resorts in Miami and it won't feature any discussion of the climate crisis.
Farms with just one or a handful of different crops encourage fewer species of pollinating and pest-controlling insects to linger, ultimately winnowing away crop yields, according to a new study.
Up to half of the detrimental impacts of the "landscape simplification" that monocropping entails come as a result of a diminished mix of ecosystem service-providing insects, a team of scientists reported Oct. 16 in the journal Science Advances.
Monocrop palm oil plantation Honduras.
​SHARE Foundation / Flickr / CC BY-NC 2.0​
"Our study shows that biodiversity is essential to ensure the provision of ecosystem services and to maintain a high and stable agricultural production," Matteo Dainese, the study's lead author and a biologist at Eurac Research in Bolzano, Italy, said in a statement.

It stands to reason that, with declines in the sheer numbers of insects that ferry pollen from plant to plant and keep crop-eating pests under control, these services will wane as well. But until now, it hasn't been clear how monocultures affect the number and mix of these species or how crop yields might change as a result.
Aiming to solve these questions, Dainese and his colleagues pulled together data from 89 studies cutting across a variety of landscapes, from the tropics of Asia and Africa to the higher latitudes of northern Europe. They tabulated the number of pollinating and pest-controlling insects at these sites — both the absolute number of individuals and the number of species — along with an assessment of the ecosystem services the insects provided.
In almost all of the studies they looked at, the team found that a more diverse pool of these species translated into more pollination and greater pest control. They also showed that simplified landscapes supported fewer species of service-providing insects, which ultimately led to lower crop yields.
The researchers also looked at a third measure of the makeup of insect populations — what they called "evenness." In natural ecosystems, a handful of dominant species with many more individuals typically live alongside a higher number of rarer species. The team found as landscapes became less diverse, dominant species numbers dwindled and rare species gained ground. This resulting, more equitable mix led to less pollination (though it didn't end up affecting pest control).
"Our study provides strong empirical support for the potential benefits of new pathways to sustainable agriculture that aim to reconcile the protection of biodiversity and the production of food for increasing human populations," Ingolf Steffan-Dewenter, one of the study's authors and an animal ecologist at the University of Würzburg in Germany, said in the statement.
The scientists figure that the richness of pollinator species explains around a third of the harmful impacts of less diverse landscapes, while the richness of pest-controlling species accounts for about half of the same measure. In their view, the results of their research point to the need to protect biodiversity on and around crops in an uncertain future.
"Under future conditions with ongoing global change and more frequent extreme climate events, the value of farmland biodiversity ensuring resilience against environmental disturbances will become even more important," Steffan-Dewenter said.
Reposted with permission from our media associate Mongabay.
From Your Site Articles
Related Articles Around the Web
View of an Ivorian cleared forest at the edge of the 35.000 hectares Peko Mont National Park on Oct. 8, 2016. The Mont Péko National Park is located in the west of Ivory Coast where the forest officers fight with illegal immigrants to protect an exceptional flora and fauna, espacially dwarf elephants. SIA KAMBOU / AFP / Getty Images
Ivory Coast's rainforests have been decimated by cocoa production and what is left is put in peril by a new law that will remove legal protections for thousands of square miles of forests, according to The Guardian.