This website uses cookies to ensure you get the best experience while browsing it. By clicking 'Got It' you're accepting these terms.
Certified Naturally Grown: A New Way to Identify Pesticide-Free, Non-GMO Food
Mar. 20, 2015 07:37AM EST
Food
Eco-conscious shoppers now have an alternative to organic food that has been certified by the U.S. Department of Agriculture (USDA) as Certified Naturally Grown (CNG). The equally pesticide-free method of farming is being used by a growing number of small farmers who cannot afford the expense of getting an organic certification from the USDA.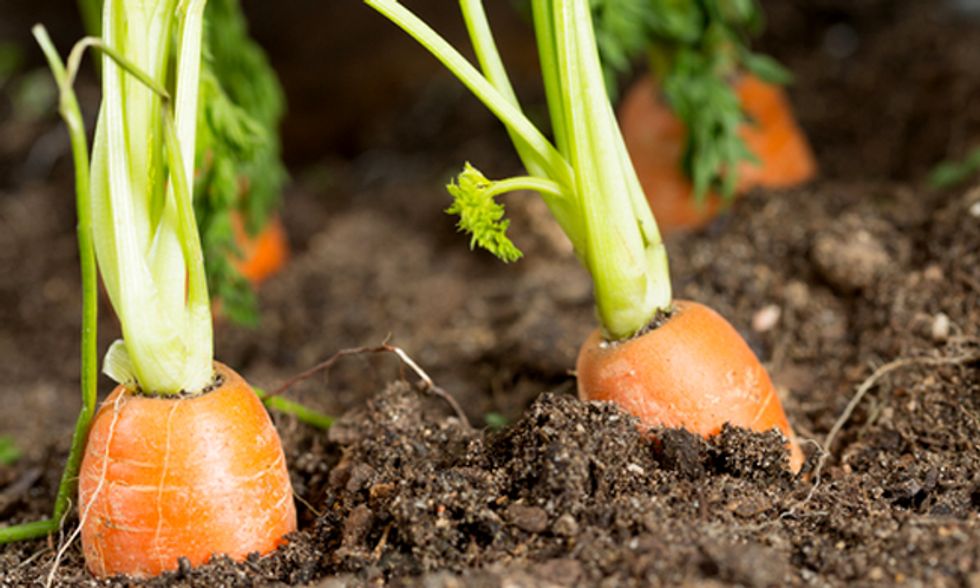 "Certified Naturally Grown is like the USDA's National Organic Program in that our certified producers must follow similar standards, farm without the use of synthetic chemical inputs or GMOs, and farm to support biological diversity and ecological balance," says Alice Varon, CNG executive director. Photo credit: Shutterstock
Naturally grown farming, considered to be the grassroots alternative to certified organic agriculture, requires a national certification by the CNG. The CNG conducts rigorous oversight to assure that all food labeled Certified Naturally Grown is grown without the use of synthetic chemicals or GMOs.
"Certified Naturally Grown is like the USDA's National Organic Program in that our certified producers must follow similar standards, farm without the use of synthetic chemical inputs or GMOs, and farm to support biological diversity and ecological balance," Alice Varon, CNG executive director, told Mother Earth News.
Some benefits of the CNG certification include the facts that it costs less and takes less time to get compared to the USDA's certified organic program. The CNG's certification and inspection documentation is also available online, thus simplifying the paperwork process for participating farms.
"The cost of the new USDA program—both in terms of money and paperwork requirements—is too much for many small farmers to afford," according to the CNG website. "This is even more true for farmers that grow a wide range of crops all at once, typical of the diversified family farms we serve, but not common among the large mono-crop farms typical of agribusiness operations. This is a shame, because growing many different crops at once is a safer and more ecologically sustainable practice. The soil is worked in different ways, and disease and pest problems are significantly reduced."
There are currently more than 700 CNG farms and apiaries in North America.
Awareness is growing among the public regarding the importance of eating organic, naturally grown food. However, many people may not realize the sheer quantity of toxic pesticides found in conventionally-grown produce.
In fact, a recent study conducted by scientists at the University of Washington School of Public Health and published in Environmental Health Perspectives shows just how much pesticides conventional produce contains. The government-funded report looked at individuals who ate similar amounts of fruits and vegetables, and found that those who reported eating organic produce had significantly lower levels of organophosphate (OP) pesticides in their bodies compared with people who ate conventionally-grown produce.
"For most Americans, diet is the primary source of OP pesticide exposure," said lead author Dr. Cynthia Curl, who conducted the research while a PhD student at the School of Public Health's Department of Environmental and Occupational Health Sciences. Dr. Curl is now an assistant professor at Boise State University's School of Allied Health Sciences. "The study suggests that by eating organically grown versions of those foods high in pesticide residues, we can make a measurable difference in the levels of pesticides in our bodies."
Organic or naturally grown food not only contributes to healthier people, but it can help reverse climate change. According to the white paper, Regenerative Organic Agriculture and Climate Change: A Down-to-Earth Solution to Global Warming, "We could sequester more than 100% of current annual CO2 emissions with a switch to widely available and inexpensive organic management practices, which we term 'regenerative organic agriculture.'"
YOU MAY ALSO LIKE
10 Reasons Consumers Buy Organic
How Organic Farming Can Reduce Climate Change
EcoWatch Daily Newsletter
The Opera House is seen with smoke haze which enveloped Sydney Harbor on Dec. 10 in Sydney, Australia. Smoke haze hangs over the city as the New South Wales fire danger risk is raised from 'very high' to 'severe'. James D. Morgan / Getty Images
The brushfires raging through New South Wales have shrouded Australia's largest city in a blanket of smoke that pushed the air quality index 12 times worse than the hazardous threshold, according to the Australia Broadcast Corporation (ABC).
People walk across the bridge near Little Raven Court in downtown Denver. Younger Americans increasingly prefer to live in walkable neighborhoods. Helen H. Richardson / The Denver Post via Getty Images
By David B. Goldstein
Energy efficiency is the cornerstone of any country's plan to fight the climate crisis. It is the cheapest option available, and one that as often as not comes along with other benefits, such as job creation, comfort and compatibility with other key solutions such as renewable energy. This has been recognized by the International Energy Agency (IEA) for at least a decade.
Activists from Extinction Rebellion New York City engaged in nonviolent direct action to confront climate change outside City Hall on April 17, 2019. Erik McGregor / Pacific Press / LightRocket via Getty Images
By Andrea Germanos

Over 500 groups on Monday rolled out an an action plan for the next president's first days of office to address the climate emergency and set the nation on a transformative path towards zero emissions and a just transition in their first days in office.

The Ladakh region of India, pictured above, is a part of the Himalayan mountain region of the upper Indus Valley which is the most vulnerable water tower, according to researchers. Suttipong Sutiratanachai / Moment / Getty Images
Jet stream triggered heat waves could threaten food production in several important breadbaskets, including central North America.
Carl Wycoff /
CC BY 2.0
Researchers have pinpointed a previously underexamined threat to global food production, and they warn it will only get worse as the climate crisis intensifies.