This website uses cookies to ensure you get the best experience while browsing it. By clicking 'Got It' you're accepting these terms.
Cereal Giant General Mills to Start Labeling GMOs Nationwide as Vermont Law Looms
Mar. 19, 2016 08:59AM EST
Food
General Mills has announced it will start labeling products with genetically modified (GMO) ingredients, becoming the second major food company to make the transition following Campbell Soup's decision last month.
The news comes as another blow to Big Food following the Senate's rejection of Sen. Pat Roberts' (R-Kan.) Safe and Accurate Food Labeling Act (SAFE) Wednesday. The bill, dubbed by opponents as the Denying Americans the Right to Know (DARK) Act, would have prevented states—namely Vermont—from requiring labeling of GMOs and stopped pending state laws that require labeling to go into effect.
Jeff Harmening, head of General Mills' U.S. retail operations, addressed the national GMO debacle in a letter and explained that since his cereal company will be forced to label GMOs in Vermont by July 1—which is when the state's labeling mandate takes effect—it should also extend GMO labeling to products sold across the nation.
He wrote in a letter, We need a national solution for GMO labeling, posted on the company website:
I have been eagerly awaiting a resolution of the GMO labeling debate in Washington and am disappointed that a national solution has still not been reached.
As the discussions continue in Washington, one thing is very clear: Vermont state law requires us to start labeling certain grocery store food packages that contain GMO ingredients or face significant fines.
We can't label our products for only one state without significantly driving up costs for our consumers and we simply will not do that.
The result: consumers all over the U.S. will soon begin seeing words legislated by the state of Vermont on the labels of many of their favorite General Mills products.
The Cheerios maker's announcement was praised by GMO labeling proponents. Scott Faber, the Environmental Working Group group's senior vice president of government affairs, said the decision reflects the sentiment of the majority of Americans who want to know if they're eating GMOs.
"Nine out of 10 Americans want the right to know whether their food contains GMOs—just like consumers in 64 other nations," Faber said. "Like General Mills, we hope Congress will craft a national, mandatory GMO labeling solution and welcome the opportunity to work with industry to find a solution that works for consumers and works for the food industry."
Gary Hirshberg, chairman of the Just Label It campaign and Stonyfield Farm, also praised General Mills for the move:
General Mills has shown real leadership by committing to provide consumers basic information about their food. More than 60,000 consumers thanked Campbells when they announced their commitment to greater transparency, and I am sure consumers will reward General Mills for trusting consumers to make their own choices. I applaud their leadership for recognizing that consumers simply want to know what's in their food and how it's grown.
Senators on both sides of this issue now need to realize that the market place is moving far faster than our legislators, and that the time has come to enact uniform mandatory legislation that makes it easy for consumers to see at a glance whether their foods contain GMOs. If large companies like General Mills and Campbells are accepting that this is what consumers want, then so should our political representatives.  It is now time to put this debate behind us and realize that the citizens have spoken.​
Besides Campbell Soup, a number of major American companies, such Ben & Jerry's, Chipotle and Whole Foods have either abandoned GMOs or require labeling. Coincidence or not, Campbell has also seen its stock price rise in after making its announcement to ditch GMOs.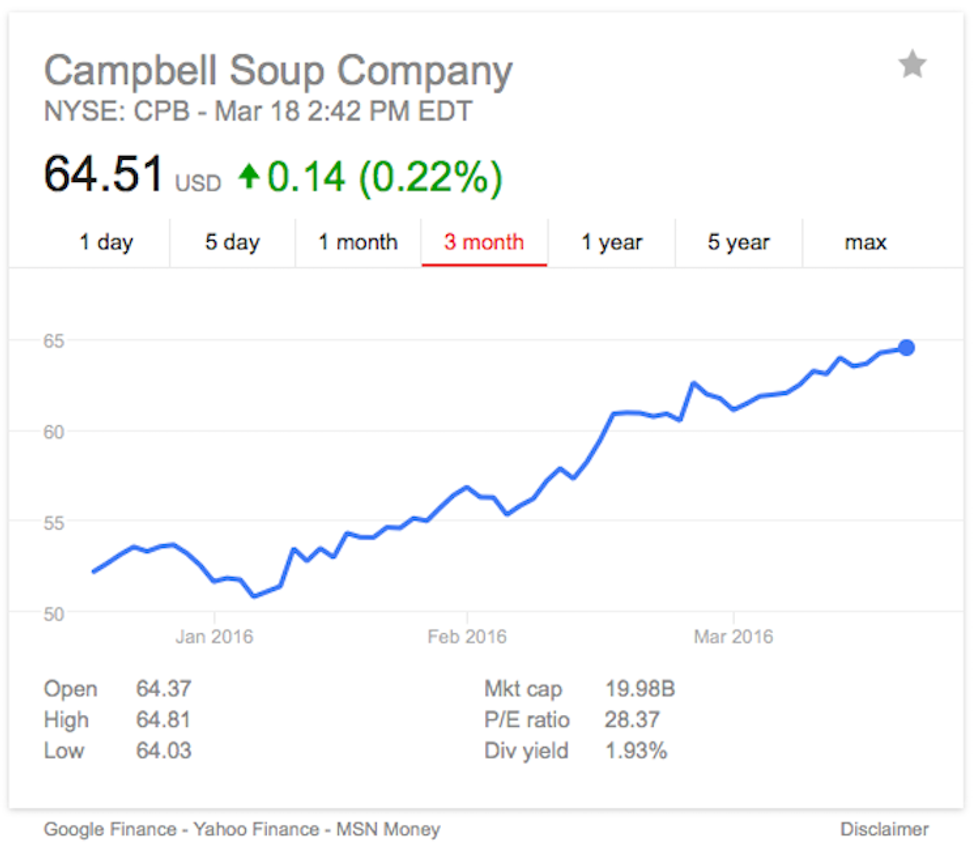 According to Green America's GMO Inside, General Mills' food products are "chock full of corn, soy and sugars—ingredients that are almost always genetically modified in the United States," including America's favorite cereal, Cheerios.
Harmening maintains that genetically engineered foods are safe for human consumption, saying in his letter:
"All sides of this debate, 20 years of research, and every major health and safety agency in the world agree that GMOs are not a health or safety concern," but adds that "at the same time, we know that some consumers are interested in knowing which products contain GMO ingredients."
The labeling of GMOs has been a contentious food fight in recent years. Food and beverage trade organizations such as the Grocery Manufacturers Association (GMA), which represents more than 300 food and beverage titans, argue that a 50-state patchwork of GMO labeling policies would be prohibitively costly.
However, as EcoWatch exclusively reported, despite the GMA slapping numerous lawsuits and spending millions in lobbying against mandatory labels at the state and federal level, an internal document indicates that GMA member companies are preparing a transition to labeling their GMO products, or at least in Vermont.
YOU MIGHT ALSO LIKE
Huge Victory: Senate Rejects the DARK Act
Big Food Found Guilty in Multimillion Dollar Cover Up in GMO Labeling Fight
The United States of Monsanto?
California Widow Sues Monsanto Alleging Roundup Caused Her Husband's Cancer
EcoWatch Daily Newsletter
U.S. President Donald Trump listens as Anthony Fauci, Director of the National Institute of Allergy and Infectious Diseases speaks in the Rose Garden for the daily coronavirus briefing at the White House on March 29 in Washington, DC. Tasos Katopodis / Getty Images
By Jake Johnson
Just over a month after proclaiming that the number of coronavirus cases in the U.S. would soon "be down to close to zero," President Donald Trump said during a press briefing on the White House lawn Sunday that limiting U.S. deaths from the pandemic to between 100,000 and 200,000 people would mean his administration and the country as a whole did "a very good job."
Dicamba is having a devastating impact in Arkansas and neighboring states. A farmer in Mississippi County, Arkansas looks at rows of soybean plants affected by dicamba. The Washington Post / Getty Images
Documents unearthed in a lawsuit brought by a Missouri farmer who claimed that Monsanto and German chemical maker BASF's dicamba herbicide ruined his peach orchard revealed that the two companies knew their new agricultural seed and chemical system would likely damage many U.S. farms, according to documents seen by The Guardian.
Washington State Governor Jay Inslee and other leaders speak to the press on March 28, 2020 in Seattle. Karen Ducey / Getty Images
A bushfire burns outside the Perth Cricket Stadium in Perth, Australia on Dec. 13, 2019. PETER PARKS / AFP via Getty Images

By Albert Van Dijk, Luigi Renzullo, Marta Yebra and Shoshana Rapley
2019 was the year Australians confronted the fact that a healthy environment is more than just a pretty waterfall in a national park; a nice extra we can do without. We do not survive without air to breathe, water to drink, soil to grow food and weather we can cope with.
By Fino Menezes
Everyone adores dolphins. Intelligent, inquisitive and playful, these special creatures have captivated humans since the dawn of time. But dolphins didn't get to where they are by accident — they needed to develop some pretty amazing superpowers to cope with their environment.