Celebrities Tell Millennials #GoVote
Young people are the demographic most passionate about protecting the environment and addressing climate change, perhaps because they're the one who will have to live with it the longest. The problem is they're also the least likely group to vote. That means that their voices and their concerns are often drowned out by the well-funded lobbying of fossil fuel interests.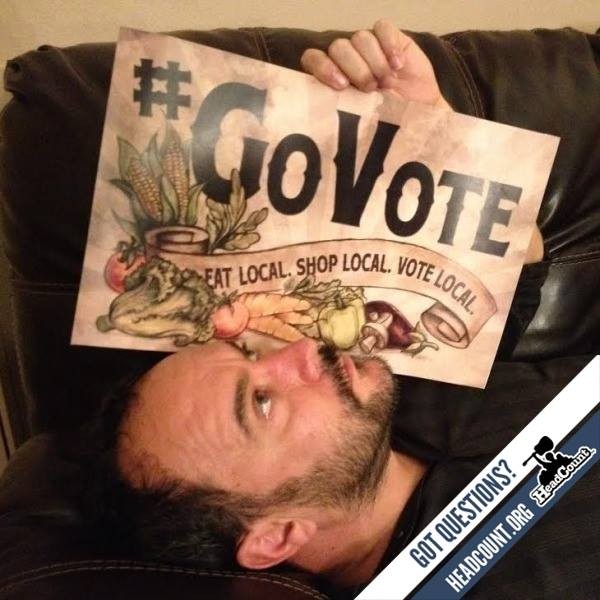 Now the nonpartisan group Headcount.org, which uses musicians and other celebrities with appeal to a younger audience to drive voter participation, has announced a massive Election Day social media push to get people to #GoVote. The organization hopes to reach the so-called "drop-off" voters who cast ballots only in presidential years, not realizing the significant impact of midterm elections.
And while Headcount.org doesn't endorse candidates or positions, more younger voters casting ballots is good news for the planet, likely leading to elected officials paying more attention to issues young people care about, like fracking and the Keystone XL pipeline. A poll from the University of Texas at Austin, released this week, found voters under 35 are significantly less likely than those over 65 to vote for candidates who favored building the Keystone XL or expanding offshore oil development and much more likely to vote for one who supported reducing carbon emissions, expanding incentives for renewables and decreasing coal use.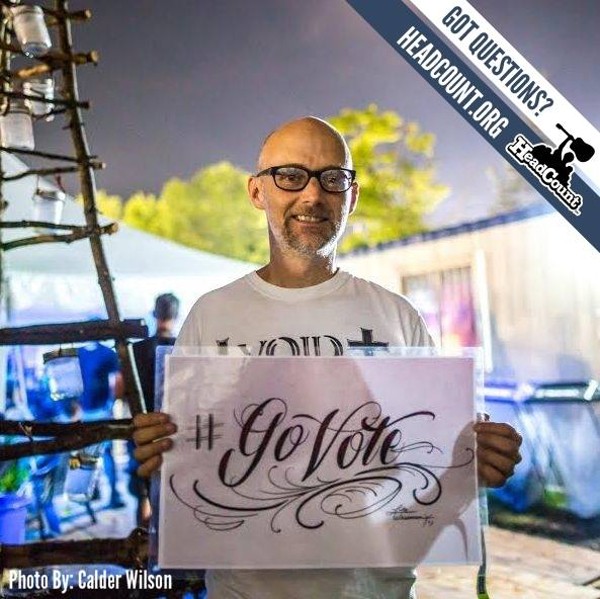 "The incumbent Congress is the least popular in history, so we can't leave it to the candidates alone to inspire people," said Marc Brownstein, HeadCount's co-founder and bass player in the Disco Biscuits. "We're trying to get the message across that being dissatisfied is a bad reason not to vote—it's the exact reason why participation is so important."
More than 300 entertainers have already signed up for the effort, promising to post photos of themselves to social media on Election Day, urging their fans to #GoVote. Among the celebrities who have taken photos of themselves holding artwork that says #GoVote are Dave Matthews, Linkin Park, RZA, Ms. Lauryn Hill, Fergie, Jason Mraz, Jack Johnson, Russell Simmons, T.I., Weird Al Yankovic, Stephen Colbert, Conan O'Brien, Sarah Silverman, Lewis Black, Andy Richter and George Lopez. To show they're not just interested in young voters, Crosby Stills and Nash, Quincy Jones, Mavis Staples, Chaka Khan, Ed Asner and all the living members of the Grateful Dead are participating too. Together these celebrities have more than 350 million followers on Facebook, Twitter and Instagram.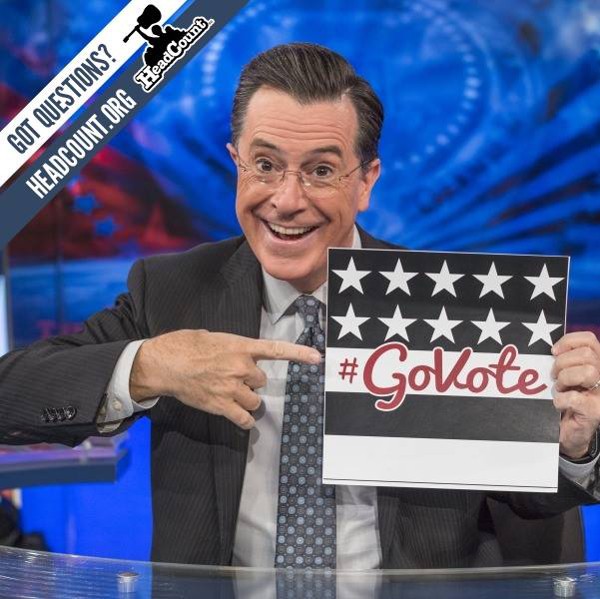 Each of the participants will tweet and post the photos on Election Day—Tuesday, Nov. 4—to create a media blitz that anyone using social media won't be able to miss. And each post on Twitter, Facebook, Instagram and Tumblr will include a link to a page where voters can find information about their polling place location, ID requirements and what's on their ballot. You can preview the photos here.
YOU MIGHT ALSO LIKE
How 'Fill Her Up' Buys Elections
5 Ways Midterm Elections Will Impact Renewable Energy and Climate
Glyphosate, the main ingredient in Monsanto's widely used herbicide Roundup, will be added July 7 to California's list of chemicals known to the state to cause cancer, according to a Reuters report Tuesday. This news comes after the company's unsuccessful attempt to block the listing in trial court and requests for stay were denied by a state appellate court and California's Supreme Court.
California's Office of Environmental Health Hazard Assessment (OEHHA) announced the designation on Monday under the Safe Drinking Water and Toxic Enforcement Act of 1986, or Proposition 65.
Keep reading...
Show less
www.facebook.com
Keep reading...
Show less
Researchers from the Marine Animal Response Society examine one of the dead right whales. Marine Animal Response Society
Canadian government officials and marine biologists are investigating the mysterious deaths of six North American right whales. The endangered animals all turned up dead between June 6 and June 23 in the Gulf of St. Lawrence, off Canada's southeastern coast.
North Atlantic right whales are the rarest of all large whale species and among the rarest of all marine mammal species, with only about 450 right whales in the North Atlantic.
Keep reading...
Show less
Scott Pruitt testifies during his Senate confirmation hearing for EPA administrator, January 2017.
The U.S. Environmental Protection Agency's (EPA) chief of staff pressured the leader of its Board of Scientific Counselors to change her congressional testimony to downplay the impact of the agency's mass dismissal of scientists from the board, the New York Times reports.
Keep reading...
Show less
By Jason Mark
Sequoiadendron giganteum. That's the scientific name for the giant sequoia: the mammoth trees found in California's Sierra Nevada that are the largest organisms on Earth, and among the longest-lived. Biologists estimate that about half of all sequoias live in Giant Sequoia National Monument, a 328,000-acre preserve in the Southern Sierra Nevada established by President Clinton in 2000.
Now that national monument is in jeopardy.
Keep reading...
Show less
By Andy Rowell
Donald Trump this week is launching an "energy week," pushing the argument that the U.S. will become a net exporter of oil and gas.
The president and his cronies are talking about a new era of "U.S. energy dominance," which could stretch for decades to come. However, no one believes the president anymore.
Keep reading...
Show less
UN
By Colleen Curry
The United Nations has designated 23 new sites around the world to its World Network of Biosphere reserves—stunning natural landscapes that balance environmental and human concerns and strive for sustainability.
The forests, beaches and waterways were added to the list this year at the International Coordinating Council of the Man and the Biosphere Programme meeting in Paris earlier this month.
Keep reading...
Show less
Jun. 26, 2017 01:48PM EST
www.elysee.fr
By Andy Rowell
There is a growing feeling within European capitals that a quiet, but deeply positive, revolution is happening under Emmanuel Macron in France.
Macron's opinion poll rating is high, especially boosted in how the young French president has reacted to Donald Trump on the international stage.
Keep reading...
Show less
Jun. 26, 2017 12:32PM EST
www.facebook.com
Keep reading...
Show less