Celebrities Help Launch Campaign to Pressure World Leaders to Act on Climate, Poverty and Inequality
Jan. 15, 2015 02:30PM EST
Climate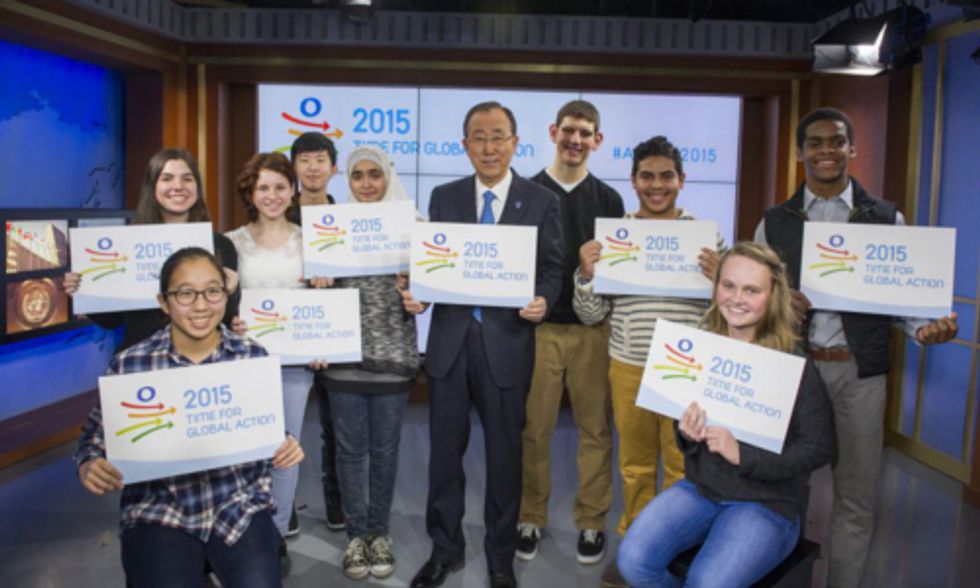 More than 1,000 organizations in 50 countries—and a lengthy roster of celebrities and environmental activists—launched a new campaign today called Action/2015 with events around the world. Their goal: to pressure world leaders to act decisively on climate change, poverty and inequality heading into two key global summits later in the year and to make sure that the issues stay at the forefront of public awareness all year.
The long list of high-profile supporters includes musicians Bono, Annie Lennox and Sting; actors Matt Damon, Ben Affleck, Hugh Jackman and Mia Farrow; entrepreneurs Bill and Melinda Gates, Richard Branson, Ted Turner and Wikipedia founder Jimmy Wales; and Nobel Peace Prize Laureates Desmond Tutu, Jody Williams and Malala Yousafzai.
"People globally want an end to injustice, poverty and illiteracy," said Malala in announcing the campaign. "Our world is interconnected and youth are ready and mobilized more than ever to see real change take place. Together, we are demanding our leaders take action in 2015 and we must all do our part."
2015 can and must be the time for global action - Ban Ki-moon.Use #action2015 to get involved. http://t.co/uusMGn7OPw pic.twitter.com/D2N110nzLO

— We Can End Poverty (@WeCanEndPoverty) January 15, 2015
The two summits that Action/2015 is looking to influence are the September summit in New York to replace the Millennium Development Goals, which address poverty, with the Sustainable Development Goals to address poverty, inequality and environmental destruction, and the December climate change summit in Paris.
"2015 is a critical year for people and planet," said the campaign. "Two crucial UN summits towards the end of the year will offer the opportunity to bring about impactful change. So this is the year we need to let world leaders know that we're watching them and to tell them exactly what we want them to do."
The campaign is calling for four specific goals to be addressed: an end to all forms of poverty; tackling inequality and discrimination to ensure fundamental rights; an accelerated transition to 100 percent renewable energy; and "a world where everyone can participate and hold their leaders accountable."
In the UK, some of the activists involved in Action/2015 met with Prime Minister David Cameron this week, according to The Guardian of London. The campaign was endorsed by Labour Party leader Ed Miliband, who said, "I know tackling climate change, global poverty and inequality are not as fashionable as they once were. But I also know they are more important than ever. For me, they are not luxury items in our programme for change. They are not part of a branding exercise. They go to the heart of my beliefs and the reason why I entered politics."
The @unfoundation are talking about #climate right now - join in! #action2015 pic.twitter.com/HfGonrnNgn — action/2015 (@action2015) January 15, 2015
A Filipino woman named Eva drew the connection between climate change, poverty and inequality vividly in her testimony at Action/2015's website.
"Natural disasters affect everything in our life: my grandchildren's education, my family's livelihood, and it destroys our home," she said. "We also lost our source of food, and every time the river overflows, we can't go to the centre to buy the essentials. My grandchildren are now terrified of storms. They saw how their house collapsed, and it was a horrifying experience for them. It's good that I was able to save them. I want the world leaders to stop them [the biggest polluters] ruining the environment so that ordinary people like us won't suffer. We have lost our livelihood and therefore we have lost our chance to eat. This has to stop."
"The world is off track for ending poverty, tackling inequality and avoiding dangerous climate change," says Action/2015. "But it doesn't need to be this way. We have the tools, knowledge and resources to fix some of our greatest challenges."
YOU MIGHT ALSO LIKE
World Leaders Say Addressing Climate Change Offers Unprecedented Opportunities for Economic Growth
Climate Justice at the Root of Food Justice
EcoWatch Daily Newsletter