This website uses cookies to ensure you get the best experience while browsing it. By clicking 'Got It' you're accepting these terms.


The best of EcoWatch, right in your inbox. Sign up for our email newsletter!
Celebrate Your Right to Choose Non GMOs
Oct. 10, 2013 08:18AM EST
Food
Kaye Spector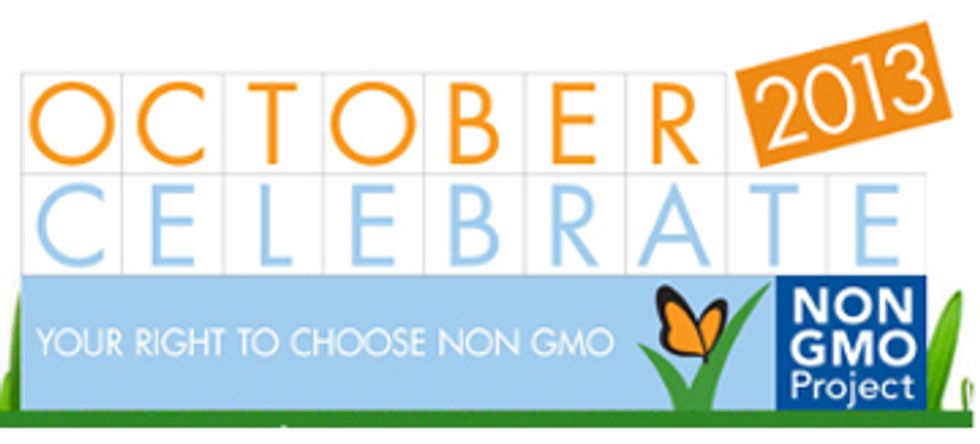 The Non-GMO Project is celebrating the third annual Non-GMO Month during October against a backdrop of rising consumer and manufacturer demand for non-GMO product labeling.
Demand for the label has gotten so high that the board overseeing the certification program recently decided to expand it. Sales of non-GMO labeled products have reached more than $3.5 billion in the three years since the launch of the label.
At the same time, U.S. retail sales of non-GMO foods and beverages are projected to increase at a compound annual growth rate of 12.9 percent in the next five years, Packaged Facts predicted in a recent report. Non-GMO sales could represent 30 percent of the U.S. market with a value of $264 billion in 2017, the report said. 
GMOS are plants or animals that have been genetically engineered with DNA from bacteria, viruses or other plants and animals. These experimental combinations of genes from different species cannot occur in nature or in traditional crossbreeding. In the U.S., GMOs are in up to 80 percent of conventionally processed food.
More than 80 percent of GMOs grown worldwide are engineered to tolerate herbicides. As a result, use of toxic herbicides like Roundup has increased 15 times since GMOs were introduced. GMO crops are also responsible for the emergence of super weeds and super bugs that can only be killed with more toxic poisons like 2,4-D (a major ingredient in Agent Orange). Scientists have linked these poisons to an often-fatal immune system cancer in farmers, among other adverse effects.
The long-term impact of GMOs are unknown, and they cannot be recalled once released into the environment.
The Non-GMO Project confers the labeling for non-GMO food and products. The group is North America's only third-party verification organization. 
The organization was formed in the absence of mandatory labeling by the government. But in 2013, 26 states proposed measures that would mandate clear labeling of genetically engineered ingredients on food packages. The hottest battle ground right now is in Washington state, where on Nov. 5, voters will decide on Proposition I-522, a citizen initiative that would mandate GMO labeling. The measure has pitted consumer and farmers' advocates against the multibillion-dollar agribusiness corporations.
Non-GMO Month was created to raise awareness about genetically modified organisms. Last year, more than 1,500 stores participated in Non-GMO Month in communities across the U.S. and Canada.
How to celebrate Non-GMO Month? Read up on the topic, choose food and products that are Non-GMO Verified or check out some events and activities.

EcoWatch Daily Newsletter
BLM drill seeders work to restore native grasses after wildfire on the Bowden Hills Wilderness Study Area in southeast Oregon, Dec. 14, 2018. Marcus Johnson / BLM / CC BY 2.0
By Tara Lohan
In 2017 the Thomas fire raged through 281,893 acres in Ventura and Santa Barbara counties, California, leaving in its wake a blackened expanse of land, burned vegetation, and more than 1,000 destroyed buildings.
Brogues Cozens-Mcneelance / EyeEm / Getty Images
Fruit juice is generally perceived as healthy and far superior to sugary soda.
Pexels
By Danielle Nierenberg and Katherine Walla
As the holiday season ramps up for many across the world, Food Tank is highlighting 15 children's books that will introduce young eaters, growers and innovators to the world of food and agriculture. Authors and organizations are working to show children the importance — and fun — of eating healthy, nutritious and delicious food, growing their own produce, and giving food to others in need.
Pixabay
Purple cabbage, also referred to as red cabbage, belongs to the Brassica genus of plants. This group includes nutrient-dense vegetables, such as broccoli, Brussels sprouts, and kale.
Pexels
By Lauren Wolahan
For the first time ever, the UN is building out a roadmap for curbing carbon pollution from agriculture. To take part in that process, a coalition of U.S. farmers traveled to the UN climate conference in Madrid, Spain this month to make the case for the role that large-scale farming operations, long criticized for their outsized emissions, can play in addressing climate change.