This website uses cookies to ensure you get the best experience while browsing it. By clicking 'Got It' you're accepting these terms.
CDC Reports U.S. Autism Rate Unchanged
Apr. 01, 2016 12:38PM EST
A new report released Thursday from the Centers for Disease Control and Prevention (CDC) finds the prevalence of autism spectrum disorder (ASD) largely unchanged from two years ago, at one in 68 children. Researchers at the Johns Hopkins Bloomberg School of Public Health contributed to the study, which showed boys were 4.5 times more likely to be identified with ASD than girls. The rate is one in 42 among boys and one in 189 among girls.
This is the sixth report by the CDC's Autism and Developmental Disabilities Monitoring Network (ADDM), which has used the same surveillance methods for more than a decade, a tracking system that provides estimates of the prevalence and characteristics of autism among 8-year-old children in 11 communities.
Here are the estimated prevalence rates of ASD in the U.S. reported by previous data:
one in 68 children in the 2014 report that looked at 2010 data

one in 88 children in the 2012 report that looked at 2008 data

one in 110 children in the 2009 report that looked at 2006 data

one in 150 children in the 2007 report that looked at 2000 and 2002 data
According to John Hopkins Bloomberg School of Public Health, researchers say it is too early to tell if the overall prevalence rate has stabilized because the numbers vary widely across ADDM communities. The school goes on to say that "the causes of autism are not completely understood; studies show that both environment and genetics may play a role. There is no known cure, and no treatment or intervention has been proven to reduce the prevalence of ASD."
Alison Singer, president of the Autism Science Foundation and mother of a daughter with autism, told CNN that this new report is not a sign everything is fine. "It points to the need for more research to understand nuances in data to be able to better serve all children diagnosed with autism," she said. The report suggests there are delays in acting on early concerns, said Rice.
Rice attributed the lack of early identification to a "capacity crisis." "There are not enough quality providers out there to provide those therapy services that are needed," she said. "I think a huge thing we need to do at the early age and across the life span of people with autism is ... identify and support individuals with autism."
Robert F. Kennedy, Jr., environmental lawyer and founder of The Mercury Project, finds the leveling off of the prevalence of autism to coincide with the decline of thimerosal in three childhood vaccines.
"Interestingly, this represents the first group of children that were not exposed to thimerosal through the HepB, HiB and DTaP infant vaccines," Kennedy said. "Also, uptake of the maternal flu vaccine was below 50 percent​. This is the first time essentially on record that autism rates haven't gone up since 1989."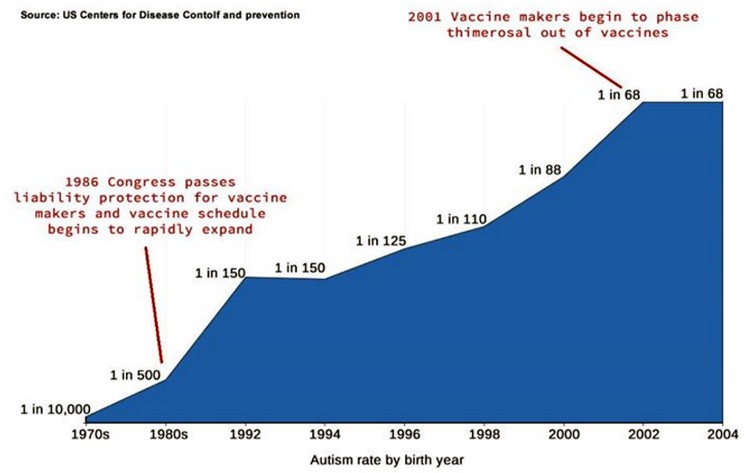 Brian Hooker, associate professor of biology at Simpson University, agrees. He told EcoWatch:
"I'm not surprised that the autism numbers started to stabilize between birth years 2002 and 2004. By 2004, all of the back stock of thimerosal containing HepB, DTaP and HiB vaccines (which were no longer manufactured after 2001) would have been removed from the shelves and these infants (reflected in the latest CDC numbers) did not receive thimerosal in any of their vaccines, with the exception of the flu shot which was administered maternally and at 6 and 7 months of age. Flu shot uptake maternally and in infants was fairly low at this time but has increased since 2004.
"In Denmark, when thimerosal was phased out of infant vaccines in 1992, rates of autism spectrum disorder prevalence slowly dropped over 33 percent over the next 10 years. Unfortunately, because of the thimerosal-containing maternal flu shot, I don't think we'll see this profound of a drop in the U.S."
Regardless of the reason why the results of the new CDC study show the rate of autism unchanged, the American Academy of Pediatrics recommends that all kids are screened for autism at ages 18 and 24 months.
YOU MIGHT ALSO LIKE
Groups Sue FDA Over Approval of Genetically Engineered Salmon
Monsanto's Glyphosate Found in California Wines, Even Wines Made With Organic Grapes
World's First Plastic Fishing Company Wants to Rid the Oceans of Plastic Pollution
Stanford Scientists Find Fracking Linked to Groundwater Contamination in Pavillion, Wyoming
EcoWatch Daily Newsletter
MartinPrescott / iStock / Getty Images
On Wednesday the U.S. Environmental Protection Agency (EPA) announced the first 20 chemicals it plans to prioritize as "high priority" for assessment under the Toxic Substances Control Act. Given the EPA's record of malfeasance on chemicals policy over the past two years, it is clear that these are chemicals that EPA is prioritizing to ensure that they are not properly evaluated or regulated.
Strawberries top the Environmental Working Group's "Dirty Dozen" list of U.S. produce most contaminated with pesticides. DANIEL LEAL-OLIVAS / AFP / Getty Images
Which conventionally-grown fruits and vegetables in the U.S. are most contaminated with pesticides? That's the question that the Environmental Working Group answers every year with its "Dirty Dozen" list of produce with the highest concentration of pesticides after being washed or peeled.
A drilling rig in a Wyoming natural gas field. William Campbell / Corbis via Getty Images
A U.S. federal judge temporarily blocked oil and gas drilling on 300,000 acres of federal leases in Wyoming Tuesday, arguing that the Bureau of Land Management (BLM) "did not sufficiently consider climate change" when auctioning off the land, The Washington Post reported.
Mizina / iStock / Getty Images
Oats are widely regarded as one of the healthiest grains you can eat, as they're packed with many important vitamins, minerals, and fiber.
JPMorgan Chase building in New York City. Ben Sutherland / CC BY 2.0
By Sharon Kelly
A report published Wednesday names the banks that have played the biggest recent role in funding fossil fuel projects, finding that since 2016, immediately following the Paris agreement's adoption, 33 global banks have poured $1.9 trillion into financing climate-changing projects worldwide.
Sriram Madhusoodanan of Corporate Accountability speaking on conflict of interest demand of the People's Demands at a defining action launching the Demands at COP24. Corporate Accountability
By Patti Lynn
2018 was a groundbreaking year in the public conversation about climate change. Last February, The New York Times reported that a record percentage of Americans now believe that climate change is caused by humans, and there was a 20 percentage point rise in "the number of Americans who say they worry 'a great deal' about climate change."
The head of England's Environment Agency has urged people to stop watering their lawns as a climate-induced water shortage looms. Pexels
England faces an "existential threat" if it does not change how it manages its water, the head of the country's Environment Agency warned Tuesday.
Pexels
By Jessica Corbett
A new analysis revealed Tuesday that over the past two decades heat records across the U.S. have been broken twice as often as cold ones—underscoring experts' warnings about the increasingly dangerous consequences of failing to dramatically curb planet-warming emissions.