This website uses cookies to ensure you get the best experience while browsing it. By clicking 'Got It' you're accepting these terms.
A new report released Thursday from the Centers for Disease Control and Prevention (CDC) finds the prevalence of autism spectrum disorder (ASD) largely unchanged from two years ago, at one in 68 children. Researchers at the Johns Hopkins Bloomberg School of Public Health contributed to the study, which showed boys were 4.5 times more likely to be identified with ASD than girls. The rate is one in 42 among boys and one in 189 among girls.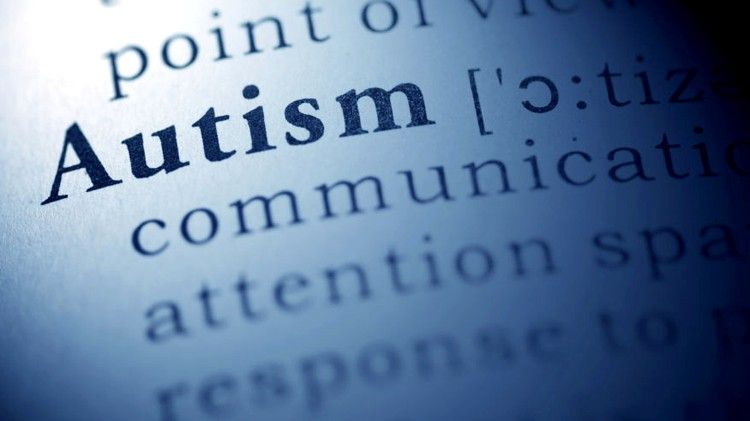 This is the sixth report by the CDC's Autism and Developmental Disabilities Monitoring Network (ADDM), which has used the same surveillance methods for more than a decade, a tracking system that provides estimates of the prevalence and characteristics of autism among 8-year-old children in 11 communities.
Here are the estimated prevalence rates of ASD in the U.S. reported by previous data:
one in 68 children in the 2014 report that looked at 2010 data

one in 88 children in the 2012 report that looked at 2008 data

one in 110 children in the 2009 report that looked at 2006 data

one in 150 children in the 2007 report that looked at 2000 and 2002 data
According to John Hopkins Bloomberg School of Public Health, researchers say it is too early to tell if the overall prevalence rate has stabilized because the numbers vary widely across ADDM communities. The school goes on to say that "the causes of autism are not completely understood; studies show that both environment and genetics may play a role. There is no known cure, and no treatment or intervention has been proven to reduce the prevalence of ASD."
Alison Singer, president of the Autism Science Foundation and mother of a daughter with autism, told CNN that this new report is not a sign everything is fine. "It points to the need for more research to understand nuances in data to be able to better serve all children diagnosed with autism," she said. The report suggests there are delays in acting on early concerns, said Rice.
Rice attributed the lack of early identification to a "capacity crisis." "There are not enough quality providers out there to provide those therapy services that are needed," she said. "I think a huge thing we need to do at the early age and across the life span of people with autism is ... identify and support individuals with autism."
Robert F. Kennedy, Jr., environmental lawyer and founder of The Mercury Project, finds the leveling off of the prevalence of autism to coincide with the decline of thimerosal in three childhood vaccines.
"Interestingly, this represents the first group of children that were not exposed to thimerosal through the HepB, HiB and DTaP infant vaccines," Kennedy said. "Also, uptake of the maternal flu vaccine was below 50 percent​. This is the first time essentially on record that autism rates haven't gone up since 1989."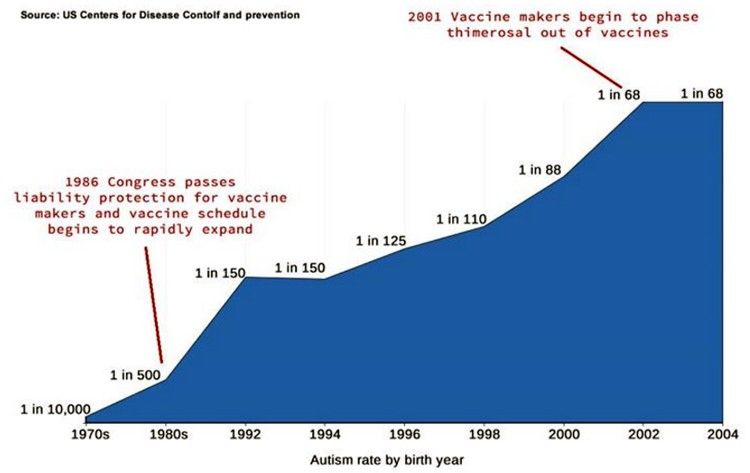 Brian Hooker, associate professor of biology at Simpson University, agrees. He told EcoWatch:
"I'm not surprised that the autism numbers started to stabilize between birth years 2002 and 2004. By 2004, all of the back stock of thimerosal containing HepB, DTaP and HiB vaccines (which were no longer manufactured after 2001) would have been removed from the shelves and these infants (reflected in the latest CDC numbers) did not receive thimerosal in any of their vaccines, with the exception of the flu shot which was administered maternally and at 6 and 7 months of age. Flu shot uptake maternally and in infants was fairly low at this time but has increased since 2004.
"In Denmark, when thimerosal was phased out of infant vaccines in 1992, rates of autism spectrum disorder prevalence slowly dropped over 33 percent over the next 10 years. Unfortunately, because of the thimerosal-containing maternal flu shot, I don't think we'll see this profound of a drop in the U.S."
Regardless of the reason why the results of the new CDC study show the rate of autism unchanged, the American Academy of Pediatrics recommends that all kids are screened for autism at ages 18 and 24 months.
YOU MIGHT ALSO LIKE
Groups Sue FDA Over Approval of Genetically Engineered Salmon
Monsanto's Glyphosate Found in California Wines, Even Wines Made With Organic Grapes
World's First Plastic Fishing Company Wants to Rid the Oceans of Plastic Pollution
Stanford Scientists Find Fracking Linked to Groundwater Contamination in Pavillion, Wyoming
EcoWatch Daily Newsletter
By Anita Desikan
The Trump administration is routinely undermining your ability — and mine, and everyone else's in this country — to exercise our democratic rights to provide input on the administration's proposed actions through the public comment process. Public comments are just what they sound like: an opportunity for anyone in the public, both individuals and organizations, to submit a comment on a proposed rule that federal agencies are required by law to read and take into account. Public comments can raise the profile of an issue, can help amplify the voices of affected communities, and can show policymakers whether a proposal has broad support or is wildly unpopular.
Alena Gamm / EyeEm / Getty Images
Picture this: a world where chocolate is as rare as gold. No more five-dollar bags of candy on Halloween. No more boxes of truffles on Valentine's day. No more roasting s'mores by the campfire. No more hot chocolate on a cold winter's day.
Who wants to live in a world like that?
Fabian Krause / EyeEm / Getty Images
Water protectors of all persuasions gathered in talking circles at Borderland Ranch in Pe'Sla, the heart of the sacred Black Hills, during the first Sovereign Sisters Gathering. At the center are Cheryl Angel in red and white and on her left, Lyla June. Tracy Barnett
By Tracy L. Barnett
Sources reviewed this article for accuracy.
For Sicangu Lakota water protector Cheryl Angel, Standing Rock helped her define what she stands against: an economy rooted in extraction of resources and exploitation of people and planet. It wasn't until she'd had some distance that the vision of what she stands for came into focus.
Hedges, 2019 © Hugh Hayden. All photos courtesy of Lisson Gallery
By Patrick Rogers
"I'm really into trees," said the sculptor Hugh Hayden. "I'm drawn to plants."
BruceBlock / iStock / Getty Images
Thanks to their high concentration of powerful plant compounds, foods with a natural purple hue offer a wide array of health benefits.