CBS to Charles Koch: Is Dark Money Good for the Political System?
Oct. 12, 2015 11:20AM EST
Politics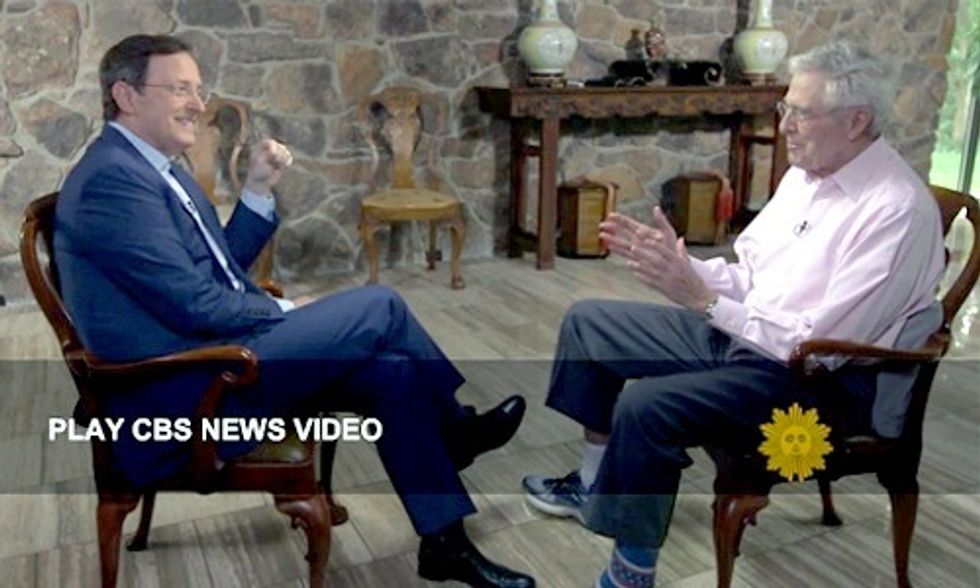 Charles Koch, the chairman and CEO of Koch Industries, appeared on CBS' Sunday Morning. Charles, along with his brother David and their network of conservative mega donors, are planning to spend a staggering $889 million on politics in 2015 and 2016. Koch tells CBS that about $300 million of that would be spent on federal and state elections in 2016.
Unsurprisingly, several GOP presidential candidates flocked to Charles and David Koch's donor conference this past August, leading Donald Trump to call his rivals Koch "puppets." Meanwhile, top Senate Democrats, led by Harry Reid, are strategizing how to fight back against the powerful Koch brothers′ network and their flood of money into the upcoming election.
In his first national television interview, Charles Koch was asked by CBS correspondent Anthony Mason on Sunday about the current field of presidential candidates. "You said, you're not particularly high on any of the candidates so far?," asked Mason.
"Well, I didn't say that," Koch replied. "I said I don't have the evidence that they're going to change the trajectory of the country."
"Are you intending to support a candidate for President?," Mason asked.
"Well, it depends," said Koch.
Then Mason asks, "If Donald Trump got the nomination, would you support him?"
"I made a vow: I'm not going to talk about individuals," Koch said. "David said he liked [Scott] Walker, so now all the press is, 'Well, we put all this money behind Walker, and he had to drop out.' We didn't put a penny [on him]. David said he liked him. That doesn't mean we've picked him."
"The Koch brothers have helped fund complex networks of political action committees and advocacy groups, many of them tax-exempt so donors don't have to be disclosed," says Mason. "The network, which now rivals the Republican National Committee in its financial clout, will spend $300 million dollars in the next election year. Do you think it's good for the political system that so much, what's called, dark money is falling into the process now?"
See what Charles Koch had to say about that in this video:
YOU MIGHT ALSO LIKE
John Oliver Rips Fracking Industry for its Deadly Bakken Boom, Killing One Person Every Six Weeks
Disturbing Images Expose the Horrific Impact of Plastic Trash on Marine Animals
Ted Cruz Lies Again About the Science of Climate Change
California Bans Captive Breeding of Killer Whales at SeaWorld
EcoWatch Daily Newsletter