Catholics Fast for Lent in Support of Pope Francis' Call for Climate Action
Today marks Ash Wednesday, the beginning of Lent for Catholics. The 40-day period leading up to Easter is a time when Catholics fast, and many try to give up something as a way to deepen their faith. This Lenten season, the Global Catholic Climate Movement, which formed in January, officially announced today the Lenten Fast for Climate Justice.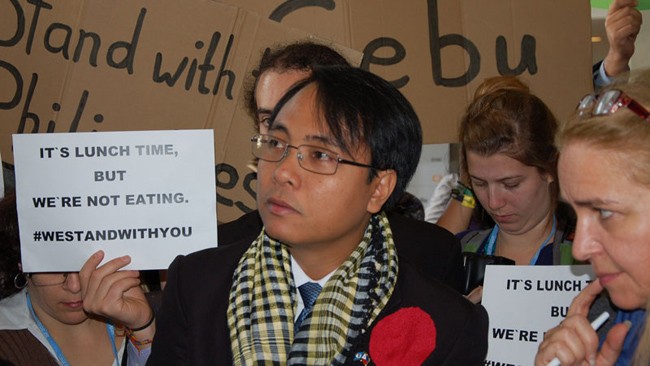 The goal is to "raise awareness on climate change" and to challenge Catholics to confront what Pope Francis has called "a globalization of indifference," according to the National Catholic Reporter (NCR). "The essential message is reduce our carbon footprint and increase our spiritual footprint,"Jacqui Rémond, director of Catholic Earthcare Australia, told NCR.
So far, Catholics from 44 countries have signed up for the climate justice fast. Global Catholic Climate Movement hopes that the faithful's unified front on climate will "spur world leaders to work out a binding agreement" to avoid the worst effects of climate change. The organizers are not asking anyone to fast for all 40 days. Instead they are asking each country to fast for one day. In keeping with church tradition, they are asking all Catholics to fast on Ash Wednesday and Good Friday.
Along with fasting from food, organizers are asking Catholics to do a "carbon fast" by incorporating carbon-limiting behaviors, such as walking, biking or using public transportation, working from home, and using less electricity or water. The organizers are also asking participants to share statements or a video explaining why they are fasting and "how climate change has affected their homelands."
Fasting has become a theme for climate activists. Filipino delegate, Yeb Sano, initiated a fast during the UN's 2014 climate talks in Lima to protest the lack of progress. Climate activists have also been holding a 365-day fasting chain, "which began on the Dec. 1, 2014 and will run until the Dec. 30, 2015 when the UN's climate negotiations kick off in Paris," according to Responding to Climate Change (RTCC).
"The power behind fasting lies in its purity of purpose and the sense of selflessness necessary to embark on fasting," Sano told RTCC. "This is the power of the fast—because it is meant for our aspirations of a better world."
Catholics have been fasting for centuries as part of Lent. Why make this one about climate change? "The fast is partially to respond to a lot of the Pope's call to have a conversion on this issue," Rhett Engelking, director of the Franciscan Earth Corps and coordinator of the U.S. Day of Fasting, told VICE News.
The Pope has been making headlines right and left with statements like taking action on climate is essential to faith. In January, the pontificate visited the Philippines and met with survivors of Super Typhoon Haiyan, and on Feb. 14 he met with Tonga's king and queen at the Vatican to discuss the damage that climate change is causing to the Pacific island.
Pope Francis is already living up to his promise to escalate his demand for climate action in 2015. Last week, church officials met to consider creating a new environmental think tank, which would "influence the opinion of the world's 1.2 billion Roman Catholics on such thorny issues as climate change," according to Reuters.
The pope's highly awaited encyclical on the environment is due in early summer, and his visit to the U.S.—particularly his address to a joint session of Congress—this September is already getting a lot of attention. It will be the first time a pope will address the U.S. Congress, a third of whose members are Catholic.
YOU MIGHT ALSO LIKE
Pope Francis to Open Vatican Farm to the Public
Pope Francis Says No to Fracking
8 Reasons to Be Optimistic About the Climate Movement in 2015
iStock
By Robert Coleman
The Environmental Working Group's (EWG) just-released Tap Water Database shows that a startling number of cancer-causing chemicals contaminate the nation's drinking water. Of 250 different contaminants detected in tests by local utilities, 93 are linked to an increased risk of developing cancer.
Keep reading...
Show less
Aaron Teasdale
By Aaron Teasdale
"How much moon do we have tonight?" I yelled to my friend Greg, trying to make myself heard over the sounds of wind and surging water. The sun was sinking toward the mountains all too quickly and our float-in campsite lay somewhere down the river's bends in darkening forest.
Greg shrugged. He had no clue of the moon's cycle either, which showed just how tragically pasty and over-civilized we'd turned. Our days had become filled with computer screens, not forest scenes; our nights capped with ceilings, not stars. All of which made this journey on standup paddleboards so sweet—or at least we hoped it would be sweet, if the pesky headwind would let up before we had to risk disfiguring ourselves while navigating boulder-strewn waters by headlamp and whatever light the moon might spare.
Keep reading...
Show less
By Rebekah Wilce
The world of independent chemical testing has a shiny veneer. The public is reassured that chemicals they're exposed to on a daily basis are certified by technicians in spotless white lab coats who carefully conduct scientific studies, including on animals in neat rows of cages.
But a federal grand jury investigation that ended with convictions in the early 1980s discovered that Industrial Bio-Test Laboratories (IBT), the largest such lab in the U.S., conducted trials with mice that regularly drowned in their feeding troughs. The dead animals would decompose so quickly that "their bodies oozed through wire cage bottoms and lay in purple puddles on the dropping trays." IBT even invented an acronym "TBD/TDA" for its raw safety data, later discovered to mean "too badly decomposed."
Keep reading...
Show less
iStock
Roman officials are considering shutting off the water supply to one-third of the city's residents for eight hours per day as early as this weekend, according to reports.
Keep reading...
Show less
Ararat Rock Solar farm in Mount Airy, North Carolina. NARENCO
North Carolina Gov. Roy Cooper signed a bill into law Thursday that will boost solar production but curb wind energy in the state.
House Bill 589, the result of months of arduous negotiations between utilities and the solar industry, is intended to encourage the continued growth of solar in the state, but it includes a moratorium on new wind projects for the next 18 months.
Keep reading...
Show less
Algal blooms in Lake St. Clair and in western Lake Erie in 2015. NASA Earth Observatory
Heavier rainfall linked to rising temperatures could substantially increase the volume of agricultural runoff flowing into waterways, triggering toxic algal blooms, according to new research.
A study published Thursday in the journal Science finds that heavier rainfall could increase nitrogen runoff in U.S. lakes, rivers and streams by 19 percent by the end of this century.
Keep reading...
Show less
iStock
By Jen Sawada
Sharks have been around for 400 million years, before the time of the dinosaurs, but there's much more to them than big teeth and summer blockbusters. Consider these facts, which will change what you think about sharks.
Keep reading...
Show less
Felix Kramer / Wikimedia
By Jason Mathers
The high level of confidence that automotive industry leaders have in the future of electric vehicles (EVs) has been on full display recently.
Keep reading...
Show less


Get EcoWatch in your inbox