This website uses cookies to ensure you get the best experience while browsing it. By clicking 'Got It' you're accepting these terms.
Carson City Bans Fracking
Apr. 07, 2016 11:03AM EST
Energy
On Tuesday night, the Carson City Council voted unanimously to ban fracking, acidizing and other environmentally hazardous well stimulation techniques. The move comes after a five-year fight against a proposal for 200 new fracking wells. The efforts of the Carson Coalition and concerned residents, joined by Food & Water Watch, resulted in the California Resources Corporation (formerly Occidental Petroleum) withdrawing the project last year. Residents continued to fight to ensure fracking would never come to Carson, California, resulting in the ban by city council.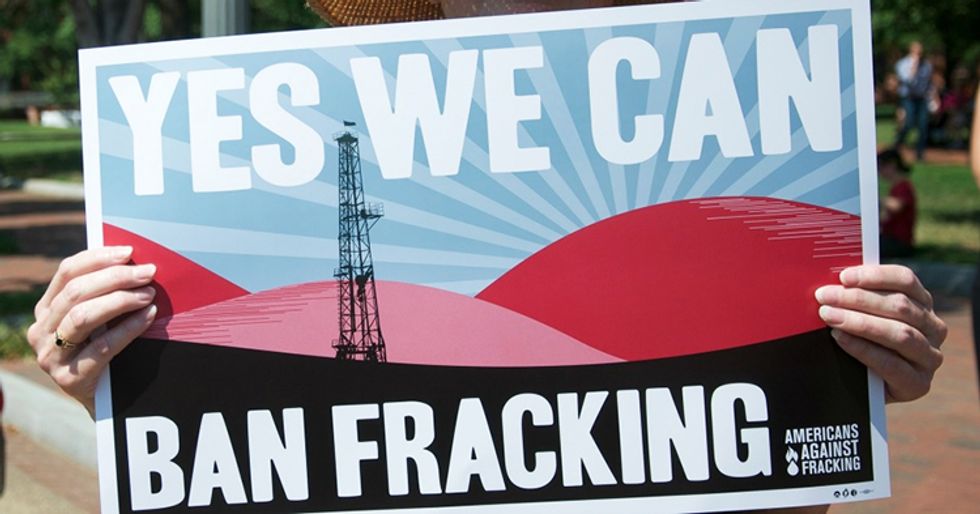 "We have been fighting to ban fracking for five years and tonight Carson can usher in the future our community deserves by banning extreme oil and moving toward clean energy," Dianne Thomas, resident and founder of the Carson Coalition, said. "Our community's health is failing because we are surrounded by fossil fuel industries—refineries, freeways, the ports and oil drilling is all around us. We have to continue to fight for the people that live here, the people that inhale the fumes and endure the noise. This ban is a first step to making Carson a front runner to end oil drilling and adopt a 100 percent renewable energy future."
The Carson City Council also adopted a controversial update to the city's oil and gas code. Residents opposed provisions that would give oil companies an incentive to increase drilling in Carson and they demanded a 1,500-foot setback between oil and gas activity and nearby homes, schools, hospitals and other inhabited areas. However, the council passed a 750-foot buffer and paved the way for more drilling.
Instead of phasing drilling out drilling in the buffer, the council voted to allow each operator to move up to ten wells to outside the buffer area on a one-to-two basis. Carson has 67 active oil wells, 25 of which are within the approved 750-foot setback. If operators decide to use the incentive to transfer operations outside the setback, drilling could increase by another 28 wells, which would increase Carson's overall drilling by about 40 percent. If operators don't use the incentive, drilling may continue indefinitely within the setback, according to the approved code.
"It is inexcusable that our mayor and council would vote to ban fracking and yet allow for increased drilling in Carson in the same night," Robert Lesley, president of the Carson Coalition, said. "We set working on this code to protect our health and safety and increased drilling in Carson undermines that goal."
The fracking and well stimulation ban is primarily preventative since oil company operators say that fracking is not necessary or economically viable in Carson. The fight over the oil code was heated because of its impact on the 67 active wells in Carson.
"After years of organizing and challenging the powerful oil and gas lobby, we congratulate Carson residents for winning a fracking ban," Food & Water Watch senior organizer Alexandra Nagy said.
"It's disappointing that the council failed to take the necessary step to protect public health by phasing out operations in the setback. In the larger scale of needing to move quickly from fossil fuels to renewable energy, we have more work to do to ensure drilling comes to an end in Carson. We will continue to work with the Carson Coalition and Carson residents to fix the oil code and phase out oil drilling in Carson."
YOU MIGHT ALSO LIKE
High Levels of Endocrine Disrupting Chemicals Found Near Fracking Wastewater Site
EcoWatch Daily Newsletter
A harbour seal on an ice floe in Glacier Bay, Alaska. A new study shows that the climate crisis has warmed waters, changing ecosystems and crippling sea ice growth. Janette Hill / robertharding / Getty Images Plus
Doctors report that only 1 in 4 children are getting the recommended 60 minutes of physical activity per day. Ronnie Kaufman / DigitalVision / Getty Images
By Dan Gray
Pediatricians are being urged to start writing "exercise prescriptions" for the children they see in their office.
A First Nations protester walks in front of a train blockade in Tyendinaga, near Belleville, Ontario, Canada on Feb. 21, 2020. LARS HAGBERG / AFP via Getty Images
An indigenous rail blockade that snarled train travel in Canada for more than two weeks came to an end Monday when police moved in to clear protesters acting in solidarity with another indigenous community in British Columbia (B.C.), which is fighting to keep a natural gas pipeline off its land.
A rainbow snake, a rare reptile spotted in a Florida county for the first time in more than 50 years, seen here on July 5, 2013.
Kevin Enge / FWC Fish and Wildlife Research Institute / Flickr
A Florida hiker recently stumbled across a slithering surprise — a rare snake that hadn't been spotted in the area for more than 50 years.
We need our government to do everything it can to stop PFAS contamination and exposure from wreaking havoc in communities across the country. LuAnn Hun /
Unsplash
By Genna Reed
The EPA announced last week that it is issuing a preliminary regulatory determination for public comment to set an enforceable drinking water standard to two of the most common and well-studied PFAS, PFOA and PFOS.
This decision is based on three criteria:
PFOA and PFOS have an adverse effect on public health
PFOA and PFOS occur in drinking water often enough and at levels of public health concern;
regulation of PFOA and PFOS is a meaningful opportunity for reducing the health risk to those served by public water systems.