This website uses cookies to ensure you get the best experience while browsing it. By clicking 'Got It' you're accepting these terms.
Caribbean Island Says Goodbye Fossil Fuels, Hello 100% Renewable Electricity
Jan. 07, 2015 12:29PM EST
Bonaire (pop. 14,500), a small island off the coast of Venezuela, is famous for its beautiful marine reefs, which are visited by 70,000 tourists every year. What many of the tourists don't realize is that the majority of the electricity powering their needs comes from renewable energy. Yet for the residents of Bonaire, the switch from fossil-fueled to renewable energy systems has made a world of difference.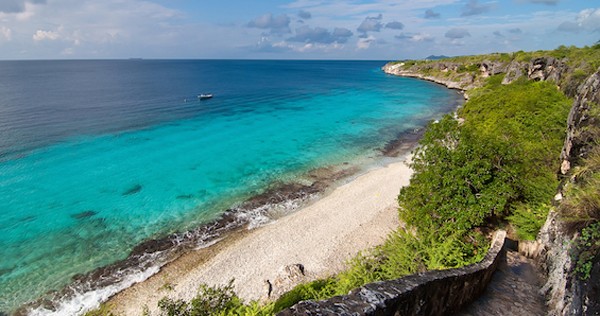 Like many Caribbean islands, Bonaire originally relied on diesel fuel to generate electricity for residents, with a peak demand of 11 megawatts (MW). This fuel had to be shipped in from other nations, resulting in high electricity prices for Bonaire residents, along with uncertainty about when and how much prices might increase with changing fuel costs.
In 2004, everything changed when a fire destroyed the existing diesel power plant. Although tragic, the situation provided an opportunity for Bonaire to consider what kind of new electricity system to build. Temporary diesel generators were rented to provide power for the short term. Meanwhile, the government and local utility began working together to create a plan that would allow Bonaire to reach a goal of generating 100 percent of its electricity from renewable sources.
Bonaire's Electricity System Transformation
The result is a transformed electricity system on Bonaire. The island is now home to 12 wind turbines with a total of 11 MW of wind power capacity, which contribute up to 90 percent of the island's electricity at times of peak wind, and 40-45 percent of its annual electricity on average. Battery storage (6 MWh) is included in order to take advantage of available power in times of excess wind, and provide that stored electricity in times of low wind. The battery also boosts the reliability of the overall system—it is capable of providing 3 MW for over two minutes, allowing time for additional generation to be started when there is a sudden drop in wind.
The Bonaire system also includes 14 MW of diesel generation, five total generators, which provide the necessary power to meet the load when there is not enough wind power available. The generators are equipped to run on both traditional diesel as well as biodiesel. The next steps in the island's energy transformation involve using local algae resources, grown in the large salt flats on the island, to create biofuel, which can then be used in the existing generators. This will allow Bonaire to operate a 100 percent renewable electricity system—with on average 40–45 percent from wind and 55-60 percent from biodiesel.
The new electricity system led to more reliable electricity, more employment opportunities, reduced dependence on oil (and its fluctuating prices), and a reduction in electricity bills. Bonaire residents currently pay $0.22/kWh for electricity, much lower than prices on other nearby Caribbean islands, which are often $0.36/kWh or above. When oil prices spiked in 2008, while Bonaire was still using temporary diesel generators before making its transition to renewables, electricity prices on the island reached $0.50/kWh. The new electricity system also created jobs for the construction and ongoing operation of the wind farm, and for research and development of algae production capabilities and conversion to biofuel. Additional employment opportunities will be created for continuing algae production and operation of the biodiesel plant.
The success of the updated electricity system on Bonaire provides an important example to other nearby islands of the opportunity to achieve high levels of renewable energy penetration.
Why Did Bonaire Make the Switch to Renewables?
Two aspects unique to Bonaire's situation may have contributed to the decision to switch to a 100 percent renewable electricity system. One driver may have been Bonaire's status as a special municipality within the Kingdom of the Netherlands. This provides a connection with the Netherlands and Europe in general, where many countries have incorporated large amounts of wind and other renewable sources of electricity. Nearby Aruba, also a Dutch Caribbean island, has a wind farm as well, which provides up to 20 percent of the island's electricity. There may be a common theme of islands with ties to European countries moving to renewables more quickly than others. In the case of Bonaire, the consortium that is developing the project, Ecopower Bonaire BV, is made up of Dutch and German companies.
Secondly, Bonaire's government and local electricity provider were presented with an opportunity to build a new renewable electricity system since they needed to replace the plant that was damaged. Many other Caribbean islands still have existing diesel resources that are not at the end of their lifetime. These existing generators may remain a part of the electricity system, especially as renewables are incrementally added to the system, and may even remain as backup power for a transformed system that operates mostly with renewables. However, if some or all of the existing diesel resources on an island are completely shut down before the end of their available lifetime, that island will need to consider the sunk costs involved and incorporate that into their overall energy transformation plan.
Bonaire as Inspiration for the Caribbean
Rocky Mountain Institute and Carbon War Room's ongoing Ten Island Challenge works with Caribbean islands to utilize their local renewable resource potential to transform electricity systems and provide a renewable, reliable, secure and affordable energy supply for their citizens. One of the participating islands is Aruba, which neighbors Bonaire and forms part of the ABC islands in the Netherlands Antilles, along with Curacao. Although the shift to renewables on Bonaire is not part of the Ten Island Challenge, Rocky Mountain Institute and Carbon War Room's ongoing work in the area will strive to spread the success that Bonaire has achieved to the rest of the region, so that more Caribbean islands can take advantage of efficient and renewable electricity systems.
YOU MIGHT ALSO LIKE
Richard Branson and Amory Lovins Join Forces to Accelerate Clean Energy Revolution
Samso: World's First 100% Renewable Energy-Powered Island Is a Beacon for Sustainable Communities
EcoWatch Daily Newsletter
Bernie Sanders holds his first presidential campaign rally at Brooklyn College on March 02 in Brooklyn, New York. Kena Betancur / VIEWpress / Corbis. Getty Images
Bernie Sanders has become the first contender in the crowded 2020 Democratic presidential primary field to pledge to offset all of the greenhouse gas emissions released by campaign travel, The Huffington Post reported Thursday.
An aerial view of the flooding at the Camp Ashland, Nebraska on March 17. Nebraska National Guard / Staff Sgt. Herschel Talley / Flickr / CC BY 2.0
The record flooding in the Midwest that has now been blamed for four deaths could also have lasting consequences for the region's many farmers.
In tea, food, or just on your windowsill, embrace the fragrance and fantastic healing potential of herbs.
By Ana Santos Rutschman
The world of food and drug regulation was rocked earlier this month by the news of a change in leadership at the Food and Drug Administration. Commissioner Scott Gottlieb resigned and will step down in early April. His temporary replacement is Dr. Ned Sharpless, director of the National Cancer Institute.
MartinPrescott / iStock / Getty Images
On Wednesday the U.S. Environmental Protection Agency (EPA) announced the first 20 chemicals it plans to prioritize as "high priority" for assessment under the Toxic Substances Control Act. Given the EPA's record of malfeasance on chemicals policy over the past two years, it is clear that these are chemicals that EPA is prioritizing to ensure that they are not properly evaluated or regulated.
Strawberries top the Environmental Working Group's "Dirty Dozen" list of U.S. produce most contaminated with pesticides. DANIEL LEAL-OLIVAS / AFP / Getty Images
Which conventionally-grown fruits and vegetables in the U.S. are most contaminated with pesticides? That's the question that the Environmental Working Group answers every year with its "Dirty Dozen" list of produce with the highest concentration of pesticides after being washed or peeled.
A drilling rig in a Wyoming natural gas field. William Campbell / Corbis via Getty Images
A U.S. federal judge temporarily blocked oil and gas drilling on 300,000 acres of federal leases in Wyoming Tuesday, arguing that the Bureau of Land Management (BLM) "did not sufficiently consider climate change" when auctioning off the land, The Washington Post reported.
Mizina / iStock / Getty Images
Oats are widely regarded as one of the healthiest grains you can eat, as they're packed with many important vitamins, minerals, and fiber.