Carbon Levels Rising at 'Frightening Speed' as Greenhouse Gases and Global Temperature Hit Record High
Atmospheric greenhouse gas concentrations hit yet another new record in 2014, "continuing a relentless rise which is fueling climate change and will make the planet more dangerous and inhospitable for future generations," said the World Meteorological Organization (WMO) in a report released today.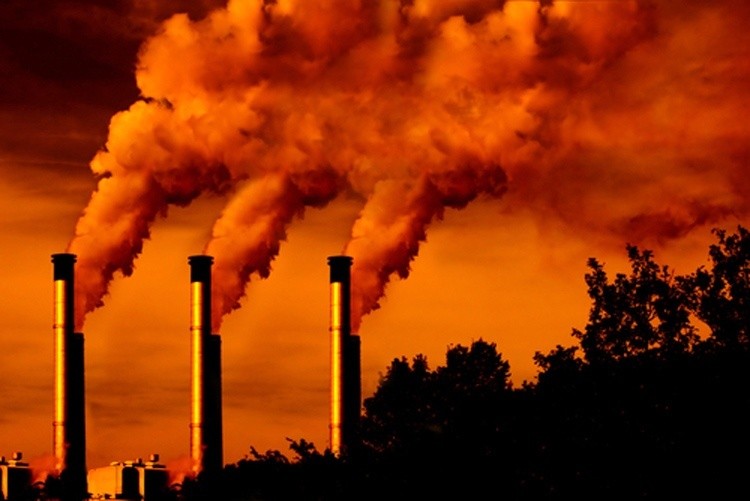 Photo credit: Shutterstock
The WMO Greenhouse Gas Bulletin found a 36 percent increase in greenhouse gas emissions in the last 25 years and a 43 percent increase from pre-industrial levels. The report also highlighted the "enhanced greenhouse effect" that more water vapor in the atmosphere is having. As the Earth's surface temperature warms because of record CO2 concentrations, it's creating a "vicious cycle" where "higher temperatures lead to more atmospheric water vapor," explains the Guardian, "which in turn traps even more heat."
Levels of two other major greenhouse gases, methane and nitrous oxide, rose "at the fastest rate for a decade," reports Reuters. In 2014, methane levels reached 1,833 parts per billion (ppb) and nitrous oxide levels reached 327.1 ppb.
"We will soon be living with globally averaged CO2 levels above 400 parts per million as a permanent reality," said WMO Secretary-General Michel Jarraud.
In the Northern hemisphere, CO2 concentrations reached 400 parts per million (ppm) in the spring of 2014 (when CO2 is most abundant), and the global average reached 397.7 ppm. Then, this past spring the global average "crossed the 400 ppm barrier," reports the WMO. March marked the first time ever that global carbon levels surpassed 400 ppm for an entire month. To avoid catastrophic climate change, scientists have said global concentrations need to be below 350 ppm.
Greenhouse gas concentrations have hit a new record every year since reliable records began in 1984, according to Reuters. "Every year we report a new record in greenhouse gas concentrations," Jarraud said. "Every year we say that time is running out. We have to act now to slash greenhouse gas emissions if we are to have a chance to keep the increase in temperatures to manageable levels."
"Carbon dioxide remains in the atmosphere for hundreds of years and in the ocean for even longer," he added. "Past, present and future emissions will have a cumulative impact on both global warming and ocean acidification. The laws of physics are non-negotiable."
These findings mean "hotter global temperatures, more extreme weather events like heat waves and floods, melting ice, rising sea levels and increased acidity of the oceans," said Jarraud. "This is happening now and we are moving into uncharted territory at a frightening speed."
"Two degrees will be bad enough but it will be better than three degrees," said Jarraud. "Of course it would have been better to have one degree ... But one degree is not possible any longer. It's just not feasible. Too late."
The UK's Met Office reported today that for the first time global mean temperature at the Earth's surface is set to reach one degree Celsius above pre-industrial levels.
"This year marks an important first but that doesn't necessarily mean every year from now on will be a degree or more above pre-industrial levels, as natural variability will still play a role in determining the temperature in any given year," said Peter Stott, head of Climate Monitoring and Attribution at the Met Office. "As the world continues to warm in the coming decades, however, we will see more and more years passing the one degree marker—eventually it will become the norm."
The Met Office reports two important findings: two thirds of the two degrees Celsius budget for CO2 emissions have already been used and we've already seen one-third of the sea level rise that could be seen by 2100 in a two degrees Celsius world.
The Met Office says:
We know cumulative emissions of carbon dioxide will be key to determining the amount of eventual global warming we'll see. It is estimated that up to 2,900 gigatonnes of CO2 (GtCO2) can be emitted to have a likely (more than 66 percent) chance of limiting warming to below two degrees Celsius.
As of 2014, about 2,000 GtCO2 had already been emitted, meaning society has used about two thirds of the two degrees Celsius budget. This gives an indication that we are already committed to some level of further warming.
...
Currently, we have seen about 20 centimeters of global mean sea level rise since pre-industrial times and this is about one third of the level that could be seen by 2100 in a two degrees Celsius world.
Sea levels would continue to rise further into the next century, however, and potentially beyond.
The agency says that it's still possible to limit warming to two degrees Celsius above preindustrial levels. "However, the later that global CO2 emissions peak—the faster subsequent emissions cuts would need to be in order to keep global temperature rise below the limit," says the Met Office.
And while these numbers seem esoteric, there is concrete evidence that this rapid rise in greenhouse gas concentrations, which has in turn driven a rapid rise in surface temperatures, is taking its toll on the planet's inhabitants. The World Bank warned yesterday that "rapid, climate-informed development" are needed to keep climate change from "pushing more than 100 million people into poverty by 2030."
These findings come just as climate experts predict this year will surpass 2014 as the hottest year on record and just three weeks before global leaders are set to meet at COP21, the Paris climate talks. More than 150 countries have created plans to limit emissions, but "the plans revealed so far will not curb emissions enough to meet a target agreed in 2010 to limit global warming to within 2 degrees Celsius (3.6 Fahrenheit) of pre-industrial levels," says Reuters.
Find out how climate change could push more than 100 million people into poverty in just 15 years:
YOU MIGHT ALSO LIKE
Why Buying a Vacation Home in Southern Florida Is Not a Good Idea
Colbert: How Your Sex Life and the Keystone XL Are Connected
4 More Bizarre Ben Carson Stories Emerge
Indoor Veggie Garden Lets You Grow Your Own Food Right in Your Kitchen
Wikimedia Commons
By Stacy Malkan
Neil deGrasse Tyson has inspired millions of people to care about science and imagine themselves as participants in the scientific process. What a hopeful sign it is to see young girls wearing t-shirts emblazoned with the words, "Forget princess, I want to be an astrophysicist."
Keep reading...
Show less
www.youtube.com
By Andy Rowell
Any day now we will truly witness climate change in action. Within days at worst, maybe weeks at best, scientists predict that a huge section of the Larsen C ice shelf in Antarctica will break off into the ocean, in what is called a major "carving" event.
Keep reading...
Show less
www.youtube.com
President Trump visited Cedar Rapids, Iowa on June 21 to speak to a large crowd in the U.S. Cellular Center at a political rally organized by his campaign.
As Trevor Noah noted during The Daily Show episode last night (starts at 2:25), the real reason Trump has these rallies is to "get back in front of his loyal crowds and feed of their energy." Noah believes that "Trump supporters are so on board with their dude he can say anything and they'll come along for the ride."
Keep reading...
Show less
The Kamuthi solar plant in the southern Indian state of Tamil Nadu.
The rapid growth in renewable energy continues to put a dent in the demand for coal.
Coal India, the world's biggest coal mining company and producer of 82 percent of the country's coal, announced the closure of 37 mines that are financially "unviable."
Keep reading...
Show less
www.youtube.com
By Katie O'Reilly
Two years ago—long before coal became one of the most dominant and controversial symbols of the 2016 presidential election—Bloomberg Philanthropies approached production company RadicalMedia with the idea of creating a documentary exploring the U.S. coal mining industry. Last spring, they brought on Emmy-nominated director Michael Bonfiglio, tasked with forging a compelling story out of the multitudes of facts, statistics and narratives underlying the declining industry.
Keep reading...
Show less
Mayors for 100% Clean Energy
Keep reading...
Show less
www.youtube.com
Thanks to Newsy for their coverage on Thursday's news that the U.S. Fish and Wildlife Service removed grizzly bears in the Greater Yellowstone region from the Endangered Species List.
Watch above as Newsy explains that the decision comes despite serious concerns from the environmental and scientific community, and Tribal Nations about a declining, isolated grizzly bear population with diminishing food resources and record-high mortalities.
Keep reading...
Show less
www.facebook.com
By Francine Kershaw
Seismic airguns exploding in the ocean in search for oil and gas have devastating impacts on zooplankton, which are critical food sources for marine mammals, according to a new study in Nature. The blasting decimates one of the ocean's most vital groups of organisms over huge areas and may disrupt entire ecosystems.
And this devastating news comes on the heels of the National Marine Fisheries Service's proposal to authorize more than 90,000 miles of active seismic blasting. Based on the results of this study, the affected area would be approximately 135,000 square miles.
Keep reading...
Show less
By Jill Richardson
Is coconut oil:
good for you
bad for you
neither good nor bad
scientists don't know
The subject of this question is the source of a disagreement. Initially, the question was thought to be settled decades ago, when scientist Ancel Keys declared all saturated fats unhealthy. Coconut oil, which is solid at room temperature, is a saturated fat.
Keep reading...
Show less


Get EcoWatch in your inbox