This website uses cookies to ensure you get the best experience while browsing it. By clicking 'Got It' you're accepting these terms.
Carbon Levels Rising at 'Frightening Speed' as Greenhouse Gases and Global Temperature Hit Record High
Nov. 09, 2015 10:40AM EST
Climate
Atmospheric greenhouse gas concentrations hit yet another new record in 2014, "continuing a relentless rise which is fueling climate change and will make the planet more dangerous and inhospitable for future generations," said the World Meteorological Organization (WMO) in a report released today.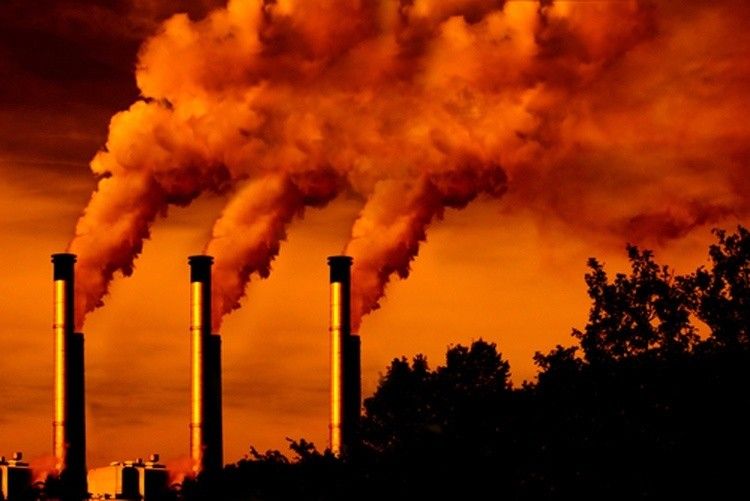 Photo credit: Shutterstock
The WMO Greenhouse Gas Bulletin found a 36 percent increase in greenhouse gas emissions in the last 25 years and a 43 percent increase from pre-industrial levels. The report also highlighted the "enhanced greenhouse effect" that more water vapor in the atmosphere is having. As the Earth's surface temperature warms because of record CO2 concentrations, it's creating a "vicious cycle" where "higher temperatures lead to more atmospheric water vapor," explains the Guardian, "which in turn traps even more heat."
Levels of two other major greenhouse gases, methane and nitrous oxide, rose "at the fastest rate for a decade," reports Reuters. In 2014, methane levels reached 1,833 parts per billion (ppb) and nitrous oxide levels reached 327.1 ppb.
"We will soon be living with globally averaged CO2 levels above 400 parts per million as a permanent reality," said WMO Secretary-General Michel Jarraud.
In the Northern hemisphere, CO2 concentrations reached 400 parts per million (ppm) in the spring of 2014 (when CO2 is most abundant), and the global average reached 397.7 ppm. Then, this past spring the global average "crossed the 400 ppm barrier," reports the WMO. March marked the first time ever that global carbon levels surpassed 400 ppm for an entire month. To avoid catastrophic climate change, scientists have said global concentrations need to be below 350 ppm.
Greenhouse gas concentrations have hit a new record every year since reliable records began in 1984, according to Reuters. "Every year we report a new record in greenhouse gas concentrations," Jarraud said. "Every year we say that time is running out. We have to act now to slash greenhouse gas emissions if we are to have a chance to keep the increase in temperatures to manageable levels."
"Carbon dioxide remains in the atmosphere for hundreds of years and in the ocean for even longer," he added. "Past, present and future emissions will have a cumulative impact on both global warming and ocean acidification. The laws of physics are non-negotiable."
These findings mean "hotter global temperatures, more extreme weather events like heat waves and floods, melting ice, rising sea levels and increased acidity of the oceans," said Jarraud. "This is happening now and we are moving into uncharted territory at a frightening speed."
"Two degrees will be bad enough but it will be better than three degrees," said Jarraud. "Of course it would have been better to have one degree ... But one degree is not possible any longer. It's just not feasible. Too late."
The UK's Met Office reported today that for the first time global mean temperature at the Earth's surface is set to reach one degree Celsius above pre-industrial levels.
"This year marks an important first but that doesn't necessarily mean every year from now on will be a degree or more above pre-industrial levels, as natural variability will still play a role in determining the temperature in any given year," said Peter Stott, head of Climate Monitoring and Attribution at the Met Office. "As the world continues to warm in the coming decades, however, we will see more and more years passing the one degree marker—eventually it will become the norm."
The Met Office reports two important findings: two thirds of the two degrees Celsius budget for CO2 emissions have already been used and we've already seen one-third of the sea level rise that could be seen by 2100 in a two degrees Celsius world.
The Met Office says:
We know cumulative emissions of carbon dioxide will be key to determining the amount of eventual global warming we'll see. It is estimated that up to 2,900 gigatonnes of CO2 (GtCO2) can be emitted to have a likely (more than 66 percent) chance of limiting warming to below two degrees Celsius.
As of 2014, about 2,000 GtCO2 had already been emitted, meaning society has used about two thirds of the two degrees Celsius budget. This gives an indication that we are already committed to some level of further warming.
...
Currently, we have seen about 20 centimeters of global mean sea level rise since pre-industrial times and this is about one third of the level that could be seen by 2100 in a two degrees Celsius world.
Sea levels would continue to rise further into the next century, however, and potentially beyond.
The agency says that it's still possible to limit warming to two degrees Celsius above preindustrial levels. "However, the later that global CO2 emissions peak—the faster subsequent emissions cuts would need to be in order to keep global temperature rise below the limit," says the Met Office.
And while these numbers seem esoteric, there is concrete evidence that this rapid rise in greenhouse gas concentrations, which has in turn driven a rapid rise in surface temperatures, is taking its toll on the planet's inhabitants. The World Bank warned yesterday that "rapid, climate-informed development" are needed to keep climate change from "pushing more than 100 million people into poverty by 2030."
These findings come just as climate experts predict this year will surpass 2014 as the hottest year on record and just three weeks before global leaders are set to meet at COP21, the Paris climate talks. More than 150 countries have created plans to limit emissions, but "the plans revealed so far will not curb emissions enough to meet a target agreed in 2010 to limit global warming to within 2 degrees Celsius (3.6 Fahrenheit) of pre-industrial levels," says Reuters.
Find out how climate change could push more than 100 million people into poverty in just 15 years:
YOU MIGHT ALSO LIKE
Why Buying a Vacation Home in Southern Florida Is Not a Good Idea
Colbert: How Your Sex Life and the Keystone XL Are Connected
4 More Bizarre Ben Carson Stories Emerge
Indoor Veggie Garden Lets You Grow Your Own Food Right in Your Kitchen
EcoWatch Daily Newsletter
The Parties to CITES agreed to list giraffes on Appendix II of the Convention on International Trade in Endangered Species (CITES) today at the World Wildlife Conference or CoP18 in Geneva. Such protections will ensure that all giraffe parts trade were legally acquired and not sourced from the poached giraffes trade and will require countries to make non-detriment findings before allowing giraffe exports. The listing will also enable the collection of international trade data for giraffes that might justify greater protections at both CITES and other venues in the future.

The WHO stressed that more research is needed on the potential health risks of microplastic ingestion. luchschen / iStock / Getty Images Plus
The UN's health agency on Thursday said that microplastics contained in drinking water posed a "low" risk at their current levels.
However, the World Health Organization (WHO) — in its first report on the potential health risks of microplastic ingestion — also stressed more research was needed to reassure consumers.
Brazil's right-wing President Jair Bolsonaro is giving President Trump a run for his money in the alternative facts department.
Washington Gov. Jay Inslee, who made solving the climate crisis the center of his presidential campaign, is dropping out of the 2020 Democratic primary race.
Earthjustice
In April 2018, Afro-Colombian activist Francia Márquez won the prestigious Goldman Environmental Prize, thanks to her work to retake her community's ancestral territories from illegal gold mining. However, her international recognition comes at a very risky price.
By Stuart Braun
A year after activist Greta Thunberg first stood in the rain outside the Swedish parliament with her now iconic "Skolstrejk för klimatet" — school strike for the climate — placard, the movement she spawned has set the tone for environmental protest action around the world.
Bruno Vincent / Staff / Getty Images
Toy maker Hasbro wants to play in the eco-packaging game. The board game giant will ditch its plastic packaging by 2022. The move means that games like Monopoly, Scrabble and Operation will no longer have shrink wrap, window sheets, plastic bags or elastic bands, as the Associated Press reported.
Vaping impaired the circulatory systems of people in a new study. bulentumut / iStock / Getty Images Plus