This website uses cookies to ensure you get the best experience while browsing it. By clicking 'Got It' you're accepting these terms.
Carbon Capture: 'Only Realistic and Affordable Way to Dramatically Reduce Emissions'
Jan. 22, 2016 11:33AM EST
Governments may no longer be investing in the capture of carbon dioxide in the atmosphere. But a new study says that doesn't mean it's a bad idea.
It argues that the world just needs to think harder and spend more to make the technology work because, to contain climate change, it may prove the only realistic and affordable way to dramatically reduce carbon emissions.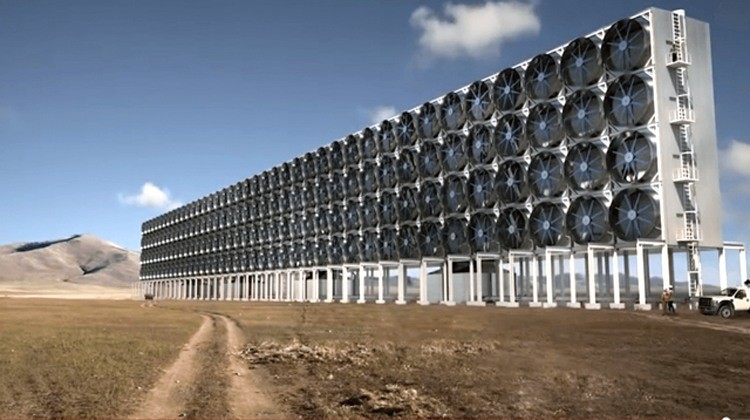 Many governments appear to agree and include carbon capture and storage in their plans to keep the world from dangerous climate change. But, at the same time, many are abandoning the trials that are needed to make it work.
David Reiner, senior lecturer in technology policy at the University of Cambridge Judge Business School, argued in the new journal Nature Energy that stopping trials is foolish.
Effective Answer
In a world addicted to fossil fuel energy, but threatened with catastrophic climate change driven by the greenhouse gas emissions from those same fossil fuels, he said that one effective answer would be to capture the carbon dioxide before it gets into the atmosphere and then store it.
He wrote that the only way to find out how to do this is to spend billions on a range of possible attempts at carbon capture and storage (CCS) and then choose the best one.
"If we are serious about meeting aggressive national or global emissions, the only way to do it affordably is with CCS," Reiner said. "But, since 2008, we have seen a decline in interest in CCS, which has essentially been in lock step with our declining interest in doing anything serious about climate change."
Just before the UN climate change summit in Paris last December, the UK government cancelled a £1 billion competition to support large-scale demonstration projects. Since 2008, other projects have been cancelled in the U.S., Canada, Australia and Europe.
But oil companies have for two decades been testing the approach on a small scale and energy scientists have been working on imaginative solutions to what promises to become a global crisis in which the same energy technologies that fuel global economic growth also threaten to change the global climate and impoverish billions of people.
While every aspect of carbon capture and storage poses puzzles—such as whether power-generating stations make the capture efficiently and where the gas could be safely stored—chemists have dreams of actually exploiting captured carbon dioxide to create new wealth and drive economies in cleaner, greener directions.
But research costs money. Solar and wind power can be tested on a small scale. To make CCS work, engineers and scientists and power-generating agencies have to think big. One single demonstration plant could cost $1 billion.
"Scaling up any new technology is difficult, but it's that much harder if you're working in billion-dollar chunks," Reiner said. "At 10 million or even 100 million dollars, you will be able to find ways to fund the research and development. But being really serious about CCS and making it work means allocating large sums at a time when national budgets are still under stress after the global financial crisis."
The other problem is that any project can fail—even one that costs a billion dollars.
"The nature of demonstration is that you work out the kinks, find out what works and what doesn't," Reiner added. "It's what's done in science or in research and development all the time: you expect that nine out of 10 ideas won't work, that nine of 10 oil wells you drill won't turn up anything, that nine of 10 new drug candidates will fail.
Funding or Mandates
"Whereas firms will make ample returns on a major oil discovery or a blockbuster drug, to make up for the many failures along the way, that is clearly not the case for CCS, so the answer is almost certainly government funding or mandates," Reiner explained.
In his study, he concluded that "the initial rationales for demonstration have not been revisited in the face of changing circumstances." But the problem CCS was intended to address has not gone away either.
He wants to see a global portfolio of new projects to share risk and possible rewards. "If we are not going to get CCS to happen, it's hard to imagine getting the dramatic emissions reductions we need to limit global warming to 2C—or 3C for that matter," he said.
"However, there's an inherent tension in developing CCS—it is not a single technology but a whole suite and if there are six CCS paths we can go down, it's almost impossible to know, sitting where we are now, which is the right path.
"Somewhat ironically, we have to be willing to invest in these high-cost gambles or we will never be able to deliver an affordable, low-carbon energy system," Reiner said.
YOU MIGHT ALSO LIKE 
5 Disturbing Things Porter Ranch Methane Leak and Flint Water Crisis Have in Common
Armed Ships Embark on Secretive Plutonium Mission From Japan to the U.S.
Find Out How Close Your City Is to Going 100% Clean Energy
EcoWatch Daily Newsletter
Offutt Air Force Base after flooding on March 17. U.S. Air Force / TSgt. Rachelle Blake
A regenerating stand of rainforest in northern Costa Rica. Matthew Fagan / CC BY-ND
By Matthew Fagan, Leighton Reid and Margaret Buck Holland
Tropical forests globally are being lost at a rate of 61,000 square miles a year. And despite conservation efforts, the global rate of loss is accelerating. In 2016 it reached a 15-year high, with 114,000 square miles cleared.
At the same time, many countries are pledging to restore large swaths of forests. The Bonn Challenge, a global initiative launched in 2011, calls for national commitments to restore 580,000 square miles of the world's deforested and degraded land by 2020. In 2014 the New York Declaration on Forests increased this goal to 1.35 million square miles, an area about twice the size of Alaska, by 2030.
Compassion Over Killing
By Cheryl Leahy
Do you think almond milk comes from a cow named Almond? Or that almonds lactate? The dairy industry thinks you do, and that's what it's telling the Food and Drug Administration (FDA).
For years, the dairy industry has been flexing its lobbying muscle, pressuring states and the federal government to restrict plant-based companies from using terms like "milk" on their labels, citing consumer confusion.
By Jeremy Deaton
A driver planning to make the trek from Denver to Salt Lake City can look forward to an eight-hour trip across some of the most beautiful parts of the country, long stretches with nary a town in sight. The fastest route would take her along I-80 through southern Wyoming. For 300 miles between Laramie and Evanston, she would see, according to a rough estimate, no fewer than 40 gas stations where she could fuel up her car. But if she were driving an electric vehicle, she would see just four charging stations where she could recharge her battery.
d3sign / Moment / Getty Images
Common sense should not be taken for granted when people are discussing nutrition.
A fire erupted Sunday at a petrochemical plant in Deer Park, Texas.
NowThis News / YouTube screenshot
By Andrea Germanos
A petrochemical plant near Houston continued to burn for a second day on Monday, raising questions about the quality and safety of the air.

The Deer Park facility is owned by Intercontinental Terminals Company (ITC), which said the fire broke out at roughly 10:30 a.m. Sunday. Seven tanks are involved, the company said, and they contain naptha, xylene, "gas blend stocks" and "base oil."
"It's going to have to burn out at the tank," Ray Russell, communications officer for Channel Industries Mutual Aid, which is aiding the response effort, said at a news conference. It could take "probably two days" for that to happen, he added.
The hillsides dyed orange with poppies may look like something out of a dream, but for the Southern California town of Lake Elsinore, that dream quickly turned into a nightmare.
The town of 66,000 people was inundated with around 50,000 tourists coming to snap pictures of the golden poppies growing in Walker Canyon as part of a superbloom of wildfires caused by an unusually wet winter, BBC News reported. The visitors trampled flowers and caused hours of traffic, The Guardian reported.
The Humane Society of the United States uncovered a one-year pesticide test on 36 beagles contracted by Dow AgroSciences at a Michigan lab.
The Humane Society of the United States / YouTube screenshot
A controversial pesticide test that would have resulted in the deaths of 36 beagles has been stopped, the Humane Society of the United States (HSUS) and the company behind the test announced Monday. The announcement comes less than a week after HSUS made the test public when it released the results of an investigation into animal testing at Charles River Laboratories in Michigan.
"We have immediately ended the study that was the subject of attention last week and will make every effort to rehome the animals that were part of the study," Corteva Agriscience, the agriculture division of DowDupont, said in a statement announcing its decision.