Carbon Capture: 'Only Realistic and Affordable Way to Dramatically Reduce Emissions'
Governments may no longer be investing in the capture of carbon dioxide in the atmosphere. But a new study says that doesn't mean it's a bad idea.
It argues that the world just needs to think harder and spend more to make the technology work because, to contain climate change, it may prove the only realistic and affordable way to dramatically reduce carbon emissions.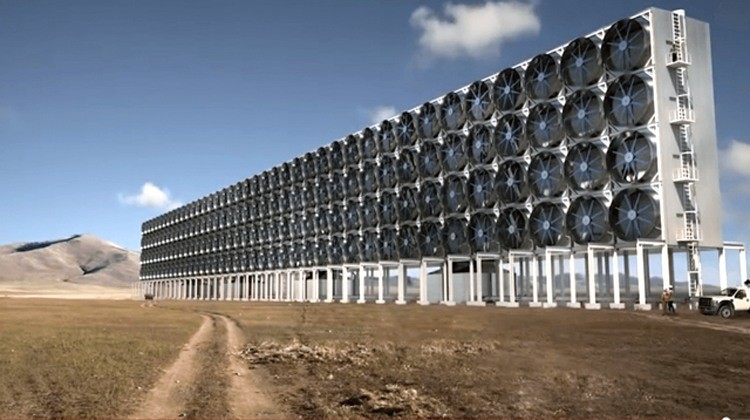 Many governments appear to agree and include carbon capture and storage in their plans to keep the world from dangerous climate change. But, at the same time, many are abandoning the trials that are needed to make it work.
David Reiner, senior lecturer in technology policy at the University of Cambridge Judge Business School, argued in the new journal Nature Energy that stopping trials is foolish.
Effective Answer
In a world addicted to fossil fuel energy, but threatened with catastrophic climate change driven by the greenhouse gas emissions from those same fossil fuels, he said that one effective answer would be to capture the carbon dioxide before it gets into the atmosphere and then store it.
He wrote that the only way to find out how to do this is to spend billions on a range of possible attempts at carbon capture and storage (CCS) and then choose the best one.
"If we are serious about meeting aggressive national or global emissions, the only way to do it affordably is with CCS," Reiner said. "But, since 2008, we have seen a decline in interest in CCS, which has essentially been in lock step with our declining interest in doing anything serious about climate change."
Just before the UN climate change summit in Paris last December, the UK government cancelled a £1 billion competition to support large-scale demonstration projects. Since 2008, other projects have been cancelled in the U.S., Canada, Australia and Europe.
But oil companies have for two decades been testing the approach on a small scale and energy scientists have been working on imaginative solutions to what promises to become a global crisis in which the same energy technologies that fuel global economic growth also threaten to change the global climate and impoverish billions of people.
While every aspect of carbon capture and storage poses puzzles—such as whether power-generating stations make the capture efficiently and where the gas could be safely stored—chemists have dreams of actually exploiting captured carbon dioxide to create new wealth and drive economies in cleaner, greener directions.
But research costs money. Solar and wind power can be tested on a small scale. To make CCS work, engineers and scientists and power-generating agencies have to think big. One single demonstration plant could cost $1 billion.
"Scaling up any new technology is difficult, but it's that much harder if you're working in billion-dollar chunks," Reiner said. "At 10 million or even 100 million dollars, you will be able to find ways to fund the research and development. But being really serious about CCS and making it work means allocating large sums at a time when national budgets are still under stress after the global financial crisis."
The other problem is that any project can fail—even one that costs a billion dollars.
"The nature of demonstration is that you work out the kinks, find out what works and what doesn't," Reiner added. "It's what's done in science or in research and development all the time: you expect that nine out of 10 ideas won't work, that nine of 10 oil wells you drill won't turn up anything, that nine of 10 new drug candidates will fail.
Funding or Mandates
"Whereas firms will make ample returns on a major oil discovery or a blockbuster drug, to make up for the many failures along the way, that is clearly not the case for CCS, so the answer is almost certainly government funding or mandates," Reiner explained.
In his study, he concluded that "the initial rationales for demonstration have not been revisited in the face of changing circumstances." But the problem CCS was intended to address has not gone away either.
He wants to see a global portfolio of new projects to share risk and possible rewards. "If we are not going to get CCS to happen, it's hard to imagine getting the dramatic emissions reductions we need to limit global warming to 2C—or 3C for that matter," he said.
"However, there's an inherent tension in developing CCS—it is not a single technology but a whole suite and if there are six CCS paths we can go down, it's almost impossible to know, sitting where we are now, which is the right path.
"Somewhat ironically, we have to be willing to invest in these high-cost gambles or we will never be able to deliver an affordable, low-carbon energy system," Reiner said.
YOU MIGHT ALSO LIKE 
5 Disturbing Things Porter Ranch Methane Leak and Flint Water Crisis Have in Common
Armed Ships Embark on Secretive Plutonium Mission From Japan to the U.S.
Find Out How Close Your City Is to Going 100% Clean Energy
Bill Maher is sick of billionaires' obsession with Mars, more like "Mars-a-Lago," he said.
In a new animation produced by ATTN:, the popular talk show host of Real Time, discusses the perils of our planet, including how "climate change is killing us."
Keep reading...
Show less
Dr. Benjamin D. Santer, research scientist
A group of prominent climate scientists have written a study explicitly refuting statements made by the U.S. Environmental Protection Agency Administrator Scott Pruitt on climate data. During his Senate confirmation hearing, Pruitt claimed in a written response that satellite data shows a "leveling off" of warming over the past two decades.
Keep reading...
Show less
By David Pomerantz
The Nevada Assembly passed a bill Wednesday that would dramatically increase the growth of renewable energy in the state, but Sheldon Adelson, the casino magnate and major donor to Donald Trump, is attempting to prevent the bill from becoming law.
Keep reading...
Show less
Matt Crossick
By Yosola Olorunshola
Whether it's through fashion or protest, Vivienne Westwood is not a woman afraid of making a statement.
On May 23, she rocked up to the residence of the Archbishop of Canterbury in London with a special guest—the Grim Reaper—to issue a strong statement on the Church of England's position on fracking.
Keep reading...
Show less
Military veterans from across Virginia released a letter Thursday opposing two proposed fracked-gas pipelines: Dominion Energy's Atlantic Coast Pipeline and EQT's Mountain Valley Pipeline. These pipelines would cross through pristine areas of Virginia, taking private property by use of eminent domain, removing mountain ridgetops and threatening valuable drinking water resources. The veterans view this as contrary to their service to protect and defend the freedom and security of American citizens.

Keep reading...
Show less
By Paul Brown
The food industry and big agricultural concerns are driving climate change and at the same time threatening to undermine efforts to feed the world's growing population, according to GRAIN, an organization that supports small farmers.
Particularly singled out for criticism are the large chemical fertilizer producers that have gained access to the United Nations talks on climate change. GRAIN accuses them of behaving like the fossil fuel companies did in the 1990s, pushing false information in the hope of delaying real action on climate change.
Keep reading...
Show less
May. 24, 2017 06:55PM EST
By Sydney Robinson
President Trump has no doubt been given a long list of extravagant, elaborate gifts in his lifetime, but the gift given to him today by Pope Francis may not make it on his most favorite list.
Keep reading...
Show less
May. 24, 2017 07:17PM EST
By John Rogers
Maybe it's because I first started working on clean energy while serving in the Peace Corps he founded, or maybe it's my years of working on these issues from his home state. But I can't help thinking about the 100th anniversary of John F. Kennedy's birth, and connecting his stirring rhetoric to the energy challenges of our times.
Here's what our 35th president might have said about the challenges of energy transition and the opportunities in clean energy:
"Change is the law of life. And those who look only to the past or present are certain to miss the future."
Keep reading...
Show less


Get EcoWatch in your inbox