This website uses cookies to ensure you get the best experience while browsing it. By clicking 'Got It' you're accepting these terms.
Carbon-Addicted U.S. Shifts from User to Pusher While Repudiating Renewable Energy Solutions
Dec. 03, 2012 10:03AM EST
Energy
By Swati Jangle
Few people have much hope for international climate negotiations these days. Government delegations currently meeting in the Qatari capital Doha are negotiating a complex architecture that seems to have little connection with either the effect or the cause. In all the haggling over CERs, ERUs and LULUCF, it's hard to recognize the suffering of those hit by the onslaught of storms, floods and droughts this year in the U.S., Australia, India, China, Africa and Europe. Here in Doha it feels necessary to state the obvious—climate change is caused primarily by burning fossil fuels.
The dirtiest of these, coal, is responsible for 43 percent of world CO2 emissions from fuels, and is estimated to have caused over two-thirds of the increase in global CO2 emissions in the past five years.
But while international climate negotiations have a knack of making the problem look intractable, a return to reality suggests a way forward. With significant constraints to coal use variously in the U.S., China and India, and with fast growth in renewable energy, an energy transformation is under way.
In the U.S., the world's second largest coal user, consumption has fallen drastically in the last couple of years, due to a combination of stricter pollution controls and cheaper alternative fuels—especially gas, but increasingly renewable energy. Coal's share of total electricity generation in the U.S. dropped from 49 percent in 2007 to 37 percent in September 2012. More than 10 gigawatts (GW) of coal capacity was retired between 2007 and April 2012, and another 267 units with 47 GW of capacity will retire before 2020, and many utilities predict a further decline of U.S. coal use in subsequent decades.
That's not the end of the story though, as the coal industry has reacted to the loss of domestic markets by looking overseas. It wants to extract resources especially from the Powder River Basin in southeast Montana and northeast Wyoming, and export to Asia via the Pacific Northwest. Several proposals for infrastructure expansion including ports and railway lines have been tabled, that would enable coal from the Basin to be shipped to the Pacific with trains and barges, initially for around 131 million tonnes (145 million short tons) per year, and could open the door to much higher volumes.
In spite of the looming fiscal cliff, the export projects continue to receive government largesse: the coal industry has access to taxpayer-owned lands for extremely low cost, due to favorable land leasing process. This is combined with rail and port subsidies, regulatory leniency and at least billions of tax breaks. In short, the carbon-addicted U.S. is gradually shifting from user to pusher.
Aggressive U.S. coal export expansion planned by the industry, supported by the government, would cancel out, and potentially outweigh, the emissions reductions from domestic coal burning—because the atmosphere does not care where the carbon is emitted. This is set to become one of the major environmental issues of the second Obama administration. "Even if he does implement strong carbon policy at home, President Obama stands to fail the world on climate if he allows a massive export of federally-owned coal," said Kyle Ash, senior legislative representative for Greenpeace USA.
But how, ask the media in industrialized countries, can we solve climate change with all the coal power stations being built in China? There too, in the country accounting for nearly half of the world's coal consumption, the rapid growth of recent years is starting to face physical constraints in relation to water availability and air pollution.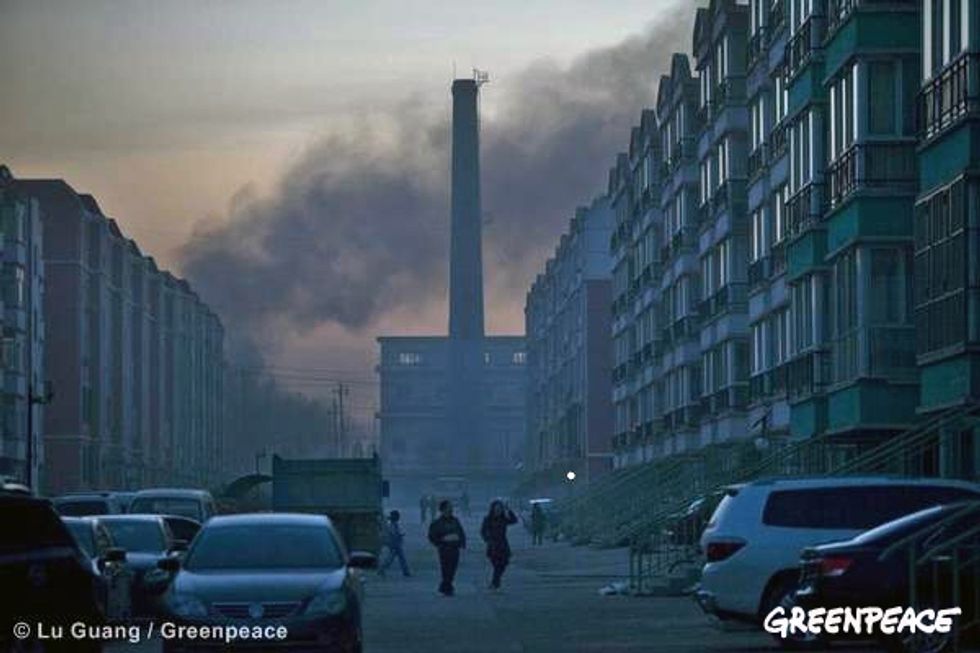 A joint Greenpeace report with the Chinese Academy of Sciences, published earlier this year, found that existing coal development plans would require equivalent to one sixth of the annual water volume of the Yellow River. Much of China's coal reserves are located in water-stressed areas. By 2015 the coal industry's demand for water will exceed several provinces' 2010 capacity for industrial water supply (Shaanxi: 141 percent, Inner Mongolia: 140 percent, Shanxi: 103 percent). This will likely lead to political restrictions as supplies for agricultural and domestic uses are threatened.
Meanwhile, it is estimated that industrial air pollution kills almost 500,000 people annually, with coal-fired power generation by far the largest contributor. According to statistics from China's Ministry of Environmental Protection, in recent years, cities in the three most densely populated regions —Yangtze River Delta, Pearl River Delta and Beijing-Tianjin-Hebei region—have seen more than 100 smoggy days each year, with fine particle concentration two to four times the level recommended by WHO Air Quality Guidelines.
This comes as a result of a continuous increase in coal burning. Recognizing the serious impacts of air pollution on human health and the quality of life, municipal governments are now taking actions to curb coal burning. Beijing has recently announced a coal-consumption reduction target of 15 million tonnes in the coming five years. Guangzhou, the third largest city in China recently announced a zero increase target as its key measure to clean up air pollution. Other eastern cities, such as Tianjin, Shanghai, Wuxi, Changzhou and Ningbo, have also proposed absolute targets to limit the increase of coal consumption.
The Chinese government is meanwhile showing indications of recognizing that climate change mitigation requires restrictions on coal use. China's 12th five year plan (2011-2015) sets a non-binding limit to coal production and use of no more than 3.9 billion tons by 2015 (compared to the 2011 level of 3.5 billion).
But don't developing countries need coal to lift their people out of poverty? Greenpeace is involved in an exciting project in the Indian state of Bihar which strongly suggests there are better ways to reach the poorest, by seeking a speedy rural electrification through decentralized renewable energy. Bihar is one of the poorest states in India, with 70 percent of households without electricity.
Whereas centralized, often coal-based energy supply, has repeatedly led to blackouts, especially in the rural areas, micro-grids can offer greater reliability at competitive costs. The approach can facilitate the integration of renewable energies, reduce transmission losses by having generation close to demand and can adequately adjust to demand growth. It has strong political support: in a bid to popularize the solar energy among people, chief minister of Bihar, Nitish Kumar has got installed solar power system at his home. Greenpeace believes climate finance can play a crucial role in Bihar's efforts to provide electricity to its rural communities and showcase a "leapfrog pathway" towards a clean energy future skipping the fossil fuel intensive, centralized energy systems.
And renewables are now delivering at scale in industrialized economies too. Since 2006, almost 100 gigawatts (GW) of renewable generation have been added to the electricity networks of western European countries, particularly in Germany, Spain and Italy. This means that renewable generation now accounts for almost 35 percent of the total installed capacity base in Europe. Germany's nuclear phase-out decision has enhanced ambition, with the federal states setting a combined target of 53 percent of electricity from renewables, substantially higher than the national target of 40 percent. Implementing the development plans of German states would enable the country to cut coal use by half.
Here is where Doha matters: not because it can deliver the grand solution to climate change, but because relatively small political signals could reinforce the trends already being seen in energy markets.  A second commitment period of the Kyoto Protocol, removal of its biggest loophole in the form of 'hot air' allowances, and a roadmap towards a new legally binding global agreement by 2015 are crucial to send these signals.
At many climate summits, governments have been reluctant because they perceived it as too difficult to achieve any ambitious targets. Now that excuse can no longer be used: the energy industry is ripe for a change. It is down to politicians to show whether they are on the side of climate victims or on the side of coal corporations.
 Visit EcoWatch's CLIMATE CHANGE, COAL and RENEWABLES pages for more related news on this topic.
EcoWatch Daily Newsletter
Milk made from almonds, oats and coconut are among the healthiest alternatives to cow's milk. triocean / iStock / Getty Images Plus
Dairy aisles have exploded with milk and milk alternative options over the past few years, and choosing the healthiest milk isn't just about the fat content.
Whether you're looking beyond cow's milk for health reasons or dietary preferences or simply want to experiment with different options, you may wonder which type of milk is healthiest for you.
Greta Thunberg stands aboard the catamaran La Vagabonde as she sets sail to Europe in Hampton, Virginia, on Nov. 13. NICHOLAS KAMM / AFP via Getty Images
Greta Thunberg, the teenage climate activist whose weekly school strikes have spurred global demonstrations, has cut short her tour of the Americas and set sail for Europe to attend COP25 in Madrid next month, as The New York Times reported.
At least 1,688 dams across the U.S. are in such a hazardous condition that, if they fail, could force life-threatening floods on nearby homes, businesses, infrastructure or entire communities, according to an in-depth analysis of public records conducted by the the Associated Press.
By Sabrina Kessler
Far-reaching allegations about how a climate-sinning American multinational could shamelessly lie to the public about its wrongdoing mobilized a small group of New York students on a cold November morning. They stood in front of New York's Supreme Court last week to follow the unprecedented lawsuit against ExxonMobil.
By Alex Robinson
Leah Garcés used to hate poultry farmers.
The animal rights activist, who opposes factory farming, had an adversarial relationship with chicken farmers until around five years ago, when she sat down to listen to one. She met a poultry farmer called Craig Watts in rural North Carolina and learned that the problems stemming from factory farming extended beyond animal cruelty.
People navigate snow-covered sidewalks in the Humboldt Park neighborhood on Nov. 11 in Chicago. Scott Olson / Getty Images
Temperatures plunged rapidly across the U.S. this week and around 70 percent of the population is expected to experience temperatures around freezing Wednesday.
A general view of the flooded St. Mark's Square after an exceptional overnight "Alta Acqua" high tide water level, on Nov. 13 in Venice. MARCO BERTORELLO / AFP / Getty Images
President Donald Trump doesn't like wind turbines.
In April, he claimed they caused cancer, and he sued to stop an offshore wind farm that was scheduled to go up near land he had purchased for a golf course in Aberdeenshire in Scotland. He lost that fight, and now the Trump Organization has agreed to pay the Scottish government $290,000 to cover its legal fees, The Washington Post reported Tuesday.