This website uses cookies to ensure you get the best experience while browsing it. By clicking 'Got It' you're accepting these terms.
Captain Paul Watson: If I Were CEO of SeaWorld
Jan. 08, 2015 09:14AM EST
Insights + Opinion
There is no justification for the enslavement of animals.
None. There never has been and there never can be. Slavery is slavery—unjustifiable, cruel, evil and soul-destroying, both for the victims and the oppressors.
Circuses and places like SeaWorld are despicable places, and the only zoos that should exist are those that rehabilitate wildlife, contribute to the conservation of habitat and provide medical facilities for animals in the wild.
Up until 1979, adult mountain gorillas were murdered so that baby mountain gorillas could be captured and displayed at the Cologne Zoo. This was once a routine practice by zoos, and today this method continues with the mass slaughter of dolphins in drive hunts designed to capture dolphins for trade and display in dolphinariums around the world.
Because of places like SeaWorld, we have the horror of the dolphin slaughter in Taiji.
This makes any person, man, woman or child who purchases a ticket to SeaWorld, Marineland or any facility profiting from the display of dolphins as culpable for the crime as the business interests that have thrived for so long on animal slavery.
The greatest circus in the world is Cirque du Soleil, and it does not exploit animals. There are alternatives.
We live in the greatest electronic media age in the history of the world. A facility that incorporated huge IMAX-like screens depicting real wild dolphins, orcas, seals, sharks and fish in their real-life habitats would be just as thrilling and far more educational than these concrete prison cells where cetacean slaves are forced to perform stupid tricks solely for the purpose of providing amusement to humans. They are not really much different from the venues of ancient gladiatorial sports, in which animals were slaughtered for the amusement of the masses—except today the killing is prolonged and miserable.
It has been very encouraging to see the impact of the documentary Blackfish on the plummeting profits of SeaWorld. This cruel and unnecessary facility must be shut down.
This brings up two questions that I constantly hear. First, "What about the jobs of the people who work at SeaWorld?"
Yes, what about their jobs? Employment does not justify cruelty. Human slavery provided tens of thousands of jobs to merchants, sailors, seers, and escaped slave hunters. Do we care about their despicable jobs today? Not at all. Their jobs were consigned to the dustbin of history where they belonged.
I also have no sympathy for the shareholders who have lost and continue to lose their investments.
Tens of millions of dollars in investments were lost with the joyous death of slavery. And for those who still hold shares, hoping in vain that SeaWorld will recover, I think it is time they wake up and smell the coffee before they lose even more of their thoughtless investments. Anyone who continues to hold shares in SeaWorld is not only not to be pitied for their lack of compassion, they deserve to lose their investments because of their reckless financial gamboling. SeaWorld will not recover unless they radically change their modus operandi. The writing is on the wall as the anti-cetacean slavery movement continues to grow in power and influence.
The second question is, "What will happen to the animals if SeaWorld collapses?" First, SeaWorld has a legal responsibility to find a solution. They cannot legally abandon the animals. They cannot put the animals down without long and costly court battles.
There is, however, a way that SeaWorld and other facilities can actually survive, that investors can recoup their investment, employees can retain their jobs, and the animals can be given a new lease on life.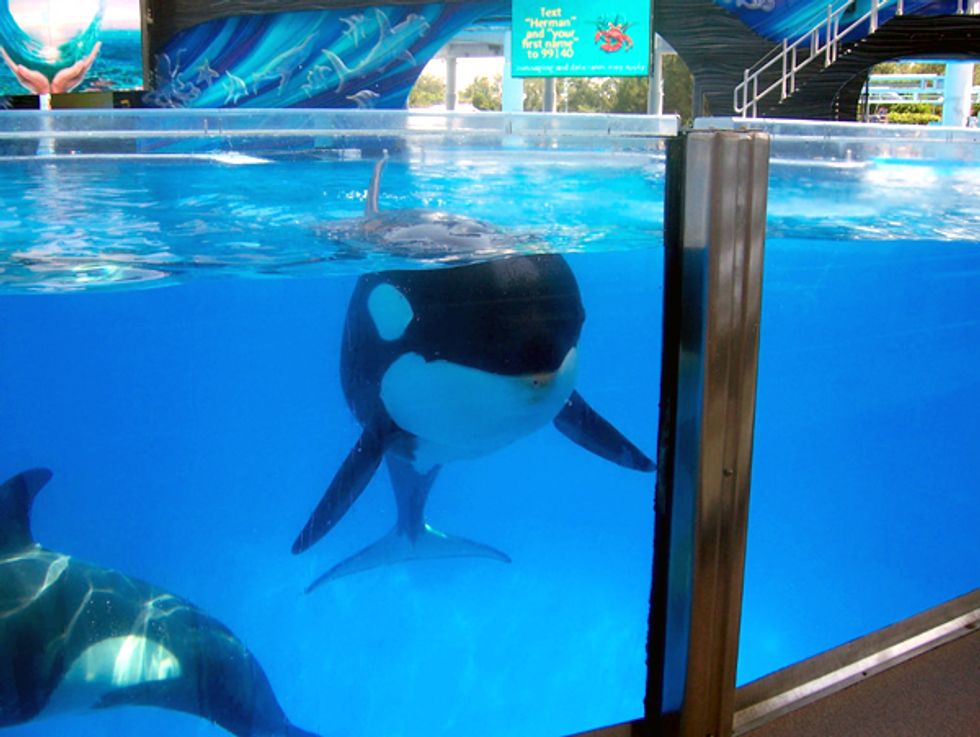 And if I were the CEO of SeaWorld, this is the plan I would follow.
First, I would find large bays or fjords where the openings could be netted off. The animals could then be placed in these large enclosures. Food could be provided by a trust fund set up by SeaWorld and trainers hired to teach the orcas and dolphins how to return to freedom in the ocean. Thanks to scientists like Dr. John Ford, we can match captive orcas with their pods based on the dialects within their language. People could still come to see the animals in these enclosures, although without the silly tricks. This facility could also serve as a hospital and rehabilitation center for sick and wounded animals.
Secondly, I would empty the tanks and replace them with a multi-media, IMAX-type environment to take people on virtual tours of our ocean. I would provide real educational messages about the state of our ocean and planet, and what we need to do to protect and conserve species, lives and eco-systems. This facility would provide plenty of jobs.
All we need to do is replace slavery with rehabilitation and replace amusement parks with entertaining, educational facilities.
So SeaWorld could survive, jobs could be retained and the animals could be freed—but only if someone has the vision, the courage and the willingness to do the right thing for the interests of all concerned: the investors, the employees and most importantly, the animals.
YOU MIGHT ALSO LIKE
Blackfish Director Challenges SeaWorld to Debate
14 Ocean Conservation Wins of 2014
The Blackfish Effect: 40 Members of Congress Call on USDA to Revise Rules for Captive Marine Mammals
EcoWatch Daily Newsletter
Coral restoration in Guam. U.S. Pacific Fleet / CC BY-NC 2.0
By Erica Cirino
Visit a coral reef off the coast of Miami or the Maldives and you may see fields of bleached white instead of a burst of colors.
Cracker Lake, Glacier National Park, Montana. Jacob W. Frank / NPS / Flickr
By Jason Bittel
High up in the mountains of Montana's Glacier National Park, there are two species of insect that only a fly fishermen or entomologist would probably recognize. Known as stoneflies, these aquatic bugs are similar to dragonflies and mayflies in that they spend part of their lives underwater before emerging onto the land, where they transform into winged adults less than a half inch long. However, unlike those other species, stoneflies do their thing only where cold, clean waters flow.
Augusta National / Getty Images
By Bob Curley
The new chicken sandwiches at McDonald's, Popeyes, and Chick-fil-A all contain the MSG flavor enhancement chemical.
Experts say MSG can enhance the so-called umami flavor of a food.
The ingredient is found in everything from Chinese food and pizza to prepackaged sandwiches and table sauces.
McDonald's wants to get in on the chicken sandwich war currently being waged between Popeyes and Chick-fil-A.
Protesters march during a "Friday for future" youth demonstration in a street of Davos on Jan. 24 on the sideline of the World Economic Forum annual meeting. FABRICE COFFRINI / AFP / Getty Images
By Andrea Germanos
Youth climate activists marched through the streets of Davos, Switzerland Friday as the World Economic Forum wrapped up in a Fridays for Future demonstration underscoring their demand that the global elite act swiftly to tackle the climate emergency.
chuchart duangdaw / Moment / Getty Images
By Tim Radford
The year is less than four weeks old, but scientists already know that carbon dioxide emissions will continue to head upwards — as they have every year since measurements began — leading to a continuation of the Earth's rising heat.