Capitalism vs. The Climate: Stephen Colbert Talks To Naomi Klein
Sep. 24, 2014 11:21AM EST
Climate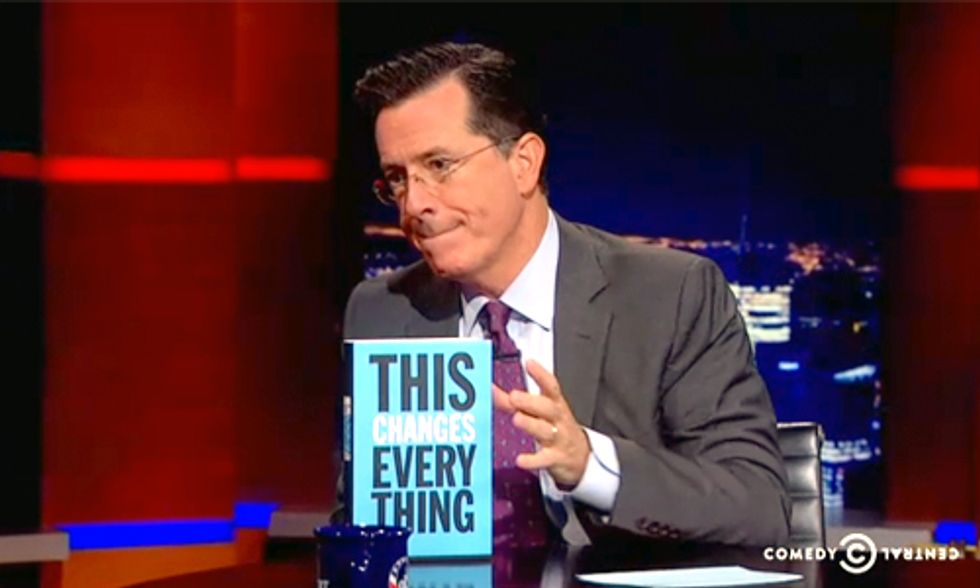 Author Naomi Klein, who just released her new book This Changes Everything: Capitalism vs. The Climate, was Stephen Colbert's guest on Comedy Central's The Colbert Report last night, explaining to the straight-man host why capitalism might be good for him personally but not for the Earth.
Lobbing her softballs in the form of affable iterations of stock climate denier statements like "I don't deny climate change, it's happening I just don't know if we need to do anything about it," and "I fly over the country all the time, it's green out there, there's lakes, there's rivers, it's a beautiful world—it's all cyclical," Colbert provided her openings to explain her book's thesis—that capitalism, with its demands for constant growth to fuel profit, must be scrapped to reverse climate change.
"I haven't finished reading the book," said Colbert. "I don't want to know who wins, capitalism or the climate. But I assume it's capitalism because the book costs $30 and it's printed on dead trees."
YOU MIGHT ALSO LIKE
'This Changes Everything' Including the Anti-Fracking Movement
Naomi Klein on Democracy Now! Discussing Capitalism vs. the Climate
EcoWatch Daily Newsletter