This website uses cookies to ensure you get the best experience while browsing it. By clicking 'Got It' you're accepting these terms.
Canned Tuna Shopping Guide: How Does Your Brand Stack Up?
Mar. 09, 2015 08:06AM EST
Food
Canned tuna is one of the most consumed fish in the world, with the U.S. leading the way, despite a dip in consumption in the last 25 years. But the popularity of the fish and its value in the marketplace as its price has increased has led to practices such as illegal fishing, overfishing and fishing methods that capture and harm other species, called bycatch.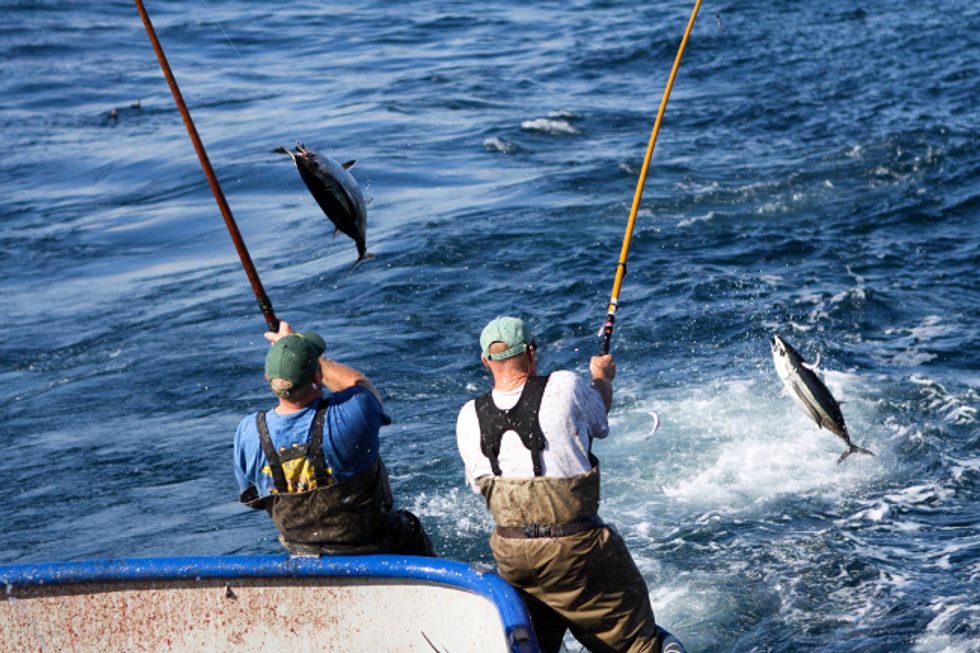 Now for the first time, Greenpeace has scrutinized and rated the practices of companies offering canned tuna—and it found most of them lacking. It found that more than 80 percent of the canned tuna sold in the U.S.comes from sources engaging in unsustainable and destructive fishing practices.
Greenpeace's 2015 Canned Tuna Shopping Guide, available on their extremely user-friendly website, rates 14 widely available brands and ranked the three biggest—Bumblebee, Chicken of the Sea and StarKist—among the worst performers, talking about sustainability without practicing it or providing little information on their sourcing policies. It gave eight of the 14 a failing score.

"Consumers should know that popular and trusted canned tuna brands are contributing to ocean destruction at an alarming rate," said Greenpeace seafood markets lead Graham Forbes. "While the biggest brands have thus far refused to offer sustainable tuna, the silver lining here is that other companies are stepping up to provide ocean safe options for their customers."
The guide looked at whether the common tuna fishing practice of longline fishing, which can capture up to 35 percent bycatch such as sea birds, turtles and sharks, was used or if it involved shark finning, the practice of removing shark fins and tossing the carcass back into the sea. They looked at whether the companies even tracked their product back to the practices used to catch it. They also examined labor and human rights violations in the tuna fishing industry and whether the companies had policies in place to avoid them.
"Unfortunately, dolphin safe does not mean ocean safe," said Forbes. "Turtles, sharks and other vulnerable ocean life are collateral damage in tuna fisheries that supply the U.S market. The big players have a responsibility to join forward-thinking brands in building a more responsible tuna industry. As the market continues to shift, selling products that are bad for our oceans will be bad for business."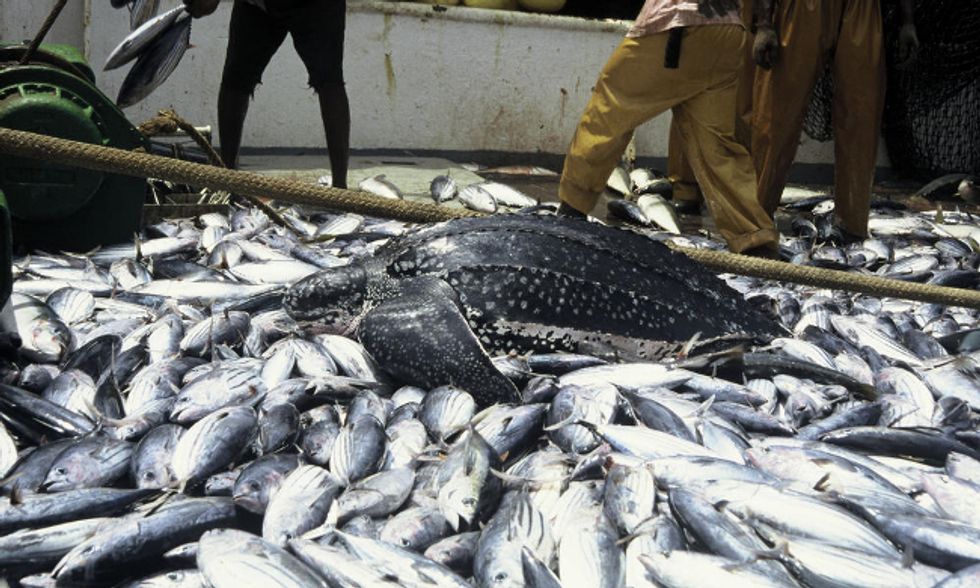 Among the companies it found were offering products that did not come from destructive sources were Wild Planet, American Tuna and Ocean Naturals.
It ranked Wild Planet at the top saying it's a "go-to eco-brand, topping the ranks for its dedication to ensuring its tuna products are sustainable and responsible." It found the company has a fully implemented sourcing policy with information available on its website, as well as on its product labels, and that none of its products are the result of longline fishing but come from fisheries using methods with minimal impact on other marine life.
"While traditionally thought of by many as a specialty product, this better option is now more accessible to consumers," says Greenpeace's shopping guide. "The company's commitment to sustainability extends beyond its products to its advocacy for positive industry change and stronger fishery management."
Similarly, American Tuna using the pole-and-line method, which avoids harm to turtles, sharks and seabirds. The San Diego-based company is also committed to supporting local and small-scale fisheries.
Ocean Naturals is a newer brand from the Tri Marine Group which started as a WalMart offering and is now expanding. It has expressed a commitment to pole-and-line fished tuna to be locally fished and processed in the coastal fishing communities of American Samoa.
"For a company of this size, Tri Marine is an unparalleled frontrunner," says the Greenpeace Guide. "The company's internal sourcing policies are comprehensive and once fully implemented have the potential to be a game changer in the tuna world, provided the Ocean Naturals standards are promoted across all supply relationships."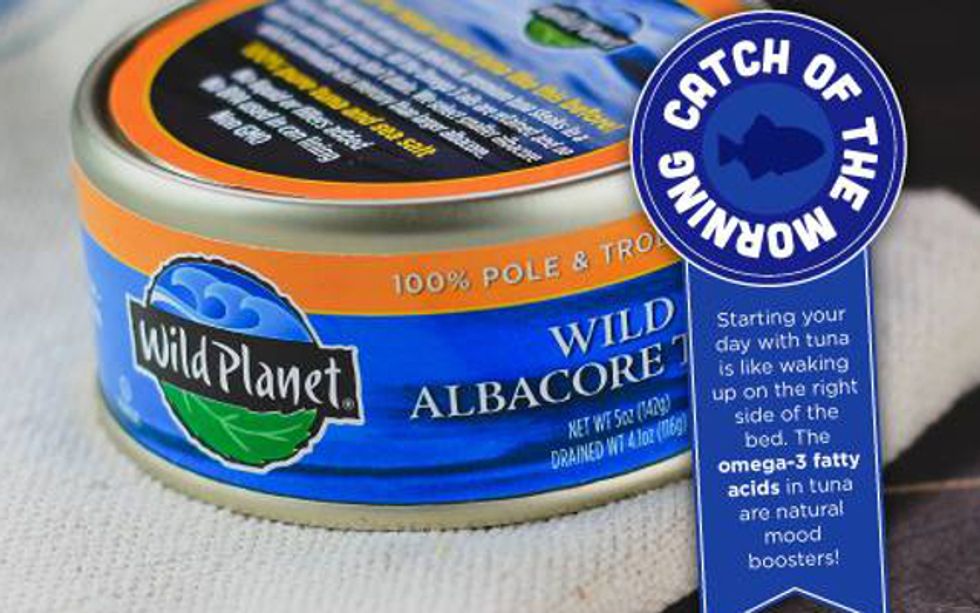 Whole Foods ranked near the top among retailers with its 365 house line offering only sustainably fished products, although the guide recommended that the company provide more information and pay more attention to sourcing. Hy-Vee and Trader Joe's house brands came in fourth and sixth, with concerns that only some of their products are sustainably sourced and that, while both have been trying to offer more sustainable seafood, they still need to make improvements in their policies and sourcing.
On the other end of the scale, it ranked StarKist, which has the largest share of the U.S. canned tuna market, at the bottom, lambasting it for its lack of transparency.
"This brand has something to hide, and we bet it's ocean destruction," says the guide. "StarKist's failure to take sustainability seriously is trashing our oceans to offer cheap and dirty tuna nationwide."
YOU MIGHT ALSO LIKE
What to Consider When Buying a Can of Tuna
Bye Bye Bycatch? Smart Nets That Save Fish
Enjoy Seafood While You Can: Commercial Fisheries Likely to Collapse by 2048
EcoWatch Daily Newsletter
A view of a washed out road near Utuado, Puerto Rico, after a Coast Guard Air Station Borinquen MH-65 Dolphin helicopter crew dropped relief supplies to residents Tuesday, Oct. 3, 2017. The locals were stranded after Hurricane Maria by washed out roads and mudslides. U.S. Coast Guard photo by Petty Officer 3rd Class Eric D. Woodall /
CC BY-NC-ND 2.0
By Coral Natalie Negrón Almodóvar
The Earth began to shake as Tamar Hernández drove to visit her mother in Yauco, Puerto Rico, on Dec. 28, 2019. She did not feel that first tremor — she felt only the ensuing aftershocks — but she worried because her mother had an ankle injury and could not walk. Then Hernández thought, "What if something worse is coming our way?"
Flooded battery park tunnel is seen after Hurricane Sandy in 2012.
CC BY 2.0
President Trump has long touted the efficacy of walls, funneling billions of Defense Department dollars to build a wall on the southern border. However, when the U.S. Army Corps of Engineers (USACE) released a study that included plans for a sea wall to protect New Yorkers from sea-level rise and catastrophic storms like Hurricane Sandy, Trump mocked it as ineffective and unsightly.
A general view of fire damaged country in the The Greater Blue Mountains World Heritage Area near the town of Blackheath on Feb. 21, 2020 in Blackheath, Australia. Brook Mitchell / Getty Images
In a post-mortem of the Australian bushfires, which raged for five months, scientists have concluded that their intensity and duration far surpassed what climate models had predicted, according to a study published yesterday in Nature Climate Change.
Sea level rise causes water to spill over from the Lafayette River onto Llewellyn Ave in Norfolk, Virginia just after high tide on Aug. 5, 2017. This road floods often, even when there is no rain.
Skyler Ballard / Chesapeake Bay Program
By Tim Radford
The Texan city of Houston is about to grow in unexpected ways, thanks to the rising tides. So will Dallas. Real estate agents in Atlanta, Georgia; Denver, Colorado; and Las Vegas, Nevada could expect to do roaring business.
Malala Yousafzai (left) and Greta Thunberg (right) met in Oxford University Tuesday. Wikimedia Commons /
CC BY 2.0
What happens when a famous school striker meets a renowned campaigner for education rights?