This website uses cookies to ensure you get the best experience while browsing it. By clicking 'Got It' you're accepting these terms.
Canned Tuna Shopping Guide: How Does Your Brand Stack Up?
Mar. 09, 2015 08:06AM EST
Food
Canned tuna is one of the most consumed fish in the world, with the U.S. leading the way, despite a dip in consumption in the last 25 years. But the popularity of the fish and its value in the marketplace as its price has increased has led to practices such as illegal fishing, overfishing and fishing methods that capture and harm other species, called bycatch.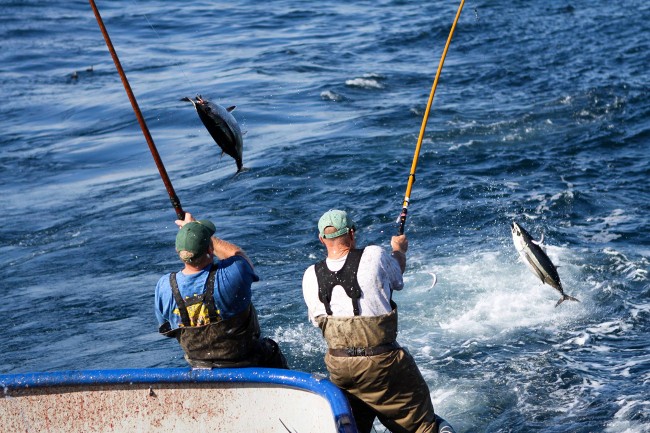 Now for the first time, Greenpeace has scrutinized and rated the practices of companies offering canned tuna—and it found most of them lacking. It found that more than 80 percent of the canned tuna sold in the U.S.comes from sources engaging in unsustainable and destructive fishing practices.
Greenpeace's 2015 Canned Tuna Shopping Guide, available on their extremely user-friendly website, rates 14 widely available brands and ranked the three biggest—Bumblebee, Chicken of the Sea and StarKist—among the worst performers, talking about sustainability without practicing it or providing little information on their sourcing policies. It gave eight of the 14 a failing score.
"Consumers should know that popular and trusted canned tuna brands are contributing to ocean destruction at an alarming rate," said Greenpeace seafood markets lead Graham Forbes. "While the biggest brands have thus far refused to offer sustainable tuna, the silver lining here is that other companies are stepping up to provide ocean safe options for their customers."
The guide looked at whether the common tuna fishing practice of longline fishing, which can capture up to 35 percent bycatch such as sea birds, turtles and sharks, was used or if it involved shark finning, the practice of removing shark fins and tossing the carcass back into the sea. They looked at whether the companies even tracked their product back to the practices used to catch it. They also examined labor and human rights violations in the tuna fishing industry and whether the companies had policies in place to avoid them.
"Unfortunately, dolphin safe does not mean ocean safe," said Forbes. "Turtles, sharks and other vulnerable ocean life are collateral damage in tuna fisheries that supply the U.S market. The big players have a responsibility to join forward-thinking brands in building a more responsible tuna industry. As the market continues to shift, selling products that are bad for our oceans will be bad for business."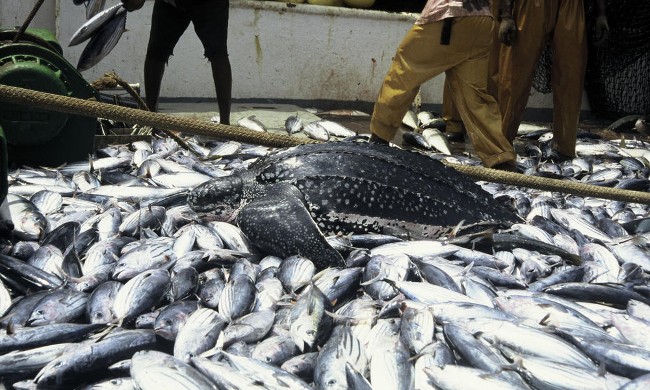 Among the companies it found were offering products that did not come from destructive sources were Wild Planet, American Tuna and Ocean Naturals.
It ranked Wild Planet at the top saying it's a "go-to eco-brand, topping the ranks for its dedication to ensuring its tuna products are sustainable and responsible." It found the company has a fully implemented sourcing policy with information available on its website, as well as on its product labels, and that none of its products are the result of longline fishing but come from fisheries using methods with minimal impact on other marine life.
"While traditionally thought of by many as a specialty product, this better option is now more accessible to consumers," says Greenpeace's shopping guide. "The company's commitment to sustainability extends beyond its products to its advocacy for positive industry change and stronger fishery management."
Similarly, American Tuna using the pole-and-line method, which avoids harm to turtles, sharks and seabirds. The San Diego-based company is also committed to supporting local and small-scale fisheries.
Ocean Naturals is a newer brand from the Tri Marine Group which started as a WalMart offering and is now expanding. It has expressed a commitment to pole-and-line fished tuna to be locally fished and processed in the coastal fishing communities of American Samoa.
"For a company of this size, Tri Marine is an unparalleled frontrunner," says the Greenpeace Guide. "The company's internal sourcing policies are comprehensive and once fully implemented have the potential to be a game changer in the tuna world, provided the Ocean Naturals standards are promoted across all supply relationships."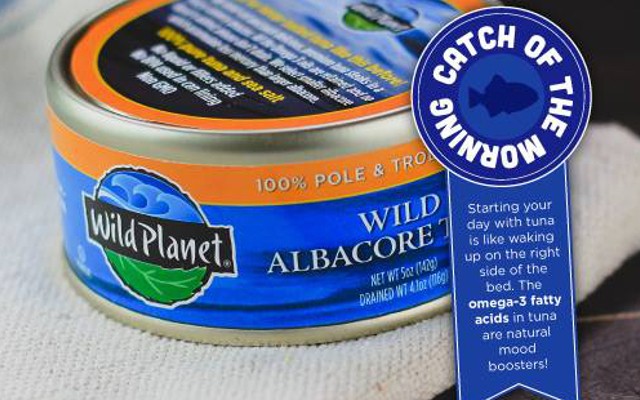 Whole Foods ranked near the top among retailers with its 365 house line offering only sustainably fished products, although the guide recommended that the company provide more information and pay more attention to sourcing. Hy-Vee and Trader Joe's house brands came in fourth and sixth, with concerns that only some of their products are sustainably sourced and that, while both have been trying to offer more sustainable seafood, they still need to make improvements in their policies and sourcing.
On the other end of the scale, it ranked StarKist, which has the largest share of the U.S. canned tuna market, at the bottom, lambasting it for its lack of transparency.
"This brand has something to hide, and we bet it's ocean destruction," says the guide. "StarKist's failure to take sustainability seriously is trashing our oceans to offer cheap and dirty tuna nationwide."
YOU MIGHT ALSO LIKE
What to Consider When Buying a Can of Tuna
Bye Bye Bycatch? Smart Nets That Save Fish
Enjoy Seafood While You Can: Commercial Fisheries Likely to Collapse by 2048
EcoWatch Daily Newsletter
Two Sherpa descending from Everest Base Camp, Himalayas, Khumbu, Nepal. Joel Addams / Aurora Photos / Getty Images
Climate change is having a grizzly effect on Mount Everest as melting snow and glaciers reveal some of the bodies of climbers who died trying to scale the world's highest peak.
Navajo Generating Station, Arizona. Wolfgang Moroder / Wikimedia / CC BY-SA 3.0
The Navajo Nation have decided to stop pursuing the acquisition of a beleaguered coal-fired power plant in Arizona, locking in the plant to be taken offline and its associated coal mine to close later this year.
A Navajo Nation Council committee voted 11-9 last week to stop pursuing the purchase of the 2,250-megawatt Navajo Generating Station, which with the Kayenta coal mine provides more than 800 jobs to primarily Navajo and Hopi workers as well as tribal royalties.
A coalition of utilities that own the plant said in 2017 it would cease operations due to increased economic pressure, and the plant's future has proved a flash point for national and regional energy policy and raised larger questions on how Native communities will handle ties to fossil fuel industries as the economy changes.
For a deeper dive:
Arizona Republic, Indian Country Today, AP, WOKV, Farmington Daily Times
For more climate change and clean energy news, you can follow Climate Nexus on Twitter and Facebook, and sign up for daily Hot News.
Related Articles Around the Web
Sir David Attenborough opens Woodberry Wetlands on April 30, 2016 in London, United Kingdom. Danny Martindale / WireImage
An extended version of the Fuxing bullet train at the China National Railway Test Center on Oct. 15, 2018 in Beijing, China. VCG / VCG via Getty Images
By Jeff Turrentine
Is it just us?
Other countries don't seem to have a problem getting their high-speed rail systems on track. This superfast, fuel-efficient form of mass transit is wildly popular throughout Asia and the European Union. Japan's sleek Shinkansen line, the busiest high-speed rail system in the world, carries an estimated 420,000 riders every weekday. In China, the new Fuxing Hao bullet train now hurries more than 100 million passengers a year between Beijing and Shanghai at a top speed of 218 miles an hour, allowing its riders to make the trip of 775 miles — roughly the distance from New York City to Chicago — in about four and a half hours. Spain, Germany and France together have more than 4,500 miles of track dedicated to high-speed rail, over which more than 150 million passengers travel annually.
Ocean Heroes Bootcamp
By Coda Christopherson (11) and Lea Eiders (15)
Growing up in a plastic-free home, I was sheltered from the plastic waste crisis. I (Coda) went to a very progressive school that had vegan lunch items, farm animals and ran on solar power. My mom produces zero-waste events and my dad is a sailor, so we're very passionate about the ocean. When I was nine years old, we moved back to Manhattan Beach, California and I started 3rd grade in a public school. This was the first time I really understood that plastic-free living is not the norm; single-use plastics were everywhere, especially in the cafeteria. Once I recognized this problem, I knew I had to make a difference.
A major California avocado producer issued a voluntary recall of the popular fruit over concerns they could be contaminated with Listeria monocytogenes, USA Today reported.
Henry Avocado issued the recall Saturday after a routine government inspection at its California packing facility turned up positive test results for the bacteria on "environmental samples," the company said in a statement. No illnesses have been reported.
Acting Secretary David Bernhardt visited Watson Hopper Inc., a manufacturer of rigs and oil drilling equipment in Hobbs, New Mexico on Feb. 6, 2019.
Tami A. Heilemann / DOI
Oil executives gathered for a conference laughed about their "unprecedented" access to Trump administration officials, according to a recording obtained by Reveal from the Center for Investigative Reporting.
In the recording, taken at a June 2017 meeting of the Independent Petroleum Association of America (IPAA) at a Ritz-Carlton in Southern California, members expressed excitement about one official in particular: David Bernhardt, who had been nominated that April to be deputy secretary at the Department of Interior (DOI). Bernhardt would be confirmed the following month.
"We know him very well, and we have direct access to him, have conversations with him about issues ranging from federal land access to endangered species, to a lot of issues," IPAA political director Dan Naatz said in the recording.