This website uses cookies to ensure you get the best experience while browsing it. By clicking 'Got It' you're accepting these terms.
Canned Tuna Shopping Guide: How Does Your Brand Stack Up?
Mar. 09, 2015 08:06AM EST
Food
Canned tuna is one of the most consumed fish in the world, with the U.S. leading the way, despite a dip in consumption in the last 25 years. But the popularity of the fish and its value in the marketplace as its price has increased has led to practices such as illegal fishing, overfishing and fishing methods that capture and harm other species, called bycatch.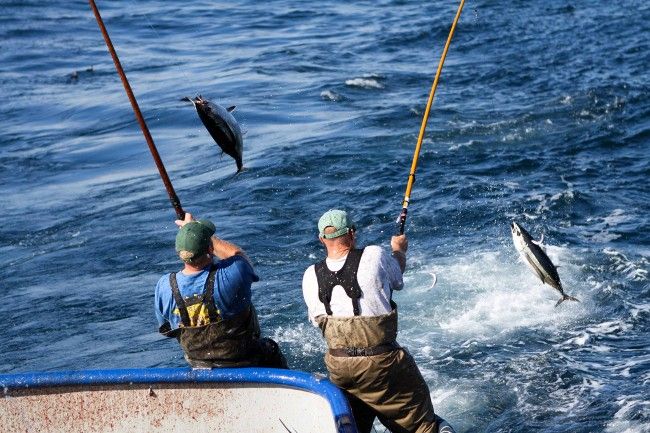 Now for the first time, Greenpeace has scrutinized and rated the practices of companies offering canned tuna—and it found most of them lacking. It found that more than 80 percent of the canned tuna sold in the U.S.comes from sources engaging in unsustainable and destructive fishing practices.
Greenpeace's 2015 Canned Tuna Shopping Guide, available on their extremely user-friendly website, rates 14 widely available brands and ranked the three biggest—Bumblebee, Chicken of the Sea and StarKist—among the worst performers, talking about sustainability without practicing it or providing little information on their sourcing policies. It gave eight of the 14 a failing score.

"Consumers should know that popular and trusted canned tuna brands are contributing to ocean destruction at an alarming rate," said Greenpeace seafood markets lead Graham Forbes. "While the biggest brands have thus far refused to offer sustainable tuna, the silver lining here is that other companies are stepping up to provide ocean safe options for their customers."
The guide looked at whether the common tuna fishing practice of longline fishing, which can capture up to 35 percent bycatch such as sea birds, turtles and sharks, was used or if it involved shark finning, the practice of removing shark fins and tossing the carcass back into the sea. They looked at whether the companies even tracked their product back to the practices used to catch it. They also examined labor and human rights violations in the tuna fishing industry and whether the companies had policies in place to avoid them.
"Unfortunately, dolphin safe does not mean ocean safe," said Forbes. "Turtles, sharks and other vulnerable ocean life are collateral damage in tuna fisheries that supply the U.S market. The big players have a responsibility to join forward-thinking brands in building a more responsible tuna industry. As the market continues to shift, selling products that are bad for our oceans will be bad for business."
Among the companies it found were offering products that did not come from destructive sources were Wild Planet, American Tuna and Ocean Naturals.
It ranked Wild Planet at the top saying it's a "go-to eco-brand, topping the ranks for its dedication to ensuring its tuna products are sustainable and responsible." It found the company has a fully implemented sourcing policy with information available on its website, as well as on its product labels, and that none of its products are the result of longline fishing but come from fisheries using methods with minimal impact on other marine life.
"While traditionally thought of by many as a specialty product, this better option is now more accessible to consumers," says Greenpeace's shopping guide. "The company's commitment to sustainability extends beyond its products to its advocacy for positive industry change and stronger fishery management."
Similarly, American Tuna using the pole-and-line method, which avoids harm to turtles, sharks and seabirds. The San Diego-based company is also committed to supporting local and small-scale fisheries.
Ocean Naturals is a newer brand from the Tri Marine Group which started as a WalMart offering and is now expanding. It has expressed a commitment to pole-and-line fished tuna to be locally fished and processed in the coastal fishing communities of American Samoa.
"For a company of this size, Tri Marine is an unparalleled frontrunner," says the Greenpeace Guide. "The company's internal sourcing policies are comprehensive and once fully implemented have the potential to be a game changer in the tuna world, provided the Ocean Naturals standards are promoted across all supply relationships."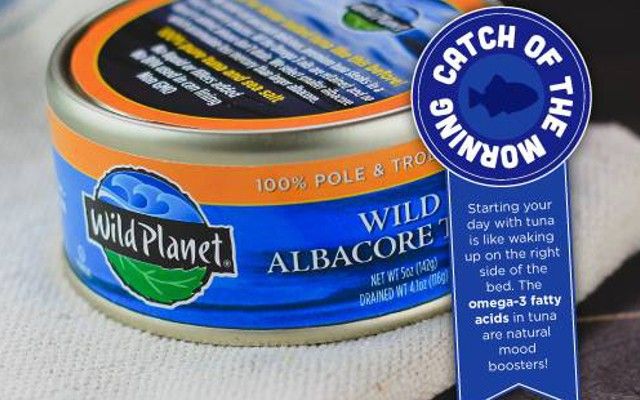 Whole Foods ranked near the top among retailers with its 365 house line offering only sustainably fished products, although the guide recommended that the company provide more information and pay more attention to sourcing. Hy-Vee and Trader Joe's house brands came in fourth and sixth, with concerns that only some of their products are sustainably sourced and that, while both have been trying to offer more sustainable seafood, they still need to make improvements in their policies and sourcing.
On the other end of the scale, it ranked StarKist, which has the largest share of the U.S. canned tuna market, at the bottom, lambasting it for its lack of transparency.
"This brand has something to hide, and we bet it's ocean destruction," says the guide. "StarKist's failure to take sustainability seriously is trashing our oceans to offer cheap and dirty tuna nationwide."
YOU MIGHT ALSO LIKE
What to Consider When Buying a Can of Tuna
Bye Bye Bycatch? Smart Nets That Save Fish
Enjoy Seafood While You Can: Commercial Fisheries Likely to Collapse by 2048
EcoWatch Daily Newsletter
Variety of fermented food korean traditional kimchi cabbage and radish salad. white and red sauerkraut in ceramic plates over grey spotted background. Natasha Breen / REDA&CO / Universal Images Group / Getty Image
Even if you've never taken probiotics, you've probably heard of them.
These supplements provide numerous benefits because they contain live microorganisms, such as bacteria or yeast, which support the healthy bacteria in your gut (1, 2, 3, 4).
Pexels
Singapore will become the first country in the world to place a ban on advertisements for carbonated drinks and juices with high sugar contents, its health ministry announced last week. The law is intended to curb sugar consumption since the country has some of the world's highest diabetes rates per capita, as Reuters reported.
A typical adult takes around 20,000 breaths per day. If you live in a megacity like Beijing, with many of those lungfuls you're likely to inhale a noxious mixture of chemicals and pollutants.
Fred Stone holds his brown swiss cow Lida Rose at his Arundel dairy farm on March 18 after a press conference where he spoke about PFAS chemical contamination in his fields. Gregory Rec / Portland Portland Press Herald via Getty Images
By Susan Cosier
First there was Fred Stone, the third-generation dairy farmer in Maine who discovered that the milk from his cows contained harmful chemicals. Then came Art Schaap, a second-generation dairy farmer in New Mexico, who had to dump 15,000 gallons of contaminated milk a day.
Protesters attend the 32nd annual Fur-Free Friday demonstration on Nov. 23, 2018 in Beverly Hills, California. Ella DeGea / Getty Images
California Governor Gavin Newsom signed into law a bill that that bans the sale and manufacture of fur products in the state. The fur ban, which he signed into law on Saturday, prohibits Californians from selling or making clothing, shoes or handbags with fur starting in 2023, according to the AP.
By Simon Evans
During the three months of July, August and September, renewables generated an estimated total of 29.5 terawatt hours (TWh), compared with just 29.1TWh from fossil fuels, the analysis shows.
A demonstrator waves an Ecuadorian flag during protests against the end of subsidies to gasoline and diesel on Oct. 9 in Quito, Ecuador. Jorge Ivan Castaneira Jaramillo / Getty Images
Protesters block the road outside Mansion House in London during an XR climate change protest. Gareth Fuller / PA Images via Getty Images