Cancer Prevention Needs Attention Too: What if We Weren't Exposed to 80,000 Toxic Chemicals Every Day?
Vice President Biden and I have something in common that I wish we did not share. We have both lost a loved one to brain cancer.
The Vice President's 46 year old son, Beau Biden, died from the disease earlier this year.
Fifteen years ago, I was living in the San Francisco Bay Area, enjoying a blissful summer-long reunion with a dear college friend from the Midwest. Her joyful revelry in discovering San Francisco as an outgoing young, butch, queer woman, was occasionally interrupted by severe headaches. We were all shocked when she was diagnosed with brain cancer at the end of the summer. She died 20 months later, five days shy of her 29th birthday. I was heartbroken and still, so many years later, still sometimes lose my breath at the realization that she is no longer here.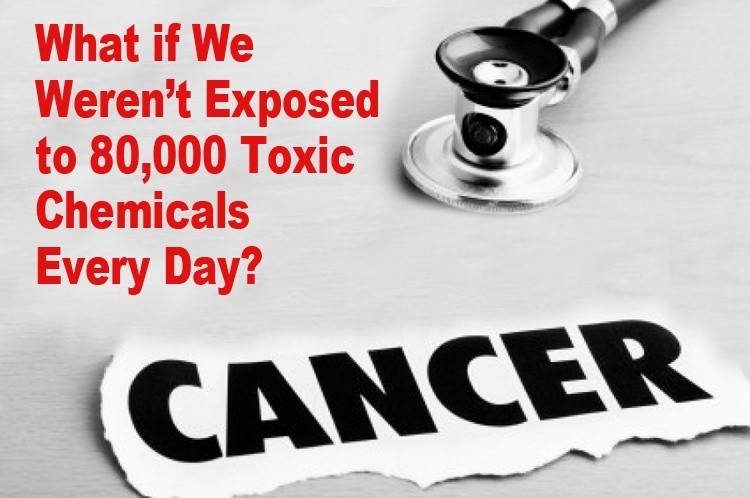 My fabulous friend Danielle Drumke was the first person in my inner circle to die of cancer. I wish I could say that she was the last.
As the first meeting of the government's new "moonshot" initiative on cancer convened today, headed up by Vice President Biden, I'm reflecting on what could come of this initiative—and what's missing from its framework.
According to the National Cancer Institute, nearly 1.7 million people in the U.S. are diagnosed with cancer each year. Approximately 600,000 people die of cancer. It's estimated that one in two men and one in three women will experience cancer in their lifetimes.
Though there have been a handful of dramatic advances for some cancers in recent years, many other cancers lag behind with few treatment options. In the more than 40 years since President Richard Nixon launched the War on Cancer, cancer treatments have moved beyond radical surgeries and mega-dose chemotherapies to include new, less-damaging chemotherapy regimens and also new targeted therapies for some cancers.
Unfortunately, many of these systemic treatments are highly toxic, taking both an immediate and all too often a long-term toll on the health and well-being of cancer patients. Anyone who has experienced or supported a loved one through common treatments for cancer is familiar with the terrible physical effects. Some of these—such as mouth sores and diarrhea—people experience while in treatment, and others—like heart disease—they may not experience until years later.
The millions of cancer patients undergoing treatment desperately need more effective, less toxic and less costly treatments. And my sincere hope is that we will see major advancements, especially for the most lethal cancers, with new treatments which extend and improve overall survival and do not come at the cost of serious, even life-threatening, side effects or bankruptcy.
I wish there had been this option for my friend Danielle, and for my loved ones who have been diagnosed with cancer in the years since she died.
Like so many people diagnosed with cancer, Danielle couldn't help but ask "Why?" Why her? Why did a healthy young woman develop brain cancer in her 20s?
No one knows.
Most brain tumors are unexplained, although age is thought to be a risk factor for cancer in general. Exposure to radiation is one of the only known risk factors for brain tumors, although, like many cancers, some chemicals have been linked to increased risk of brain cancer.
What we do know is that the overall incidence of cancer has been increasing in recent decades. And there is a compelling—and growing—body of evidence linking this troubling trend to toxic chemicals in our daily environments: carcinogens in our air and water, hormone disruptors in our food packaging and personal care products.
There are more than 80,000 chemicals in commercial use. Chemicals in products we all use every day. Chemicals to which we are all exposed throughout the course of our lives—no matter how much we may told to try to shop our way out of it.
The legislation "regulating" chemicals is the Toxic Substance Control Act (TSCA). I put the word regulating in quotes because when it was passed in 1976, TSCA exempted about 60,000 chemicals from testing for safety. And in the 40 years since TSCA was passed, only 200 chemicals have been tested for human safety. Out of these, only five chemicals have ever been restricted due to their harmful impact on human health.
The conclusion is not that we have about 80,000 harmless chemicals on the market; the shameful truth is that our regulators and legislators have been asleep at the wheel while we've all been exposed to countless toxic chemicals linked to cancer and other health problems.
Even those chemicals which are widely recognized to be harmful to human health have proven extremely hard to limit. To put things in perspective, the U.S. Environmental Protection Agency tried to use TSCA to restrict asbestos 20 years ago and failed. It hasn't tried since. And the law has never been updated since its passage in 1976.
The prevalence of chemical exposures and the gaps in our regulatory system cannot be ignored in the context of rising cancer rates more broadly. The same chemicals that can increase the risk of cancer are also thought to be linked to other diseases and health disorders: fertility issues, autism, diabetes, even obesity.
Not so many years before President Obama announced the Precision Medicine Initiative at the 2015 State of the Union, and the "Moonshot" Initiative in his 2016 State of the Union, the President's cancer panel released a report in 2010 pointing to the role of environmental exposures to chemicals in a range of cancers. The report was an urgent call to action: "The panel was particularly concerned to find that the true burden of environmentally induced cancer has been grossly underestimated."
We have come a long way in our understanding of the links between environmental toxins and human health harms in the 50 years since Rachel Carson sounded the alarm on DDT; role of everyday chemicals in increasing the risk of cancer has become widely recognized. If we want to truly end the epidemic of cancer that we're seeing, we need much better treatments, but we also need more than that. We need aggressive, public-health centered action on the toxic chemicals we're all exposed to that increase our risk of cancer. Without emphasizing prevention in addition to cures, no "moonshot" initiative to end cancer's death toll will succeed.
In announcing that he is putting Vice President Biden in charge of the new "moonshot" initiative, President Obama poignantly said: "For the loved ones we've all lost, for the family we can still save, let's make America the country that cures cancer once and for all."
While there is no question that we desperately need new, safe, effective and affordable treatments for many cancers, there is another equally important path we must also pursue: preventing cancer in the first place.
YOU MIGHT ALSO LIKE
Michael Moore: 10 Things They Won't Tell You About the Flint Water Tragedy, But I Will
These 4 Videos Expose the Horrific Reality of the Flint Water Crisis
Zika Virus 'Spreading Explosively' in Americas
Michael Moore: 'Do Not Send Us Bottles of Water. Instead, Join Us in a Revolt'
Dow CEO Andrew Liveris and President Donald Trump in February.
U.S. Environmental Protection Agency (EPA) administrator Scott Pruitt met with Dow Chemical CEO Andrew Liveris before deciding to reverse an earlier EPA decision to ban the company's toxic and widely used pesticide, chlorpyrifos.
According to records obtained by the Associated Press, the EPA boss met with Liveris for about 30 minutes at a Houston hotel on March 9. Later that month, Pruitt announced that he would no longer pursue a ban on chlorpyrifos from being used on food, ignoring his agency's own review that even small amounts of the pesticide could impact fetus and infant brain development.
Keep reading...
Show less
www.facebook.com
Native communities and environmental justice advocates in Louisiana opened a new resistance camp Saturday to oppose the proposed Bayou Bridge Pipeline project. Called L'eau Est La Vie, or Water is Life, the camp will consist of floating indigenous art structures on rafts and constant prayer ceremonies during its first two weeks.
Keep reading...
Show less
Continuing its march toward elimination of key Clean Water Act protections, the U.S. Environmental Protection Agency (EPA) on Tuesday issued a formal notice of withdrawal of the Obama administration's rule defining which waters can be protected against pollution and destruction under federal law.
Keep reading...
Show less
The U.S. Environmental Protection Agency (EPA) is not doing enough to prevent weed resistance to the herbicide glyphosate (Roundup) says a new report from the EPA's Inspector General's Office, which draws in part on a report from the agbiotech company, Pioneer: Weed Management in the Era of Glyphosate Resistance.
Keep reading...
Show less
SUMR
When it comes to the latest wind turbine technologies, size matters. A group of six institutions and universities is designing an offshore wind turbine that will stand 500 meters in height. That's taller than the Eiffel Tower and the Empire State Building.
The research team, led by researchers at the University of Virginia, believes that its wind turbine concept will produce 50 megawatts of peak power, or about 10 times more powerful than conventional wind turbines.
Keep reading...
Show less
www.facebook.com
Natural gas is often considered the cleanest fossil fuel, but could it actually be dirtier than coal?
Watch as New York Times reporter Mark Bittman, in the above Year's of Living Dangerously video, investigates how much methane is leaking at fracking wells. Find out how the natural gas industry's claims compare to what scientists are reporting.
See what happens when Gaby Petron, an atmospheric scientist with NOAA, converts her van into a mobile methane detector and sets out across northeastern Colorado for two years, taking thousands of readings to uncover the truth.
www.youtube.com
Adrian Grenier was named UN Goodwill Ambassador earlier this month. The Hollywood actor, best known for his iconic role of A-list movie star Vincent Chase in the HBO smash hit and film Entourage, will advocate for drastically reducing single-use plastic and protection of marine species, and encourage his followers to make conscious consumer choices to reduce their environmental footprint, according to the UN Environment announcement.
"Together we must usher in a new era of compassion and carefulness through forward thinking environmental programs to drive measurable change," Grenier said. "I am personally committed to creating ways in which the global community can come together to help solve our most critical climate crises through routine, collective action.
"The more we connect to nature in our daily lives, the more dedicated we will become to our individual commitments. Together, I believe we can go further, faster in our race to achieve the UN Sustainable Development Goals by 2030."
Watch the video above to learn more.
The last week has seen a flood of stories on clean energy's prospects—stories that make your head spin with their conflicting tales of renewable energy's prospects of ending our dangerous addiction to fossil fuel power from coal and gas.
Keep reading...
Show less