This website uses cookies to ensure you get the best experience while browsing it. By clicking 'Got It' you're accepting these terms.
Cancer-Causing Chemicals Found in Drinking Water Near Texas Fracking Sites
Jun. 22, 2015 10:49AM EST
On June 4, the U.S. Environmental Protection Agency (EPA) released a report on how fracking for oil and gas can impact access to safe drinking water. Although the report claims not to have found any "widespread, systemic impacts on drinking water resources in the United States," a new study in Texas provides more evidence that contamination of drinking water from fracking might be occurring.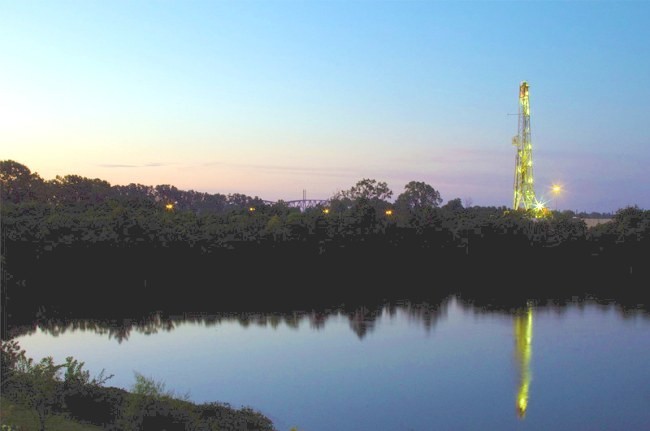 A research team at the University of Texas at Arlington has published a peer-reviewed study, A Comprehensive Analysis of Groundwater Quality in the Barnett Shale Region, in Environmental Science & Technology, a journal of the American Chemical Society. The heavily fracked Barnett shale region, with more than 20,000 wells, covers a swath of counties in north Texas surrounding the populous Dallas-Fort Worth area. It also sits beneath two major aquifers.
"The exploration of unconventional shale energy reserves and the extensive use of hydraulic fracturing during well stimulation have raised concerns about the potential effects of unconventional oil and gas extraction (UOG) on the environment," the authors write. "Most accounts of groundwater contamination have focused primarily on the compositional analysis of dissolved gases to address whether UOG activities have had deleterious effects on overlying aquifers. Here, we present an analysis of 550 groundwater samples collected from private and public supply water wells drawing from aquifers overlying the Barnett shale formation of Texas."
The team, led by UT Arlington chemistry professor Kevin Schug, found elevated levels of 10 metals and 19 chemicals as well as high levels of ethanol and methanol. The chemical compounds found included benzene, toluene, ethyl benzene and xylenes, which have been associated with a range of negative health impacts including cancer. Schug said that his team's work was "the most comprehensive groundwater study in connection to this whole process."
"The University of Texas, working independent of the oil and gas industry, found evidence of widespread groundwater pollution connected to fracking," said Earthworks policy director Lauren Pagel. "The EPA, working for years with the oil and gas industry to study the same issue, managed not to find that evidence in its study released earlier this month. Perhaps that's because President Obama's 'all of the above' energy policy requires favoring oil and gas over the clean, renewable energy our communities and water really need."
In Texas, the battle over fracking is particularly heated. In response to the city of Denton, which is located in the Barnett shale region just north of Dallas/Fort Worth, voting to ban new fracking operations in last November's election, the state passed legislation outlawing such bans.
"Fracking water pollution isn't a surprise to people living with fracking," said Earthworks Texas organizer Sharon Wilson. "But it must be a surprise to Texas regulators, who claim to have never found any. Denton was forced to repeal its ban last night. Now Denton and all Texas communities are in the hands of state government, which seems bound and determined to protect the oil and gas industry, not the public. What this study really shows is why communities must have local control to protect their own health and safety."
While the UT study cautions that the presence of these chemicals cannot be definitively linked to fracking, they are known to be used in the process.
"I hope our data can serve as a springboard for studies that use detailed chemical signatures to pinpoint the impact of various aspects of unconventional drilling processes on groundwater quality," said Schug.
YOU MIGHT ALSO LIKE
Long-Awaited EPA Study Says Fracking Pollutes Drinking Water
Frack-Happy Texas Forced to Face the Reality of Fracking-Related Earthquakes
Texas Passes Ban on Fracking Bans (Yes, You Read that Right)
KarinaKnyspel / iStock / Getty Images
2018 saw a number of studies pointing to the outsized climate impact of meat consumption. Beef has long been singled out as particularly unsustainable: Cows both release the greenhouse gas methane into the atmosphere because of their digestive processes and require a lot of land area to raise. But for those unwilling to give up the taste and texture of a steak or burger, could lab-grown meat be a climate-friendly alternative? In a first-of-its-kind study, researchers from the Oxford Martin School set out to answer that question.
Three scissor-tailed flycatcher fledglings in a mesquite tree in Texas. Texas Eagle / CC BY-NC 2.0
By Gary Paul Nabhan
President Trump has declared a national emergency to fund a wall along our nation's southern border. The border wall issue has bitterly divided people across the U.S., becoming a vivid symbol of political deadlock.
PeopleImages / E+ / Getty Images
By Daniel Ross
Hurricane Florence, which battered the U.S. East Coast last September, left a trail of ruin and destruction estimated to cost between $17 billion and $22 billion. Some of the damage was all too visible—smashed homes and livelihoods. But other damage was less so, like the long-term environmental impacts in North Carolina from hog waste that spilled out over large open-air lagoons saturated in the rains.
Hog waste can contain potentially dangerous pathogens, pharmaceuticals and chemicals. According to the state's Department of Environmental Quality, as of early October nearly 100 such lagoons were damaged, breached or were very close to being so, the effluent from which can seep into waterways and drinking water supplies.
This picture taken on May 21, 2018 shows discarded climbing equipment and rubbish scattered around Camp 4 of Mount Everest. Decades of commercial mountaineering have turned Mount Everest into the world's highest rubbish dump as an increasing number of big-spending climbers pay little attention to the ugly footprint they leave behind. DOMA SHERPA / AFP / Getty Images
China has closed its Everest base camp to tourists because of a buildup of trash on the world's tallest mountain.