This website uses cookies to ensure you get the best experience while browsing it. By clicking 'Got It' you're accepting these terms.
Cancer-Causing Chemicals Found in Drinking Water Near Texas Fracking Sites
Jun. 22, 2015 10:49AM EST
On June 4, the U.S. Environmental Protection Agency (EPA) released a report on how fracking for oil and gas can impact access to safe drinking water. Although the report claims not to have found any "widespread, systemic impacts on drinking water resources in the United States," a new study in Texas provides more evidence that contamination of drinking water from fracking might be occurring.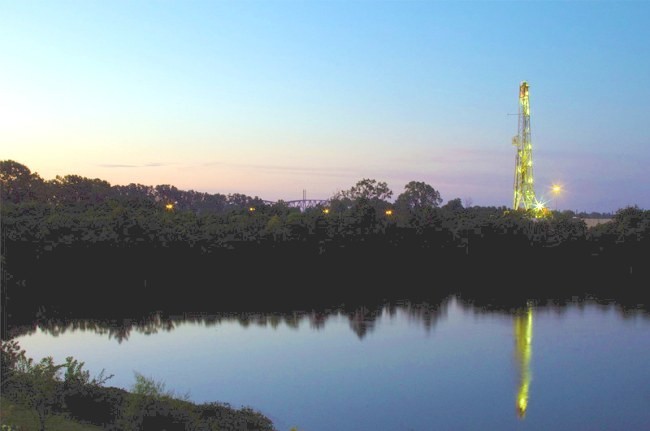 A research team at the University of Texas at Arlington has published a peer-reviewed study, A Comprehensive Analysis of Groundwater Quality in the Barnett Shale Region, in Environmental Science & Technology, a journal of the American Chemical Society. The heavily fracked Barnett shale region, with more than 20,000 wells, covers a swath of counties in north Texas surrounding the populous Dallas-Fort Worth area. It also sits beneath two major aquifers.
"The exploration of unconventional shale energy reserves and the extensive use of hydraulic fracturing during well stimulation have raised concerns about the potential effects of unconventional oil and gas extraction (UOG) on the environment," the authors write. "Most accounts of groundwater contamination have focused primarily on the compositional analysis of dissolved gases to address whether UOG activities have had deleterious effects on overlying aquifers. Here, we present an analysis of 550 groundwater samples collected from private and public supply water wells drawing from aquifers overlying the Barnett shale formation of Texas."
The team, led by UT Arlington chemistry professor Kevin Schug, found elevated levels of 10 metals and 19 chemicals as well as high levels of ethanol and methanol. The chemical compounds found included benzene, toluene, ethyl benzene and xylenes, which have been associated with a range of negative health impacts including cancer. Schug said that his team's work was "the most comprehensive groundwater study in connection to this whole process."
"The University of Texas, working independent of the oil and gas industry, found evidence of widespread groundwater pollution connected to fracking," said Earthworks policy director Lauren Pagel. "The EPA, working for years with the oil and gas industry to study the same issue, managed not to find that evidence in its study released earlier this month. Perhaps that's because President Obama's 'all of the above' energy policy requires favoring oil and gas over the clean, renewable energy our communities and water really need."
In Texas, the battle over fracking is particularly heated. In response to the city of Denton, which is located in the Barnett shale region just north of Dallas/Fort Worth, voting to ban new fracking operations in last November's election, the state passed legislation outlawing such bans.
"Fracking water pollution isn't a surprise to people living with fracking," said Earthworks Texas organizer Sharon Wilson. "But it must be a surprise to Texas regulators, who claim to have never found any. Denton was forced to repeal its ban last night. Now Denton and all Texas communities are in the hands of state government, which seems bound and determined to protect the oil and gas industry, not the public. What this study really shows is why communities must have local control to protect their own health and safety."
While the UT study cautions that the presence of these chemicals cannot be definitively linked to fracking, they are known to be used in the process.
"I hope our data can serve as a springboard for studies that use detailed chemical signatures to pinpoint the impact of various aspects of unconventional drilling processes on groundwater quality," said Schug.
YOU MIGHT ALSO LIKE
Long-Awaited EPA Study Says Fracking Pollutes Drinking Water
Frack-Happy Texas Forced to Face the Reality of Fracking-Related Earthquakes
Texas Passes Ban on Fracking Bans (Yes, You Read that Right)
Climate activist Greta Thunberg addresses the European Commission on Feb. 21 in Brussels, Belgium. Sylvain Lefevre / Getty Images
By Julia Conley
Sixteen-year-old climate action leader Greta Thunberg stood alongside European Commission President Jean-Claude Juncker Thursday in Brussels as he indicated—after weeks of climate strikes around the world inspired by the Swedish teenager—that the European Union has heard the demands of young people and pledged more than $1 trillion over the next seven years to address the crisis of a rapidly heating planet.

In the financial period beginning in 2021, Juncker said, the EU will devote a quarter of its budget to solving the crisis.
A new study reveals the health risks posed by the making, use and disposal of plastics. Jeffrey Phelps / Getty Images
With eight million metric tons of plastic entering the world's oceans every year, there is growing concern about the proliferation of plastics in the environment. Despite this, surprisingly little is known about the full impact of plastic pollution on human health.
But a first-of-its-kind study released Tuesday sets out to change that. The study, Plastic & Health: The Hidden Costs of a Plastic Planet, is especially groundbreaking because it looks at the health impacts of every stage in the life cycle of plastics, from the extraction of the fossil fuels that make them to their permanence in the environment. While previous studies have focused on particular products, manufacturing processes or moments in the creation and use of plastics, this study shows that plastics pose serious health risks at every stage in their production, use and disposal.
IKEA is working on a specially-designed, air-purifying curtain called the GUNRID. IKEA
Air pollution within the home causes 3.8 million deaths a year, according to the World Health Organization. A recent University of Colorado in Boulder study reported by The Guardian found that cooking a full Thanksgiving meal could raise levels of particulate matter 2.5 in the house higher than the levels averaged in New Delhi, the world's sixth most polluted city.
But soon, you will be able to shop for a solution in the same place you buy your budget roasting pans. IKEA is working on a specially-designed, air-purifying curtain called the GUNRID.
The first member of the giant tortoise species Chelonoidis phantasticus to be seen in more than 100 years. RODRIGO BUENDIA / AFP / Getty Images
A rare species of giant tortoise, feared extinct for more than 100 years, was sighted on the Galápagos island of Fernandina Sunday, the Ecuadorian government announced.