This website uses cookies to ensure you get the best experience while browsing it. By clicking 'Got It' you're accepting these terms.
Cancer-Afflicted Marines Call on Obama for Support
Dec. 15, 2011 12:28PM EST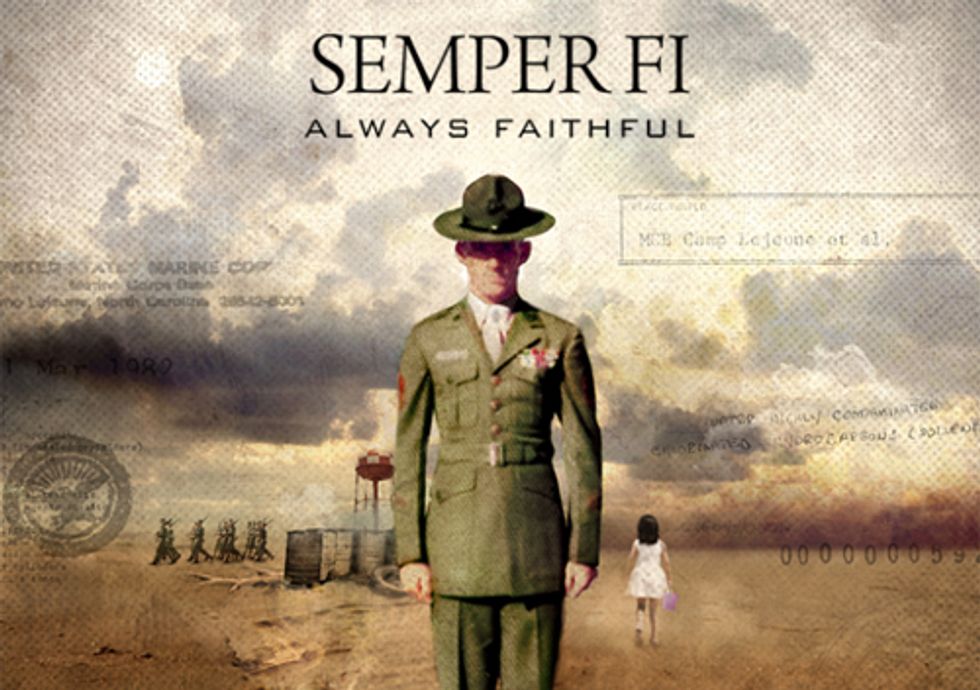 Nearly 40 Marine veterans diagnosed with male breast cancer urged President Barack Obama Dec. 14 to support legislation in Congress that would provide health care for those made ill by carcinogenic chemicals that contaminated drinking water at Camp Lejeune in North Carolina.
"We, the undersigned, are constituents of the largest male breast cancer cluster ever identified—73 men," begins a letter circulated by the Environmental Working Group and signed by veterans, their dependent children and surviving family members. "What happened to us is no coincidence."
Over a period of 30 years, an estimated 1 million servicemen and women, their families and civilian workers at Marine Corps Base Camp Lejeune were exposed to tap water polluted by known carcinogens. These include trichloroethylene (TCE), vinyl chloride and benzene—all classified as known human carcinogens by the U.S. Environmental Protection Agency.
The Marine Corps leadership was aware of the contamination years before steps were taken to remove the chemicals from the drinking water. Thousands of veterans from the base have filed for disability compensation with the U.S. Department of Veterans Affairs, but only a handful have been approved for benefits so far.
"These men are just one small group of the tens of thousands of Marines, sailors, their families and base employees who have been affected by their exposures to the fouled drinking water," said Mike Partain, a son and grandson of Marine officers who was born at Camp Lejeune and was diagnosed with breast cancer in 2007. "Will the medical help we need arrive only after we have all passed away? How many men with breast cancer will it take for our country to recognize that everyone exposed to the contaminated drinking water at Camp Lejeune was poisoned? Where is this nation's honor for our veterans and their families?"
Two pending bills—the Caring for Camp Lejeune Veterans Act of 2011, introduced by Sens. Richard Burr (R-N.C.) and Kay Hagan (D-N.C.), and the Janey Ensminger Act, introduced by Rep. Brad Miller (D-N.C.)—would provide medical care and services to the affected veterans and family members. Both have bipartisan support.
The Camp Lejeune incident, the largest documented case of drinking water contamination at a domestic military facility, is the subject of the award-winning film Semper Fi: Always Faithful. The film, which takes its name from the Marine Corps motto, was recently short-listed for an Academy Award nomination for Best Documentary Feature.
For more information, click here.
—————
Environmental Working Group is a nonprofit research organization based in Washington, D.C. that uses the power of information to protect human health and the environment. To visit our website, click here.
EcoWatch Daily Newsletter
Doctors report that only 1 in 4 children are getting the recommended 60 minutes of physical activity per day. Ronnie Kaufman / DigitalVision / Getty Images
By Dan Gray
Pediatricians are being urged to start writing "exercise prescriptions" for the children they see in their office.
A First Nations protester walks in front of a train blockade in Tyendinaga, near Belleville, Ontario, Canada on Feb. 21, 2020. LARS HAGBERG / AFP via Getty Images
An indigenous rail blockade that snarled train travel in Canada for more than two weeks came to an end Monday when police moved in to clear protesters acting in solidarity with another indigenous community in British Columbia (B.C.), which is fighting to keep a natural gas pipeline off its land.
A rainbow snake, a rare reptile spotted in a Florida county for the first time in more than 50 years, seen here on July 5, 2013.
Kevin Enge / FWC Fish and Wildlife Research Institute / Flickr
A Florida hiker recently stumbled across a slithering surprise — a rare snake that hadn't been spotted in the area for more than 50 years.
We need our government to do everything it can to stop PFAS contamination and exposure from wreaking havoc in communities across the country. LuAnn Hun /
Unsplash
By Genna Reed
The EPA announced last week that it is issuing a preliminary regulatory determination for public comment to set an enforceable drinking water standard to two of the most common and well-studied PFAS, PFOA and PFOS.
This decision is based on three criteria:
PFOA and PFOS have an adverse effect on public health
PFOA and PFOS occur in drinking water often enough and at levels of public health concern;
regulation of PFOA and PFOS is a meaningful opportunity for reducing the health risk to those served by public water systems.
Charging EVs in Stockholm: But where does a dead battery go? Ranjithsiji / Wikimedia Commons
By Kieran Cooke
Driving an electric-powered vehicle (EV) rather than one reliant on fossil fuels is a key way to tackle climate change and improve air quality — but it does leave the old batteries behind as a nasty residue.