This website uses cookies to ensure you get the best experience while browsing it. By clicking 'Got It' you're accepting these terms.
Canadian Officials Poison Wolves for Tar Sands Development
Feb. 06, 2012 08:20AM EST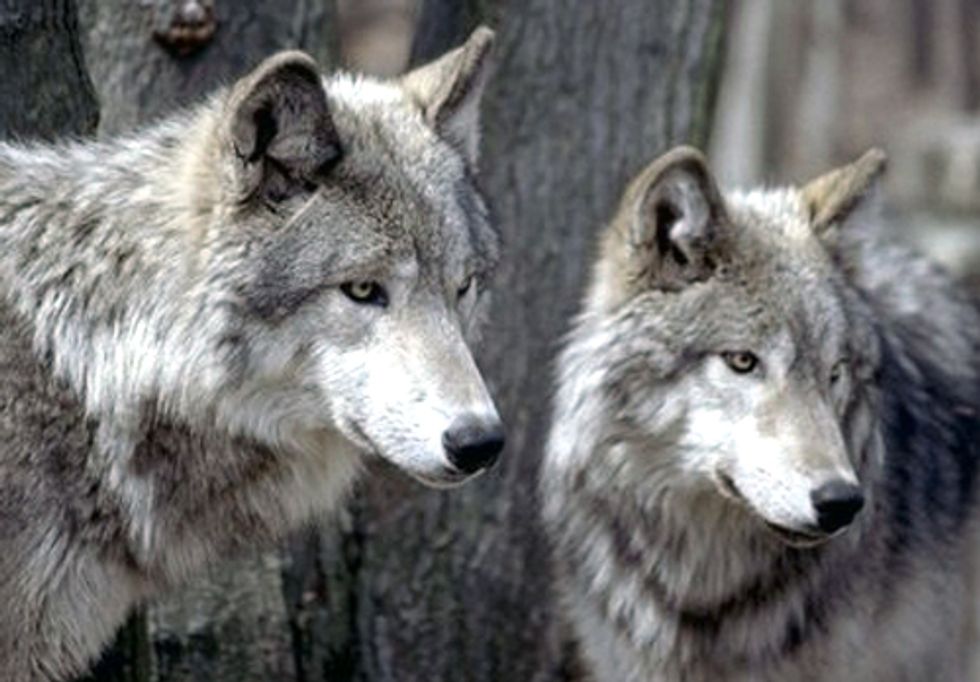 Late last week, internal documents went public showing Canada is fretting over its sullied reputation for unfettered fossil fuel development, while resorting to poisoning wolves rather than fixing the problem. National Wildlife Federation (NWF) released a paper Feb. 6 showing tar sands, oil and gas development in Canada is contributing to the decline in caribou herds. Rather than improve environmental practices to protect and restore caribou habitat, Canadian wildlife officials are poisoning wolves with strychnine-laced bait. The news comes as Alberta and Canadian officials scramble to address environmental monitoring failures that are wreaking havoc up north.
The highly controversial Keystone XL proposal would move this Canadian dirty oil through the heartland of the U.S. to export, making the U.S. complicit in causing excruciating wildlife culling.
Strychnine progresses painfully from muscle spasms to convulsions to suffocation over a period of hours. The NWF paper says the poison will also put at risk animals like raptors, wolverines and cougars that eat the poisoned bait or scavenge on the carcasses of poisoned wildlife.
Here's what Canada's Minister of Environment Peter Kent said in September—"Culling is an accepted if regrettable scientific practice and means of controlling populations and attempting to balance what civilization has developed. I've got to admit, it troubles me that that's what is necessary to protect this species," Kent commented. Simon Dyer of the Pembina Institute estimates that many thousands of wolves could be destroyed over five years.
Instead of resorting to euphemistic descriptions of a repugnant method of killing, Mr. Kent and Canadian officials should work on stopping the habitat destruction in the first place. Destroying and fragmenting caribou habitat to produce one of the dirtiest fuels on the planet means fewer caribou and fewer wolves just to line the pockets of Big Oil.
It's increasingly par for the course in Canada, as the nation continues its slide from "Green to Gray." What's disturbing is that Keystone XL commits the U.S. to a decades long partnerhip in these crimes" against wildlife.
Canada Documents Caribou Decline
Caribou have been inhabitants of the northern hemisphere for 1.6 million years. Some species are declining. Environment Canada classifies the boreal and southern mountain populations of caribou (Rangifer tarandus caribou) in Alberta as threatened.  "The Alberta Caribou Committee notes that three of the province's 18 herds are at immediate risk of disappearing because of loss of habitat. Six are in decline, three are stable, and not enough is known about the remaining six to determine how well they are doing," wrote Canadian author and Arctic specialist Ed Struzik on Oct. 27 in Environment360. "Scientists are confident, however, that they are in decline as well, further fueling efforts to protect caribou by eradicating wolves," he wrote.
Habitat Protection, Restoration Should Be the Focus
Incredibly, the Canadian government actually acknowledges that carving up forests is threatening caribou. "Boreal caribou are primarily threatened by a reduction in the availability and suitability of habitat necessary to carry out the life processes necessary for their survival and reproduction," said Environment Canada's proposed caribou recovery plan. Why then, we have to ask, are they not stopping this destruction? More development means less habitat, fewer caribou and fewer wolves. Both caribou and wolves need a healthy habitat.
If Canada wants to protect caribou herds, they should protect caribou habitat. Scapegoating wolves to produce profits for the oil industry is cruel and wrong.  
We need your help to protect wildlife. Get involved and help us stop this from happening. Visit our tar sands page and learn how to take action.
For more information, click here.
EcoWatch Daily Newsletter
polaristest / Flickr / CC BY-NC-ND 2.0
By Melissa Kravitz Hoeffner
Over six gallons of water are required to produce one gallon of wine. "Irrigation, sprays, and frost protection all [used in winemaking] require a lot of water," explained winemaker and sommelier Keith Wallace, who's also a professor and the founder of the Wine School of Philadelphia, the largest independent wine school in the U.S. And water waste is just the start of the climate-ruining inefficiencies commonplace in the wine industry. Sustainably speaking, climate change could be problematic for your favorite glass of wine.
Pixabay
Spinach is a true nutritional powerhouse, as it's rich in vitamins, minerals, and antioxidants.
Pexels
By Jeff Turrentine
From day to day, our public health infrastructure — the people and systems we've put in place to keep populations, as opposed to individuals, healthy — largely goes unnoticed. That's because when it's working well, its success takes the form of utter normalcy.
By Eoin Higgins
A viral video showing cell phone data collected by location accuracy company X-Mode from spring break partiers potentially spreading the coronavirus around the U.S. has brought up questions of digital privacy even as it shows convincingly the importance of staying home to defeat the disease.
Aerial shot top view Garbage trucks unload garbage to a recycle in the vicinity of the city of Bangkok, Thailand. bugto / Moment / Getty Images
German researchers have identified a strain of bacterium that not only breaks down toxic plastic, but also uses it as food to fuel the process, according to The Guardian.