This website uses cookies to ensure you get the best experience while browsing it. By clicking 'Got It' you're accepting these terms.
Canadian Hog Industry Abandons Genetically Engineered 'EnviroPig'
Apr. 03, 2012 04:31PM EST
GMO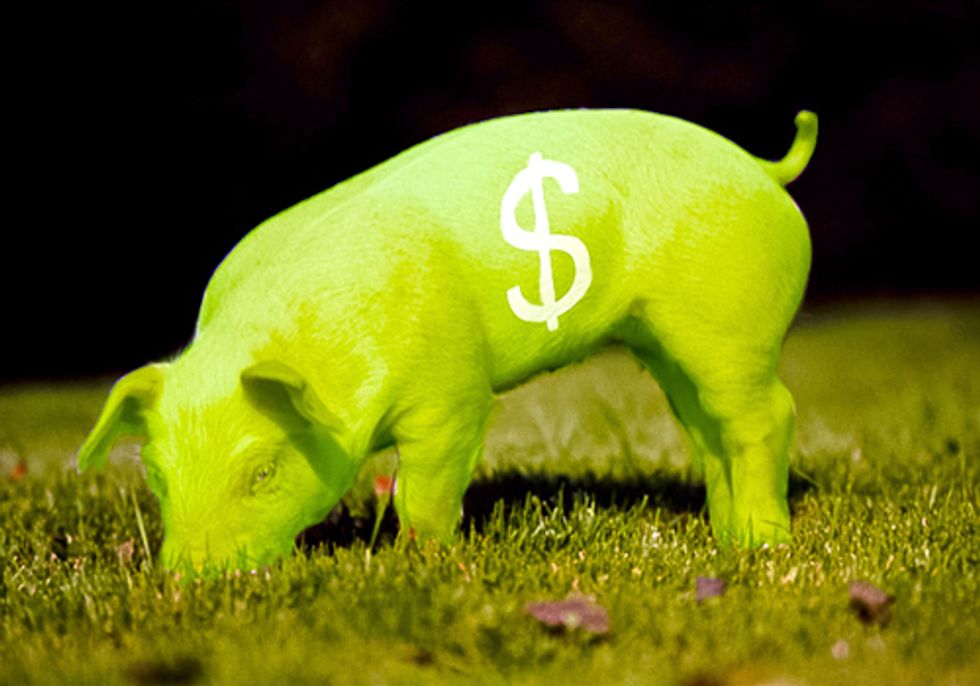 The Center for Food Safety (CFS) welcomed reports that the University of Guelph, the Canadian university that developed the genetically engineered (GE) "Enviropig," is closing down its research. CFS is now calling on the U.S. Food and Drug Administration (FDA) to stop any work on approving the GE pig.
For years CFS has criticized the developers of the "EnviroPig" for engineering an animal specifically to fit into large-scale and highly polluting concentrated animal feeding operations (CAFOs). CFS has also criticized the genetically engineered "AquAdvantage" salmon developed by AquaBounty, Inc.—also under review by the FDA—which was similarly engineered to grow better in the confined tanks of industrial fish farming operations.
"There's a lot of green lipstick on this pig," said Andrew Kimbrell, executive director for the Center for Food Safety. "The whole idea of genetically engineering a pig to fit into an unsustainable production model and then dubbing it "enviro" is ridiculous. Given recent industry and consumer backlash, it's no surprise that funding for this misguided research has dried up."
The "Enviropig" was engineered using genetic material from a mouse and an E. coli bacterium to reduce phosphorus in the pig's feces. The University of Guelph began its GE pig research in 1995 and requested food safety approval from regulatory authorities in Canada and the U.S. in 2009. While Canada approved reproduction of the GE pigs in February 2010, no government has approved the "Enviropig" for human consumption and no GE pigs have been sold commercially.
According to recent news reports, the Canadian hog industry group Ontario Pork has redirected its funding away from GE pig research. Lacking this funding, the university is ending its program to breed the genetically engineered pigs.
The announcement comes after years of mounting rejection by farmers, pork producers and consumers. In a statement appearing in Reuters Canada on April 2, Paul Slomp of the National Farmers Union said, "[t]he GM pig was going to drive consumers away from eating pork if it was ever approved for market. This GM pig fiasco could have permanently damaged (Canada's) domestic and international pork markets."
Last year, Olymel, a pork processor in Quebec, announced it would not sell meat from Enviropigs even if the animals were approved for marketing. Other pork industry players are also leery of such biotech efforts. For example, the leading U.S. pork producer Smithfield Farms stated it would not sell meat from animal clones even with FDA approval, and that the company relies on traditional breeding.
"The U.S. government should quit wasting taxpayer dollars on what amounts to an engineered sham for the hog industry," continued Kimbrell. "Consumers have made clear that they don't want to eat genetically engineered animals. The FDA should stop its review of this GE pig immediately."
Recent polls show that consumers do not want to eat these genetically engineered animals. An October 2010 poll by Thompson Reuters found that nearly 65 percent of consumers would not eat genetically engineered fish or meat and 93 percent consumers would want GE animals to be labeled if approved for consumption.
Support for GE labeling recently garnered media attention when a record-breaking one million public comments were sent to the FDA late last month in support of a legal petition filed by CFS calling on the agency to require the labeling of GE foods.  Fifty-five Members of Congress joined Rep. Peter DeFazio (D-OR) and Senator Barbara Boxer (D-CA) in a letter to FDA in support of the legal petition.
For more information, click here.
EcoWatch Daily Newsletter
Traffic moves across the Brooklyn Bridge on Aug. 2, 2018 in New York City. Drew Angerer / Getty Images
The Trump administration is expected to unveil its final replacement of Obama-era fuel-efficiency standards for cars and light trucks Tuesday in a move likely to pump nearly a billion more tons of carbon dioxide into the atmosphere over the lifetime of those less-efficient vehicles.
U.S. President Donald Trump listens as Anthony Fauci, Director of the National Institute of Allergy and Infectious Diseases speaks in the Rose Garden for the daily coronavirus briefing at the White House on March 29 in Washington, DC. Tasos Katopodis / Getty Images
By Jake Johnson
Just over a month after proclaiming that the number of coronavirus cases in the U.S. would soon "be down to close to zero," President Donald Trump said during a press briefing on the White House lawn Sunday that limiting U.S. deaths from the pandemic to between 100,000 and 200,000 people would mean his administration and the country as a whole did "a very good job."
Dicamba is having a devastating impact in Arkansas and neighboring states. A farmer in Mississippi County, Arkansas looks at rows of soybean plants affected by dicamba. The Washington Post / Getty Images
Documents unearthed in a lawsuit brought by a Missouri farmer who claimed that Monsanto and German chemical maker BASF's dicamba herbicide ruined his peach orchard revealed that the two companies knew their new agricultural seed and chemical system would likely damage many U.S. farms, according to documents seen by The Guardian.
Washington State Governor Jay Inslee and other leaders speak to the press on March 28, 2020 in Seattle. Karen Ducey / Getty Images