This website uses cookies to ensure you get the best experience while browsing it. By clicking 'Got It' you're accepting these terms.
Canada's Cities Lead on Climate Action
Jul. 23, 2014 08:59AM EST
Climate

Amid the dire warnings about global warming's impacts, what's often overlooked is that actions to reduce or prevent them will lead to livable communities, improved air quality, protection of natural spaces and greater economic efficiency, to name just a few benefits. So it's not surprising that tangible positive action on climate change is happening in Canada's cities.
Plenty of examples can be found in the National Measures Report, released in mid-July by the Partners for Climate Protection, which includes the Federation of Canadian Municipalities and ICLEI-Canada, a local government organization dedicated to sustainability.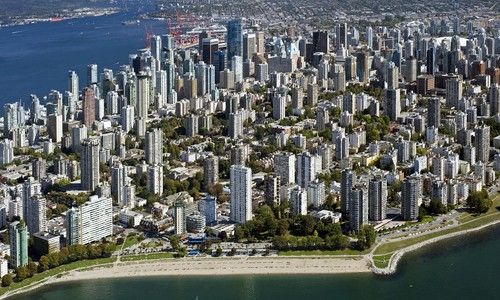 Photo credit: Shutterstock
The report shows that, although Calgary is best known as the epicentre of Canada's oil and gas sector, its government is investing in greater energy efficiency and tackling greenhouse gas pollution. In just seven years, it has cut emissions from operations by almost 50 percent through an innovative partnership with energy companies. Cost savings from reduced energy use pay for the city's investments.
Edmonton was an early innovator in waste management, establishing one of the first municipal composting programs in 2000. Its facility is the largest of its kind in North America. Not only does it take in organic waste from households, it also processes sewage sludge from the wastewater treatment plant. Along with its recycling program, the city now keeps up to 60 percent of its municipal waste out of landfills, and is aiming to increase that to 90 percent. How does this help with climate change? Diverting waste away from landfills reduces emissions of methane, a greenhouse gas many times more potent than carbon dioxide.
In Ontario, Guelph is enjoying an economic revival and reducing energy use and greenhouse gas emissions at the same time. Supported by Ontario's Green Energy Act, the city aims to meet 25 percent of its total energy needs with locally sourced renewable energy. The policy turned out to be a boon for the manufacturing sector, attracting solar industry plants to Guelph and across the region.
My hometown, Vancouver, is the real leader on Canadian urban climate initiatives. It has the lowest greenhouse gas emissions of any major North American city—and they're continuing to drop. B.C is lucky to be powered by low-carbon hydroelectric power; Vancouver leverages this advantage by making smart urban-planning decisions and encouraging active transportation such as walking, biking and public transit. Almost half of city trips are now made without a car. Battling sprawl and encouraging sustainable transportation has its advantages beyond reducing the carbon footprint. Good transit and improved liveability have attracted people to Vancouver's increasingly vibrant downtown core, lush green spaces and seaside pathways.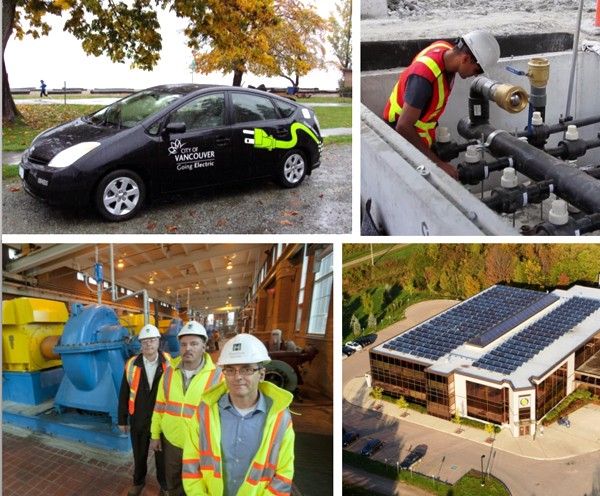 Local progress can spur even greater momentum as cities collaborate with each other and other levels of government. The C40 Climate Leadership Group, started in 2005, has grown from 18 to 69 megacities around the world, including Toronto and Vancouver—representing one in 12 people on the planet. C40 and related initiatives have allowed cities to set goals together, measure and verify progress and share success stories on how to tackle global warming, while reaching out to smaller centers and co-operating with national governments.
The influence and importance of tackling global warming at the municipal level has become so great that the UN now formally recognizes city governments in negotiations on climate change. It makes sense. The UN notes that although cities cover just two percent of the world's surface, they produce more than 60 percent of CO2 emissions.
How can federal and provincial governments get on board? First, they can establish policies that offer financial and program support to urban global warming action, such as investing in public transportation. The B.C government has helped cities develop climate change plans and become carbon neutral, and Nova Scotia has established a Climate Change Adaptation Clearinghouse to assist cities. Other provinces could take similar action. And all provinces and the federal government need to get serious about the greenhouse gas emissions they control.
Our future will be determined by the choices we make now to prioritize clean energy, better transit and smarter urban design. Canadian citizens and governments should recognize the benefits of acting and co-operating on global warming. There's still a long way to go, but cities are showing the way.
EcoWatch Daily Newsletter
Smog over Los Angeles. Westend61 / Getty Images
After four decades of improving air quality, the U.S. has started to take a step backwards, as the number of polluted days has ticked upwards over the last two years, the Associated Press reported.
Photobos / iStock / Getty Images
Governors in Vermont and Maine signed bills on Monday that will ban plastic bags in their states next year, The Hill reported.
The Maine ban will go into effect next Earth Day, April 22, 2020. The Vermont ban, which extends beyond plastic bags and is the most comprehensive plastics ban so far, will go into effect in July 2020. The wait time is designed to give businesses time to adjust to the ban.
picture-alliance / AP Images / D. Goldman
By Daniel Moattar
Eastern Kentucky's hills are interrupted by jarring flats of bare rock: the aftermath of mountaintop removal mining, which uses explosives to destroy and harvest coal-rich peaks.
By Molly Taft
Lisa Marshall isn't your typical activist. For one thing, she's not into crowds. "I don't really like rallies," Marshall, a mom of three from upstate New York, said. "They're a little stressful — not my favorite thing."

An oil drilling site in a residential area of Los Angeles, California on July 16, 2014.
Faces of Fracking / Flickr
By Jake Johnson
A comprehensive analysis of nearly 1,500 scientific studies, government reports, and media stories on the consequences of fracking released Wednesday found that the evidence overwhelmingly shows the drilling method poses a profound threat to public health and the climate.

sonsam / iStock / Getty Images
By Grace Francese
A new Environmental Working Group (EWG) study published in Environmental Research found that nitrate, one of the most common contaminants of drinking water, may cause up to 12,594 cases of cancer per year, but that's not its only danger: It can pose unique health risks to children.
Melt water from Everest's Khumbu glacier. Ed Giles / Getty Images
EPA Administrator Andrew Wheeler signs his replacement for the Clean Power Plan. Win McNamee / Getty Images