Can We Ever Recover from the Murder of John Kennedy?
Nov. 24, 2014 08:25AM EST
Insights + Opinion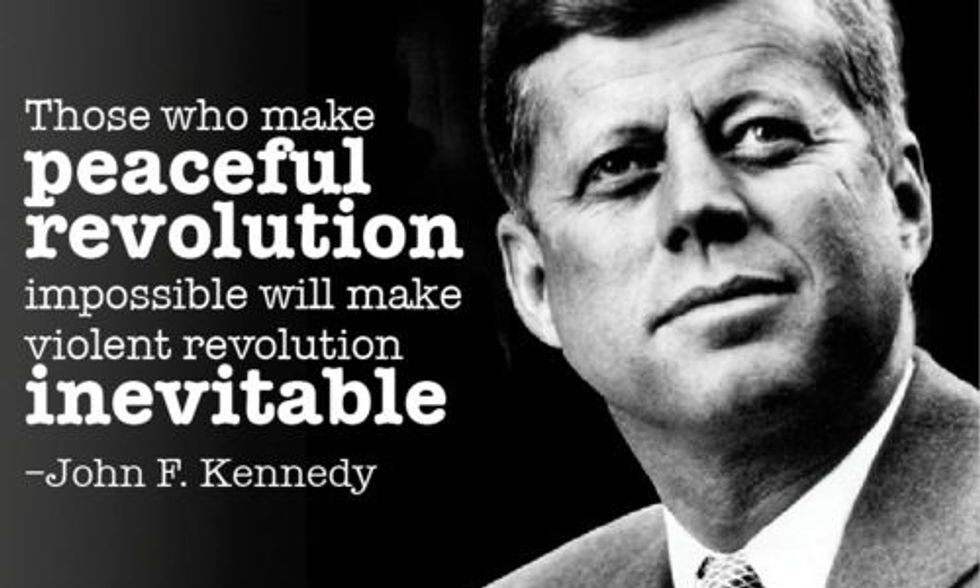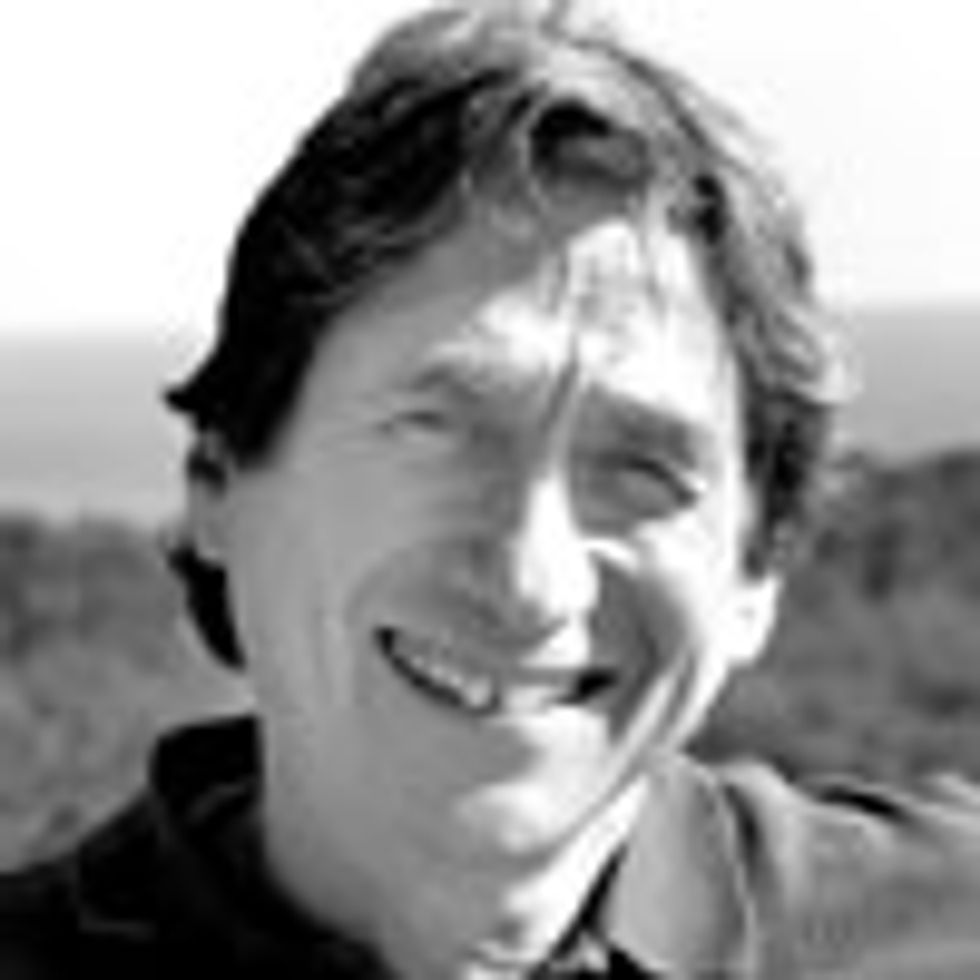 The images we ingest never cease to shape us.
Just 51 years ago, the head of a profoundly gifted young man was blown apart.
A few months earlier he'd given a speech that promised a new dawn.
He reached out to our enemies. He talked of going to the moon, of technological breakthrough and human promise. And he stopped the radioactive madness of atmospheric Bomb testing, a reason many of us are alive today.
It's easy to idealize John Kennedy.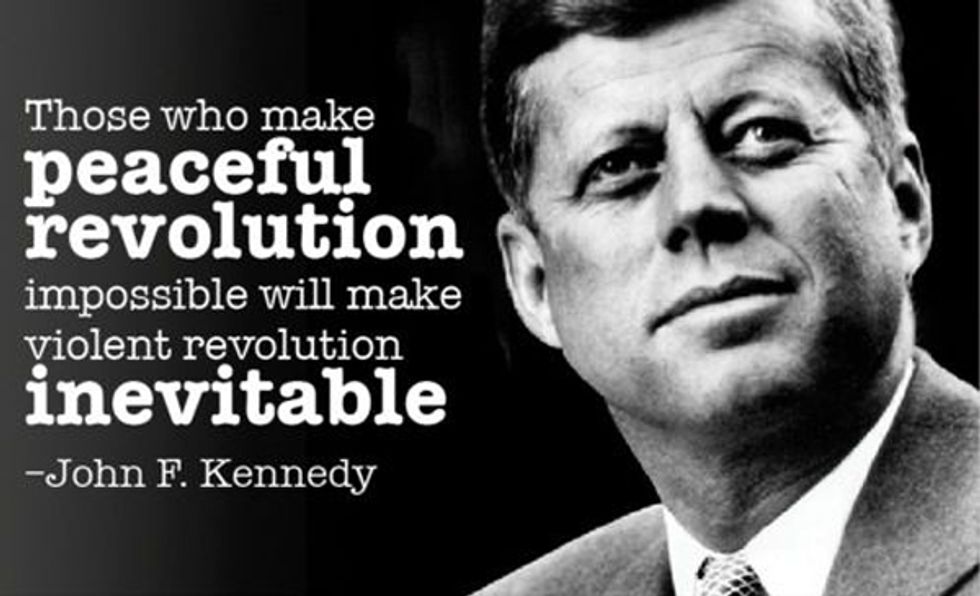 We still debate what he might have done in Vietnam.
But since the war did escalate, and we know the horrible costs to us all, then the possibility that he might have gotten us out gnaws at our soul.
So does not being sure about who actually killed him.
And then there's the horror of the moment itself. A fellow human, blown apart before our eyes.
It hurts to think about it. To write about it. How can sorrow not reign in our hearts over this terrible human image that so deeply defines us?
As a nation, we still feel the murder of Abraham Lincoln. Having won a Constitutional Amendment to end slavery, he was the only one to smooth the transition from civil war to progressive peace. We still pay for losing him.
And for the image of a good man, seated happily in a theater, next to his wife ... as a time for healing is unbearably shattered by a bullet to the head.
Russia never really recovered after Alexander II, a rare reformist czar, was murdered in 1881 while moving his nation toward a democratic constitution.
Michael Collins was a violent Irish revolutionary who turned to peace amidst a horrendous civil war.
Could he have ended it? All we know is the Troubles dragged on a ghastly seven decades after he was shot.
Mahatma Gandhi led the world's first successful nonviolent anti-imperial campaign, then fasted nearly to the death to help halt a Hindu-Muslim civil war.
Then he was shot. And what is the outcome?
Egypt's Anwar Sadat and Israel's Yitzhak Rabin were also murdered. And what's come since?
In America ... Medgar Evers and Malcolm X, Martin Luther King and Bobby Kennedy ... and then John Lennon.
Around the world, names we don't know. Faces we haven't seen. Social movements crushed, freedoms lost, good people killed (too often by our own government) deadening the soul.
And who is next? Does all this mean activists of great heart and artists for social change inevitably court a death sentence?
It's long been clear, for a wide variety of reasons, that we cannot rely on "great leaders" to save our world for us.
But can our minds and souls ever recover from such horrible images repeatedly rammed into our brains?
Lynn Stuart Parramore has written with brilliance at AlterNet about the traumas we all face in today's America.
In their wake, we are being poisoned by a ghastly, malignant class of zombie corporations somehow granted human rights and no human responsibilities.
They have gutted the Democratic Party and seized our government.
Their cancer is of injustice, cynicism, pollution and war.
Avoidable poverty, racism for the hell of it, a gutted democracy, eco-suicide for private profit, perpetual war for its own sake ... they all metastasize to feed the corporate tumor.
Another election has been bought, rigged, stolen and lynched. The internet is endangered. Likewise our civil liberties.
So do we turn our heads "until the darkness goes"?
Or do we face the unthinkable head-on, and refuse to blink (except momentarily—we all need a break from time to time) at what we see?
Somehow we have survived since John Kennedy was killed. Kids have been born ... and so have social movements ... along with many surprising twists of fate.
We are winning a culture war barely begun in 1963.
Silent Spring had just been published. An avid sailor, we don't know how JFK might have interacted with a nascent environmental movement.
But born it was. A half-century later, Solartopian technologies are poised to green-power our economy. We have the means to survive in harmony with our Mother Earth.
But can we muster the political power to cure our corporate cancer?
Richard Nixon has come and gone. So have Ronald Reagan and George W. Bush.
Now "Hope and Change" join them in the compost of history. They came too cheap. They meant too little.
Apparently we have more lessons to learn, more inner strength to build.
Departed friend, whoever you might have become, whatever you might have done, you have left us no choice.
The better angels of our souls now demand that we ask not what our planet can do for us ...
HARVEY WASSERMAN'S HISTORY OF THE UNITED STATES is at www.solartopia.org, along with SOLARTOPIA! OUR GREEN-POWERED EARTH. In 1960, he saw John Kennedy speak on the steps of the Ohio statehouse.
Recycling and general waste plastic wheelie bins awaiting collection for disposal in Newport, Rhode Island. Tim Graham / Getty Images
Reduce. Reuse. Recycle. According to The National Museum of American History, this popular slogan, with its iconic three arrows forming a triangle, embodied a national call to action to save the environment in the 1970s. In that same decade, the first Earth Day happened, the EPA was formed and Congress passed the Resource Conservation and Recovery Act, encouraging recycling and conservation of resources, Enviro Inc. reported.
According to Forbes, the Three R's sustainability catch-phrase, and the recycling cause it bolstered, remain synonymous with the U.S. environmental movement itself. There's only one problem: despite being touted as one of the most important personal actions that individuals can take to help the planet, "recycling" – as currently carried out in the U.S. – doesn't work and doesn't help.
Turns out, there is a vast divide between the misleading, popular notion of recycling as a "solution" to the American overconsumption problem and the darker reality of recycling as a failing business model.
Tiffany Duong is an avid ocean advocate. She holds degrees from UCLA and the University of Pennsylvania Carey Law School and is an Al Gore Climate Reality Leader and student member of The Explorer's Club.
She spent years as a renewable energy lawyer in L.A. before moving to the Amazon to conduct conservation fieldwork (and revamp her life). She eventually landed in the Florida Keys as a scientific scuba diver and field reporter and writes about the oceans, climate, and the environment from her slice of paradise. Follow her on Twitter/Instagram @lilicedt.
EcoWatch Daily Newsletter
The coal-fired Huaneng Power Plant in Huai 'an City, Jiangsu Province, China on Sept. 13, 2020. Costfoto / Barcroft Media via Getty Images
Overall energy demand is expected to rise 4.6 percent this year compared to 2020 and 0.5 percent compared to 2019, according to the IEA's Global Energy Review 2021. Demand for fossil fuels is expected to jump to such an extent that emissions will rise by nearly five percent in 2021. This will reverse 80 percent of the emissions decline reported in 2020, to end emissions just 1.2 percent below 2019 emissions levels. Because the lockdown saw the biggest drop in energy demand since World War II, the projected increase in carbon dioxide emissions will still be the second-highest on record, BBC News pointed out.
"This is a dire warning that the economic recovery from the COVID crisis is currently anything but sustainable for our climate," IEA Executive Director Fatih Birol said in a statement reported by AFP.
Birol said much of that increase was being driven by the resurgence of coal use. In fact, coal demand is expected to increase by 60 percent more than all forms of renewable energy, according to the report. Overall coal demand is expected to increase by 4.5 percent in 2021. More than 80 percent of that growth is in Asia, and more than 50 percent is in China. While coal use is expected to increase in the U.S. and Europe as well, it will remain far below pre-pandemic levels. Still, global coal use is expected to rise to nearly its 2014 peak, BBC News reported.
Natural gas demand is also expected to rise by 3.2 percent in 2021, to put it more than one percent above 2019 levels, according to the report.
There are, however, two bright spots in the report from a climate perspective. The first is that oil demand, while up 6.2 percent from 2020, is still expected to remain around 3 percent below 2019 levels. This is because oil use for ground transportation is not expected to recover until the end of 2021, and oil use for air travel is expected to remain at 20 percent below 2019 levels by December of 2021.
"A full return to pre-crisis oil demand levels would have pushed up CO2 emissions a further 1.5%, putting them well above 2019 levels," the report authors wrote.
The second bright spot is that renewable energy demand is set to rise in all sectors in 2021. In power, where its rise is the greatest, it is set to increase by more than eight percent. This is "the largest year-on-year growth on record in absolute terms," the report authors wrote.
Renewable energy will provide 30 percent of electricity overall, BBC News reported, which is the highest percentage since the industrial revolution. The problem is that the increase in renewables is running parallel to an increase in fossil fuels in some places. China, for example, is also expected to account for almost half of the rise in renewable electricity.
"As we have seen at the country-level in the past 15 years, the countries that succeed to cut their emissions are those where renewable energy replaces fossil energy," energy expert and University of East Anglia professor Corinne Le Quéré told BBC News. "What seems to be happening now is that we have a massive deployment of renewable energy, which is good for tackling climate change, but this is occurring alongside massive investments in coal and gas. Stimulus spending post-Covid-19 worldwide is still largely funding activities that lock us into high CO2 emissions for decades."
To address this issue, Birol called on the world leaders gathering for U.S. President Joe Biden's climate summit Thursday and Friday to pledge additional action before November's UN Climate Change Conference, according to AFP.
"Unless governments around the world move rapidly to start cutting emissions, we are likely to face an even worse situation in 2022," said Birol.
From Your Site Articles
Related Articles Around the Web
A grizzly bear killed an outdoor guide in a rare attack near Yellowstone Park. William Campbell / Corbis / Getty Images
Representative Alexandria Ocasio-Cortez (D-NY) re-introduces the Green New Deal in Washington, D.C. on April 20, 2021. Mandel Ngan / AFP / Getty Images
By Brett Wilkins
In the latest of a flurry of proposed Green New Deal legislation, Reps. Cori Bush and Alexandria Ocasio-Cortez on Monday introduced the Green New Deal for Cities Act of 2021, a $1 trillion plan to "tackle the environmental injustices that are making us and our children sick, costing us our homes, and destroying our planet."
Offshore oil and gas drillers have left more than 18,000 miles of pipelines at the bottom of the Gulf of Mexico. Drew Angerer / Getty Images
Offshore oil and gas drillers have discarded and abandoned more than 18,000 miles of pipelines on the floor of the Gulf of Mexico since the 1960s, a report from the Government Accountability Office says.
The industry has essentially recovered none of the pipelines laid in the Gulf in the last six decades; the abandoned infrastructure accounts for more than 97% of all of the decommissioned pipelines in the Gulf.
The pipelines pose a threat to the habitat around them, as maritime commerce and hurricanes and erosion can move sections of pipeline.
The Bureau of Safety and Environmental Enforcement does not conduct undersea inspections even though surface monitoring is "not always reliable for detecting ruptures," according to the GAO.
For a deeper dive:
For more climate change and clean energy news, you can follow Climate Nexus on Twitter and Facebook, sign up for daily Hot News, and visit their news site, Nexus Media News.