This website uses cookies to ensure you get the best experience while browsing it. By clicking 'Got It' you're accepting these terms.
Can Geoengineering Tame Devastating Hurricanes?
Nov. 06, 2015 11:10AM EST
Climate
Scientists think they know, in principle, how to tame hurricanes and reduce storm surge risks.
A huge ash plume rises from the Mount Pinatubo volcanic eruption in 1991. Photo credit: Ed Wolfe / U.S. Geological Survey
All it would take would be a stratosphere full of sulphate aerosols sufficient to dim the sun, lower tropic ocean temperatures and reduce the hazard of the kind of windstorm that hit New York in 2012 and New Orleans in 2005 with devastating consequences.
Hurricanes are likely to impose increasing costs as the planet's climate changes. However, there is a little more to the solution than a simple darkening of the upper skies.
The quantities of sulphate discharge needed to make a difference would be the equivalent of the catastrophic Mount Pinatubo volcanic eruption that scorched the Philippines in 1991. And there could also be other unwelcome consequences.
Test of Hypothesis
Polar scientist John Moore and colleagues reported in the Proceedings of the National Academy of Sciences that their exercise was a test of a hypothesis: a "qualitative indication" that geoengineering could help reduce hurricanes.
Co-author Ben Kravitz, a climate scientist at the Pacific Northwest National Laboratory in the U.S., said: "We're looking at possibilities now, in case the world needs these options down the road."
As humans continue to burn fossil fuels, levels of greenhouse gases will build up in the lower atmosphere, global average temperatures will rise and heatwaves, floods and windstorms could become more frequent, more intense or both.
So the hurricane-suppressing scientists worked entirely from climate simulations to see if eruptions could in fact calm some of the weather extremes predicted under climate change.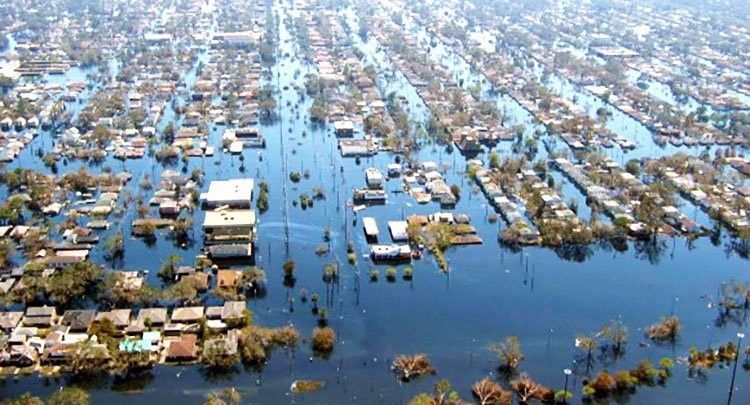 New Orleans devastated by floods after Hurricane Katrina struck in 2005. Photo credit: NOAA Aviation Weather Center / Wikimedia Commons
Although climate scientists have repeatedly said that only a sharp reduction in carbon dioxide emissions will have any impact in the long run, a number of groups have tested the other possible answer: the considered and wilful alteration of the planet's climate through geoengineering.
The results so far have been either mixed or downright unpromising. Scientists have looked at the idea of "whitening" the Arctic to prevent the loss of ice; they have explored the idea of tapping energy from the oceans to reduce global temperatures; and they have confirmed that sulphate aerosol discharges could severely disrupt world rainfall patterns and make things worse for millions.
There is evidence that the technique could offer temporary relief for coral reefs—also at risk from warming oceans—but overall, researchers have repeatedly pronounced geoengineering to be unworkable.
The limited case of hurricane control, however, suggests that it might be effective—if expensive.
To mimic the effect of a Pinatubo-type eruption, researchers would have to lift to airliner altitudes roughly a quarter of all the sulphates produced by human industry in any one year.
In the lower atmosphere, these cause respiratory illnesses. At altitude, these could lower the global temperature by about half a degree Celsius for a year or two.
But they could also affect the monsoon rain system that nourishes hundreds of millions in Asia, and they could damage the ozone layer that screens most humans from harmful ultraviolet radiation.
Over time, it would reduce sea surface temperatures and reduce the probability of Katrina-scale hurricanes and devastating storm surges of the kind that swept through New York and New Orleans in the company of the hurricane-force winds.
Benefits and Risks
But that wouldn't mean it was a safe option. "This is a narrow study," Kravitz says. "Geoengineering researchers have to very carefully categorize the other benefits and risks, and hand off that information to the decision makers."
Coincidentally, another study in the Proceedings of the National Academy of Sciences journal confirms that real volcanic eruptions, if they happened in the summertime, could not only cool the northern hemisphere, but also possibly generate an El Niño pattern in the Pacific and even have an impact on ocean currents in the Atlantic.
Since El Niño is linked to devastating floods on the west coast of the Americas and drought and fires in the Indonesian rainforests, and since the Atlantic currents are an integral part of the European climate machinery, the consequences might go far beyond hurricane control.
YOU MIGHT ALSO LIKE
Breathtaking NASA Video Shows the Sun Like You've Never Seen It Before
Stunning Drone Footage Shows Greenland Literally Melting Away
Why Climate Change Is Responsible for Record-Breaking Hurricanes Like Patricia
10 Stunning Photos of Rare Northern Lights (And How to Take Your Own)
EcoWatch Daily Newsletter
Sam Cooper
By Sam Cooper
Thomas Edison once said, "I'd put my money on the sun and solar energy. What a source of power!"
A NOAA research vessel at a Taylor Energy production site in the Gulf of Mexico in September 2018. NOAA
The federal government is looking into the details from the longest running oil spill in U.S. history, and it's looking far worse than the oil rig owner let on, as The New York Times reported.
Simple swaps that cut down on kitchen trash.
Sponsored
By Kayla Robbins
Along with the bathroom, the kitchen is one of the most daunting areas to try and make zero waste.
Golde Wallingford submitted this photo of "Pure Joy" to EcoWatch's first photo contest. Golde Wallingford
EcoWatch is pleased to announce our third photo contest!

Damage at the Malheur National Wildlife Refuge from the 2016 occupation. USFWS
By Tara Lohan
When armed militants with a grudge against the federal government seized the Malheur National Wildlife Refuge in rural Oregon back in the winter of 2016, I remember avoiding the news coverage. Part of me wanted to know what was happening, but each report I read — as the occupation stretched from days to weeks and the destruction grew — made me so angry it was hard to keep reading.
Computer model projection of temperature anomalies across Europe on June 27. Temperature scale in °C. Tropicaltidbits.com
A searing heat wave has begun to spread across Europe, with Germany, France and Belgium experiencing extreme temperatures that are set to continue in the coming days.
Skull morphology of hybrid "narluga" whale. Nature / Mikkel Høegh Post
In the 1980s, a Greenlandic subsistence hunter shot and killed a whale with bizarre features unlike any he had ever seen before. He knew something was unique about it, so he left its abnormally large skull on top of his toolshed where it rested until a visiting professor happened upon it a few years later.
A house under construction with plastic bottles filled with sand to build shelters that better withstand the climate of the country where temperatures reach up to 50° C Awserd in the Saharawi refugee camp Dakhla on Dec. 31, 2018 in Tindouf, Algeria. Stefano Montesi / Corbis / Getty Images
A UN expert painted a bleak picture Tuesday of how the climate crisis could impact global inequality and human rights, leading to a "climate apartheid" in which the rich pay to flee the consequences while the rest are left behind.