Can Climate Action Plans Combat Megadrought and Save the Colorado River?

If a city's water supply is threatened by climate change, should that city enact a strong climate action plan? I believe the answer is yes, but few cities throughout the Colorado River basin are moving forward aggressively to address climate change even though the threat is increasing every year.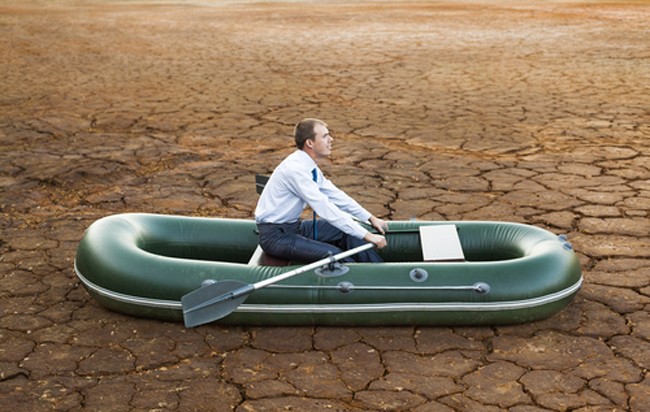 Photo credit: Shutterstock
Two of the largest reservoirs in the U.S.—Lakes Mead and Powell along the Colorado River—continue to lose water and are now less than half full with no prediction that the trend will change direction. The U.S. Bureau of Reclamation, which manages the reservoirs, and many scientific studies by independent researchers have reached the same conclusion: human overuse of the river and the likely impacts of climate change could have a profound negative impact on the amount of water flowing down the Colorado River and its ability to supply water for 40 million people.
A recent newspaper article discussing this issue was titled, "Climate change or just bad luck?" In the last 15 years, about 20 percent less water has flowed in the river compared to the 40 years prior. This river flow, which comes from snow falling in the Rocky Mountains in Colorado, Utah and Wyoming, is at historic lows already. Climate change is predicted to lower the snow and river flows by 8.5 percent or more. A recent study by the National Oceanographic and Atmospheric Administration used the term "megadrought" to describe what could be coming for the Colorado River basin if climate change is not abated.
In this quagmire, several cities in the Southwest U.S. that use water out of the Colorado River are enacting "Climate Action Plans" to reduce their carbon emissions. A few of those plans are highly ambitious and propose to reduce carbon emissions to zero. Several others have less lofty goals but are moving in the right direction. Here's a quick summary of some of the cities' plans in the seven Colorado River basin states:
Colorado: Several cities have aggressive plans including Fort Collins, Boulder and Aspen.
Utah:
New Mexico:
Wyoming:
No traceable climate action plans are occurring in the Colorado River basin area of this heavy oil, gas and coal extraction state.
Nevada:
Las Vegas is likely one of the first cities that may be hit by the impacts of climate change as the water levels in Lake Mead continue to drop. The city has committed to a smaller 30 percent reduction in its carbon footprint by 2030.
Arizona:
Southern California:
In addition to these cities, a number of cities across the basin and especially in Southern California signed on to the MCPA goal for a 7 percent reduction by 2012.
The Southwest U.S. has much to lose as climate change continues its grip and escalates across the basin. The list above is a cursory summary—local groups and governments likely have far more detail—but this post should help begin a broader discussion about the role cities can play in the climate-water nexus across the Colorado River basin. If "megadrought" is on the horizon, the leadership in cities like Boulder, Fort Collins and San Diego show that a "mega-response" is the smart path forward.
Gary Wockner, PhD, is executive director of the Save The Colorado River Campaign. Contact Gary@SaveTheColorado.org.
YOU MIGHT ALSO LIKE
Robert Swan Leads Antarctic Expedition to Show Firsthand Effects of Climate Change
David Suzuki: Climate Change Is Real Threat, Not Activists Calling for Immediate Action
China Smog Documentary Goes Viral With 200 Million Views in 5 Days
www.youtube.com
Volkswagen is bringing back its hippie-approved minivan but with a 21st century upgrade—the new I.D. Buzz is all-electric.
The concept car was first revealed at the Detroit Auto Show in January and now the German automaker is officially putting its reinvigorated Microbus into production.
Keep reading...
Show less
I have asked repeatedly to have my short interview clip removed from this film. The director refuses. He believes his film is fair and balanced. I do not.

I am often interviewed (see media) and hardly ever quoted incorrectly or out of context. This film is one of those rare exceptions.
Keep reading...
Show less
Top of JPMorgan Chase Tower, Dallas, Texas. Joe Mabel / Wikimedia
Keep reading...
Show less
Cupping symptoms associated with dicamba damage on a cucumber plant. University of Arkansas.
Arkansas farmers filed a class-action lawsuit last week against Monsanto and German chemical company BASF, alleging that the companies' dicamba-based herbicides caused damage to their properties.
The plaintiffs claim that Monsanto and BASF implemented and controlled the dicamba crop system, releasing seed technology without a corresponding, safe and approved herbicide.
Keep reading...
Show less
Cup and bubblegum corals found in Northeast U.S. Canyons, the Atlantic's first marine monument. NOAA
Interior Sec. Ryan Zinke, who recently recommended a reduction in the size of the 1.35 million acre Bears Ears National Monument to President Trump, is advocating for more drilling and mining on public lands and waters.
The former Montana Rep. told Reuters that the development of America's protected federal lands could help the country become a "dominant" global energy force.
Keep reading...
Show less
Gage Skidmore / Flickr (CC BY-SA 2.0)
Dozens of scientists on the U.S. Environmental Protection Agency's (EPA) Board of Scientific Counselors and board subcommittees have been informed that they will not be renewed for their roles advising the agency, the Washington Post reported.
Keep reading...
Show less
www.youtube.com
Worried about the future of the Great Barrier Reef? If so, you're not alone.
Many publications have already written obituaries for the reef, despite the fact that it is not completely dead. Thanks to this video via Vox for sounding the alarm on this critical issue, before it's too late.
Keep reading...
Show less
Mike Mozart
By Olga V. Naidenko, Ph.D.
In a landmark rule with global repercussions, California state scientists are preparing to issue the world's first health guideline for Monsanto's glyphosate herbicide based on its cancer risk. The state's proposed safe level is more than 100 times lower than the U.S. Environmental Protection Agency's (EPA) legal allowance for the average-sized American.
Keep reading...
Show less
www.youtube.com
By Bob Henson
A high risk of life-threatening flooding continues on Wednesday over parts of the central Gulf Coast as Tropical Storm Cindy lumbers toward shore. The greatest flood threat will be across low-lying areas of far southern Mississippi and Alabama, according to the NWS/NOAA Weather Prediction Center. A second area with a moderate flood risk lies across far southeast Texas and southwest Louisiana.
Keep reading...
Show less