Can Algae Power Our World?
It has often been used as a farmland fertilizer, and in some communities it is eaten as a vegetable, but now researchers believe that seaweed could power our cars and heat our homes too.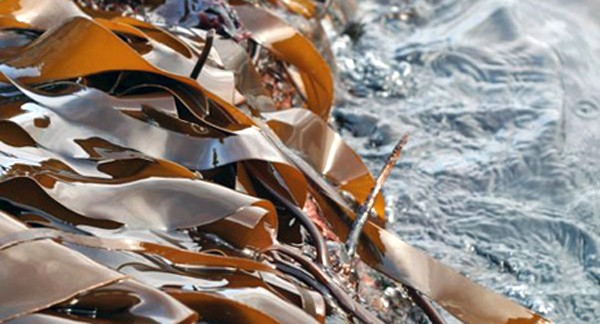 One species of algae in particular, sugar kelp (Laminaria saccharina), is exciting scientists from Norway. It grows prolifically along the country's coasts and, as its name suggests, contains a lot of energy—about three times as much sugar as sugar beet. That makes it suitable for turning into food and fuel.
Sugar kelp uses excess nitrogen in the sea, and so cleans up fertilizer pollution. However, it can grow so fast it can be clog beaches and needs to be removed, so finding an economic use for it would solve many problems.
Scientists are competing to see who can get convert seaweed into fuel most efficiently.
One of them is Fredrik Gröndahl, a KTH Royal Institute of Technology researcher and head of the Seafarm project. He believes the algae are being upgraded from an environmental problem into a valuable natural resource and raw material.
"The fact is that algae can absorb nitrogen from the water as effectively as a wastewater treatment plant," Gröndahl says,
Eco-friendly resource
In some places, it is so prolific that it disrupts normal activities along the shoreline, but Trandahl's project converts algae into eco-friendly food, medicine, plastic and energy. "We see algae as a resource," he says. "We collect excess algae along the coasts, and we cultivate new algae out at sea."
The seaweed is being scooped up from the Baltic Sea, along Sweden's southern coast, in order to be converted to biogas. It is a coast rich with the seaweed, and the city of Trelleborg estimates that its beaches host an excess of algae that is equivalent to the energy from 2.8 million litres of diesel fuel.
The first algae farm is already up and running, near the Swedish town of Strömstad, in the waters that separate the country from Denmark. The Seafarm project will, according to Gröndahl, contribute to the sustainable development of rural districts in Sweden. "We create all-year-round jobs," he says.
One example is in the "sporophyte factory farms" on land where, to begin with, the algae are sown onto ropes. When miniature plants (sporophytes) have been formed, they sink and are able to grow in the sea. After about six months, when they algae have grown on the ropes, they are harvested and processed on land through bio-refining processes.
Grow rapidly
"It will be an energy forest at sea," Gröndahl says. "We plan to build large farms on two hectares right from the start, since the interest in the activities will grow rapidly when more farmers and entrepreneurs wake up to the opportunities and come into the picture.
"In 15 years' time, we will have many large algae cultivations along our coasts, and Seafarm will have contributed to the creation of a new industry from which people can make a living."
Another line of research, using the same kind of seaweed, has been revealed by Khanh-Quang Tran, an associate professor in the Norwegian University of Science and Technology (NTNU) Department of Energy and Process Engineering. He has been producing what he calls bio-crude.
"What we are trying to do is to mimic natural processes to produce oil," says Khanh-Quang Tran, whose results have been published in the academic journal, Algal Research. "However, while petroleum oil is produced naturally on a geologic timescale, we can do it in minutes."
Using small quartz tube "reactors"—which look like tiny sealed straws—Tran heated the reactor, containing a slurry made from the kelp biomass and water, to 350˚C at a very high rate of 585˚C per minute. The technique, called fast hydrothermal liquefaction, gave him a bio-oil yield of 79 percent. That means that 79 percent of the kelp biomass in the reactors was converted to bio-oil.
A similar study in the UK, using the same species of kelp, yielded only 19 percent. The secret of much higher yields, Tran says, is the rapid heating.
Carbon-neutral
Biofuels that use seaweed could lead humans towards a more sustainable and climate-friendly lifestyle. The logic is simple: petroleum-like fuels made from crops or substances take up CO2as they grow and release that same CO2 when they are burned, so they are essentially carbon-neutral.
The problem of using food crops has led many to question whether bio-fuels are a solution to climate change. So to get around this problem, biofuel is now produced from non-food biomass, including agricultural residues, and land-based energy crops such as fast-growing trees and grasses.
However, seaweed offers all of the advantages of a biofuel feedstock, and has the additional benefit of not interfering with food production.
But while Tran's experiments look promising, they are what are called screening tests. His batch reactors are small and not suitable for an industrial scale. Scaling up the process requires working with a flow reactor, one  with a continuous flow of reactants and products. "I already have a very good idea for such a reactor," he says.
Tran is optimistic that he can improve on a yield of 79 percent, and is now looking for industrial partners and additional funding to continue his research.
YOU MIGHT ALSO LIKE
Wall Street Journal Runs Op-Ed Advocating Against Action on Climate Change
Future Investments in Fossil Fuels Look Dim
Scientists Say Fracking Makes Climate Change Worse, Not Better
Will Rose / Greenpeace
Eleven peaceful activists from the Greenpeace ship Arctic Sunrise have taken to the water in inflatable boats with handheld banners to oppose the Statoil Songa Enabler oil rig, 275 km North off the Norwegian coast, in the Arctic Barents sea.
The banners say: "People Vs. Arctic Oil" and are directed at Statoil and the Norwegian government, which has opened a new, aggressive search for oil in the waters of the Barents Sea.
Keep reading...
Show less
Jul. 21, 2017 10:34AM EST
Dominion Pipeline Monitoring Coalition
The Federal Energy Regulatory Commission (FERC) paved the way Friday for the 600-mile, 42-inch fracked gas Atlantic Coast Pipeline to proceed when it issued the final environmental impact statement (FEIS). A joint project of utility giants Duke Energy and Dominion Energy, the Atlantic Coast Pipeline would move fracked gas from West Virginia into Virginia and North Carolina.
In April, the Sierra Club submitted more than 500 pages of legal and technical comments on FERC's draft EIS, which were joined by more than 18,000 individual comments detailing opposition to the project. The pipeline has been met with widespread opposition, with more than 1,000 people participating in public hearings across the three affected states. The Sierra Club recently requested that FERC issue a new environmental review document analyzing information that came in after or late in, the public comment process.
Keep reading...
Show less
Jul. 21, 2017 08:25AM EST
Greenpeace / PolluterWatch
By Jessica Corbett
"It's time Rex Tillerson step down or be removed," said Gigi Kellett of Corporate Accountability International, following an announcement on Thursday that ExxonMobil will pay $2 million for violating U.S. sanctions against Russian officials while the now-secretary of state was the company's CEO.
"ExxonMobil demonstrated reckless disregard for U.S. sanction requirements," according to enforcement filing released by the Treasury Department's Office of Foreign Assets Control (OFAC), which issued the penalty. Though the fine is reportedly the maximum penalty allowed, it's pittance to one of the world's most profitable and powerful corporations, which last year reported a profit of $7.8 billion.
Keep reading...
Show less
Jul. 21, 2017 11:15AM EST
New analysis from Amory B. Lovins debunks the notion that highly unprofitable, economically distressed nuclear plants should be further subsi­dized to meet financial, security, reliability and climate goals. The analysis, which will appear shortly in The Electricity Journal, shows that closing costly-to-run nuclear plants and reinvesting their saved operating costs in energy efficiency provides cheaper elec­tricity, increases grid reliability and security, reduces more carbon, and preserves (not distorts) market integrity—all without subsidies.

Keep reading...
Show less
Jul. 21, 2017 08:44AM EST
Oil Change International / Twitter
By Christian Detisch and Seth Gladstone
In the wake of Senate Republicans' ever-deepening debacle over their flailing attempts to strip health insurance from 22 million people, Majority Leader Mitch McConnell is desperate to do something—anything—to show that he can get legislation passed. To this end, he's bypassing the standard committee review process to push a complex 850+ page energy bill straight to the full Senate floor. Perhaps not surprisingly, this legislation, the Energy and Natural Resources Act of 2017, would be a disaster for public health and our climate.
Keep reading...
Show less
Jul. 21, 2017 08:11AM EST
Rooftop solar panels on a beach house in southern Florida. TAI VIINIKKA / CC BY-NC-ND 2.0
A new law passed this week in South Miami will require all new homes built in the city to install solar panels. The measure, which was inspired by a proposal from a teenage climate activist, will go into effect in September.
The text of the ordinance details the climate impacts facing South Miami.
Keep reading...
Show less
Jul. 21, 2017 10:27AM EST
www.youtube.com
Keep reading...
Show less
Jul. 21, 2017 08:49AM EST
iStock
By Katherine Paul and Ronnie Cummins
A recent series of articles by a Washington Post reporter could have some consumers questioning the value of the U.S. Department of Agriculture's (USDA) organic seal. But are a few bad eggs representative of an entire industry?
Consumers are all for cracking down on the fraudulent few who, with the help of Big Food, big retail chains and questionable certifiers give organics a bad name. But they also want stronger standards, and better enforcement—not a plan to weaken standards to accommodate "Factory Farm Organic."
Keep reading...
Show less