This website uses cookies to ensure you get the best experience while browsing it. By clicking 'Got It' you're accepting these terms.
Can Algae Power Our World?
Oct. 20, 2014 10:47AM EST
Business
It has often been used as a farmland fertilizer, and in some communities it is eaten as a vegetable, but now researchers believe that seaweed could power our cars and heat our homes too.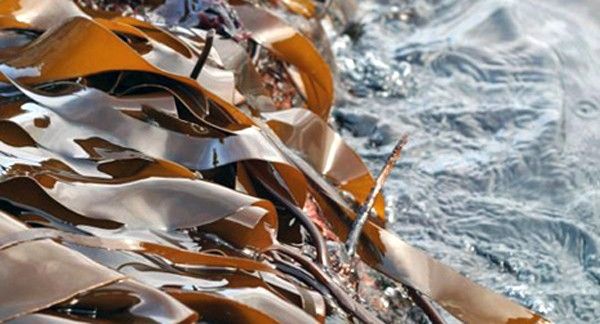 One species of algae in particular, sugar kelp (Laminaria saccharina), is exciting scientists from Norway. It grows prolifically along the country's coasts and, as its name suggests, contains a lot of energy—about three times as much sugar as sugar beet. That makes it suitable for turning into food and fuel.
Sugar kelp uses excess nitrogen in the sea, and so cleans up fertilizer pollution. However, it can grow so fast it can be clog beaches and needs to be removed, so finding an economic use for it would solve many problems.
Scientists are competing to see who can get convert seaweed into fuel most efficiently.
One of them is Fredrik Gröndahl, a KTH Royal Institute of Technology researcher and head of the Seafarm project. He believes the algae are being upgraded from an environmental problem into a valuable natural resource and raw material.
"The fact is that algae can absorb nitrogen from the water as effectively as a wastewater treatment plant," Gröndahl says,
Eco-friendly resource
In some places, it is so prolific that it disrupts normal activities along the shoreline, but Trandahl's project converts algae into eco-friendly food, medicine, plastic and energy. "We see algae as a resource," he says. "We collect excess algae along the coasts, and we cultivate new algae out at sea."
The seaweed is being scooped up from the Baltic Sea, along Sweden's southern coast, in order to be converted to biogas. It is a coast rich with the seaweed, and the city of Trelleborg estimates that its beaches host an excess of algae that is equivalent to the energy from 2.8 million litres of diesel fuel.
The first algae farm is already up and running, near the Swedish town of Strömstad, in the waters that separate the country from Denmark. The Seafarm project will, according to Gröndahl, contribute to the sustainable development of rural districts in Sweden. "We create all-year-round jobs," he says.
One example is in the "sporophyte factory farms" on land where, to begin with, the algae are sown onto ropes. When miniature plants (sporophytes) have been formed, they sink and are able to grow in the sea. After about six months, when they algae have grown on the ropes, they are harvested and processed on land through bio-refining processes.
Grow rapidly
"It will be an energy forest at sea," Gröndahl says. "We plan to build large farms on two hectares right from the start, since the interest in the activities will grow rapidly when more farmers and entrepreneurs wake up to the opportunities and come into the picture.
"In 15 years' time, we will have many large algae cultivations along our coasts, and Seafarm will have contributed to the creation of a new industry from which people can make a living."
Another line of research, using the same kind of seaweed, has been revealed by Khanh-Quang Tran, an associate professor in the Norwegian University of Science and Technology (NTNU) Department of Energy and Process Engineering. He has been producing what he calls bio-crude.
"What we are trying to do is to mimic natural processes to produce oil," says Khanh-Quang Tran, whose results have been published in the academic journal, Algal Research. "However, while petroleum oil is produced naturally on a geologic timescale, we can do it in minutes."
Using small quartz tube "reactors"—which look like tiny sealed straws—Tran heated the reactor, containing a slurry made from the kelp biomass and water, to 350˚C at a very high rate of 585˚C per minute. The technique, called fast hydrothermal liquefaction, gave him a bio-oil yield of 79 percent. That means that 79 percent of the kelp biomass in the reactors was converted to bio-oil.
A similar study in the UK, using the same species of kelp, yielded only 19 percent. The secret of much higher yields, Tran says, is the rapid heating.
Carbon-neutral
Biofuels that use seaweed could lead humans towards a more sustainable and climate-friendly lifestyle. The logic is simple: petroleum-like fuels made from crops or substances take up CO2as they grow and release that same CO2 when they are burned, so they are essentially carbon-neutral.
The problem of using food crops has led many to question whether bio-fuels are a solution to climate change. So to get around this problem, biofuel is now produced from non-food biomass, including agricultural residues, and land-based energy crops such as fast-growing trees and grasses.
However, seaweed offers all of the advantages of a biofuel feedstock, and has the additional benefit of not interfering with food production.
But while Tran's experiments look promising, they are what are called screening tests. His batch reactors are small and not suitable for an industrial scale. Scaling up the process requires working with a flow reactor, one  with a continuous flow of reactants and products. "I already have a very good idea for such a reactor," he says.
Tran is optimistic that he can improve on a yield of 79 percent, and is now looking for industrial partners and additional funding to continue his research.
YOU MIGHT ALSO LIKE
Wall Street Journal Runs Op-Ed Advocating Against Action on Climate Change
Future Investments in Fossil Fuels Look Dim
Scientists Say Fracking Makes Climate Change Worse, Not Better
EcoWatch Daily Newsletter
Tuna auctions are a tourist spectacle in Tokyo. Outside the city's most famous fish market, long queues of visitors hoping for a glimpse of the action begin to form at 5 a.m. The attraction is so popular that last October the Tsukiji fish market, in operation since 1935, moved out from the city center to the district of Toyosu to cope with the crowds.

gmnicholas / E+ / Getty Images
Kristan Porter grew up in a fishing family in the fishing community of Cutler, Maine, where he says all roads lead to one career path: fishing. (Porter's father was the family's lone exception. He suffered from terrible seasickness, and so became a carpenter.) The 49-year-old, who has been working on boats since he was a kid and fishing on his own since 1991, says that the recent warming of Maine's cool coastal waters has yielded unprecedented lobster landings.
Aerial view of lava flows from the eruption of volcano Kilauea on Hawaii, May 2018. Frizi / iStock / Getty Images
Hawaii's Kilauea volcano could be gearing up for an eruption after a pond of water was discovered inside its summit crater for the first time in recorded history, according to the AP.
The Eqip Sermia Glacier is seen behind a moraine left exposed by the glacier's retreat during unseasonably warm weather on Aug. 1 at Eqip Sermia, Greenland. Sean Gallup / Getty Images
hadynyah / E+ / Getty Images
By Johnny Wood
The Ganges is a lifeline for the people of India, spiritually and economically. On its journey from the Himalayas to the Bay of Bengal, it supports fishermen, farmers and an abundance of wildlife.
The river and its tributaries touch the lives of roughly 500 million people. But having flowed for millennia, today it is reaching its capacity for human and industrial waste, while simultaneously being drained for agriculture and municipal use.
Here are some of the challenges the river faces.
By Jake Johnson
As a growing number of states move to pass laws that would criminalize pipeline protests and hit demonstrators with years in prison, an audio recording obtained by The Intercept showed a representative of a powerful oil and gas lobbying group bragging about the industry's success in crafting anti-protest legislation behind closed doors.
Reposted with permission from our media associate Common Dreams.

DESIREE MARTIN / AFP / Getty Images
Wildfires raging on Gran Canaria, the second most populous of Spain's Canary Islands, have forced around 9,000 people to evacuate.