This website uses cookies to ensure you get the best experience while browsing it. By clicking 'Got It' you're accepting these terms.
Can 3D-Printing Save Rhinos From Going Extinct?
May. 08, 2015 08:15AM EST
With large-scale poaching causing the once-abundant rhino population to dip to extinction levels, one Seattle-based biotech startup has come up with a deceivingly simple idea to stave demand of the rhino's coveted horns: fake it.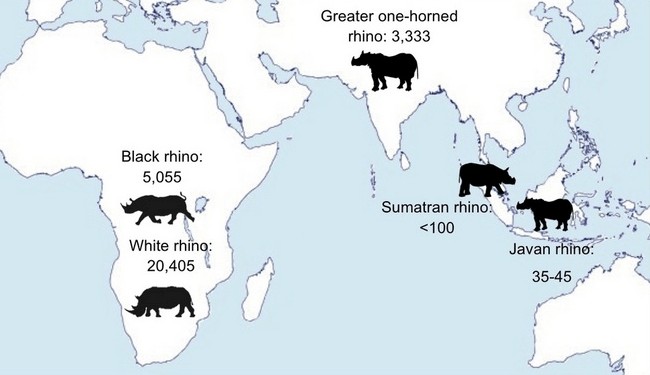 Pembient, founded earlier this year, is working with rhino horn powder in its labs in order to develop solid rhino horn substitutes, by "duplicating the cells, proteins and deposits in a rhino horn so the synthetic version is genetically similar to the real thing," the Puget Sound Business Journal reported.
The fascinating part? They're doing it by using 3D printing. Making something go from this ...
We're starting the next phase of our R&D! Here is a 3D printed scale model of black rhino horn (in plastic). pic.twitter.com/VRbDpZUSWd

— Pembient (@pembient) March 12, 2015
To this ... (the one in the middle is the fake one)
The world's first man-made rhino horn! #unbelieveable @pembient @indbio @sosventures pic.twitter.com/7jz4NwpITJ

— Arvind Gupta (@arvndgpta) April 13, 2015
It's unclear how exactly Pembient's making the products, but as TechCrunch explained, "Rhino horns are composed of a specific kind of keratin protein. Pembient figured out the genetic code and was then able to reproduce the horns using the keratin in a 3D-printing technique."
After Pembient CEO Matthew Markus showed a TechCrunch reporter one of their horn prototypes, Markus said, "You can't physically tell the difference. No one looking at this could tell this wasn't from a rhino. It's the same thing. For all intents and purposes, this is a real rhino horn."
Rhino horns are used in traditional Chinese medicine and are considered a cure-all for many types of illnesses, driving a devastating global black market. Pembient's goal is to replace this illegal, $20 billion wildlife trade with fabricated wildlife products, such as rhino horn and elephant ivory, at prices below the levels that induce poaching.
"We surveyed users of rhino horn and found that 45 percent of them would accept using rhino horn made from a lab," said Pembient. "In comparison, only 15 percent said they would use water buffalo horn, the official substitute for rhino horn."
Markus also told New Scientist that Vietnamese rhino horn users have said that Pembient's manufactured rhino powder has a similar smell and feel to wild rhino horns. If all goes to plan, the fake horns could be on the market by next fall at a tenth of the price of illegal ones, the publication reported.
However, conservationists have pointed out that the company's plan doesn't placate global demand for real rhino horns, especially in countries where it's considered a status symbol to own one.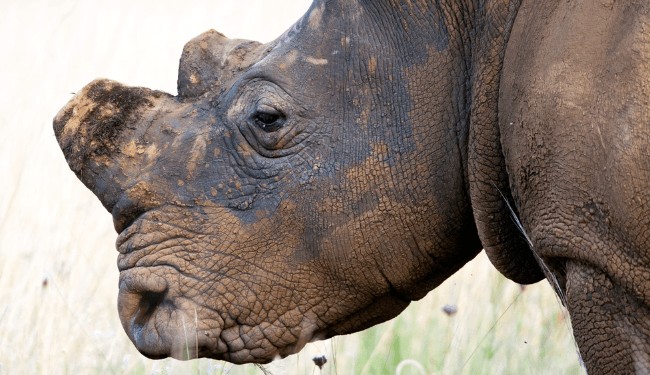 Photo credit: Shutterstock
"The synthetic horns will not have an impact on current rhino horn users that want real horns from dead rhinos," Douglas Hendrie, technical advisor at Education for Nature–Vietnam told New Scientist.
We've seen 3D printers do some pretty incredible things, from "printing" sustainable food to tackling plastic waste. Can this new technology help save the rhino?
YOU MIGHT ALSO LIKE
NASA's Time Lapse Video Shows Humanity's Impact on the Earth
Angry Birds Mobilizes Millions to Save Endangered Species and #ActOnClimate
IKEA is working on a specially-designed, air-purifying curtain called the GUNRID. IKEA
Air pollution within the home causes 3.8 million deaths a year, according to the World Health Organization. A recent University of Colorado in Boulder study reported by The Guardian found that cooking a full Thanksgiving meal could raise levels of particulate matter 2.5 in the house higher than the levels averaged in New Delhi, the world's sixth most polluted city.
But soon, you will be able to shop for a solution in the same place you buy your budget roasting pans. IKEA is working on a specially-designed, air-purifying curtain called the GUNRID.
The first member of the giant tortoise species Chelonoidis phantasticus to be seen in more than 100 years. RODRIGO BUENDIA / AFP / Getty Images
A rare species of giant tortoise, feared extinct for more than 100 years, was sighted on the Galápagos island of Fernandina Sunday, the Ecuadorian government announced.
Elena Pueyo / Moment / Getty Images
Opinions on coffee vary greatly—some consider it healthy and energizing, while others claim it's addictive and harmful.
Morning fog over a boreal forest in Alaska. Alan Majchrowicz / Stockbyte / Getty Images
By Jennifer Skene and Shelley Vinyard
For most people, toilet paper only becomes an issue when it unexpectedly runs out. Otherwise, it's cheap and it's convenient, something we don't need to think twice about. But toilet paper's ubiquity and low sticker price belie a much, much higher cost: it is taking a dramatic and irreversible toll on the Canadian boreal forest, and our global climate. As a new report from NRDC and Stand.earth outlines, when you flush that toilet paper, chances are you are flushing away part of a majestic, old-growth tree ripped from the ground, and destined for the drain. This is why NRDC is calling on Procter & Gamble, the manufacturer of Charmin, to end this wasteful and destructive practice by changing the way it makes its toilet paper through solutions that other companies have already embraced.
Cycling advocates set up "ghost bikes," like this one in Brooklyn, in memory of bikers killed in traffic.
Nick Gray
/
CC BY-SA
By John Rennie Short
As cities strive to improve the quality of life for their residents, many are working to promote walking and biking. Such policies make sense, since they can, in the long run, lead to less traffic, cleaner air and healthier people. But the results aren't all positive, especially in the short to medium term.