This website uses cookies to ensure you get the best experience while browsing it. By clicking 'Got It' you're accepting these terms.
Call for a Future Powered by 100% Renewables Gains Momentum as UN Climate Talks Resume in Bonn
Aug. 28, 2015 09:23AM EST
Climate
As negotiators get ready to meet in Bonn for the next round of UN climate change negotiations, fossil fuels remain firmly on the backfoot and momentum for a renewable energy future is gathering pace.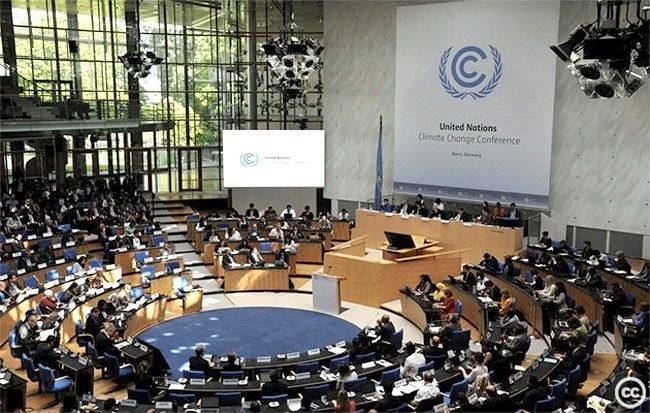 This week, French energy giant Total signalled it would be the latest energy company to quit coal, Newcastle, Australia—home to the world's largest coal port—became the latest city to join the global divestment movement, and scientists, activists and celebrities joined the growing chorus calling for strong climate action ahead of the UN climate talks in Paris this December.
Negotiators now have just 10 days of formal negotiations before the climate summit begins in Paris this December.
With that in mind, delegates meeting in Bonn have an important task ahead: to make progress on what a new climate deal—to be signed in Paris—could look like, and ensure that such a deal is in line with a long-term goal of phasing out fossil fuels and keeping warming well below the internationally agreed 2DegC danger threshold.
To aid the task, last month the talk's co-chairs produced a new negotiating text aimed at offering a "clearer picture" of the new agreement.
The next text is split into three main sections. The first includes all of the elements to be agreed in the core, formal agreement, while the second section contains those elements likely to be incorporated into the supporting COP [Conference of the Parties] decision. Finally, a third section of the text currently contains everything that does not yet have a home under the other two sections.
This final section includes many important and ambitious proposals, such as on a long-term goal to phase-out greenhouse gas emissions, a toolkit to allow government's climate action plans to be regularly reviewed and scaled-up over time in line with this goal, and mechanisms that will allow communities to build resilience and ensure vulnerable countries are given the support needed to take action.
Over the next week, negotiators will be working to lay out their preferences for which of these elements should be part of which section and whittling down the current options into a manageable menu for ministers later in the year.
While work continues inside the negotiations hall to streamline the text for ministers, and laying out the clear options for the 2015 agreement, much of the heavy lifting will be happening outside of the formal negotiations.
Bonn kicks off an important few months for climate action, beginning with a ministerial hosted by the French and Peruvian presidencies following right after the UNFCCC inter-sessional.
This will come ahead of a host of other high level meetings throughout September—including the UN General Assembly, where leaders will launch the world's new to-do list to end poverty, injustices and climate change, and acknowledge for the first time that we cannot solve poverty without solving climate change.
These meetings will give ministers the opportunity to provide clear instructions towards further shaping the Paris agreement ahead of the December conference.
First step for governments, will be by putting their climate pledges—or Intended Nationally Determined Contributions (INDCs)—on the table.
To date, some 56 countries, representing 60 percent of global emissions, have submitted their pledges—including some of the world's biggest emitters such as Canada, the EU, the U.S., China and many of the world's most vulnerable nations, most recently the Marshall Islands and the Democratic Republic of Congo.
What's on the table at next week's Bonn #climate talks? http://t.co/E4nmZQEQmz #COP21 @UNFCCC pic.twitter.com/XuOaALNzWC

— World Resources Inst (@WorldResources) August 28, 2015
But many countries—such as India, Brazil and South Africa—are still to share their plans.
As anticipated, these plans move us closer to, but not all the way to, a safe climate, but together with a robust agreement that scales up action over time, these plans can keep our chances of holding warming well below the politically agreed 2C threshold alive, while signaling the collective decision of all nations to end the fossil fuel age and embrace the era of renewables.
Those leaders that continue to oppose action, namely those of Australia, Canada and Japan, will be left looking increasingly out of touch with reality.
And while governments continue to work towards their December deadline, their work is not happening in a bubble, and everyone is getting on board with a low carbon future.
In June, the leaders of the world's largest economies signaled game-over for fossil fuels when they called for a global decarbonization during the course of the century, and this week, Brazilian President Dilma Rousseff became the first leader from a major emerging economy to join this call, when she joined German Chancellor Angela Merkel in committing to decarbonize the two countries' economies.
French President Francois Hollande has made similar signals acknowledging a "viable" Paris agreement would see 80 percent of fossil fuel resources stay in the ground and the President of Kiribati has called for a global coal moratorium.
Muslim leaders, meanwhile, have urged the world's 1.6 billion Muslims to take climate action, just a few months after Pope Francis addressed a similar call to 1.2 billion Catholics adding yet further weight to the growing call from businesses, investors, health professionals, faith leaders and scientists calling for a future powered by 100 percent renewables.
YOU MIGHT ALSO LIKE
Why Are Climate Groups Only Focused on 50% of the Solution?
Sea Level Rising Faster Than Expected, NASA Warns
EcoWatch Daily Newsletter
Assorted plastic bottles. mali maeder / Pexels
People carry children on a flooded street in Almoradi, Spain on Sept. 13. JOSE JORDAN / AFP / Getty Images
Large food companies are following in the footsteps of fast-food restaurants such as Burger King and KFC by offering meat alternatives. Getty Images
By Elizabeth Pratt
Hormel, Kellogg's, and Kroger are among the large companies now planning to offer "fake meat" products at grocery stores.
Experts say the trend toward plant-based meats coincides with consumers' desires to eat less meat.
However, experts urge consumers to closely check package labels as a product isn't necessarily healthy just because it's described as plant-based.
In grocery stores and fast-food outlets around the U.S., a revolution is taking place.
Colombia rainforest. Marcel Oosterwijk / CC BY-SA 2.0
Many of us think of the Amazon as an untouched wilderness, but people have been thriving in these diverse environments for millennia. Due to this long history, the knowledge that Indigenous and forest communities pass between generations about plants, animals and forest ecology is incredibly rich and detailed and easily dwarfs that of any expert.
picture-alliance / Newscom / R. Ben Ari
By Wesley Rahn
Plastic byproducts were found in 97 percent of blood and urine samples from 2,500 children tested between 2014 and 2017, according to a study by the German Environment Ministry and the Robert Koch Institute.

Pexels
Medically reviewed by Daniel Bubnis, MS, NASM-CPT, NASE Level II-CSS
Hot yoga has become a popular exercise in recent years. It offers many of the same benefits as traditional yoga, such as stress reduction, improved strength, and flexibility.
Lara Hata / iStock / Getty Images
By SaVanna Shoemaker, MS, RDN, LD
Rice is a staple in many people's diets. It's filling, inexpensive, and a great mild-tasting addition to flavorful dishes.