This website uses cookies to ensure you get the best experience while browsing it. By clicking 'Got It' you're accepting these terms.
California's Largest Tribe Bans GMO Crops and Genetically-Engineered Salmon
Dec. 26, 2015 10:29AM EST
Food
The Yurok Tribe—California's largest tribe with roughly 5,000 enrolled members—passed a historic ban on genetically modified (GMOs) crops and salmon.
The Yurok Tribal Council unanimously voted on Dec. 10 to enact the Yurok Tribe Genetically Engineered Organism (GEO) Ordinance:
The Tribal GEO Ordinance prohibits the propagation, raising, growing, spawning, incubating or releasing genetically engineered organisms (such as growing GMO crops or releasing genetically engineered salmon) within the Tribe's territory and declares the Yurok Reservation to be a GMO-free zone. While other Tribes, such as the Dine' (Navajo) Nation, have declared GMO-free zones by resolution, this ordinance appears to be the first of its kind in the nation.
The announcement, as the release notes, came on the heels of the U.S. Food and Drug Administration's (FDA) approval of genetically engineered AquAdvantage salmon in November. The controversial fish—dubbed "Frankenfish" by opponents—is genetically altered to grow to market size in half the time of conventional salmon.
The 56,585-acre Yurok Reservation is located in Humboldt and Del Norte counties in the far northwest of California along a 44-mile stretch of the Klamath River. For thousands of years, the river has been a crucial source for fishing, mostly for salmon.
"The Yurok People have managed and relied upon the abundance of salmon on the Klamath River since time immemorial," a press release from the Yurok Tribe says. "The tribe has a vital interest in the viability and survival of the wild, native Klamath River salmon species and all other traditional food resources."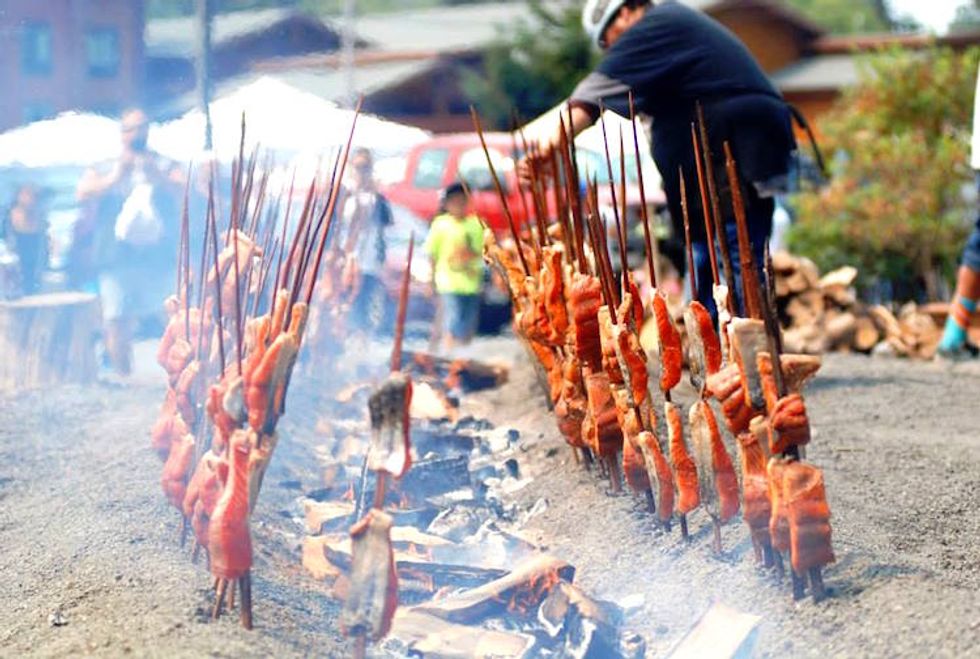 Yurok Tribe Facebook
In recent years, however, the area's fish populations have been devastated due to the region's ongoing drought and low snowpack. NPR reported that as water levels dip dangerously low and become increasingly warm, the river has become a breeding ground for deadly fish diseases. Ichthyophthirius multifiliis (or "ick"), for instance, killed more than 35,000 adult Chinook salmon and steelhead in the Klamath River in 2002 and at least a thousand more fish last year.
The Yurok Tribe decided on the GMO ban in order protect its ancestral lands. The press release states: "GMO farms, whether they are cultivating fish or for fresh produce, have a huge, negative impact on watersheds the world over. The Yurok Tribe's homeland is on the Klamath River, where massive algal blooms, exacerbated by agricultural runoff and antiquated hydroelectric dams, turn the river toxic each summer."
James Dunlap, chairman of the Yurok Tribe, said that "the Yurok People have the responsibility to care for our natural world, including the plants and animals we use for our foods and medicines."
"This Ordinance is a necessary step to protect our food sovereignty and to ensure the spiritual, cultural and physical health of the Yurok People," he added. "GMO food production systems, which are inherently dependent on the overuse of herbicides, pesticides and antibiotics, are not our best interest."
The ordinance means that violations can be enforced through the Yurok Tribal Court.
"It is the inherent sovereign right of the Yurok People to grow plants from natural traditional seeds and to sustainably harvest plants, salmon and other fish, animals, and other life-giving foods and medicines, in order to sustain our families and communities as we have successfully done since time immemorial; our Court will enforce any violations of these inherent, and now codified, rights," Yurok Chief Judge Abby Abinanti stated.
The Yurok Tribe's GMO ban came before the federal omnibus spending bill passed in Congress earlier this month, which requires the FDA to develop guidelines for mandatory labeling of GE salmon and prevent its sale until such labeling is in effect.
Congress also decided not to include a policy rider that would have blocked states from implementing mandatory GMO food labeling laws.
YOU MIGHT ALSO LIKE
Agrichemical Industry 'Attack Dog' Hired to Discredit Teenage Anti-GMO Activist
5 Things Monsanto Doesn't Want You to Know About the GMO Labeling Debate
10 Reasons Why GMO Smart Label Isn't 'Smart' at All
EcoWatch Daily Newsletter
A harbour seal on an ice floe in Glacier Bay, Alaska. A new study shows that the climate crisis has warmed waters, changing ecosystems and crippling sea ice growth. Janette Hill / robertharding / Getty Images Plus
Doctors report that only 1 in 4 children are getting the recommended 60 minutes of physical activity per day. Ronnie Kaufman / DigitalVision / Getty Images
By Dan Gray
Pediatricians are being urged to start writing "exercise prescriptions" for the children they see in their office.
A First Nations protester walks in front of a train blockade in Tyendinaga, near Belleville, Ontario, Canada on Feb. 21, 2020. LARS HAGBERG / AFP via Getty Images
An indigenous rail blockade that snarled train travel in Canada for more than two weeks came to an end Monday when police moved in to clear protesters acting in solidarity with another indigenous community in British Columbia (B.C.), which is fighting to keep a natural gas pipeline off its land.
A rainbow snake, a rare reptile spotted in a Florida county for the first time in more than 50 years, seen here on July 5, 2013.
Kevin Enge / FWC Fish and Wildlife Research Institute / Flickr
A Florida hiker recently stumbled across a slithering surprise — a rare snake that hadn't been spotted in the area for more than 50 years.
We need our government to do everything it can to stop PFAS contamination and exposure from wreaking havoc in communities across the country. LuAnn Hun /
Unsplash
By Genna Reed
The EPA announced last week that it is issuing a preliminary regulatory determination for public comment to set an enforceable drinking water standard to two of the most common and well-studied PFAS, PFOA and PFOS.
This decision is based on three criteria:
PFOA and PFOS have an adverse effect on public health
PFOA and PFOS occur in drinking water often enough and at levels of public health concern;
regulation of PFOA and PFOS is a meaningful opportunity for reducing the health risk to those served by public water systems.