This website uses cookies to ensure you get the best experience while browsing it. By clicking 'Got It' you're accepting these terms.
California's Largest Lake Is Drying Up Amid Epic Drought
May. 29, 2015 09:32AM EST
Climate
The Salton Sea, a huge, shallow manmade lake located in the Sonoran Desert in California's Imperial and Coachella valleys, has had problems for years. Its increasing saltiness has killed off most of its once-abundant fish species. Its shrinking water level has caused a reduction in water available for agricultural use, along with many dramatic photos of exposed lakebed and abandoned towns that were once seaside resorts. While the sea is no longer a resort destination for Hollywood celebrities as it was in the '50s and '60s, it's still a playground for birds, with more than 400 species living along its shores or migrating through the area. But those populations could also be in jeopardy if its waters continue to recede.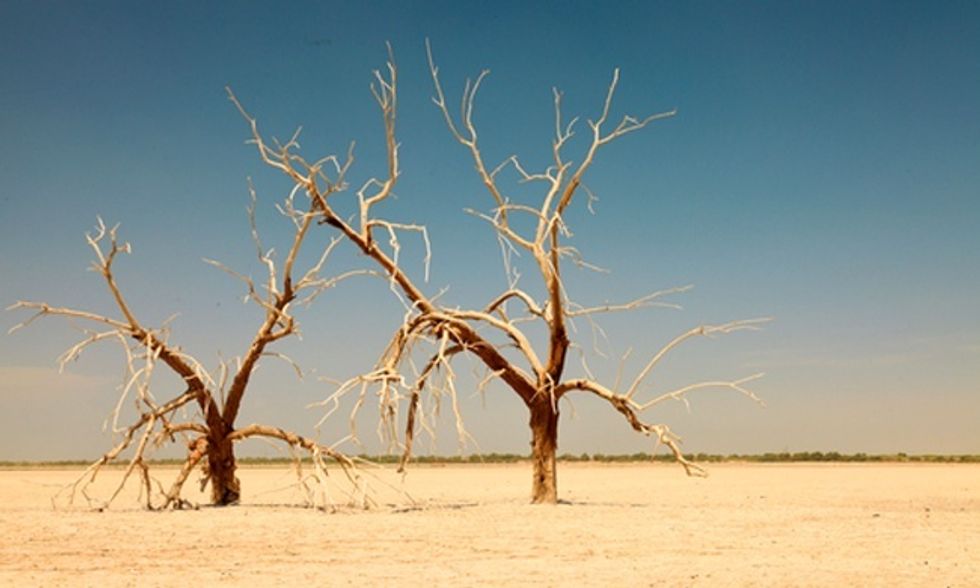 Photo credit: Shutterstock
And that exposed lake bed is expected to grow, thanks to California's prolonged drought, now in its fourth year, and reductions in apportionment of water from the Colorado River which feeds the 360-square-mile sea. For many years, farmers in the agriculturally rich Imperial Valley would take more than their allocation of Colorado River water, viewing water as an infinite resource. But with growing demand from other southwestern states, with their growing populations and their own stresses due to drought, they became less able to do do. And now the drought and state-mandated water reductions have increased competition for whatever water is available, putting the Salton Sea at risk.
And that's only the beginning of the problems that could be fueled by the sea's receding water level.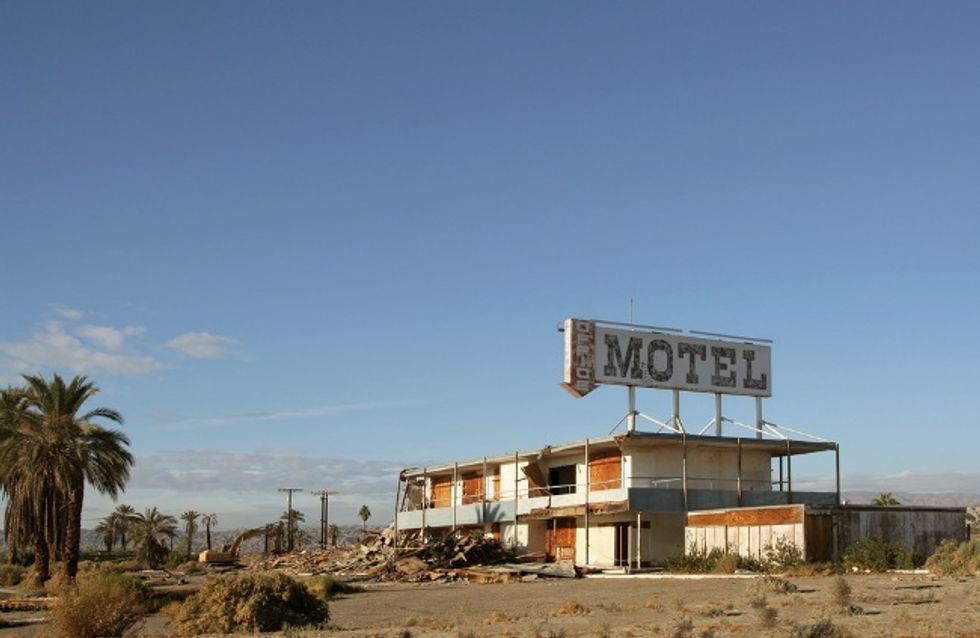 Photo credit: Shutterstock
As the sea shrinks, it could cause significant health problems many miles away. The shrinkage exposes its particular type of soil, which is lighter than ordinary soil and more easily carried away by wind. The area is prone to high winds and dust storms. And because the lake also captures farm runoff, the dust is loaded with toxins such as arsenic, selenium, lead, zinc, chromium and even traces of the pesticide DDT, which was banned in 1972.
"These chemicals could attach themselves to the fine particles of sediment when the lake evaporates and could be breathed by people," said Tom Gill, geochemist for the air quality branch at the Crocker Nuclear Laboratory at the University of California, Davis. "It could potentially be a health hazard."
A story about the Salton Sea published in the Washington Post this week highlighted that hazard.
"Dried lake bed, called playa, is lighter and flies farther than ordinary soil," it said. "Choking clouds of particulate matter driven by powerful desert winds could seed health problems for 650,000 people as far away as Los Angeles. The effects would be even worse along the lake, where communities already fail federal air-quality standards and suffer the highest asthma rates in the state."
Los Angeles is nearly 170 miles from the Salton Sea.
If the sea continues its current rate of shrinkage, an additional 100 miles of lake bed could be exposed, along with a huge amount of the toxins.
"California faces significant air quality and natural resources threats with the shrinking of the Salton Sea," wrote Gov. Jerry Brown in his latest budget proposal, which includes an allocation for a new Salton Sea Task Force to look at ways to remediate its problems.
"Prior comprehensive plans to restore the sea are no longer feasible due to cost and decreased water availability resulting from the drought in California and in the southwestern states," wrote Gov. Brown. "Working with partners and utilizing existing funds already appropriated, the construction of over 1,000 acres of habitat and dust abatement projects is scheduled to begin in 2015. In addition, the Administration has formed the Salton Sea Task Force with principals from the Natural Resources and Environmental Protection Agencies to develop new achievable medium and long‑term restoration plans. The Task Force will develop these plans in coordination with stakeholders, and will be appointing a new position using existing resources to lead the work of the Task Force and manage expedited construction of projects that protect both the wildlife habitat and air quality at the sea."
YOU MIGHT ALSO LIKE
4 Ways to Beat the California Drought and Save the Colorado River
9 States Report Record Low Snowpack Amid Epic Drought
EcoWatch Daily Newsletter
Aerial view of Ruropolis, Para state, northen Brazil, on Sept. 6, 2019. Tthe world's biggest rainforest is under threat from wildfires and rampant deforestation. JOHANNES MYBURGH / AFP via Getty Images
By Kate Martyr
Deforestation in Brazil's Amazon rainforest last month jumped to the highest level since records began in 2015, according to government data.
A total of 563 square kilometers (217.38 square miles) of the world's largest rainforest was destroyed in November, 103% more than in the same month last year, according to Brazil's space research agency.
From January to November this year an area almost the size of the Caribbean island of Puerto Rico was destroyed — an 83% overall increase in destruction when compared with the same period last year.
The figures were released on Friday by the National Institute for Space Research (INPE), and collected through the DETER database, which uses satellite images to monitor forest fires, forest destruction and other developments affecting the rainforest.
What's Behind the Rise?
Overall, deforestation in 2019 has jumped 30% compared to last year — 9,762 square kilometers (approximately 3769 square miles) have been destroyed, despite deforestation usually slowing during November and December.
Environmental groups, researchers and activists blamed the policies of Brazil's president Jair Bolsonaro for the increase.
They say that Bolosonaro's calls for the Amazon to be developed and his weakening support for Ibama, the government's environmental agency, have led to loggers and ranchers feeling safer and braver in destroying the expansive rainforest.
His government hit back at these claims, pointing out that previous governments also cut budgets to environment agencies such as Ibama.
The report comes as Brazil came to loggerheads with the Association of Small Island States (AOSIS) over climate goals during the UN climate conference in Madrid.
AOSIS blasted Brazil, among other nations, for "a lack of ambition that also undermines ours."
Last month, a group of Brazilian lawyers called for Bolsonaro to be investigated by the International Criminal Court over his environmental policies.
Reposted with permission from DW.
The Carolina parakeet went extinct in 1918. James St. John /
CC BY 2.0
The Carolina parakeet, the only parrot species native to the U.S., went extinct in 1918 when the last bird died at the Cincinnati Zoo. Now, a little more than 100 years later, researchers have determined that humans were entirely to blame.
Pexels
Vitamin C is a very important nutrient that's abundant in many fruits and vegetables.
BLM drill seeders work to restore native grasses after wildfire on the Bowden Hills Wilderness Study Area in southeast Oregon, Dec. 14, 2018. Marcus Johnson / BLM / CC BY 2.0
By Tara Lohan
In 2017 the Thomas fire raged through 281,893 acres in Ventura and Santa Barbara counties, California, leaving in its wake a blackened expanse of land, burned vegetation, and more than 1,000 destroyed buildings.