This website uses cookies to ensure you get the best experience while browsing it. By clicking 'Got It' you're accepting these terms.
California's First Zero Net Energy Community Is a Model for Future Living
Apr. 27, 2015 01:27PM EST
Business
In a new effort to slash energy consumption and carbon emissions, southern California's North Fontana area will be home to the state's first Zero Net Energy (ZNE) community consisting of at least 20 new highly efficient homes.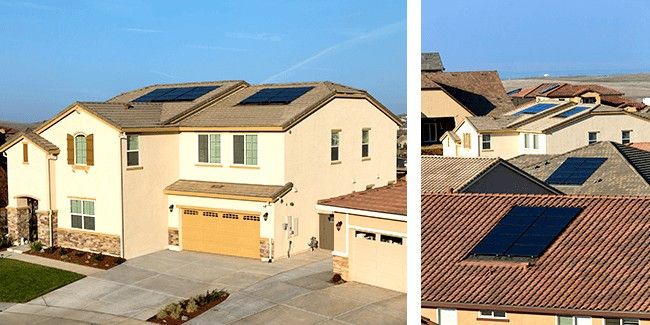 The community, called Sierra Crest, is currently in development and is a project led by the nonprofit Electric Power Research Institute (EPRI), as well as homebuilders Meritage Homes, BIRAenergy, Itron, Southern California Edison and the California Public Utilities Commission (CPUC).
About 41 percent of the country's total energy consumption comes from residential and commercial buildings, which is why net-zero buildings are brilliant—they produce at least as much energy as it uses (if not much more).
California's newest ZNE homes, designed by 2015 ENERGY STAR Partner of the Year Meritage Homes, will feature solar panels, HVAC systems, water heating equipment, heat pumps and integrated fresh air ventilation. The dwellings will also have spray foam insulation, highly insulated windows, energy-efficient lighting, smart chargers and smart appliances. These homes will be connected to the grid to help absorb surplus solar energy generated by the panels during the day and also provide power if the homes run out of juice.
It's estimated that all these bells and whistles will curb energy use by as much as 60 percent compared to a house built to the latest California Energy Code.
California set a "Big Bold Goal" in 2008 that called for all new houses in the state to be ZNE by 2020. Additionally, by 2030, the state wants all new commercial construction to be ZNE and 50 percent of existing commercial buildings to be retrofit to ZNE.
Over the next several years, the project team will study how these pilot houses and their advanced technologies can be integrated into the central utility's electric system, and investigate these homes' scalability and economic feasibility across the state.
"There are several ZNE homes throughout California, but none clustered at one community," CR Herro, vice president of environmental affairs at Meritage Homes told Renewable Energy World. "This community not only allows the value of operation cost reduction to the homeowners, but provides much needed data to the utilities about [kilowatt] production and demand at each home, and cumulatively at the transformer level to provide needed data to design service for community level Zero Energy as California building code progresses toward this standard."
The houses, which range from 1,936 square feet to 2,915 square feet, have a starting price around the high $300,000, Renewable Energy World reported. It's said that six of these homes will be ready for purchase by this summer.
"This project represents an ideal site and an ideal team to evaluate the effectiveness of energy efficient housing, equipment and appliances," said Ram Narayanamurthy, EPRI project manager. "The data that are collected will likely guide future developments of zero net energy housing in California and elsewhere and how they integrate into the electric system."
YOU MIGHT ALSO LIKE
Incredible Photos: Is This Tiny Cabin Micro-Community the Future of Sustainable Living?
Eco-Classroom of the Future Is Here Today
France Mandates New Roofs Must Be Covered in Solar Panels or Plants
EcoWatch Daily Newsletter
Brown bear fishing for salmon in creek at Pavlof Harbor in Tongass National Forest, Alaska. Wolfgang Kaehler / LightRocket / Getty Images
The Trump administration has moved one step closer to opening Earth's largest intact temperate rainforest to logging.
The Democratic primary candidates take the stage during Tuesday's debate. SAUL LOEB / AFP via Getty Images
On Tuesday night, the Democratic presidential candidates gathered for what The Guardian said was the largest primary debate in U.S. history, and they weren't asked a single question about the climate crisis.
A. Battenburg / Technical University of Munich
By Sarah Kennedy
Algae in a pond may look flimsy. But scientists are using algae to develop industrial-strength material that's as hard as steel but only a fraction of the weight.
Variety of fermented food korean traditional kimchi cabbage and radish salad. white and red sauerkraut in ceramic plates over grey spotted background. Natasha Breen / REDA&CO / Universal Images Group / Getty Image
Even if you've never taken probiotics, you've probably heard of them.
These supplements provide numerous benefits because they contain live microorganisms, such as bacteria or yeast, which support the healthy bacteria in your gut (1, 2, 3, 4).
Pexels
Singapore will become the first country in the world to place a ban on advertisements for carbonated drinks and juices with high sugar contents, its health ministry announced last week. The law is intended to curb sugar consumption since the country has some of the world's highest diabetes rates per capita, as Reuters reported.
A typical adult takes around 20,000 breaths per day. If you live in a megacity like Beijing, with many of those lungfuls you're likely to inhale a noxious mixture of chemicals and pollutants.
Fred Stone holds his brown swiss cow Lida Rose at his Arundel dairy farm on March 18 after a press conference where he spoke about PFAS chemical contamination in his fields. Gregory Rec / Portland Portland Press Herald via Getty Images
By Susan Cosier
First there was Fred Stone, the third-generation dairy farmer in Maine who discovered that the milk from his cows contained harmful chemicals. Then came Art Schaap, a second-generation dairy farmer in New Mexico, who had to dump 15,000 gallons of contaminated milk a day.
Protesters attend the 32nd annual Fur-Free Friday demonstration on Nov. 23, 2018 in Beverly Hills, California. Ella DeGea / Getty Images
California Governor Gavin Newsom signed into law a bill that that bans the sale and manufacture of fur products in the state. The fur ban, which he signed into law on Saturday, prohibits Californians from selling or making clothing, shoes or handbags with fur starting in 2023, according to the AP.