California's First Zero Net Energy Community Is a Model for Future Living
In a new effort to slash energy consumption and carbon emissions, southern California's North Fontana area will be home to the state's first Zero Net Energy (ZNE) community consisting of at least 20 new highly efficient homes.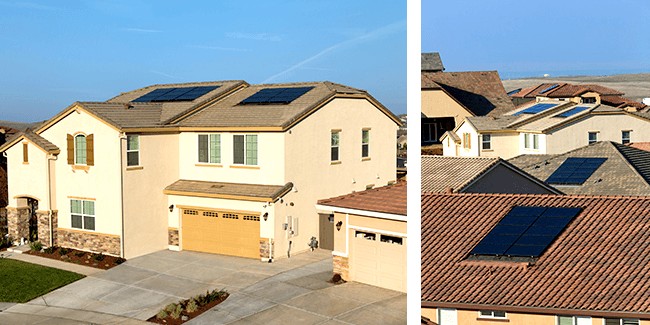 The community, called Sierra Crest, is currently in development and is a project led by the nonprofit Electric Power Research Institute (EPRI), as well as homebuilders Meritage Homes, BIRAenergy, Itron, Southern California Edison and the California Public Utilities Commission (CPUC).
About 41 percent of the country's total energy consumption comes from residential and commercial buildings, which is why net-zero buildings are brilliant—they produce at least as much energy as it uses (if not much more).
California's newest ZNE homes, designed by 2015 ENERGY STAR Partner of the Year Meritage Homes, will feature solar panels, HVAC systems, water heating equipment, heat pumps and integrated fresh air ventilation. The dwellings will also have spray foam insulation, highly insulated windows, energy-efficient lighting, smart chargers and smart appliances. These homes will be connected to the grid to help absorb surplus solar energy generated by the panels during the day and also provide power if the homes run out of juice.
It's estimated that all these bells and whistles will curb energy use by as much as 60 percent compared to a house built to the latest California Energy Code.
California set a "Big Bold Goal" in 2008 that called for all new houses in the state to be ZNE by 2020. Additionally, by 2030, the state wants all new commercial construction to be ZNE and 50 percent of existing commercial buildings to be retrofit to ZNE.
Over the next several years, the project team will study how these pilot houses and their advanced technologies can be integrated into the central utility's electric system, and investigate these homes' scalability and economic feasibility across the state.
"There are several ZNE homes throughout California, but none clustered at one community," CR Herro, vice president of environmental affairs at Meritage Homes told Renewable Energy World. "This community not only allows the value of operation cost reduction to the homeowners, but provides much needed data to the utilities about [kilowatt] production and demand at each home, and cumulatively at the transformer level to provide needed data to design service for community level Zero Energy as California building code progresses toward this standard."
The houses, which range from 1,936 square feet to 2,915 square feet, have a starting price around the high $300,000, Renewable Energy World reported. It's said that six of these homes will be ready for purchase by this summer.
"This project represents an ideal site and an ideal team to evaluate the effectiveness of energy efficient housing, equipment and appliances," said Ram Narayanamurthy, EPRI project manager. "The data that are collected will likely guide future developments of zero net energy housing in California and elsewhere and how they integrate into the electric system."
YOU MIGHT ALSO LIKE
Incredible Photos: Is This Tiny Cabin Micro-Community the Future of Sustainable Living?
Eco-Classroom of the Future Is Here Today
France Mandates New Roofs Must Be Covered in Solar Panels or Plants
College of the Atlantic / Flickr
Sierra magazine, the national magazine of the Sierra Club, released on Tuesday its eleventh annual "Cool Schools" ranking of North America's greenest colleges and universities.
Sierra received complete surveys from a record-breaking 227 schools—in 36 states, the District of Columbia, and for the first time ever, Canada.
Keep reading...
Show less
Oil in the Niger Delta. Amnesty International Canada
By Andy Rowell
The decades-long struggle for social and environmental justice in the Niger Delta continues, largely unseen by the wider world.
On Aug. 11, hundreds of people from the Niger Delta stormed the Belema flow station gas plant owned by Shell in the Rivers State region of the Delta. The plant transports crude oil to the Bonny Light export terminal, from where it is shipped overseas.
Keep reading...
Show less
Rainforest Action Network / Flickr

The National Academy of Sciences, Engineering and Medicine said in a statement the Interior Department has directed it to cease its study on the potential health risks for people living near surface coal mines in Central Appalachia.
The Interior Department, which committed more than $1 million to the study last year, has begun an agency-wide review of grants over $100,000 because of the "Department's changing budget situation."
Keep reading...
Show less
California Energy Commission
California and North Carolina's electricity grids faced no disruptions during Monday's solar eclipse, which many saw as a test for the future when solar power will command a greater share of the energy mix.
"It bodes well for renewable energy on the grid during an event like this," said Eric Schmitt, a vice-president at California Independent System Operator that delivers most of the state's electricity.
Keep reading...
Show less
Bob Wick / Bureau of Land Management
Keep reading...
Show less
www.youtube.com
Are you ready to watch the Great American Eclipse of 2017? Will you be in the path of totality? Do you have your safety glasses ready?
Well, however you decide to watch the solar eclipse today, NASA TV will be showing the "Eclipse Across America" with live video of the celestial event. The feed is already live with lots of handy information about today's unprecedented eclipse. So be sure to watch above.
Enjoy!
Energy
Aug. 21, 2017 08:43AM EST
www.youtube.com
"One out of three Americans lives within 50 miles of high-level nuclear waste, some of which, like Plutonium, is lethally dangerous and will be around for an incredible longtime," John Oliver explained last night on Last Week Tonight.
According to the Nuclear Energy Institute, there is more than 71,000 tons of nuclear waste stranded at 104 reactors. "It was a problem we should have solved in the 1980s," Oliver said, "much like a Rubik's Cube."
Despite years of using nuclear energy, the country still doesn't have a permanent facility for its storage, the comedian said. Oliver proposed what the U.S. really needs is some kind of "nuclear toilet."
Watch above.
Popular
Aug. 21, 2017 10:55AM EST
C: Gage Skidmore
By Andy Rowell
As Trump's presidency spirals like a toxic vortex from one crisis to another, and with the global news media reacting to one venomous tweet after another, it is easy to miss the slow assault against science and the environment that continues below the radar.
The crisis for Trump could get a whole lot worse, with his ex-Chief of Staff, Steve Bannon, who was sacked last week, promising that he was "prepared to go to war with his adversaries in the White House."
Keep reading...
Show less