California's Drought: The New Normal
Jan. 18, 2014 03:11PM EST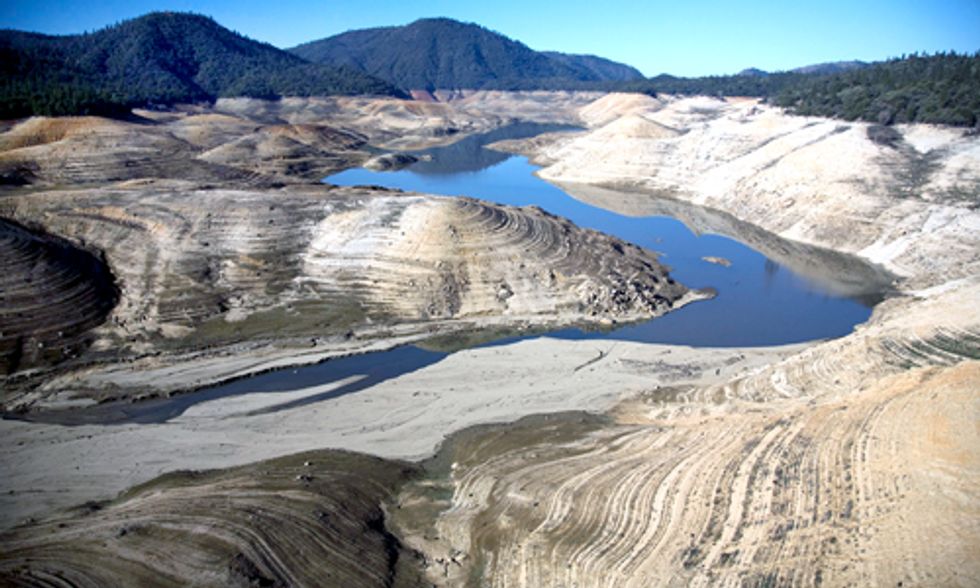 Gov. Jerry Brown has officially declared a drought in the state of California. Californians are being asked to reduce their personal water usage by 20 percent in 2014, projected to become the driest year on record.
[slideshow_deploy id='346819']
Scientific projections regarding climate change suggest that these dry conditions could become the new normal. The drought proclamation formally recognizes that "extremely dry conditions ... may continue beyond this year and more regularly into the future." This calls for permanent and fundamental changes in our behavior.
Here are five ways to get started:
1. Reduce leaks: As a homeowner or renter, the best way to determine if you have a leak is to turn off all taps and see if the dials still turn on your water meter. If they do, you have a leak. You are usually responsible for leaks from the meter to your property. We also need to address leaks on a district or city scale. The average California city leaks 8 to 10 percent of its water because of old pipes underground, wasting not only water but the embedded energy used in pumping and treating our water. Let your elected officials know that they need to make our community drought-proof by reducing leaks.
2. "California-friendly" gardening: Does your front lawn look suspiciously like the verdant lawns and gardens on Downton Abbey? There are more appropriate landscape choices for dry and sunny California. During dry conditions, many will let their lawns die back, but sprinkler systems eventually creep back on. The Los Angeles Department of Water and Power's Cash for Grass program offers $1.50-$2 per square foot for residents who install plants that thrive in dry conditions and don't require constant watering and mowing.
3. Check the toilet: A little-known law takes effect this year requiring the replacement of all water-wasting toilets. Check your tank by putting vegetable dye into the tank and wait to see if it shows up in the bowl. These silent leaks add up and can be easily fixed with replacing flapper valves or new high efficiency 1.2-gallon toilets.
4. Embrace greywater: Greywater systems capture the household water you use (excepting toilet and kitchen water). The systems can now be legally used in California within certain guidelines. This water can be reused for irrigation, saving it from being dumped into the stormdrain.
5. Harvest rainwater: Save the rainwater that would otherwise run off your roof then down a stormdrain, and reuse it for garden watering, yard usage, or vehicle and car washing. Many cities offer rain barrels or cisterns at a discount.
The drought underscores the need to address pervasive issues with California water management: contaminated and over-pumped groundwater supplies, lack of meters for agricultural entities, missed opportunities for stormwater capture and use, and wastewater recycling and direct potable reuse. Local water supply projects such as water reuse and recycling, have gotten short shrift in Sacramento compared with costly engineered options such as the diversion tunnels.
California Coastkeeper Alliance is part of a coalition that is evaluating long-term solutions to water management in California, and exploring a more integrated path forward on water issues. California Waterkeeper organizations are taking action to implement local solutions. Get the local perspective on the drought declaration from San Diego Coastkeeper and Los Angeles Waterkeeper.
You can find more information on water conservation strategies at Save Our Water.
Special thanks to Connor Everts, longtime California Coastkeeper Alliance partner and executive director of the Southern California Watershed Alliance, for his efforts on this piece.
Visit EcoWatch's TIPS page for more eco-tips.

EcoWatch Daily Newsletter
Related Articles from EcoWatch