This website uses cookies to ensure you get the best experience while browsing it. By clicking 'Got It' you're accepting these terms.
Californians Wearing Hazmat Suits Protest at Oil Industry Workshop
Mar. 25, 2015 03:45PM EST
Energy
Hazmat suit-wearing demonstrators with Californians Against Fracking protested Tuesday outside and inside a state-run "aquifer exemption" workshop in Long Beach aimed at helping oil companies get federal permission to dump oil waste into California's underground water. The protest started at Noon in front of the Holiday Inn Long Beach Airport, and continued inside the workshop when activists disrupted the proceedings by handing regulators bottles filled with black "frack-water" and asked them if they wanted to drink it.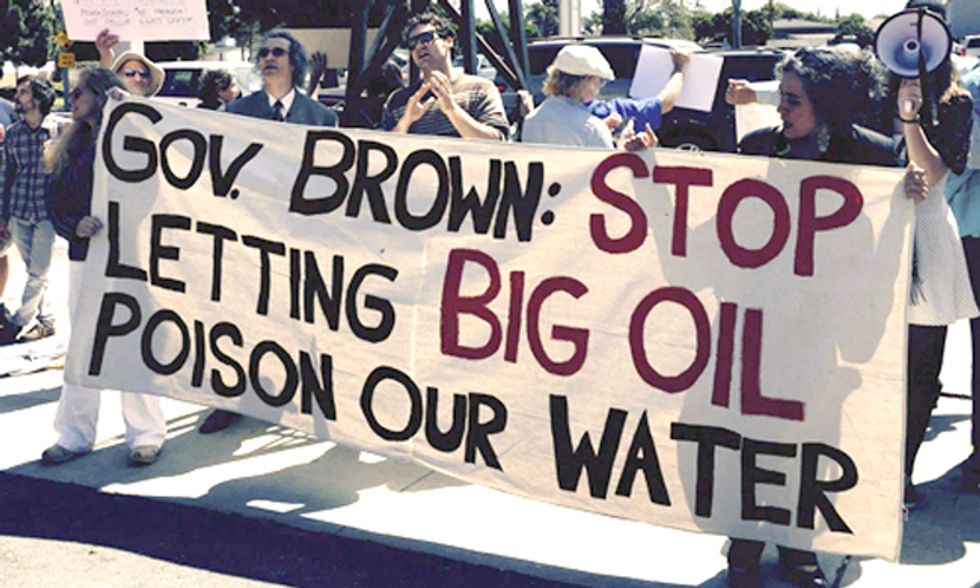 "Instead of this 'Toxic Dumping for Dummies' class, Gov. Jerry Brown's regulators should protect our water from oil waste," said Ash Lauth of Californians Against Fracking. "During this devastating drought, oil companies shouldn't be allowed to use our aquifers as trash dumps for fracking flowback and other dangerous fluids."
State Sen. Fran Pavley and other lawmakers called on Gov. Brown in a letter last week to "stop illegal injection into non-exempt aquifers" to protect California's water from oil waste.
California regulators recently admitted that oil companies are dumping toxic waste down hundreds of disposal wells—including wells in the Los Angeles area (interactive map)—into scores of protected aquifers in violation of the federal Safe Drinking Water Act.
So Tuesday's "aquifer exemption" workshop, held by the state's Division of Oil, Gas and Geothermal Resources (DOGGR), aimed at helping oil companies exploit legal loopholes to get federal permission to continue this polluting practice.
Oil regulators admit to wrongly issuing about 500 permits for oil industry waste disposal wells that violate federal and state law. Since then, the state has shut down just 23 of the hundreds of illegal wells that have dumped billions of gallons of hazardous oil waste into protected aquifers. More than 2,000 enhanced oil recovery wells are also operating illegally in protected aquifers.
Up to half of California wells are fracked, according a recent report from the California Council on Science and Technology. Oil companies' own tests show high levels of cancer-causing benzene in flowback fluid from fracked wells in California. Those tests, mandated by a new fracking disclosure law, found benzene at levels as high as 1,500 times the federal limits for drinking water. Those documents also show that fracking flowback is typically disposed of in wastewater injection wells.
Produced water, which comes from fracked wells and conventional wells alike, also can contain high levels of benzene and other chemicals. State oil officials' own study detected levels thousands of times the federal limits. In California, roughly 113 billion gallons of produced water is dumped into wastewater disposal wells each month.
After the illegal aquifer dumping was revealed earlier this year, more than 150 environmental and community groups filed a legal petition urging Gov. Brown to use his emergency powers to place a moratorium on fracking and other well stimulation techniques.
About 30 minutes into the Long Beach "aquifer exemption" workshop, about 15 Southern California residents disrupted the proceedings. With chants and banners, they reminded the state oil and gas regulators that it's their duty as public servants to protect water for people of California, not to protect industry giants from pollution regulations. Here is a video recorded by Clark Davis from The Syndicate.info that captures the impact of the disruption.
Activists served the regulators with a pink slip, firing them on behalf of the People of California for "colluding with Big Oil to poison our aquifers, in this year of record drought, in this era of a warming planet."
Walker Foley, an LA organizer from Food & Water Watch, said, "This outrageous workshop unifies California's fracking movement to the national movement, as the US EPA flew in to help facilitate. Today we escalated. We put those bureaucrats on blast, and they can be sure that we will be back. No more nice, cordial hearings."
While the regulators seemed unprepared to deal with the disruption, activists recited for several minutes: "Water can't be poisoned for private wealth. We will fight for our children's health." The police politely escorted them out of the room as they chanted "We'll be back!"
YOU MIGHT ALSO LIKE
Don't Frack with Denton: A Community's Fight to Defend Home Rule
Protesters Removed After Disrupting Monthly FERC Meeting
New Fracking Rules on Public Lands 'A Giveaway to Oil and Gas Industry,' Advocates Say
EcoWatch Daily Newsletter
A new report spotlights a U.N. estimate that at least 275 million people rely on healthy coral reefs. A sea turtle near the Heron Island in the Great Barrier Reef is seen above. THE OCEAN AGENCY / XL CATLIN SEAVIEW SURVEY
In a new report about how the world's coral reefs face "the combined threats of climate change, pollution, and overfishing" — endangering the future of marine biodiversity — a London-based nonprofit calls for greater global efforts to end the climate crisis and ensure the survival of these vital underwater ecosystems.
Half of the extracted resources used were sand, clay, gravel and cement, seen above, for building, along with the other minerals that produce fertilizer. Cavan Images / Cavan / Getty Images
The world is using up more and more resources and global recycling is falling. That's the grim takeaway from a new report by the Circle Economy think tank, which found that the world used up more than 110 billion tons, or 100.6 billion metric tons, of natural resources, as Agence France-Presse (AFP) reported.
By Gero Rueter
Heating with coal, oil and natural gas accounts for around a quarter of global greenhouse gas emissions. But that's something we can change, says Wolfgang Feist, founder of the Passive House Institute in the western German city of Darmstadt.

By George Citroner
Recent research finds that official government figures may be underestimating drug deaths by half.
Researchers estimate that 142,000 people died due to drug use in 2016.
Drug use decreases life expectancy after age 15 by 1.4 years for men and by just under 1 year for women, on average.
Government records may be severely underreporting how many Americans die from drug use, according to a new study by researchers from the University of Pennsylvania and Georgetown University.
Water coolers in front of shut-off water fountains at Center School in Stow, MA on Sept. 4, 2019 after elevated levels of PFAS were found in the water. David L. Ryan / The Boston Globe via Getty Images
In a new nationwide assessment of drinking water systems, the Environmental Working Group found that toxic fluorinated chemicals known as PFAS are far more prevalent than previously thought.