This website uses cookies to ensure you get the best experience while browsing it. By clicking 'Got It' you're accepting these terms.
'Unprecedented' Wildfires Break Out in Northern and Southern California
Oct. 10, 2017 09:35AM EST
Climate
The California Highway Patrol (CHP) Golden Gate Division Air Operations helicopter crews have rescued 42 people from wildfires since Sunday. CHP
California is on fire. Multiple major fires broke out in many parts of the state, burning more than 100,000 acres.
More than a dozen wildfires ravaged across Northern California as of Tuesday morning. At least 11 people have died, 100 have been injured, tens of thousands evacuated, and more than 1,500 homes and businesses were destroyed. In Sonoma County, fire officials fielded 100 phone calls about missing persons.
---
350.org founder Bill McKibben tweeted that the Napa firestorm left the city looking like it had been bombed.
The wine country blazes started on Sunday and are among the most devastating in state history, according to media reports.
"We often have multiple fires going on, but the majority of them all started right around same time period, same time of night—it's unprecedented," Amy Head, the fire captain spokesperson for Cal Fire, told the Guardian. "I hate using that word because it's been overused a lot lately because of how fires have been in the past few years, but it truly is—there's just been a lot of destruction."
Head added that the fires were probably linked to a warming climate: "It has been hotter, it has been drier, our fire seasons have been longer, fires are burning more intensely, which is a direct correlation to the climate changing."
2017 Statewide Fire Map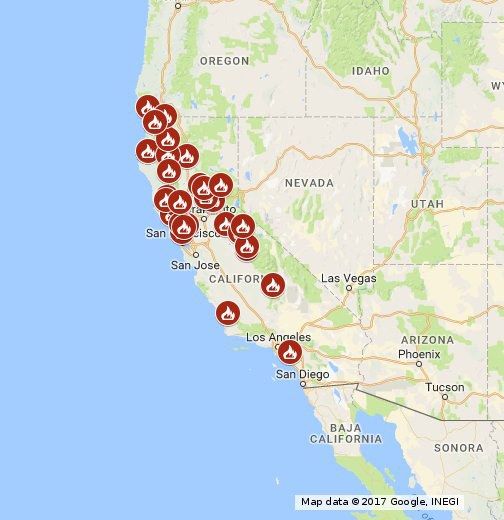 The flames spread quickly due to powerful winds and high temperatures.
"We also had really gusty winds and really warm temperatures," National Weather Service meteorologist Matt Mehle told the Los Angeles Times. "This time of year it does happen quite a bit. For the San Francisco Bay Area, our summer is late September to early October; that's when we have our warmest and driest conditions."
In Southern California, more than 5,000 homes were evacuated because of a Monday brushfire in the Anaheim Hills area in Orange County. The inferno, dubbed Canyon Fire 2, has destroyed 24 structures and burned at least 6,000 acres.
Smoke from the fire inundated the skies above nearby theme park Disneyland.
California Gov. Jerry Brown declared a state of emergency for Orange County Monday afternoon after issuing emergency declarations for the affected areas in the northern part of the state earlier that day.
The governor's Office of Emergency Services tweeted that the state is "fully engaged in response efforts for NorCal fires" and "all hands on deck."
The Governor also requested a Presidential Major Disaster Declaration to support the state and local response to fires burning in Northern California.
The Governor also requested a Presidential Major Disaster Declaration to support the state and local response to fires burning in Northern California,
EcoWatch Daily Newsletter
Fabian Krause / EyeEm / Getty Images
Water protectors of all persuasions gathered in talking circles at Borderland Ranch in Pe'Sla, the heart of the sacred Black Hills, during the first Sovereign Sisters Gathering. At the center are Cheryl Angel in red and white and on her left, Lyla June. Tracy Barnett
By Tracy L. Barnett
Sources reviewed this article for accuracy.
For Sicangu Lakota water protector Cheryl Angel, Standing Rock helped her define what she stands against: an economy rooted in extraction of resources and exploitation of people and planet. It wasn't until she'd had some distance that the vision of what she stands for came into focus.
Hedges, 2019 © Hugh Hayden. All photos courtesy of Lisson Gallery
By Patrick Rogers
"I'm really into trees," said the sculptor Hugh Hayden. "I'm drawn to plants."
BruceBlock / iStock / Getty Images
Thanks to their high concentration of powerful plant compounds, foods with a natural purple hue offer a wide array of health benefits.
Environmental Investigation Agency
Last week, the Peruvian Palm Oil Producers' Association (JUNPALMA) promised to enter into an agreement for sustainable and deforestation-free palm oil production. The promise was secured by the U.S. based National Wildlife Federation (NWF) in collaboration with the local government, growers and the independent conservation organization Sociedad Peruana de Ecodesarrollo.
Pixabay
Leaked documents show that Jair Bolsonaro's government intends to use the Brazilian president's hate speech to isolate minorities living in the Amazon region. The PowerPoint slides, which democraciaAbierta has seen, also reveal plans to implement predatory projects that could have a devastating environmental impact.
XL CATLIN SEAVIEW SURVEY / THE OCEAN AGENCY
Hope may be on the horizon for the world's depleted coral reefs thanks to scientists who successfully reproduced endangered corals in a laboratory setting for the first time, according to Reuters.