California Senate Disappoints by Rejecting Fracking Moratorium
With fracking bans or moratoriums in Los Angeles, Beverly Hills and Santa Cruz County, California seemed prepared to put a halt to the dirty energy practice across the state.
Not so fast.
The state Senate rejected a measure that would have placed a moratorium on hydraulic fracturing, acidizing and other forms of oil and gas development. According to the Sacramento Bee, opponents of Senate Bill (SB) 1132 believe that SB 4, approved last September, made the moratorium legislation a waste of time.
Of course, the environmental groups who deemed SB 4 a "half bill" would beg to differ.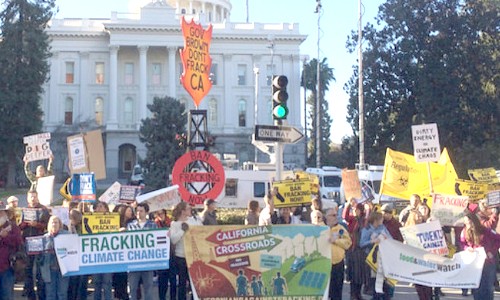 "The vote is disappointing but not completely unexpected, given that the oil industry has spent a whopping $15 million on lobbying activities to defeat the bill and buy influence in Sacramento," Californians Against Fracking said in a joint statement with 350.org, Center for Biological Diversity, Center on Race, Poverty and the Environment, CREDO Action, Environment California, Food & Water Watch and Oil Change International.
"State lawmakers will continue to face growing concern about fracking pollution from voters in their communities. Californians Against Fracking calls on Governor Brown to protect California's water, agriculture, public health and climate by declaring a moratorium on fracking now. If Governor Brown is serious about fighting climate change and its severe impacts, including droughts and fires, then he must show real leadership and stop the fracking now."
Two other organizations, the Natural Resources Defense Council and Sierra Club, were particularly troubled by the vote since they conducted a poll of California residents, with more than two-thirds showing support for a moratorium. The support held up across political party lines, too, as moratorium-supporting Democrats, Republicans and Independents all outvoted opposers.
"Californians have made it clear they do not want to rush ahead recklessly on fracking," said Damon Nagami, a senior attorney for the NRDC. "Why risk the health of our children, contaminated drinking water, more air pollution, man-made earthquakes and further strained water supplies in the middle of an extreme drought? We need a time-out on fracking to give the state time to do its due diligence and ensure the health of our residents is not squandered to satisfy oil industry greed."
State Sen. Holly Mitchell (D-Los Angeles) remained optimistic in a statement following the rejection.
"We have the momentum, this issue's gone viral nationally, and it's just a matter of time before the dangers of fracking prompt people to put it on pause until its safety can be established," she wrote. "When the impacts on the public of a for-profit endeavor are unknown, we try it out first in minority neighborhoods—assuming low vigilance and the need to bring in jobs makes safety irrelevant.
"But we've put big industry on notice: That ploy won't fly forever. People's neighborhoods aren't fodder for fracking, environmental justice must come, and one day soon the vote to refrain from polluting for profit will prevail!"
——–
YOU ALSO MIGHT LIKE
Santa Cruz Triumphs as First County in California to Ban Fracking
Hundreds of California Businesses Band Together in Face of Devastating Drought
Largest Anti-Fracking Rally in California History Draws Thousands
——–
A coalition of conservation groups and others announced Thursday that a historic number of comments and petitions of support have been submitted to the U.S. Department of the Interior in support of Bears Ears National Monument. Despite the entirely inadequate 15-day comment period ending on May 26, more than 685,000 comments in support of Bears Ears National Monument have been collected.
Keep reading...
Show less
Rink Glacier in western Greenland, with a meltwater lake visible center. NASA/OIB
Scientists have had their eyes on Greenland as its iconic glaciers have begun disappearing due to a warming climate. But, what they didn't expect to see was a whole new type of melting.
Keep reading...
Show less
Mountain View Fire
By Lena Moffitt
An oil tanker in Mead, Colorado exploded, killing one and injuring three on Thursday. Authorities are continuing to investigate the cause of the explosion.
Keep reading...
Show less
Banner created by Alliance for Climate Education
Keep reading...
Show less
Twenty-two GOP senators sent a letter Thursday urging Donald Trump to pull out of the Paris agreement. They argued remaining in the deal could "upend" the administration's ability "to fulfill its goal of rescinding the Clean Power Plan."
Keep reading...
Show less
By Cheryl Johncox
The Federal Energy Regulatory Commission (FERC) rejected on Thursday Energy Transfer Partners' request to resume horizontal directional drilling at two sites for its Rover fracked gas pipeline. This rejection comes after numerous leaks into Ohio's wetlands, and Clean Air and Clean Water act violations. FERC has halted the process at only eight locations of the 32 where drilling is taking place under Ohio's wetlands and streams.
Keep reading...
Show less
By Nadia Prupis
A majority of people in eight countries say they are ready to change their lifestyles if it would prevent climate catastrophe, a survey on global threats released Wednesday found.
Keep reading...
Show less
May. 25, 2017 01:55PM EST
Bill Maher is sick of billionaires' obsession with Mars, more like "Mars-a-Lago," he said.
In a new animation produced by ATTN:, the popular talk show host of Real Time, discusses the perils of our planet, including how "climate change is killing us."
Keep reading...
Show less