This website uses cookies to ensure you get the best experience while browsing it. By clicking 'Got It' you're accepting these terms.
California Residents and Politicians Ask Gov. Brown to Give Up on High-Speed Rail
Jan. 07, 2014 12:39PM EST
Business
It's been nearly six years since California voters approved $10 billion in rail bonds to make a high-speed train line from Los Angeles to San Francisco a reality. The project appears to be on life support, with judges, residents and politicians all expressing doubt.
"It's time for the [California Gov. Jerry Brown] to pull up the tracks," U.S. Rep. Kevin McCarthy, (R-CA), told The New York Times. "Everything he has said has not come to fruition.
"It's time to scratch the project."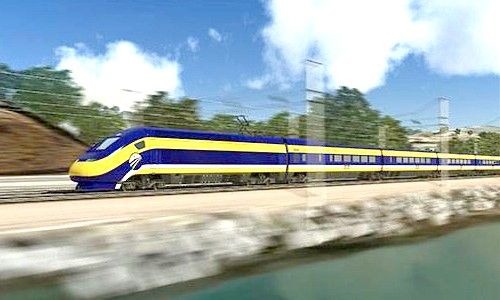 That statement came nearly two months after a Sacramento County judge's invalidation of the rail authority's business plan. Sacramento County Superior Court Judge Michael Kenny ruled that the High-Speed Rail Authority's (HSRA) plan is no longer in line with what voters approved in 2008, according to The Associated Press. The lawsuit came from a group of Kings County residents who don't want the project to happen.
The HSRA now needs to show how it will pay for the first 300 miles of construction. Kenny rejected a request from the HSRA that would allow the state treasurer to sell $8.6 billion in bonds.
Fifty-two percent of the respondents in a September survey from U.S.C. Dornsife/Los Angeles Times said they oppose the project. That's the same percentage of residents who passed the rail measure in 2008.

The project is slated to cost $68 billion and be completed in 2029. The state identified nearly $13 billion in financing for the project before the November ruling—about $9 billion in state bonds and $3.5 billion in matching funds. California won't get more than $3 billion in federal matching funds without more state funding. Brown's new budget proposal, which is expected by the end of the week, could include a request that some money collected from carbon producers under the state's cap-and-trade program be used to help pay for the high-speed line.
"We have confidence that we can comply with this ruling and we can move this program forward, and it should move forward," said Dan Richard, chairman of the High-Speed Rail Authority, which is building the line.
"Yes, it's difficult. Yes, it's challenging. But we are still committed to it. The governor is fully committed to it."
However Rep. McCarthy said he doubts voters would approve $9 billion to build it and that private investment in the project has been nonexistent. Democratic State Sen. Mark DeSaulnier, who voted against the project, said he has yet to see solid evidence of where the money will come from.
"That's the bottom line: Show me the money," he told The New York Times. "That is what the judge said, and that is what we promised the voters. And I never heard, sitting through many, many years in the Legislature, I never heard them show me the money in a way that I could feel comfortable. It has gotten worse."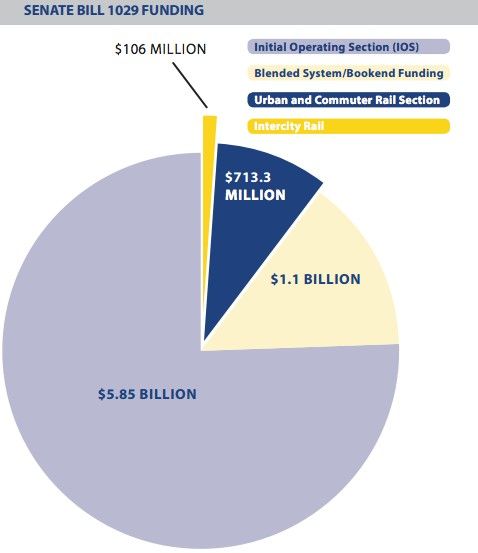 DeSaulnier may soon get to see some of the money—or progress—once the HSRA is done evaluating qualification bids from five "world-class construction teams" to build a 60-mile stretch of the high-speed line from Fresno to a county line near Bakersfield for about $1.5 to $2 billion.
Based on his comments, it doesn't sound like that would impress McCarthy very much.
"They get so invested in it, they just get blinded," the U.S. representative said. "That's why I think this time of year, New Year's, is the best time to step back and say: 'I tried. It won't pan out.'
"I think the governor would get big applause from California voters saying that."
Visit EcoWatch's TRANSPORTATION page for more related news on this topic.

EcoWatch Daily Newsletter
Artist's conception of solar islands in the open ocean. PNAS
Millions of solar panels clustered together to form an island could convert carbon dioxide in seawater into methanol, which can fuel airplanes and trucks, according to new research from Norway and Switzerland and published in the Proceedings of the National Academy of Sciences journal, PNAS, as NBC News reported. The floating islands could drastically reduce greenhouse gas emissions and dependence on fossil fuels.
Marcos Alves / Moment Open / Getty Images
More than 40 percent of insects could go extinct globally in the next few decades. So why did the U.S. Environmental Protection Agency (EPA) last week OK the 'emergency' use of the bee-killing pesticide sulfoxaflor on 13.9 million acres?
EcoWatch teamed up with Center for Biological Diversity via EcoWatch Live on Facebook to find out why. Environmental Health Director and Senior Attorney Lori Ann Burd explained how there is a loophole in the The Federal Insecticide, Fungicide, and Rodenticide Act under section 18, "that allows for entities and states to request emergency exemptions to spraying pesticides where they otherwise wouldn't be allowed to spray."
Simple swaps that cut down on kitchen trash.
Sponsored
By Kayla Robbins
Along with the bathroom, the kitchen is one of the most daunting areas to try and make zero waste.
View of downtown Miami, Florida from Hobie Island on Feb. 2, 2019.
Michael Muraz / Flickr
The Democratic candidates for president descended upon Miami for a two-night debate on Wednesday and Thursday. Any candidate hoping to carry the state will have to make the climate crisis central to their campaign, as The New York Times reported.
By Sharon Kelly
On Monday, the Wall Street Journal featured a profile of Scott Sheffield, CEO of Pioneer Natural Resources, whose company is known among investors for its emphasis on drawing oil and gas from the Permian basin in Texas using horizontal drilling and hydraulic fracturing, or fracking.
Pexels
By Craig K. Chandler
The federal government has available to it, should it choose to use them, a wide range of potential climate change management tools, going well beyond the traditional pollution control regulatory options. And, in some cases (not all), without new legislative authorization.
Denis Poroy / Getty Images
By Dan Gray
Processed foods, in their many delicious forms, are an American favorite.
But new research shows that despite increasing evidence on just how unhealthy processed foods are, Americans have continued to eat the products at the same rate.
By Sarah Steffen
With a profound understanding of their environmental surroundings, indigenous communities around the world are often cited as being pivotal to tackling climate change.