This website uses cookies to ensure you get the best experience while browsing it. By clicking 'Got It' you're accepting these terms.
California Residents and Politicians Ask Gov. Brown to Give Up on High-Speed Rail
Jan. 07, 2014 12:39PM EST
Business
It's been nearly six years since California voters approved $10 billion in rail bonds to make a high-speed train line from Los Angeles to San Francisco a reality. The project appears to be on life support, with judges, residents and politicians all expressing doubt.
"It's time for the [California Gov. Jerry Brown] to pull up the tracks," U.S. Rep. Kevin McCarthy, (R-CA), told The New York Times. "Everything he has said has not come to fruition.
"It's time to scratch the project."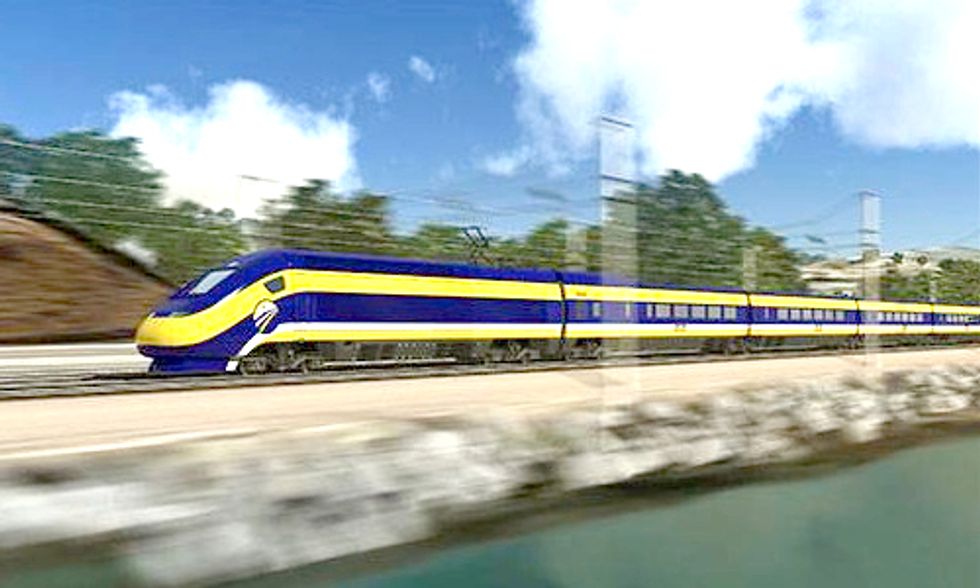 That statement came nearly two months after a Sacramento County judge's invalidation of the rail authority's business plan. Sacramento County Superior Court Judge Michael Kenny ruled that the High-Speed Rail Authority's (HSRA) plan is no longer in line with what voters approved in 2008, according to The Associated Press. The lawsuit came from a group of Kings County residents who don't want the project to happen.
The HSRA now needs to show how it will pay for the first 300 miles of construction. Kenny rejected a request from the HSRA that would allow the state treasurer to sell $8.6 billion in bonds.
Fifty-two percent of the respondents in a September survey from U.S.C. Dornsife/Los Angeles Times said they oppose the project. That's the same percentage of residents who passed the rail measure in 2008.

The project is slated to cost $68 billion and be completed in 2029. The state identified nearly $13 billion in financing for the project before the November ruling—about $9 billion in state bonds and $3.5 billion in matching funds. California won't get more than $3 billion in federal matching funds without more state funding. Brown's new budget proposal, which is expected by the end of the week, could include a request that some money collected from carbon producers under the state's cap-and-trade program be used to help pay for the high-speed line.
"We have confidence that we can comply with this ruling and we can move this program forward, and it should move forward," said Dan Richard, chairman of the High-Speed Rail Authority, which is building the line.
"Yes, it's difficult. Yes, it's challenging. But we are still committed to it. The governor is fully committed to it."
However Rep. McCarthy said he doubts voters would approve $9 billion to build it and that private investment in the project has been nonexistent. Democratic State Sen. Mark DeSaulnier, who voted against the project, said he has yet to see solid evidence of where the money will come from.
"That's the bottom line: Show me the money," he told The New York Times. "That is what the judge said, and that is what we promised the voters. And I never heard, sitting through many, many years in the Legislature, I never heard them show me the money in a way that I could feel comfortable. It has gotten worse."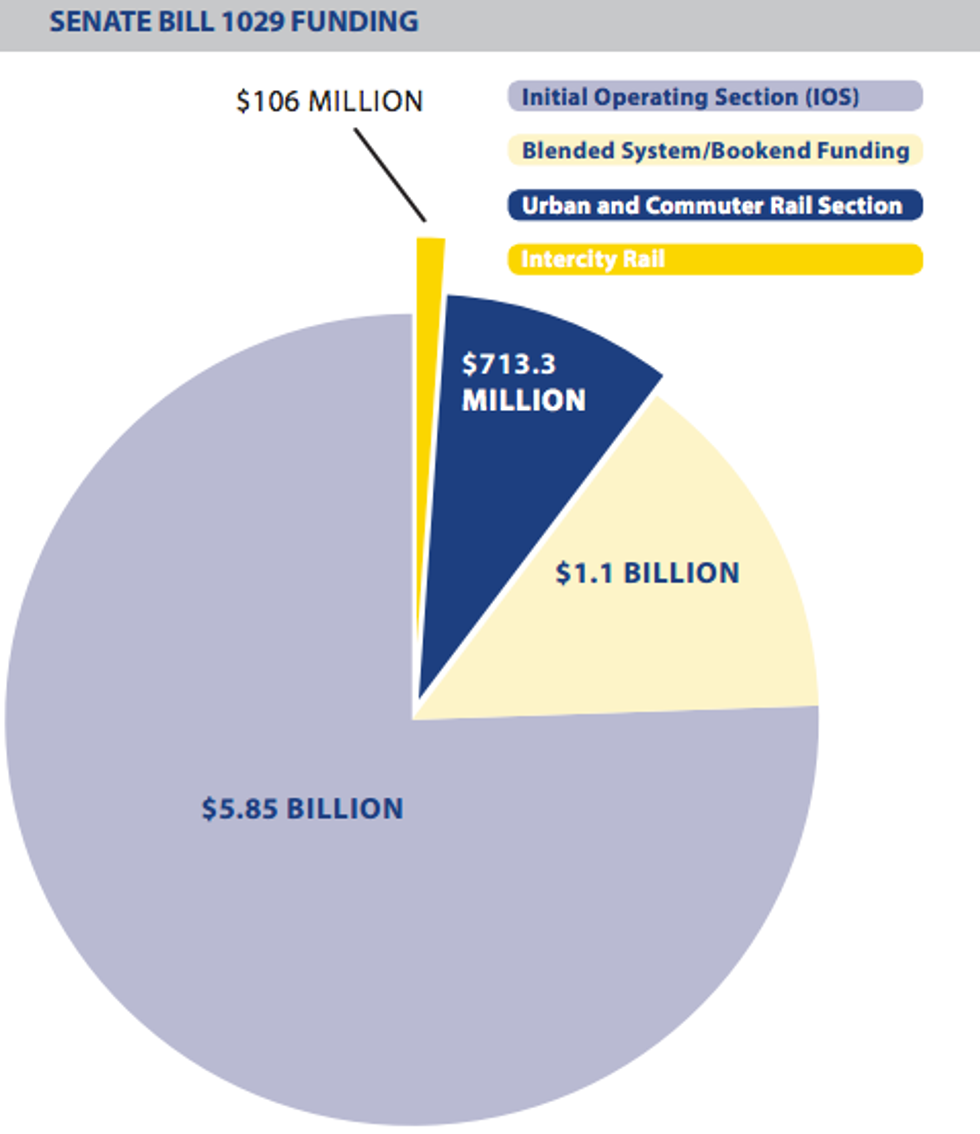 DeSaulnier may soon get to see some of the money—or progress—once the HSRA is done evaluating qualification bids from five "world-class construction teams" to build a 60-mile stretch of the high-speed line from Fresno to a county line near Bakersfield for about $1.5 to $2 billion.
Based on his comments, it doesn't sound like that would impress McCarthy very much.
"They get so invested in it, they just get blinded," the U.S. representative said. "That's why I think this time of year, New Year's, is the best time to step back and say: 'I tried. It won't pan out.'
"I think the governor would get big applause from California voters saying that."
Visit EcoWatch's TRANSPORTATION page for more related news on this topic.

EcoWatch Daily Newsletter
A new study shows that half of all Arctic warming and corresponding sea-loss during the late 20th century was caused by ozone-depleting substances. Here, icebergs discharged from Greenland's Jakobshavn Glacier. Kevin Krajick / Earth Institute /
EurekAlert!
The world awakened to the hole in the ozone layer in 1985, which scientists attributed it to ozone depleting substances. Two years later, in Montreal, the world agreed to ban the halogen compounds causing the massive hole over Antarctica. Research now shows that those chemicals didn't just cut a hole in the ozone layer, they also warmed up the Arctic.
Diane Wilson holds up a bag full of nurdles she collected from one of Formosa's outfall areas on Jan. 15. Julie Dermansky / DeSmogBlog
On the afternoon of Jan. 15, activist Diane Wilson kicked off a San Antonio Estuary Waterkeeper meeting on the side of the road across from a Formosa plastics manufacturing plant in Point Comfort, Texas.
After Wilson and the waterkeeper successfully sued Formosa in 2017, the company agreed to no longer release even one of the tiny plastic pellets known as nurdles into the region's waterways. The group of volunteers had assembled that day to check whether the plant was still discharging these raw materials of plastics manufacturing.
Malaysian Environment Minister Yeo Bee Yin (front 2nd L) and officials inspect a container containing plastic waste shipment on Jan. 20, 2020 before sending back to the countries of origin. AFP via Getty Images
The Southeast Asian country Malaysia has sent 150 shipping containers packed with plastic waste back to 13 wealthy countries, putting the world on notice that it will not be the world's garbage dump, as CNN reported. The countries receiving their trash back include the United States, the United Kingdom, France and Canada.
Trump leaves after delivering a speech at the Congress Centre during the World Economic Forum annual meeting in Davos on Jan. 21, 2020. JIM WATSON / AFP via Getty Images