This website uses cookies to ensure you get the best experience while browsing it. By clicking 'Got It' you're accepting these terms.
California Regulators Add Teeth to Landmark Clean Energy Policy
Jan. 12, 2012 04:39PM EST
Renewable Energy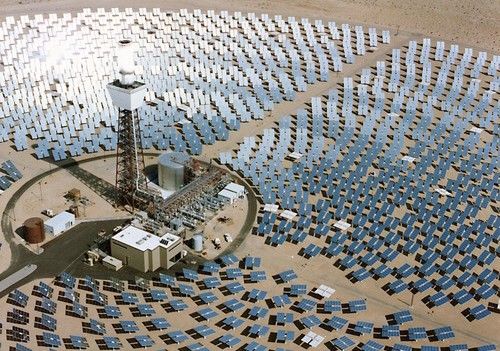 The California Public Utilities Commission (CPUC) voted unanimously Jan. 12 to strengthen a key clean energy policy in California called the Loading Order. The Loading Order sets a priority list for electricity sources. California's utilities must first employ energy efficiency and conservation to meet customer demand—then energy from renewable sources such as wind, solar and geothermal. Only after all those supplies are exhausted may the utilities purchase power from fossil fuel plants.
The CPUC already requires the state's three investor-owned utilities—Pacific Gas & Electric, San Diego Gas & Electric, and Southern California Edison—to obtain certain minimum amounts of electricity through energy efficiency, demand response resources and renewables. Before Jan. 12, the big energy companies ignored the Loading Order once they had met these other state-required targets. The commissioners ordered a halt to that practice, writing in their decision, "While hitting a target for energy efficiency or demand response may satisfy other obligations of the utility, that does not constitute a ceiling on those resources for purposes of procurement."
"The Public Utilities Commission has confirmed what Californians have already come to understand—burning oil and gas to make electricity is bad for our health and bad for our environment," said Earthjustice attorney Will Rostov. "It should be a last resort instead of business as usual."
Environmental groups who made the case for this clarification applauded the decision. Rory Cox, senior energy consultant for Pacific Environment said, "The Loading Order could be a powerful tool to put thousands of Californians to work building the power grid of the future while reducing pollution. This decision makes it crystal clear to the utilities that clean energy should always come first."
Pacific Environment is represented at the CPUC by the Golden Gate University School of Law, Environmental Law and Justice Clinic. Sierra Club California is represented by the public interest law firm Earthjustice.
"Saving energy and using it efficiently is a priority for most of us, and it should be for the power companies as well," said Jim Metropulos, senior advocate with Sierra Club California. "Common sense tells us that we should use all energy efficiency, wind and solar power we can get, and California is well-suited to provide these renewable resources."
"Today's decision should check the utilities' routine response—to deploy massive new power plants and transmission," said Shana Lazerow, an attorney for Communities for a Better Environment. "If correctly implemented, the loading order can help our efforts to bring about an energy system that looks first to the most sustainable, least harmful sources to power all of California' communities."
In spite of the orders to shift reliance to energy efficiency, renewable energy sources and other clean energy strategies, the utilities have built or are building numerous large, natural gas power plants while falling behind on their clean energy mandates. According to the California Energy Commission, the state has about 30 percent more power than needed on peak energy days, and the CPUC anticipates they will be 60 to 80 percent over-built by 2020, should current trends continue.
This clarification of the Loading Order was made as part of the CPUC's Long Term Procurement Plan (Rulemaking 10-05-006). Read the proposed decision as adopted.
For more information, click here.
EcoWatch Daily Newsletter
A vegan diet can improve your health, but experts say it's important to keep track of nutrients and protein. Getty Images
By Dan Gray
Research shows that 16 weeks of a vegan diet can boost the gut microbiome, helping with weight loss and overall health.
A healthy microbiome is a diverse microbiome. A plant-based diet is the best way to achieve this.
It isn't necessary to opt for a strictly vegan diet, but it's beneficial to limit meat intake.
New research shows that following a vegan diet for about 4 months can boost your gut microbiome. In turn, that can lead to improvements in body weight and blood sugar management.
Students gathered at the National Mall in Washington DC, Sept. 20. NRDC
By Jeff Turrentine
Nearly 20 years have passed since the journalist Malcolm Gladwell popularized the term tipping point, in his best-selling book of the same name. The phrase denotes the moment that a certain idea, behavior, or practice catches on exponentially and gains widespread currency throughout a culture. Having transcended its roots in sociological theory, the tipping point is now part of our everyday vernacular. We use it in scientific contexts to describe, for instance, the climatological point of no return that we'll hit if we allow average global temperatures to rise more than 2 degrees Celsius above preindustrial levels. But we also use it to describe everything from resistance movements to the disenchantment of hockey fans when their team is on a losing streak.
samael334 / iStock / Getty Images
Berries are small, soft, round fruit of various colors — mainly blue, red, or purple.
A glacier is seen in the Kenai Mountains on Sept. 6, near Primrose, Alaska. Scientists from the U.S. Geological Survey have been studying the glaciers in the area since 1966 and their studies show that the warming climate has resulted in sustained glacial mass loss as melting outpaced the accumulation of new snow and ice. Joe Raedle / Getty Images
By Mark Mancini
On Aug. 18, Iceland held a funeral for the first glacier lost to climate change. The deceased party was Okjökull, a historic body of ice that covered 14.6 square miles (38 square kilometers) in the Icelandic Highlands at the turn of the 20th century. But its glory days are long gone. In 2014, having dwindled to less than 1/15 its former size, Okjökull lost its status as an official glacier.
Members of Chicago Democratic Socialists of America table at the Logan Square Farmers Market on Aug. 18. Alex Schwartz
By Alex Schwartz
Among the many vendors at the Logan Square Farmers Market on Aug. 18 sat three young people peddling neither organic vegetables, gourmet cheese nor handmade crafts. Instead, they offered liberation from capitalism.
Hackney primary school students went to the Town Hall on May 24 in London after school to protest about the climate emergency. Jenny Matthews / In Pictures / Getty Images
Bird watching in the U.S. may be a lot harder than it once was, since bird populations are dropping off in droves, according to a new study.