Health
May. 26, 2015 09:22AM EST
California One Step Closer to Banning Microbeads
Legislation to ban plastic microbeads commonly used in personal care products from being used in products such as facial scrubs, soaps and toothpaste passed the California State Assembly Friday on a 58-11 vote. The legislation, AB 888, authored by Assemblymember Richard Bloom (D-Santa Monica) and first sponsored in 2014 by LA based environmental organization the 5 Gyres Institute, would set up the strongest protections in the country against the use of these unnecessary and toxic additives.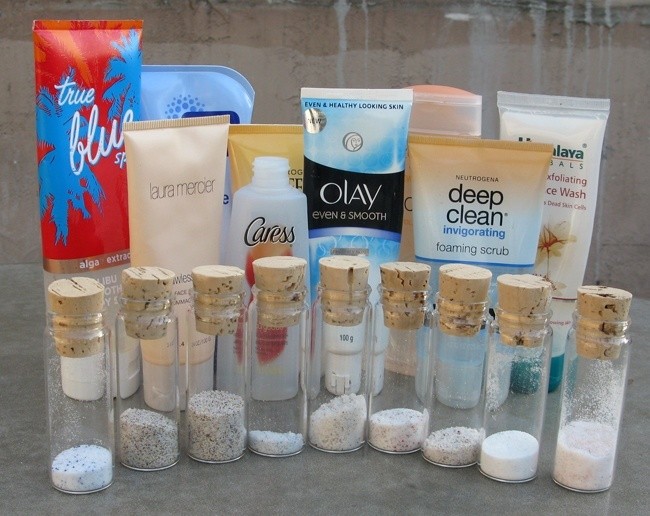 "This is an incredibly exciting time for California, and for 5 Gyres," said Dr. Marcus Eriksen, 5 Gyres' director of research and the first U.S. scientist to document microbeads in U.S. waters.
"When we first detected high levels of plastic microbeads in Lake Erie in 2012, we never imagined that this scientific finding would result in a national legislative campaign. This important step towards a victory in California sends a strong signal that the public sector can drive major design changes at the corporate manufacturing level, to protect our national waters and our health."
The 5 Gyres Institute, an LA-based non-profit organization dedicated to engaging people in policy and design solutions to plastic pollution, conducted the first scientific research on plastic pollution in the Great Lakes in 2012, in partnership with SUNY Fredonia. On this expedition, the team documented high levels of microplastics in Lake Erie that they later traced back to personal care products.
"We found one sample with 1,600 plastic particles, more plastics by count than any of our ocean samples spanning over 50,000 miles," said Dr. Eriksen. "These particles were all roughly the same shape and size—we had never seen anything like it. We compared these to the plastic beads found in facial scrubs and body washes, and there it was. With this finding, we were able to begin working on the clear solution—banning these unnecessary toxic plastics from products deigned to be washed down the drain."
Microbeads have emerged as a pervasive form of pollution in our waterways and marine environment, contributing approximately 38 tons of plastic annually. The tiny particles are prevalent in ocean debris piles, the Great Lakes, and were found in the Los Angeles River last year. Most microobeads are not biodegradable and absorb various toxins such as DDT, PCBs (flame retardants) and other industrial chemicals and are ingested or absorbed by a variety of marine life and other mammals. Because fish ingest these particles and absorb the toxins in their flesh, many in the scientific community also worry about the impacts on the fish, crabs and shellfish that humans eat.
Though they seem tiny, the size of microbeads is actually the biggest problem. Plastic microbeads used as exfoliants are too small to be recovered through most wastewater treatment plants, and wash directly down the drain, or are discharged into the environment through combined sewage overflow. As a result, these plastic microbeads can we washed into rivers, lakes and ultimately oceans, where they threaten marine ecosystems via the food web. A single product can contain as much as 350,000 polyethylene or polypropylene microbeads.
Many fish species, including fish that humans harvest for food, have been known to ingest micro-plastic particles and the toxins absorbed in those plastics can transfer to the fish tissue, becoming increasingly concentrated as they work their way up the food chain to wind up ultimately on our dinner plate.
"This is not a problem without a solution. Plastic microbeads are not essential to personal care products," said Rep. Bloom. "Safe and natural alternatives are available such as walnut husks, pecan shells, apricot shells, and cocoa beans. Some brands already use environmentally safe alternatives. However, there are still a number of companies who are holding out. By passing this bill, we will take the first step in phasing out these damaging products completely in California and paving the way for other states and countries to follow our lead."
Lisa Kaas Boyle, Esq., 5 Gyres policy director and one of the authors of the legislation, states, "AB 888 is a perfect example of 5 Gyres' mission to conduct the best science, craft effective legal policy solutions based on our research, and find the best representatives of the people to carry the legislation through the halls of government to become law. We identified Richard Bloom because of his long history of environmental stewardship on the California Coastal Commission, as a city council member and mayor of Santa Monica and in his current office as representative of the people of the 50th District of California."
Californians Against Waste, Clean Water Action, Breast Cancer Fund, California League of Conservation Voters, Campaign for Safe Cosmetics, Center for Biological Diversity, Defenders of Wildlife, Environment California, Heal the Bay, Los Angeles Waterkeeper, Natural Resources Defense Council, Ocean Conservancy, Sierra Club and Story of Stuff are a sample of the many other groups in support of the bill.
AB 888 has now passed the State Assembly and must now pass the State Senate before going to Gov. Jerry Brown for his consideration.
YOU MIGHT ALSO LIKE
Which Country Will Be First to Go Completely Underwater Due to Climate Change?
5 Signs the California Drought Could Get Worse
Pamela Anderson Strips Down to Target Number One Cause of Epic Drought
iStock
By Robert Coleman
The Environmental Working Group's (EWG) just-released Tap Water Database shows that a startling number of cancer-causing chemicals contaminate the nation's drinking water. Of 250 different contaminants detected in tests by local utilities, 93 are linked to an increased risk of developing cancer.
Keep reading...
Show less
Aaron Teasdale
By Aaron Teasdale
"How much moon do we have tonight?" I yelled to my friend Greg, trying to make myself heard over the sounds of wind and surging water. The sun was sinking toward the mountains all too quickly and our float-in campsite lay somewhere down the river's bends in darkening forest.
Greg shrugged. He had no clue of the moon's cycle either, which showed just how tragically pasty and over-civilized we'd turned. Our days had become filled with computer screens, not forest scenes; our nights capped with ceilings, not stars. All of which made this journey on standup paddleboards so sweet—or at least we hoped it would be sweet, if the pesky headwind would let up before we had to risk disfiguring ourselves while navigating boulder-strewn waters by headlamp and whatever light the moon might spare.
Keep reading...
Show less
By Rebekah Wilce
The world of independent chemical testing has a shiny veneer. The public is reassured that chemicals they're exposed to on a daily basis are certified by technicians in spotless white lab coats who carefully conduct scientific studies, including on animals in neat rows of cages.
But a federal grand jury investigation that ended with convictions in the early 1980s discovered that Industrial Bio-Test Laboratories (IBT), the largest such lab in the U.S., conducted trials with mice that regularly drowned in their feeding troughs. The dead animals would decompose so quickly that "their bodies oozed through wire cage bottoms and lay in purple puddles on the dropping trays." IBT even invented an acronym "TBD/TDA" for its raw safety data, later discovered to mean "too badly decomposed."
Keep reading...
Show less
iStock
Roman officials are considering shutting off the water supply to one-third of the city's residents for eight hours per day as early as this weekend, according to reports.
Keep reading...
Show less
Ararat Rock Solar farm in Mount Airy, North Carolina. NARENCO
North Carolina Gov. Roy Cooper signed a bill into law Thursday that will boost solar production but curb wind energy in the state.
House Bill 589, the result of months of arduous negotiations between utilities and the solar industry, is intended to encourage the continued growth of solar in the state, but it includes a moratorium on new wind projects for the next 18 months.
Keep reading...
Show less
Algal blooms in Lake St. Clair and in western Lake Erie in 2015. NASA Earth Observatory
Heavier rainfall linked to rising temperatures could substantially increase the volume of agricultural runoff flowing into waterways, triggering toxic algal blooms, according to new research.
A study published Thursday in the journal Science finds that heavier rainfall could increase nitrogen runoff in U.S. lakes, rivers and streams by 19 percent by the end of this century.
Keep reading...
Show less
iStock
By Jen Sawada
Sharks have been around for 400 million years, before the time of the dinosaurs, but there's much more to them than big teeth and summer blockbusters. Consider these facts, which will change what you think about sharks.
Keep reading...
Show less
Felix Kramer / Wikimedia
By Jason Mathers
The high level of confidence that automotive industry leaders have in the future of electric vehicles (EVs) has been on full display recently.
Keep reading...
Show less


Get EcoWatch in your inbox