This website uses cookies to ensure you get the best experience while browsing it. By clicking 'Got It' you're accepting these terms.
California Moves Toward Historic Statewide Ban on Single-Use Plastic Bags
Aug. 15, 2014 09:27AM EST
You've heard about the plastic detritus polluting our oceans. You've likely seen plastic bags from grocery stores hanging from trees and telephone poles. Some localities have already banned those single-use plastic bags, including 115 in California. In that state, plastic bags are one of the five most common items littering its beaches, according to Ocean Conservancy's beach cleanup data.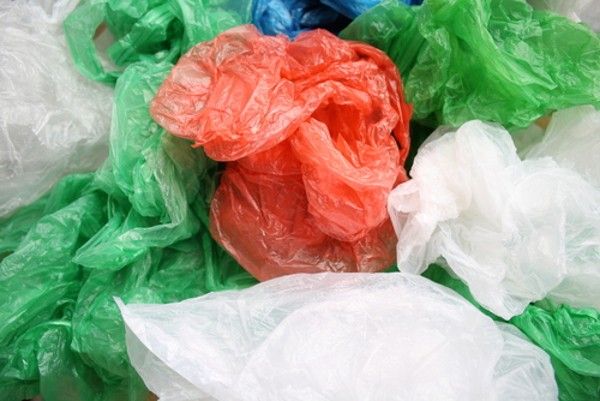 Photo credit: Shutterstock
Now the entire state is moving toward a ban on the bags.
SB 270 proposes a big step toward reducing the use of the bags by prohibiting their use in supermarkets and drugstores by July 1, 2015 and in smaller groceries and convenience stores by July 1, 2016. Paper, reusable and compostable plastic bags would carry a minimum ten cent charge if the bill passes. The bill also includes provisions that encourage manufacturers of one-use bags to transition to reusable bags. If it passes, it would make California the first state to enact a statewide ban on the single-use bags, although Hawaii has bans in all four of its counties.
The bill, which was introduced in February, passed the California Assembly's Natural Resources Committee in May and cleared its Appropriations Committee yesterday, the last step before moving  to the floor for a full vote of the Assembly. That vote could come as early as next week. The bill would then go back to the state Senate for a concurrence vote.
"Appropriations was probably the easiest place for the opposition to block the bill," said Nathan Weaver of citizen environmental advocacy group Environment California. "The fact that they didn't succeed is very exciting, in my opinion."
"This important step forward shows that we can achieve lasting victories for ocean and environmental health," he said. "Nothing we use for a few minutes should pollute our ocean for hundreds of years."
Currently over a third of California residents live in a community that prohibits plastic bags, thanks to bans in large communities like Los Angeles, Oakland and San Jose.
YOU MIGHT ALSO LIKE
Plastic Bag Bans Spread Across U.S.
The Global Downfall of the Plastic Bag
EcoWatch Daily Newsletter
Fabian Krause / EyeEm / Getty Images
Water protectors of all persuasions gathered in talking circles at Borderland Ranch in Pe'Sla, the heart of the sacred Black Hills, during the first Sovereign Sisters Gathering. At the center are Cheryl Angel in red and white and on her left, Lyla June. Tracy Barnett
By Tracy L. Barnett
Sources reviewed this article for accuracy.
For Sicangu Lakota water protector Cheryl Angel, Standing Rock helped her define what she stands against: an economy rooted in extraction of resources and exploitation of people and planet. It wasn't until she'd had some distance that the vision of what she stands for came into focus.
Hedges, 2019 © Hugh Hayden. All photos courtesy of Lisson Gallery
By Patrick Rogers
"I'm really into trees," said the sculptor Hugh Hayden. "I'm drawn to plants."
BruceBlock / iStock / Getty Images
Thanks to their high concentration of powerful plant compounds, foods with a natural purple hue offer a wide array of health benefits.
Environmental Investigation Agency
Last week, the Peruvian Palm Oil Producers' Association (JUNPALMA) promised to enter into an agreement for sustainable and deforestation-free palm oil production. The promise was secured by the U.S. based National Wildlife Federation (NWF) in collaboration with the local government, growers and the independent conservation organization Sociedad Peruana de Ecodesarrollo.
Pixabay
Leaked documents show that Jair Bolsonaro's government intends to use the Brazilian president's hate speech to isolate minorities living in the Amazon region. The PowerPoint slides, which democraciaAbierta has seen, also reveal plans to implement predatory projects that could have a devastating environmental impact.
XL CATLIN SEAVIEW SURVEY / THE OCEAN AGENCY
Hope may be on the horizon for the world's depleted coral reefs thanks to scientists who successfully reproduced endangered corals in a laboratory setting for the first time, according to Reuters.