California Governor Calls for 50 Percent Renewable Energy by 2030
Jan. 05, 2015 06:05PM EST
Climate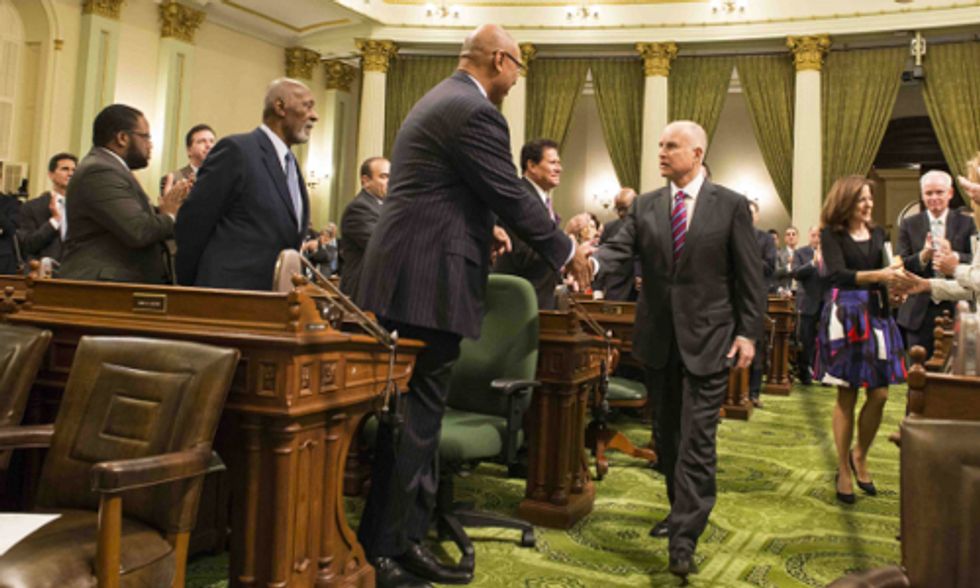 As he was sworn in today for his fourth term as governor of California, Jerry Brown announced a program of ambitious new environmental goals that would enhance the state's reputation as a forward-thinking pacesetter for the entire country.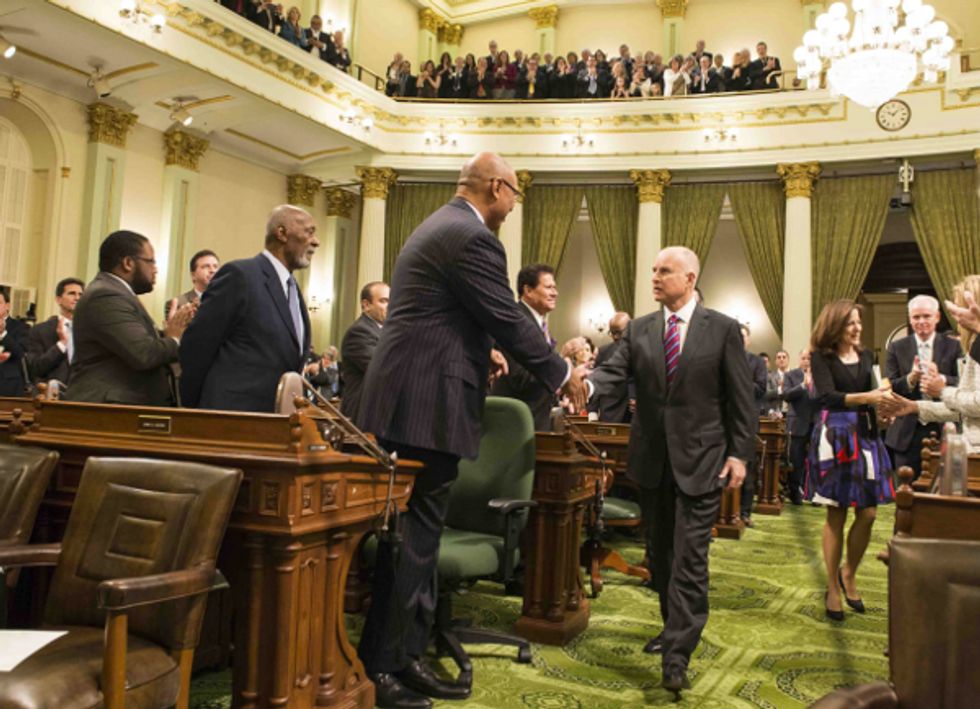 The goals include increasing the amount of electricity the state generates from renewable sources to 50 percent by 2030, well beyond its current goal of 33 percent by 2020. He proposed reducing use of gas to fuel vehicles by 50 percent and to double the energy efficiency of existing buildings while making heating fuel cleaner. And he said that the state must reduce the release of methane, black carbon and other potential pollutants, manage farms, forest, wetlands and rangelands to store carbon, and transform the electrical grid and the transportation system.
"Neither California nor indeed the world itself can ignore the growing assault on the very systems of nature on which human beings and other forms of life depend," said Brown. "Edward O. Wilson, one of the world's preeminent biologists and naturalists, offered this sobering thought: 'Surely one moral precept we can agree on is to stop destroying our birthplace, the only home humanity will ever have. The evidence for climate warming, with industrial pollution as the principal cause, is now overwhelming.'"
He boasted that California already has "the most far-reaching environmental laws of any state and the most integrated policy to deal with climate change of any political jurisdiction in the Western Hemisphere. Under laws that you have enacted, we are on track to meet our 2020 goal of one-third of our electricity from renewable energy. We lead the nation in energy efficiency, cleaner cars and energy storage. Recently, both the Secretary-General of the United Nations and the President of the World Bank made clear that properly pricing carbon is a key strategy. California's cap-and-trade system is doing just that and showing how the market itself can generate the innovations we need. Beyond this, California is forging agreements with other states and nations so that we do not stand alone in advancing these climate objectives."
But, he added, that's not enough. He said if there is any hope of reaching the UN Intergovernmental Panel on Climate Change (IPCC) goal of limiting global warming to 2 degrees Celsius by the year 2050, "California must show the way. We must demonstrate that reducing carbon is compatible with an abundant economy and human well-being. So far, we have been able to do that. In fact, we are well on our way to meeting our goal of reducing carbon pollution and limiting the emissions of heat-trapping gases to 431 million tons by 2020. But now it is time to establish our next set of objectives for 2030 and beyond."
Brown listed a multi-pronged approach to achieving the goals he announced, including more distributed power, expanded rooftop solar, micro-grids, an energy imbalance market, battery storage, full integration of information technology and electrical distribution, and millions of electric and low-carbon vehicles.
"Taking significant amounts of carbon out of our economy without harming its vibrancy is exactly the sort of challenge at which California excels," said Brown. "This is exciting, it is bold and it is absolutely necessary if we are to have any chance of stopping potentially catastrophic changes to our climate system."
"Governor Brown's relentless commitment to tackle climate change couldn't be more important or timely," said Derek Walker, associate vice president for Environmental Defense Fund. "The world is moving toward an inflection point on climate action and Governor Brown is showing how California innovation and ingenuity will deliver deep reductions in pollution from electricity, transportation fuels and working lands while growing the state's economy for decades to come."
His announcement—and his vision of a vibrant, clean-energy economy—was especially refreshing coming at a time when some states are considering following Ohio's lead of freezing or even eliminating renewable energy standards and the incoming Congress is threatening to gut environmental regulations.
"We applaud Governor Brown for working to secure a cleaner, brighter future for California and paving the way for the rest of the country and the world to follow," said Earthjustice vice president Abigail Dillen. "Weaning the state off dirty fossil fuels and embracing clean energy is the kind of immediate action we need to confront the worst effects of climate change. California has long been a leader in solar and wind power which has resulted in a robust and expanding renewable energy industry and drastic reductions in climate warming carbon emissions."
BlueGreen Alliance California director JB Tengco also weighed saying, "The Governor got it right when he said, 'Taking significant amounts of carbon out of our economy without harming its vibrancy is exactly the sort of challenge at which California excels.' We must address climate change in ways that create and preserve family-sustaining jobs. We can't let the clean economy be a low wage economy."
YOU MIGHT ALSO LIKE
Ohio Gov. John Kasich Signs Nation's First Renewable Energy Freeze
10 Most Energy Efficient States
California Electric Car Boom Accounts For 40 Percent of U.S. Sales
EcoWatch Daily Newsletter