This website uses cookies to ensure you get the best experience while browsing it. By clicking 'Got It' you're accepting these terms.
California Governor Calls for 50 Percent Renewable Energy by 2030
Jan. 05, 2015 05:05PM EST
As he was sworn in today for his fourth term as governor of California, Jerry Brown announced a program of ambitious new environmental goals that would enhance the state's reputation as a forward-thinking pacesetter for the entire country.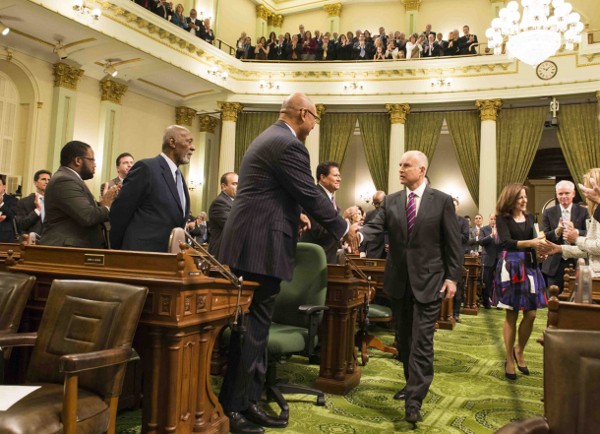 The goals include increasing the amount of electricity the state generates from renewable sources to 50 percent by 2030, well beyond its current goal of 33 percent by 2020. He proposed reducing use of gas to fuel vehicles by 50 percent and to double the energy efficiency of existing buildings while making heating fuel cleaner. And he said that the state must reduce the release of methane, black carbon and other potential pollutants, manage farms, forest, wetlands and rangelands to store carbon, and transform the electrical grid and the transportation system.
"Neither California nor indeed the world itself can ignore the growing assault on the very systems of nature on which human beings and other forms of life depend," said Brown. "Edward O. Wilson, one of the world's preeminent biologists and naturalists, offered this sobering thought: 'Surely one moral precept we can agree on is to stop destroying our birthplace, the only home humanity will ever have. The evidence for climate warming, with industrial pollution as the principal cause, is now overwhelming.'"
He boasted that California already has "the most far-reaching environmental laws of any state and the most integrated policy to deal with climate change of any political jurisdiction in the Western Hemisphere. Under laws that you have enacted, we are on track to meet our 2020 goal of one-third of our electricity from renewable energy. We lead the nation in energy efficiency, cleaner cars and energy storage. Recently, both the Secretary-General of the United Nations and the President of the World Bank made clear that properly pricing carbon is a key strategy. California's cap-and-trade system is doing just that and showing how the market itself can generate the innovations we need. Beyond this, California is forging agreements with other states and nations so that we do not stand alone in advancing these climate objectives."
But, he added, that's not enough. He said if there is any hope of reaching the UN Intergovernmental Panel on Climate Change (IPCC) goal of limiting global warming to 2 degrees Celsius by the year 2050, "California must show the way. We must demonstrate that reducing carbon is compatible with an abundant economy and human well-being. So far, we have been able to do that. In fact, we are well on our way to meeting our goal of reducing carbon pollution and limiting the emissions of heat-trapping gases to 431 million tons by 2020. But now it is time to establish our next set of objectives for 2030 and beyond."
Brown listed a multi-pronged approach to achieving the goals he announced, including more distributed power, expanded rooftop solar, micro-grids, an energy imbalance market, battery storage, full integration of information technology and electrical distribution, and millions of electric and low-carbon vehicles.
"Taking significant amounts of carbon out of our economy without harming its vibrancy is exactly the sort of challenge at which California excels," said Brown. "This is exciting, it is bold and it is absolutely necessary if we are to have any chance of stopping potentially catastrophic changes to our climate system."
"Governor Brown's relentless commitment to tackle climate change couldn't be more important or timely," said Derek Walker, associate vice president for Environmental Defense Fund. "The world is moving toward an inflection point on climate action and Governor Brown is showing how California innovation and ingenuity will deliver deep reductions in pollution from electricity, transportation fuels and working lands while growing the state's economy for decades to come."
His announcement—and his vision of a vibrant, clean-energy economy—was especially refreshing coming at a time when some states are considering following Ohio's lead of freezing or even eliminating renewable energy standards and the incoming Congress is threatening to gut environmental regulations.
"We applaud Governor Brown for working to secure a cleaner, brighter future for California and paving the way for the rest of the country and the world to follow," said Earthjustice vice president Abigail Dillen. "Weaning the state off dirty fossil fuels and embracing clean energy is the kind of immediate action we need to confront the worst effects of climate change. California has long been a leader in solar and wind power which has resulted in a robust and expanding renewable energy industry and drastic reductions in climate warming carbon emissions."
BlueGreen Alliance California director JB Tengco also weighed saying, "The Governor got it right when he said, 'Taking significant amounts of carbon out of our economy without harming its vibrancy is exactly the sort of challenge at which California excels.' We must address climate change in ways that create and preserve family-sustaining jobs. We can't let the clean economy be a low wage economy."
YOU MIGHT ALSO LIKE
Ohio Gov. John Kasich Signs Nation's First Renewable Energy Freeze
10 Most Energy Efficient States
California Electric Car Boom Accounts For 40 Percent of U.S. Sales
Prince William and British naturalist David Attenborough attend converse during the World Economic Forum annual meeting, on January 22 in Davos, Switzerland. Fabrice Cofferini /AFP / Getty Images
Britain's Prince William interviewed famed broadcaster David Attenborough on Tuesday at the World Economic Forum's annual meeting in Switzerland.
During the sit-down, the 92-year-old naturalist advised the world leaders and business elite gathered in Davos this week that we must respect and protect the natural world, adding that the future of its survival—as well as humanity's survival—is in our hands.
Electric vehicle sales took off in 2018, with a record two million units sold around the world, according to a new Deloitte analysis.
What's more, the accounting firm predicts that another 21 million electric cars will be on the road globally over the next decade due to growing market demand for clean transportation, government subsidies, as well as bans on fossil fuel cars.
Teenager Alex Weber and friends collected nearly 40,000 golf balls hit into the ocean from a handful of California golf courses.
Alex Weber /
CC BY-ND
Southwest Greenland had the most consistent ice loss from 2003 to 2012. Eqalugaarsuit, Ostgronland, Greenland on Aug. 1, 2018.
Rob Oo / CC BY 2.0
Greenland is melting about four times faster than it was in 2003, a new study published Monday in the Proceedings of the National Academy of Sciences found, a discovery with frightening implications for the pace and extent of future sea level rise.
"We're going to see faster and faster sea level rise for the foreseeable future," study lead author and Ohio State University geodynamics professor Dr. Michael Bevis said in a press release. "Once you hit that tipping point, the only question is: How severe does it get?"
Finally, some good news about the otherwise terrible partial government shutdown. A federal judge ruled that the Trump administration cannot issue permits to conduct seismic testing during the government impasse.
The Justice Department sought to delay—or stay—a motion filed by a range of coastal cities, businesses and conservation organizations that are suing the Trump administration over offshore oil drilling, Reuters reported. The department argued that it did not have the resources it needed to work on the case due to the shutdown.
Most people have heard of the Amazon, South America's famed rainforest and hub of biological diversity. Less well known, though no less critical, is the Pantanal, the world's largest tropical wetland.
Like the Amazon, the Pantanal is ecologically important and imperiled. Located primarily in Brazil, it also stretches into neighboring Bolivia and Paraguay. Covering an area larger than England at more than 70,000 square miles, the massive wetland provides irreplaceable ecosystem services that include the regulation of floodwaters, nutrient renewal, river flow for navigability, groundwater recharge and carbon sequestration. The wetland also supports the economies of the four South American states it covers.
Demonstrators participate in a protest march over agricultural policy on Jan. 19 in Berlin, Germany. Carsten Koall / Getty Images Europe
By Andrea Germanos
Organizers said 35,000 people marched through the streets of the German capital on Saturday to say they're "fed up" with industrial agriculture and call for a transformation to a system that instead supports the welfare of the environment, animals and rural farmers.

The fire that erupted after a pipeline explosion in Mexico Friday. FRANCISCO VILLEDA / AFP / Getty Images
By Patrick Rogers
If you have ever considered making the switch to an environmentally friendly electric vehicle, don't drag your feet. Though EV prices are falling, and states are unveiling more and more public charging stations and plug-in-ready parking spots, the federal government is doing everything it can to slam the brakes on our progress away from gas-burning internal combustion engines. President Trump, likely pressured by his allies in the fossil fuel industry, has threatened to end the federal tax credits that have already helped put hundreds of thousands of EVs on the road—a move bound to harm not only our environment but our economy, too. After all, the manufacturing and sale of EVs, hybrids, and plug-in hybrids supported 197,000 jobs in 2017, according to the most recent U.S. Energy and Employment Report.