California Fish Species Plummet to Record Low Levels
By Dan Bacher, CounterPunch
Fish species ranging from endangered Delta Smelt to Striped Bass continued to plummet to record low population levels in 2015 in the Sacramento-San Joaquin River Delta, according to the annual fall survey report released on Dec. 18, 2015 by the California Department of Fish and Wildlife.
Only six Delta Smelt, an endangered species that once numbered in the millions and was the most abundant fish in the Delta, were collected at the index stations in the estuary this past fall. The 2015 index (7), a relative number of abundance, "is the lowest in history," Sara Finstad, an environmental scientist for the California Department of Fish and Wildlife's Bay Delta Region, said.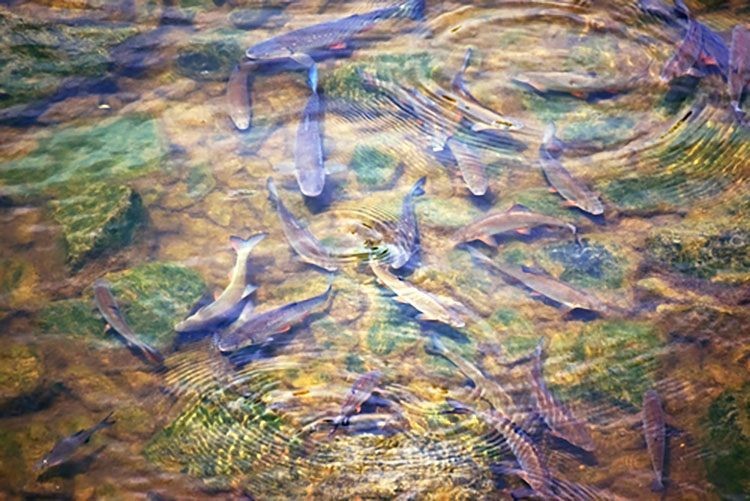 The Delta Smelt, a 2 to 3 inch fish found only in the San Francisco Bay-Delta Estuary, is an indicator species that demonstrates the health of the Delta, an estuary that has been dramatically impacted by water exports to corporate agribusiness interests and Southern California water agencies during the record drought, along with other factors including increasing water toxicity and invasive species.
The Fall Midwater Trawl Survey, used to index the fall abundance of pelagic (open water) fishes most years since 1967, conducts monthly surveys from September through December. The 2015 sampling season was completed on Dec. 11.
"In September, the only Delta Smelt collected were from index stations in the lower Sacramento River," Finstad said. "In October the only Delta smelt collected came from a non-index station in the Sacramento Deep Water Shipping Channel."
In November, no Delta Smelt were collected—and in December, the only Delta Smelt collected were from index stations in Montezuma Slough and the lower Sacramento River, according to Finstad.
The population of striped bass, a popular gamefish, has also declined to record low levels. The 2015 abundance index (52) is the second lowest in history. Only 42 age zero striped bass were conducted at the survey stations, noted Finstad.
Likewise, Longfin Smelt, a cousin of the Delta Smelt, declined to the lowest abundance index (4) in the history of the survey. Only three longfin smelt were collected at the index stations throughout the three-month period.
The abundance index (806) for Threadfin Shad, an introduced species from the East Coast that provides forage for larger fish, reached its eighth lowest level in survey history. The biologists collected 634 Threadfin Shad at the index stations.
Finally, the 2015 abundance index (79) for American Shad, a relative of the Threadfin Shad that is pursued by anglers on Central Valley rivers every spring, is the lowest in history of the survey. Only 59 American shad were collected at the index stations.
Bill Jennings, executive director of the California Sportfishing Protection Alliance, said the fall survey shows the "continuing collapse of the estuary caused by the failure of the state and federal regulatory agencies to comply with the law."
"Every survey conducted, including the 20 mm Delta Smelt, spring Kodiak trawl, summer tow net and the fall midwater trawl surveys, shows record low levels of the fish surveyed," Jennings said.
He emphasized that in spite of the continuing record drought conditions, that water exports south of the Delta through the state and federal pumping facilities averaged 7500 cubic feet per second (cfs) over the past week. "The State Water Project pumps are averaging 5154 cfs, while the Central Valley Project Pumps are averaging 2360 cfs," Jennings added.
As fish populations continue to collapse, the California Department of Water Resources and Bureau of Reclamation are going forward with permit petitions to the State Water Resources Control Board to change the point of diversion on the Sacramento River to implement Gov. Jerry Brown's Delta Tunnels Plan, the so-called "California Water Fix."
Jennings and other public trust advocates point to these latest fish survey results—and the state and federal water agencies' permit petitions to divert more water from the Sacramento River at new diversion points—as just more evidence of the "capture of the regulators by the regulated."
The current collapse of Delta fish species occurs as part of a long-term decline. The operation of the state and federal water projects by the California Department of Water Resources and Bureau of Reclamation Reclamation has brought fisheries to historic lows.
Since 1967, abundance indices for striped bass, Delta smelt, longfin smelt, American shad, splittail and threadfin shad have declined by 99.7, 97.8, 99.9, 91.9, 98.5 and 97.8 percent, respectively. according to Jennings.
The natural production of Sacramento winter-run and spring-run Chinook salmon has declined by 98.2 and 99.3 percent, respectively and are only at 5.5 and 1.2 percent of doubling levels mandated by the Central Valley Project Improvement Act, California Water Code and California Fish & Game Code. To make matters even worse, more than 95 percent of endangered juvenile winter-run Chinook salmon perished in lethally warm water conditions on the upper section of the Sacramento River in 2014 and 2015, due to mismanagement by the state and federal water agencies.
YOU MIGHT ALSO LIKE
300 Sea Turtles Found Dead on Indian Beach
There Will Be More Plastic Than Fish in the Ocean by 2050
4 Fish We're Overeating and What to Eat Instead
Outraged Republican Senator Vows to Block Appointment of FDA Commissioner Over GMO Salmon
Disturbing footage of a snake in Goa, India vomiting an empty soft drink bottle highlights the world's mounting plastic pollution crisis.
Keep reading...
Show less
By Melissa Hellmann
When her eldest son was in elementary school in the Oakland Unified School District, Ruth Woodruff became alarmed by the meals he was being served at school. A lot of it was frozen, processed foods, packed with preservatives. At home, she was feeding her children locally sourced, organic foods.
Keep reading...
Show less
May. 28, 2017 01:33PM EST
Laurie Woolever
By James O'Hare
There are 20 million people in the world facing famine in South Sudan, Somalia, Nigeria and Yemen. In developed nations, too, people go hungry. Venezuela, for instance, is enduring food insecurity on a national level as a result of economic crisis and political corruption. In the U.S., the land of supposed excess, 12.7 percent of households were food insecure in 2015, meaning they didn't know where their next meal would come from.
Keep reading...
Show less
May. 28, 2017 01:22PM EST
Melwater, Greenland ice sheet. Diane Tuft
Artists are taking the climate crisis into frame and the results are emotional, beautiful and stirring.
So you've seen the best climate change cartoons and shared them with your friends. You've showed your family the infographics on climate change and health, infographics on how the grid works and infographics about clean, renewable energy. You've even forwarded these official National Oceanic and Atmospheric Administration graphs that explain the 10 clear indicators of climate change to your colleagues at the office.
Keep reading...
Show less
May. 27, 2017 01:11PM EST
As the Trump administration moves full speed ahead on boosting the oil and fossil fuel industry, opposition to increased pipeline construction is cropping up in different communities around the country.
Keep reading...
Show less
May. 27, 2017 01:02PM EST
Minke whale stranding near Havergate Island in Suffolk. MCGA.
By Simon Evans
Last Saturday, two dead whales washed up on the coast of Suffolk, in eastern England, and a third was spotted floating at sea.
What happened next illustrates how news can spread and evolve into misinformation, when reported by journalists rushing to publish before confirming basic facts or sourcing their own quotes.
Keep reading...
Show less
May. 27, 2017 01:22PM EST
By Monica Amarelo and Paul Pestano
Sun safety is a crucial part of any outdoor activity for kids, and sunscreen can help protect children's skin from harmful ultraviolet rays. Kids often get sunburned when they're outside unprotected for longer than expected. Parents need to plan ahead and keep sun protection handy in their cars or bags.
Keep reading...
Show less
May. 27, 2017 01:02PM EST
By Joe McCarthy
A lot of people take part in community clean-up efforts—spending a Saturday morning picking up litter in a park, mowing an overgrown field or painting a fence.
Keep reading...
Show less