California 'Firestorm' Scorched Area Twice the Size of Manhattan in 24 Hours
Sep. 15, 2015 12:37PM EST
Climate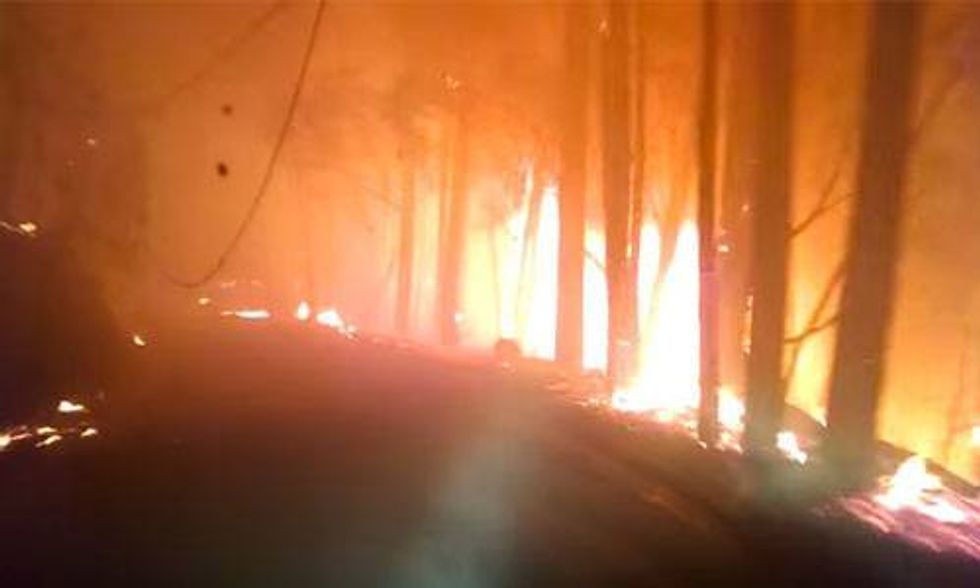 It's officially one of the most destructive fires in California history. The Valley Fire, which ignited in Northern California on Saturday afternoon, scorched 50,000 acres—an area more than twice the size of Manhattan—within 24 hours, according to Napa Valley Patch. It has since grown to 67,000 acres and is only 15 percent contained.
West Coast @TODAYshow viewers: #ValleyFire now 15% contained w/ 585 homes destroyed. We'll have the latest at 7:00. pic.twitter.com/bh06XzusFm

— Joe Fryer (@joefryer) September 15, 2015
5 hrs after ValleyFire started, gusts climbed to 36mph and the fire spread at incredible rate http://t.co/fae2BIjub8 pic.twitter.com/TXY5170JQB

— Capital Weather Gang (@capitalweather) September 14, 2015
"It's a true firestorm—extremely fast moving, generating its own weather conditions, and burning literally everything in its path," Daniel Swain, a climate Earth system scientist at Stanford University, told Climate Central. "The Valley Fire is breaking all the rules in the midst of a fire season that had already rewritten the rulebook. What's going on in Lake County is a direct manifestation of California's record-breaking drought, and it's pretty sobering."
14 photos that show the devastation wrought by California's Valley Fire http://t.co/GsIDzHqYrRpic.twitter.com/lbWfQKAB8X — Mashable (@mashable) September 14, 2015
The Valley Fire has devastated California's Lake County. http://t.co/xVRdJ4eJ5V (Photo: AP) pic.twitter.com/68X2R69j7Q — USA TODAY (@USATODAY) September 15, 2015
Stoked by high temperatures and strong winds, the devastating fire comes amid the state's epic four-year drought made worse by climate change. Just yesterday, researchers published a study in Nature that found that last winter's snowpack was the lowest in the last 500 years.
This wildfire season has been truly historic with several Western states juggling multiple large wildfires simultaneously. More than 7.5 million acres have burned—an area roughly the size of Massachusetts. Washington saw its largest wildfire on record and the season could still set the record for total acreage burned for the entire country. Wildfires have been getting worse and they are only expected to keep getting worse. Climate Central research shows that "on average, wildfires burn six times the acreage they did 40 years ago, while the annual number of wildfires over 1,000 acres has doubled from 50 during an average year in the 1970s to more than 100 each year since 2002."
The Valley Fire, which spread to Lake, Napa and Sonoma counties, has forced the evacuation of 13,000 residents as an estimated 585 homes and buildings burned and firefighters battled the blazes. At least one person has been killed and four firefighters were injured.
Gov. Jerry Brown has declared a state of emergency in the two counties affected by the Valley Fire, freeing up funding and resources to battle the blaze. The Valley Fire "destroyed homes and buildings as it burned through the town of Middletown, where authorities told NBC News fire hydrants had run dry," reports NBC News. "Explosions could be heard all over town as propane tanks burst into flames, indicating that another building was being engulfed in flames."
Meanwhile, in Amador and Calaveras counties, another large fire, the Butte Fire, has now burned 71,660 acres—forcing the evacuation of 6,000 people and destroying more than 200 homes and buildings. It is currently 37 percent contained.
This is what it sounds like when a 2000 gallon propane tank ignites. #ValleyFire pic.twitter.com/36XDKdwrvN

— Gadi Schwartz (@GadiNBCLA) September 13, 2015
Watch as this driver makes a harrowing drive out of Anderson Springs, California amidst the flames:
YOU MIGHT ALSO LIKE
Historic Wildfire Season Has Burned More Than 7.5 Million Acres (That's Larger Than Massachusetts)
California Epic Drought Leads to Lowest Snowpack in 500 Years
EcoWatch Daily Newsletter