California Experiencing Most Severe Drought Ever Recorded
One of the worst North American droughts in history could be getting a whole lot worse. According to the latest U.S. Drought Monitor Map released on Tuesday, more than 58 percent of California is in an "exceptional drought" stage. That's up a staggering 22 percent from last week's report. And, in its latest drought report released earlier today, the National Drought Mitigation Center warned that "bone-dry" conditions are overtaking much of the Golden State, and noted that, overall, California is "short more than one year's worth of reservoir water, or 11.6 million acre-feet, for this time of year."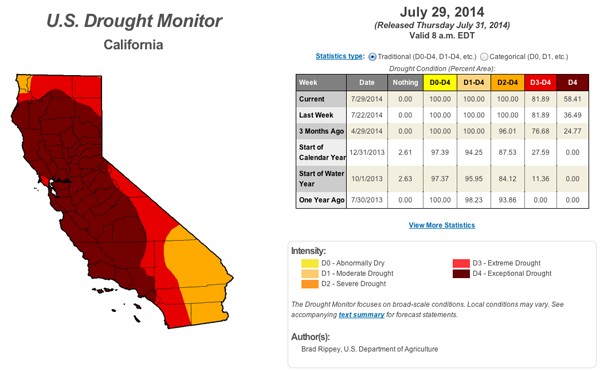 All across California, streams are drying up, crops are dying off and local communities are struggling to maintain access to water, thanks to 3 years of persistent drought conditions. The situation is so dire that on Tuesday, California implemented state-wide emergency water-conservation measures, in an effort preserved what remaining water there is. Under the new measures, Californians can face fines of up to $500 per day for using hoses to clean sidewalks, run decorative fountains, and other water-guzzling activities.
Unfortunately, while the situation in California is already pretty bleak, it looks like things are only going to get worse. In fact, it's possible that all of the American southwest could soon be seeing the devastating drought conditions that Californians are facing. That's because the largest surge of heat ever recorded moving west to east in the Pacific Ocean, often referred to as a Kelvin Wave, which was supposed to start an El Nino and bring tropical-like rains to the West Coast and southwest, just dissipated, after it was absorbed by abnormally warm ocean waters.
An El Nino is marked by the prolonged warming of Pacific Ocean surface temperatures, when compared to the average temperature. El Ninos usually happen every two to seven years, and can last anywhere between nine months and two years. As warm water spreads from the western Pacific and the Indian Ocean to the eastern Pacific, it brings rain and moisture with it, bringing rain to California and the American Southwest. 
So, during an El Nino period, winters are often a lot wetter than usual in the southwest U.S., including in central and southern California, where drought conditions are currently the worst. That's why Californians were hoping for a strong El Nino period, to bring the rains and moisture that's needed to help ease the drought.
Unfortunately, while some weather models are still predicting that an El Nino is possible, the chances of an El Nino strong enough to break the devastating drought that California is seeing are now very, very slim. As a result, there's probably no end in sight to the current drought conditions in California. And, since warm ocean waters that bring rain are moving farther north up the Pacific, while Oregon and Washington and Alaska will get rain, the jet stream is set to extend drought-like conditions to much of the southwest.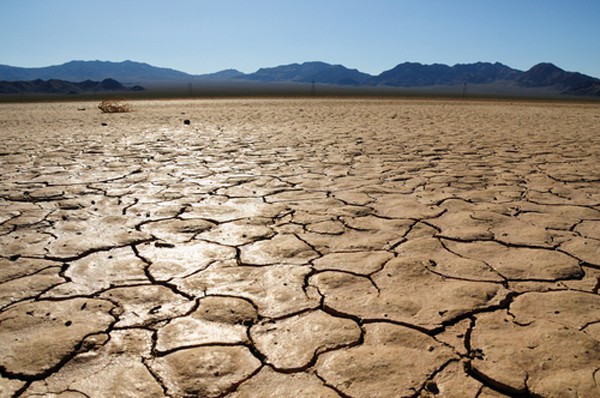 Photo credit: Shutterstock
It could get so bad that there's now a very real possibility that devastating drought conditions will soon cover everywhere from Texas to California. Warmer ocean waters, like those that absorbed the record Kelvin ocean heat Wave, and the drought-like conditions they're helping to influence, are a direct consequence of climate change and global warming. 
According to NOAA, global ocean temperatures were the highest ever measured for June, and the global sea surface temperature anomaly, which is the difference in sea surface temperature from its historical average, was the highest in history. In a press release, NOAA wrote that, "For the ocean, the June global sea surface temperature was record warm, at 0.64°C (1.15°F) above the 20th century average of 16.4°C (61.5°F). This marks the first time that the monthly global ocean temperature anomaly was higher than 0.60°C (1.08°F) and surpasses the previous all-time record for any month by 0.05°C (0.09°F)."
Because of climate change and global warming, our oceans are getting warmer and warmer, shattering previous temperatures records on what seems like a daily basis.  And as our oceans continue to warm, we'll have more severe forms of weather, like the historic drought that has engulfed California. 
As George Birchard points out over at Daily Kos, if our oceans continue to warm at the rates that we're seeing today, "This could be a pattern that reinforces itself leading to drought patterns not seen since the ancient Pueblo people in the southwest were forced to migrate after decades of continuous drought."
The stakes have never been higher. Unless we start taking the actions that are needed to curb climate change and global warming right now, California, and the rest of the southwest, may soon look more like the Sahara than one of the most populous regions in the U.S.
You Might Also Like
Fracking Makes California's Drought Worse
10 Biggest Threats to Human Existence
Groundwater Disappearing Much Faster Than Lake Mead in Colorado River Basin
Disturbing footage of a snake in Goa, India vomiting an empty soft drink bottle highlights the world's mounting plastic pollution crisis.
Keep reading...
Show less
By Melissa Hellmann
When her eldest son was in elementary school in the Oakland Unified School District, Ruth Woodruff became alarmed by the meals he was being served at school. A lot of it was frozen, processed foods, packed with preservatives. At home, she was feeding her children locally sourced, organic foods.
Keep reading...
Show less
May. 28, 2017 01:33PM EST
Laurie Woolever
By James O'Hare
There are 20 million people in the world facing famine in South Sudan, Somalia, Nigeria and Yemen. In developed nations, too, people go hungry. Venezuela, for instance, is enduring food insecurity on a national level as a result of economic crisis and political corruption. In the U.S., the land of supposed excess, 12.7 percent of households were food insecure in 2015, meaning they didn't know where their next meal would come from.
Keep reading...
Show less
May. 28, 2017 01:22PM EST
Melwater, Greenland ice sheet. Diane Tuft
Artists are taking the climate crisis into frame and the results are emotional, beautiful and stirring.
So you've seen the best climate change cartoons and shared them with your friends. You've showed your family the infographics on climate change and health, infographics on how the grid works and infographics about clean, renewable energy. You've even forwarded these official National Oceanic and Atmospheric Administration graphs that explain the 10 clear indicators of climate change to your colleagues at the office.
Keep reading...
Show less
May. 27, 2017 01:11PM EST
As the Trump administration moves full speed ahead on boosting the oil and fossil fuel industry, opposition to increased pipeline construction is cropping up in different communities around the country.
Keep reading...
Show less
May. 27, 2017 01:02PM EST
Minke whale stranding near Havergate Island in Suffolk. MCGA.
By Simon Evans
Last Saturday, two dead whales washed up on the coast of Suffolk, in eastern England, and a third was spotted floating at sea.
What happened next illustrates how news can spread and evolve into misinformation, when reported by journalists rushing to publish before confirming basic facts or sourcing their own quotes.
Keep reading...
Show less
May. 27, 2017 01:22PM EST
By Monica Amarelo and Paul Pestano
Sun safety is a crucial part of any outdoor activity for kids, and sunscreen can help protect children's skin from harmful ultraviolet rays. Kids often get sunburned when they're outside unprotected for longer than expected. Parents need to plan ahead and keep sun protection handy in their cars or bags.
Keep reading...
Show less
May. 27, 2017 01:02PM EST
By Joe McCarthy
A lot of people take part in community clean-up efforts—spending a Saturday morning picking up litter in a park, mowing an overgrown field or painting a fence.
Keep reading...
Show less