This website uses cookies to ensure you get the best experience while browsing it. By clicking 'Got It' you're accepting these terms.
California Experiencing Most Severe Drought Ever Recorded
Aug. 01, 2014 10:38AM EST
Climate
One of the worst North American droughts in history could be getting a whole lot worse. According to the latest U.S. Drought Monitor Map released on Tuesday, more than 58 percent of California is in an "exceptional drought" stage. That's up a staggering 22 percent from last week's report. And, in its latest drought report released earlier today, the National Drought Mitigation Center warned that "bone-dry" conditions are overtaking much of the Golden State, and noted that, overall, California is "short more than one year's worth of reservoir water, or 11.6 million acre-feet, for this time of year."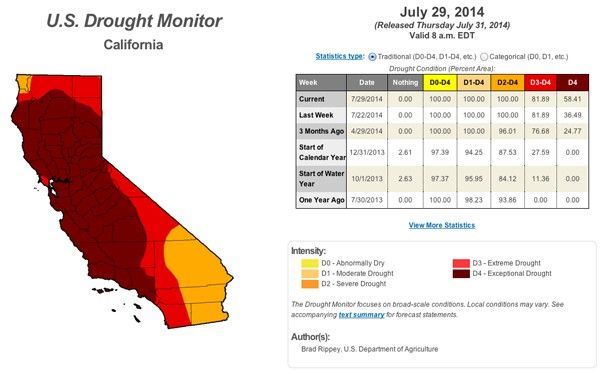 All across California, streams are drying up, crops are dying off and local communities are struggling to maintain access to water, thanks to 3 years of persistent drought conditions. The situation is so dire that on Tuesday, California implemented state-wide emergency water-conservation measures, in an effort preserved what remaining water there is. Under the new measures, Californians can face fines of up to $500 per day for using hoses to clean sidewalks, run decorative fountains, and other water-guzzling activities.
Unfortunately, while the situation in California is already pretty bleak, it looks like things are only going to get worse. In fact, it's possible that all of the American southwest could soon be seeing the devastating drought conditions that Californians are facing. That's because the largest surge of heat ever recorded moving west to east in the Pacific Ocean, often referred to as a Kelvin Wave, which was supposed to start an El Nino and bring tropical-like rains to the West Coast and southwest, just dissipated, after it was absorbed by abnormally warm ocean waters.
An El Nino is marked by the prolonged warming of Pacific Ocean surface temperatures, when compared to the average temperature. El Ninos usually happen every two to seven years, and can last anywhere between nine months and two years. As warm water spreads from the western Pacific and the Indian Ocean to the eastern Pacific, it brings rain and moisture with it, bringing rain to California and the American Southwest. 
So, during an El Nino period, winters are often a lot wetter than usual in the southwest U.S., including in central and southern California, where drought conditions are currently the worst. That's why Californians were hoping for a strong El Nino period, to bring the rains and moisture that's needed to help ease the drought.
Unfortunately, while some weather models are still predicting that an El Nino is possible, the chances of an El Nino strong enough to break the devastating drought that California is seeing are now very, very slim. As a result, there's probably no end in sight to the current drought conditions in California. And, since warm ocean waters that bring rain are moving farther north up the Pacific, while Oregon and Washington and Alaska will get rain, the jet stream is set to extend drought-like conditions to much of the southwest.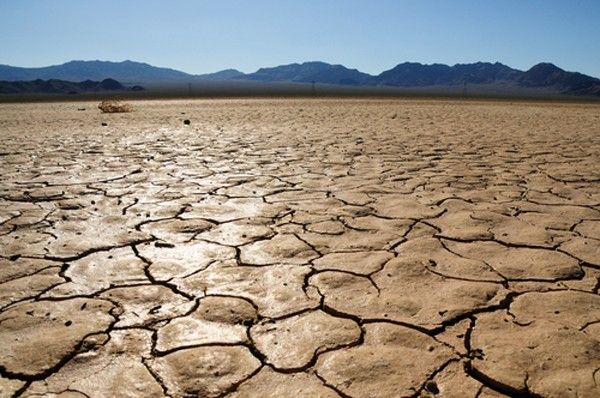 Photo credit: Shutterstock
It could get so bad that there's now a very real possibility that devastating drought conditions will soon cover everywhere from Texas to California. Warmer ocean waters, like those that absorbed the record Kelvin ocean heat Wave, and the drought-like conditions they're helping to influence, are a direct consequence of climate change and global warming. 
According to NOAA, global ocean temperatures were the highest ever measured for June, and the global sea surface temperature anomaly, which is the difference in sea surface temperature from its historical average, was the highest in history. In a press release, NOAA wrote that, "For the ocean, the June global sea surface temperature was record warm, at 0.64°C (1.15°F) above the 20th century average of 16.4°C (61.5°F). This marks the first time that the monthly global ocean temperature anomaly was higher than 0.60°C (1.08°F) and surpasses the previous all-time record for any month by 0.05°C (0.09°F)."
Because of climate change and global warming, our oceans are getting warmer and warmer, shattering previous temperatures records on what seems like a daily basis.  And as our oceans continue to warm, we'll have more severe forms of weather, like the historic drought that has engulfed California. 
As George Birchard points out over at Daily Kos, if our oceans continue to warm at the rates that we're seeing today, "This could be a pattern that reinforces itself leading to drought patterns not seen since the ancient Pueblo people in the southwest were forced to migrate after decades of continuous drought."
The stakes have never been higher. Unless we start taking the actions that are needed to curb climate change and global warming right now, California, and the rest of the southwest, may soon look more like the Sahara than one of the most populous regions in the U.S.
You Might Also Like
Fracking Makes California's Drought Worse
10 Biggest Threats to Human Existence
Groundwater Disappearing Much Faster Than Lake Mead in Colorado River Basin
EcoWatch Daily Newsletter
Waterloo Bridge during the Extinction Rebellion protest in London. Martin Hearn / Flickr / CC BY 2.0
Money talks. And today it had something to say about the impending global climate crisis.
Sam Cooper
By Sam Cooper
Thomas Edison once said, "I'd put my money on the sun and solar energy. What a source of power!"
Simple swaps that cut down on kitchen trash.
Sponsored
By Kayla Robbins
Along with the bathroom, the kitchen is one of the most daunting areas to try and make zero waste.
A NOAA research vessel at a Taylor Energy production site in the Gulf of Mexico in September 2018. NOAA
The federal government is looking into the details from the longest running oil spill in U.S. history, and it's looking far worse than the oil rig owner let on, as The New York Times reported.
Golde Wallingford submitted this photo of "Pure Joy" to EcoWatch's first photo contest. Golde Wallingford
EcoWatch is pleased to announce our third photo contest!

Damage at the Malheur National Wildlife Refuge from the 2016 occupation. USFWS
By Tara Lohan
When armed militants with a grudge against the federal government seized the Malheur National Wildlife Refuge in rural Oregon back in the winter of 2016, I remember avoiding the news coverage. Part of me wanted to know what was happening, but each report I read — as the occupation stretched from days to weeks and the destruction grew — made me so angry it was hard to keep reading.
Computer model projection of temperature anomalies across Europe on June 27. Temperature scale in °C. Tropicaltidbits.com
A searing heat wave has begun to spread across Europe, with Germany, France and Belgium experiencing extreme temperatures that are set to continue in the coming days.
Skull morphology of hybrid "narluga" whale. Nature / Mikkel Høegh Post
In the 1980s, a Greenlandic subsistence hunter shot and killed a whale with bizarre features unlike any he had ever seen before. He knew something was unique about it, so he left its abnormally large skull on top of his toolshed where it rested until a visiting professor happened upon it a few years later.