This website uses cookies to ensure you get the best experience while browsing it. By clicking 'Got It' you're accepting these terms.
California Experiencing Most Severe Drought Ever Recorded
Aug. 01, 2014 10:38AM EST
Climate
One of the worst North American droughts in history could be getting a whole lot worse. According to the latest U.S. Drought Monitor Map released on Tuesday, more than 58 percent of California is in an "exceptional drought" stage. That's up a staggering 22 percent from last week's report. And, in its latest drought report released earlier today, the National Drought Mitigation Center warned that "bone-dry" conditions are overtaking much of the Golden State, and noted that, overall, California is "short more than one year's worth of reservoir water, or 11.6 million acre-feet, for this time of year."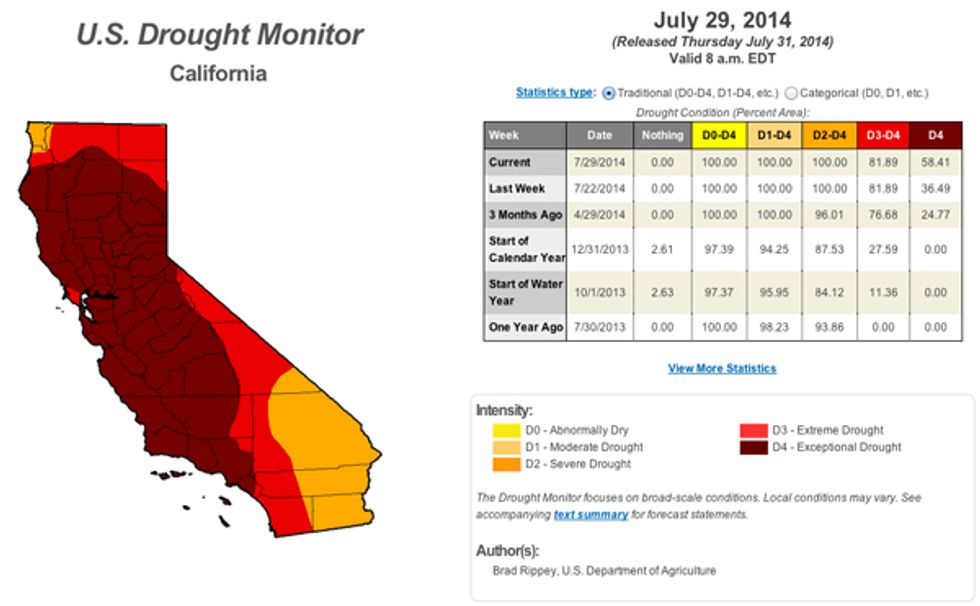 All across California, streams are drying up, crops are dying off and local communities are struggling to maintain access to water, thanks to 3 years of persistent drought conditions. The situation is so dire that on Tuesday, California implemented state-wide emergency water-conservation measures, in an effort preserved what remaining water there is. Under the new measures, Californians can face fines of up to $500 per day for using hoses to clean sidewalks, run decorative fountains, and other water-guzzling activities.
Unfortunately, while the situation in California is already pretty bleak, it looks like things are only going to get worse. In fact, it's possible that all of the American southwest could soon be seeing the devastating drought conditions that Californians are facing. That's because the largest surge of heat ever recorded moving west to east in the Pacific Ocean, often referred to as a Kelvin Wave, which was supposed to start an El Nino and bring tropical-like rains to the West Coast and southwest, just dissipated, after it was absorbed by abnormally warm ocean waters.
An El Nino is marked by the prolonged warming of Pacific Ocean surface temperatures, when compared to the average temperature. El Ninos usually happen every two to seven years, and can last anywhere between nine months and two years. As warm water spreads from the western Pacific and the Indian Ocean to the eastern Pacific, it brings rain and moisture with it, bringing rain to California and the American Southwest. 
So, during an El Nino period, winters are often a lot wetter than usual in the southwest U.S., including in central and southern California, where drought conditions are currently the worst. That's why Californians were hoping for a strong El Nino period, to bring the rains and moisture that's needed to help ease the drought.
Unfortunately, while some weather models are still predicting that an El Nino is possible, the chances of an El Nino strong enough to break the devastating drought that California is seeing are now very, very slim. As a result, there's probably no end in sight to the current drought conditions in California. And, since warm ocean waters that bring rain are moving farther north up the Pacific, while Oregon and Washington and Alaska will get rain, the jet stream is set to extend drought-like conditions to much of the southwest.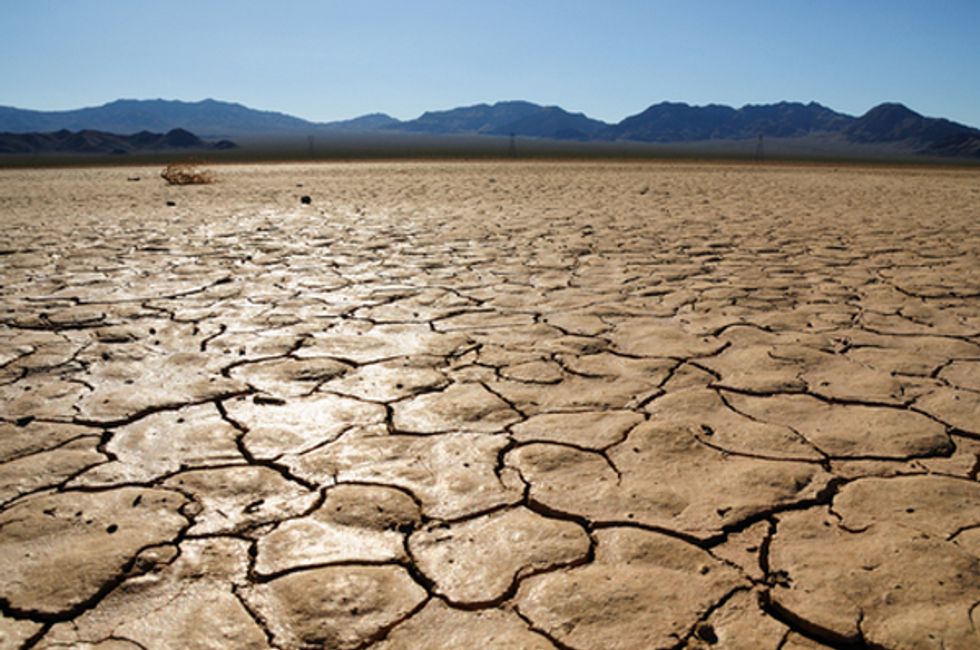 Photo credit: Shutterstock
It could get so bad that there's now a very real possibility that devastating drought conditions will soon cover everywhere from Texas to California. Warmer ocean waters, like those that absorbed the record Kelvin ocean heat Wave, and the drought-like conditions they're helping to influence, are a direct consequence of climate change and global warming. 
According to NOAA, global ocean temperatures were the highest ever measured for June, and the global sea surface temperature anomaly, which is the difference in sea surface temperature from its historical average, was the highest in history. In a press release, NOAA wrote that, "For the ocean, the June global sea surface temperature was record warm, at 0.64°C (1.15°F) above the 20th century average of 16.4°C (61.5°F). This marks the first time that the monthly global ocean temperature anomaly was higher than 0.60°C (1.08°F) and surpasses the previous all-time record for any month by 0.05°C (0.09°F)."
Because of climate change and global warming, our oceans are getting warmer and warmer, shattering previous temperatures records on what seems like a daily basis.  And as our oceans continue to warm, we'll have more severe forms of weather, like the historic drought that has engulfed California. 
As George Birchard points out over at Daily Kos, if our oceans continue to warm at the rates that we're seeing today, "This could be a pattern that reinforces itself leading to drought patterns not seen since the ancient Pueblo people in the southwest were forced to migrate after decades of continuous drought."
The stakes have never been higher. Unless we start taking the actions that are needed to curb climate change and global warming right now, California, and the rest of the southwest, may soon look more like the Sahara than one of the most populous regions in the U.S.
You Might Also Like
Fracking Makes California's Drought Worse
10 Biggest Threats to Human Existence
Groundwater Disappearing Much Faster Than Lake Mead in Colorado River Basin
EcoWatch Daily Newsletter
A Starbucks barista prepares a drink at a Starbucks Coffee Shop location in New York. Ramin Talaie / Corbis via Getty Images
By Cathy Cassata
Are you getting your fill of Starbucks' new Almondmilk Honey Flat White, Oatmilk Honey Latte, and Coconutmilk Latte, but wondering just how healthy they are?
By Sharon Kelly
Back in April last year, the Trump administration's Environmental Protection Agency decided it was "not necessary" to update the rules for toxic waste from oil and gas wells. Torrents of wastewater flow daily from the nation's 1.5 million active oil and gas wells and the agency's own research has warned it may pose risks to the country's drinking water supplies.
Swedish climate activist Greta Thunberg takes part in a "Friday for Future" youth demonstration in a street of Davos on Jan. 24, 2020 on the sideline of the World Economic Forum annual meeting. FABRICE COFFRINI / AFP via Getty Images
Treasury Secretary Steven Mnuchin pretended not to know who Greta Thunberg is, and then he told her to get a degree in economics before giving world leaders advice, as The Guardian reported.
The Visible Infrared Imaging Radiometer Suite on the Suomi NPP satellite acquired this image of forest fire smoke hovering over North America on Aug. 15, 2018. NASA Earth Observatory
New York City isn't known for having the cleanest air, but researchers traced recent air pollution spikes there to two surprising sources — fires hundreds of miles away in Canada and the southeastern U.S.
If temperatures continue to rise, the world is at risk from global
sea-level rise
, which will flood many coastal cities as seen above in Bangladesh. NurPhoto / Contributor / Getty Images
The mounting climate emergency may spur the next global financial crisis and the world's central banks are woefully ill equipped to handle the consequences, according to a new book-length report by the Bank for International Settlements (BIS), as S&P Global reported. Located in Basel, Switzerland, the BIS is an umbrella organization for the world's central banks.