This website uses cookies to ensure you get the best experience while browsing it. By clicking 'Got It' you're accepting these terms.
California Experiences Worst Drought in 1,200 Years
Dec. 05, 2014 01:27PM EST
Climate
While rain this week provided California with some relief from a long spell of high temperatures and dry weather, it scarcely made a dent in the state's multi-year drought. And they'll hardly be encouraged by a new study, which says the drought is the worst in the region in 1,200 years.
In the study published this week in the American Geophysical Union's Geophysical Research Letters, researchers Daniel Griffin, University of Minnesota assistant professor and Climate & Global Change fellow of the National Oceanic and Atmospheric Administration, and Kevin J. Anchukaitis of the Woods Hole Oceanographic Institute pointed to California's last three years of the worst drought conditions in a century, and asked "But how unusual is this event?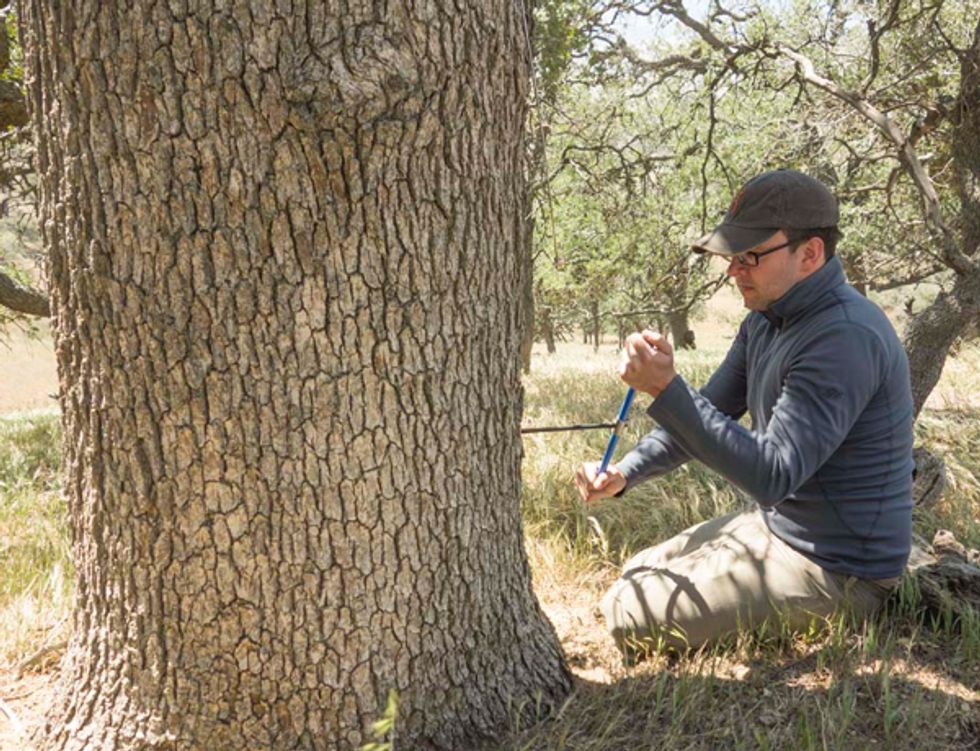 Extremely unusual, was the answer they arrived at, based on a study of blue oak tree growth rings in central and southern California, which Griffin called "as close to nature's rain gauges as we get." The two scientists found 66 dry periods, with only three close to the current one—and none quite as severe. And they learned that 2014 was the worst drought year in the region in 1,200 years.
"There is no doubt that we are entering a new era where human-wrought changes to the climate system will become important for determining the severity of droughts and their consequences for coupled human and natural systems," said Anchukaitis in announcing the study.
"We demonstrate that while three-year periods of persistent below-average soil moisture are not uncommon, the current event is the most severe drought in the last 1200 years, with single year (2014) and accumulated moisture deficits worse than any previous continuous span of dry years," said the study. "Tree-ring chronologies extended through the 2014 growing season reveal that precipitation during the drought has been anomalously low but not outside the range of natural variability. The current California drought is exceptionally severe in the context of at least the last millennium and is driven by reduced though not unprecedented precipitation and record high temperatures."
"We were genuinely surprised at the result," said Griffin. "This is California—drought happens. Time and again, the most common result in tree-ring studies is that drought episodes in the past were more extreme than those of more recent eras. This time, however, the result was different."
Its California, drought happens. Then it rains. Sometimes heavily. Prove Steinbeck wrong California, don't forget pic.twitter.com/vzmL4noETj

— Daniel Griffin (@locallyabsent) December 3, 2014
This week's U.S. Drought Monitor, out yesterday, showed that 99.7 percent of California of the state is still in one of its drought categories, with more than half the state still in the highest category "exceptionally drought." Since the results were based on rainfall through Tuesday, they did not take into account this week's rains.
"Despite respectable amounts of precipitation falling across the northern half of the state, no changes were rendered to the California drought depiction this week," the agency said. "Snowpack is just starting to form and is below what is normally expected for December 1, while reservoirs are just starting to receive more water than is being lost, which is later than would normally occur. December 1 marks the start of the wettest time of the year for California. Typically, about one-half of California's annual precipitation is expected to fall during the December-February season. However, more than this is needed to offset the accumulated deficits. Finally, stream base flow levels in many areas are still low and indicative of a lack of groundwater response in watersheds so far this cold season. This suggests that groundwater reservoirs still require replenishment."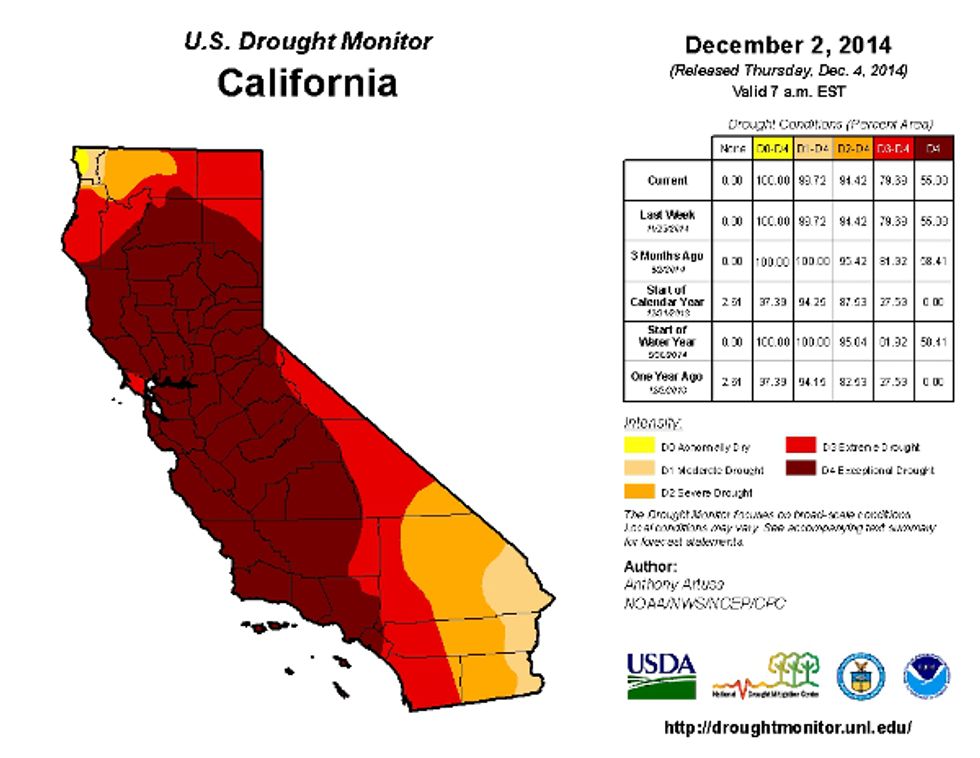 "It's going to take a couple years of average or above-average rainfall so that we can not only fill our reservoirs, build our snowpack, but also recharge our groundwater basins," Bill Croyle of California Department of Water Resources told USA Today. "The ground is so dry, and the groundwater basins in those higher elevations have no water in them."
YOU MIGHT ALSO LIKE
NASA Satellite Images Reveal Shocking Groundwater Loss in Drought-Stricken California
EcoWatch Daily Newsletter
Coldplay is releasing a new album on Friday, but the release will not be followed by a world tour.
Ash dieback is seen infecting a European ash (Fraxinus excelsior) in Bottomcraig, Scotland, UK on Aug. 10, 2016.
nz_willowherb / Flickr
Scientists have discovered a genetic basis to resistance against ash tree dieback, a devastating fungal infection that is predicted to kill over half of the ash trees in the region, and it could open up new possibilities to save the species.
Truth in Action is a day-long global conversation on the climate crisis and how we solve it. The Climate Reality Project
Former Vice President Al Gore kicked off 24 hours of climate talks in the U.S. and 77 other countries around the world Wednesday night.
Activists highlighted the climate emergency outside Scottish Government headquarters at St Andrew's House in Edinburgh on Oct. 13, 2017. Usage of the term "climate emergency" spiked in 2019, according to Oxford Dictionaries.
By Jessica Corbett
Climate advocates and experts celebrated Oxford Dictionaries' announcement Wednesday that "climate emergency" is the Oxford Word of the Year 2019.
By Kieran Cooke
There could be a way of countering one key aspect of the climate emergency by making much greater use of a widely-available plant: bamboo building.