California Epic Drought Leads to Lowest Snowpack in 500 Years
The snowpack for the state of California—a critical source of drinking water for the state—hit its lowest level in the last 500 years, according to a study published yesterday in Nature. When the snowpack was measured in April—historically the high point for the season's snowpack—it was just 6 percent of average for the past century.
California's 2015 Sierra Nevada mountains snowpack was "the worst in the past 500 years" http://t.co/v0NzH7AXdQ pic.twitter.com/v61PIWq4IG

— NYT Science (@NYTScience) September 15, 2015
Now, thanks to this latest study, we know that the snowpack hasn't been this low in at least five centuries. The study used tree-ring data from centuries-old blue oaks to provide historical context for this year's extremely low snowpack. The paper is the first of its kind in describing temperature and precipitation levels in the Sierra Nevada "that extends centuries before researchers started measuring snow levels each year," says The New York Times.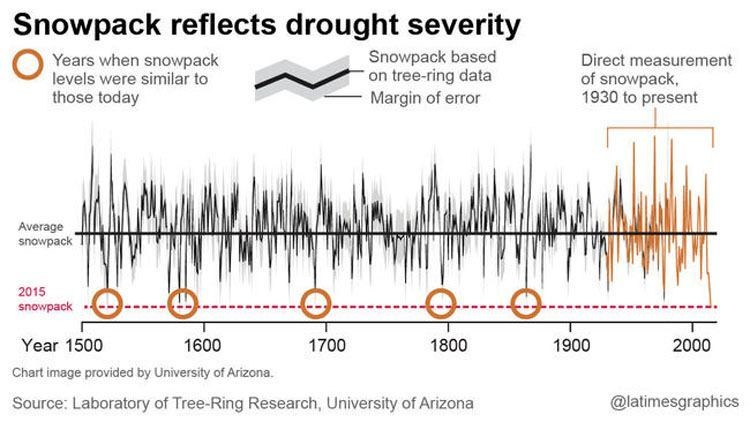 "The 2015 snowpack in the Sierra Nevada is unprecedented," Valerie Trouet, one of the authors of the study, told The Times. "We expected it to be bad, but we certainly didn't expect it to be the worst in the past 500 years."
Last winter was the hottest on record for California, so the little precipitation the state received often fell as rain and not snow. This has grave implications for the state's water supply because snowmelt provides one-third of the state's drinking water and is also critical for fighting the state's increasing wildfires. California is in the midst of a four-year drought that has produced devastating wildfires like the Valley Fire in Northern California, which is happening right now. This past spring, NASA scientist Jay Famiglietti warned that Californians only have one year of water left in the state's reservoirs.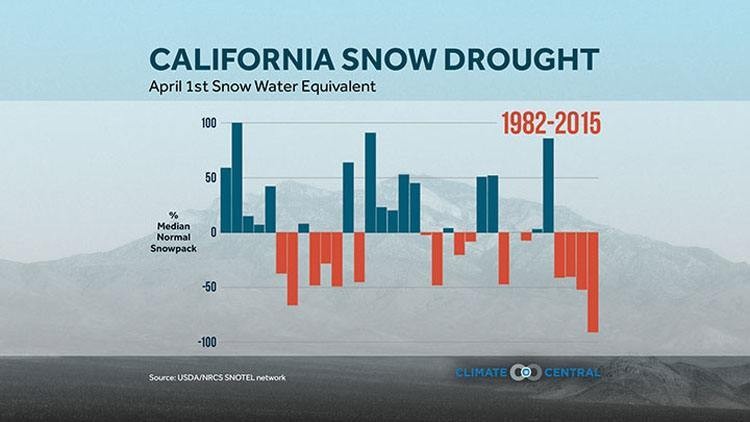 "The scope of this is profound," Thomas Painter, a snow hydrologist with NASA's Airborne Snow Observatory, told The Times. "This has been a very bad drought, and being able to understand the context of it is extraordinarily important."
To determine snowpack levels that far back, researchers combined two data sets of blue oak tree rings. "The first set provided historical precipitation levels from more than 1,500 blue oaks from 33 sites in California's Central Valley," explains The Times. "The team compared part of that data from the years 1930 to 1980 with actual snowpack measurements and found that both findings matched. Using this correlation, the team combined the precipitation data with a second data set of tree rings that looked at winter temperatures from 1500 to 1980." Based on the 500-year record, researchers estimated the odds of such a low snowpack happening more than once over that time period were less than five percent.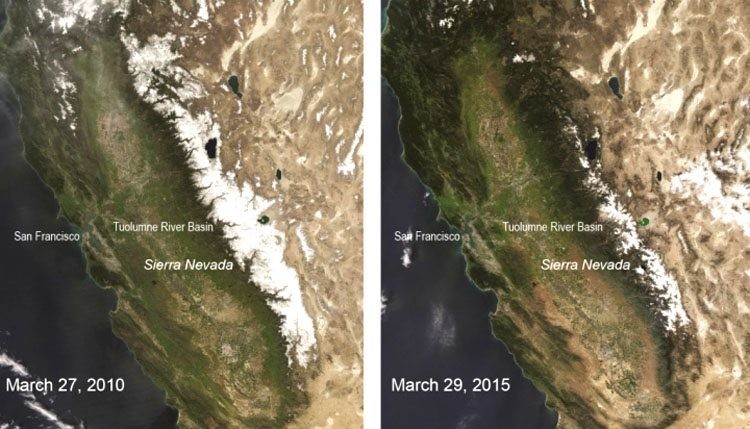 While the April 1 assessment finally goaded state officials into action with Gov. Jerry Brown issuing the state's first-ever mandatory water restrictions, many scientists saw this coming. Peter Gleick, president and co-founder of the water policy-focused Pacific Institute began investigating the impacts of climate change on California's water supply 30 years ago.
"It's shocking in a historical context because we've never seen this bad of a snowpack. It was not shocking in the sense that we sort of knew this was coming, and we just didn't know when," Gleick told Climate Central. "This is the new unpleasant reality" for Western water, not just California.
And don't expect the strong El Niño to "solve the drought" as warmer Pacific Ocean waters are expected to bring lots of precipitation to California this winter. Even if the state receives the much-needed rainfall, the storms might not produce a larger snowpack. If temperatures remain above-average as expected, much of that precipitation could fall as rain and not snow even at higher elevations—just as they did this past winter. Furthermore, Kirsten James at Ceres explains that because of climate change and poor water management, El Niño—not even a Monster El Niño—can't save California from its epic drought.
YOU MIGHT ALSO LIKE
Neglect Over Climate Change Is Putting My Generation of Skiers on Styrofoam Snow
Shocking Polar Bear Photos Show Stark Reality of Climate Change
www.facebook.com
Keep reading...
Show less
Scott Pruitt testifies during his Senate confirmation hearing for EPA administrator, January 2017.
The U.S. Environmental Protection Agency's (EPA) chief of staff pressured the leader of its Board of Scientific Counselors to change her congressional testimony to downplay the impact of the agency's mass dismissal of scientists from the board, the New York Times reports.
Keep reading...
Show less
By Jason Mark
Sequoiadendron giganteum. That's the scientific name for the giant sequoia: the mammoth trees found in California's Sierra Nevada that are the largest organisms on Earth, and among the longest-lived. Biologists estimate that about half of all sequoias live in Giant Sequoia National Monument, a 328,000-acre preserve in the Southern Sierra Nevada established by President Clinton in 2000.
Now that national monument is in jeopardy.
Keep reading...
Show less
By Andy Rowell
Donald Trump this week is launching an "energy week," pushing the argument that the U.S. will become a net exporter of oil and gas.
The president and his cronies are talking about a new era of "U.S. energy dominance," which could stretch for decades to come. However, no one believes the president anymore.
Keep reading...
Show less
UN
By Colleen Curry
The United Nations has designated 23 new sites around the world to its World Network of Biosphere reserves—stunning natural landscapes that balance environmental and human concerns and strive for sustainability.
The forests, beaches and waterways were added to the list this year at the International Coordinating Council of the Man and the Biosphere Programme meeting in Paris earlier this month.
Keep reading...
Show less
Jun. 26, 2017 01:48PM EST
www.elysee.fr
By Andy Rowell
There is a growing feeling within European capitals that a quiet, but deeply positive, revolution is happening under Emmanuel Macron in France.
Macron's opinion poll rating is high, especially boosted in how the young French president has reacted to Donald Trump on the international stage.
Keep reading...
Show less
Jun. 26, 2017 12:32PM EST
www.facebook.com
Keep reading...
Show less
Jun. 26, 2017 02:46PM EST
Keep reading...
Show less
Jun. 26, 2017 03:34PM EST
www.youtube.com
According to Bloomberg, "SeaWorld Entertainment Inc. received a subpoena earlier this month from regulators investigating disclosures and public statements by executives, including comments about the Blackfish documentary that caused a public backlash against the confinement of orcas.
Keep reading...
Show less


Get EcoWatch in your inbox