California Epic Drought Leads to Lowest Snowpack in 500 Years
The snowpack for the state of California—a critical source of drinking water for the state—hit its lowest level in the last 500 years, according to a study published yesterday in Nature. When the snowpack was measured in April—historically the high point for the season's snowpack—it was just 6 percent of average for the past century.
California's 2015 Sierra Nevada mountains snowpack was "the worst in the past 500 years" http://t.co/v0NzH7AXdQ pic.twitter.com/v61PIWq4IG

— NYT Science (@NYTScience) September 15, 2015
Now, thanks to this latest study, we know that the snowpack hasn't been this low in at least five centuries. The study used tree-ring data from centuries-old blue oaks to provide historical context for this year's extremely low snowpack. The paper is the first of its kind in describing temperature and precipitation levels in the Sierra Nevada "that extends centuries before researchers started measuring snow levels each year," says The New York Times.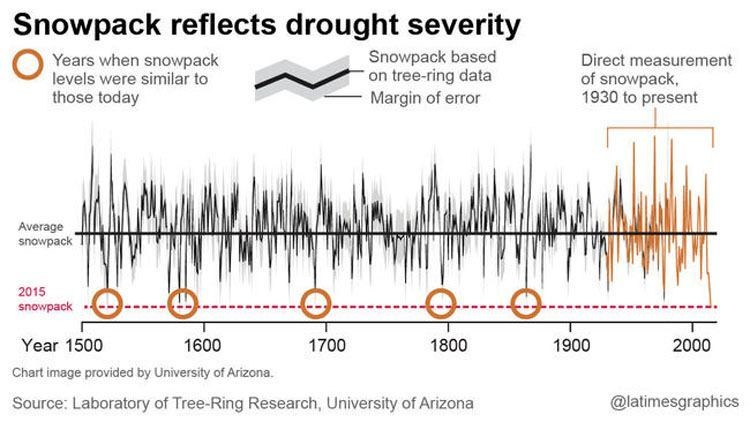 "The 2015 snowpack in the Sierra Nevada is unprecedented," Valerie Trouet, one of the authors of the study, told The Times. "We expected it to be bad, but we certainly didn't expect it to be the worst in the past 500 years."
Last winter was the hottest on record for California, so the little precipitation the state received often fell as rain and not snow. This has grave implications for the state's water supply because snowmelt provides one-third of the state's drinking water and is also critical for fighting the state's increasing wildfires. California is in the midst of a four-year drought that has produced devastating wildfires like the Valley Fire in Northern California, which is happening right now. This past spring, NASA scientist Jay Famiglietti warned that Californians only have one year of water left in the state's reservoirs.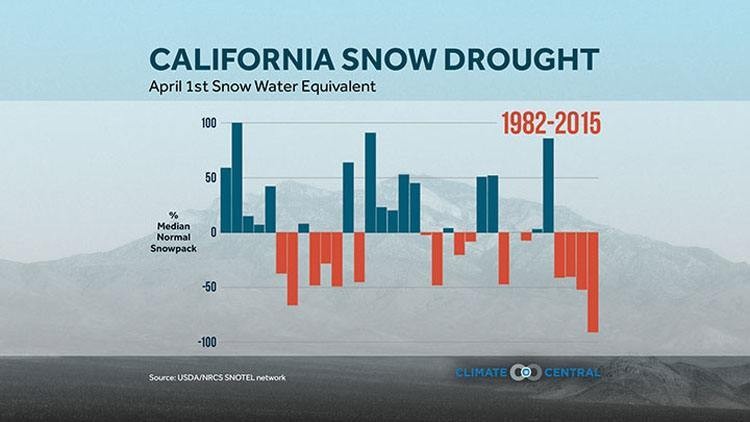 "The scope of this is profound," Thomas Painter, a snow hydrologist with NASA's Airborne Snow Observatory, told The Times. "This has been a very bad drought, and being able to understand the context of it is extraordinarily important."
To determine snowpack levels that far back, researchers combined two data sets of blue oak tree rings. "The first set provided historical precipitation levels from more than 1,500 blue oaks from 33 sites in California's Central Valley," explains The Times. "The team compared part of that data from the years 1930 to 1980 with actual snowpack measurements and found that both findings matched. Using this correlation, the team combined the precipitation data with a second data set of tree rings that looked at winter temperatures from 1500 to 1980." Based on the 500-year record, researchers estimated the odds of such a low snowpack happening more than once over that time period were less than five percent.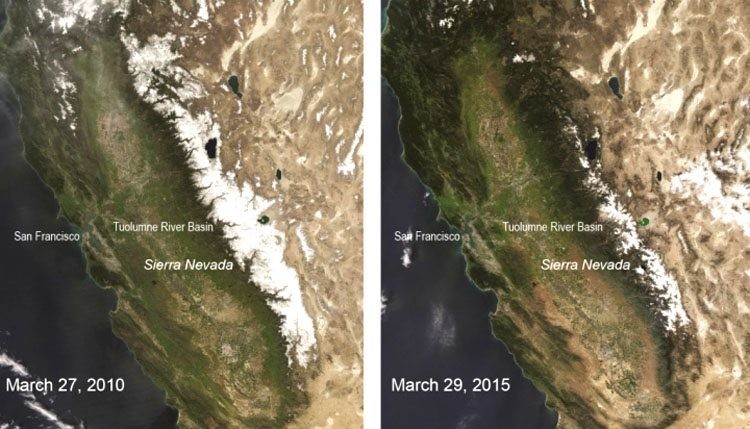 While the April 1 assessment finally goaded state officials into action with Gov. Jerry Brown issuing the state's first-ever mandatory water restrictions, many scientists saw this coming. Peter Gleick, president and co-founder of the water policy-focused Pacific Institute began investigating the impacts of climate change on California's water supply 30 years ago.
"It's shocking in a historical context because we've never seen this bad of a snowpack. It was not shocking in the sense that we sort of knew this was coming, and we just didn't know when," Gleick told Climate Central. "This is the new unpleasant reality" for Western water, not just California.
And don't expect the strong El Niño to "solve the drought" as warmer Pacific Ocean waters are expected to bring lots of precipitation to California this winter. Even if the state receives the much-needed rainfall, the storms might not produce a larger snowpack. If temperatures remain above-average as expected, much of that precipitation could fall as rain and not snow even at higher elevations—just as they did this past winter. Furthermore, Kirsten James at Ceres explains that because of climate change and poor water management, El Niño—not even a Monster El Niño—can't save California from its epic drought.
YOU MIGHT ALSO LIKE
Neglect Over Climate Change Is Putting My Generation of Skiers on Styrofoam Snow
Shocking Polar Bear Photos Show Stark Reality of Climate Change
www.youtube.com
Volkswagen is bringing back its hippie-approved minivan but with a 21st century upgrade—the new I.D. Buzz is all-electric.
The concept car was first revealed at the Detroit Auto Show in January and now the German automaker is officially putting its reinvigorated Microbus into production.
Keep reading...
Show less
I have asked repeatedly to have my short interview clip removed from this film. The director refuses. He believes his film is fair and balanced. I do not.

I am often interviewed (see media) and hardly ever quoted incorrectly or out of context. This film is one of those rare exceptions.
Keep reading...
Show less
Top of JPMorgan Chase Tower, Dallas, Texas. Joe Mabel / Wikimedia
Keep reading...
Show less
Cupping symptoms associated with dicamba damage on a cucumber plant. University of Arkansas.
Arkansas farmers filed a class-action lawsuit last week against Monsanto and German chemical company BASF, alleging that the companies' dicamba-based herbicides caused damage to their properties.
The plaintiffs claim that Monsanto and BASF implemented and controlled the dicamba crop system, releasing seed technology without a corresponding, safe and approved herbicide.
Keep reading...
Show less
Cup and bubblegum corals found in Northeast U.S. Canyons, the Atlantic's first marine monument. NOAA
Interior Sec. Ryan Zinke, who recently recommended a reduction in the size of the 1.35 million acre Bears Ears National Monument to President Trump, is advocating for more drilling and mining on public lands and waters.
The former Montana Rep. told Reuters that the development of America's protected federal lands could help the country become a "dominant" global energy force.
Keep reading...
Show less
Gage Skidmore / Flickr (CC BY-SA 2.0)
Dozens of scientists on the U.S. Environmental Protection Agency's (EPA) Board of Scientific Counselors and board subcommittees have been informed that they will not be renewed for their roles advising the agency, the Washington Post reported.
Keep reading...
Show less
www.youtube.com
Worried about the future of the Great Barrier Reef? If so, you're not alone.
Many publications have already written obituaries for the reef, despite the fact that it is not completely dead. Thanks to this video via Vox for sounding the alarm on this critical issue, before it's too late.
Keep reading...
Show less
Mike Mozart
By Olga V. Naidenko, Ph.D.
In a landmark rule with global repercussions, California state scientists are preparing to issue the world's first health guideline for Monsanto's glyphosate herbicide based on its cancer risk. The state's proposed safe level is more than 100 times lower than the U.S. Environmental Protection Agency's (EPA) legal allowance for the average-sized American.
Keep reading...
Show less
www.youtube.com
By Bob Henson
A high risk of life-threatening flooding continues on Wednesday over parts of the central Gulf Coast as Tropical Storm Cindy lumbers toward shore. The greatest flood threat will be across low-lying areas of far southern Mississippi and Alabama, according to the NWS/NOAA Weather Prediction Center. A second area with a moderate flood risk lies across far southeast Texas and southwest Louisiana.
Keep reading...
Show less