This website uses cookies to ensure you get the best experience while browsing it. By clicking 'Got It' you're accepting these terms.
California Epic Drought Leads to Lowest Snowpack in 500 Years
Sep. 15, 2015 09:19AM EST
The snowpack for the state of California—a critical source of drinking water for the state—hit its lowest level in the last 500 years, according to a study published yesterday in Nature. When the snowpack was measured in April—historically the high point for the season's snowpack—it was just 6 percent of average for the past century.
California's 2015 Sierra Nevada mountains snowpack was "the worst in the past 500 years" http://t.co/v0NzH7AXdQ pic.twitter.com/v61PIWq4IG

— NYT Science (@NYTScience) September 15, 2015
Now, thanks to this latest study, we know that the snowpack hasn't been this low in at least five centuries. The study used tree-ring data from centuries-old blue oaks to provide historical context for this year's extremely low snowpack. The paper is the first of its kind in describing temperature and precipitation levels in the Sierra Nevada "that extends centuries before researchers started measuring snow levels each year," says The New York Times.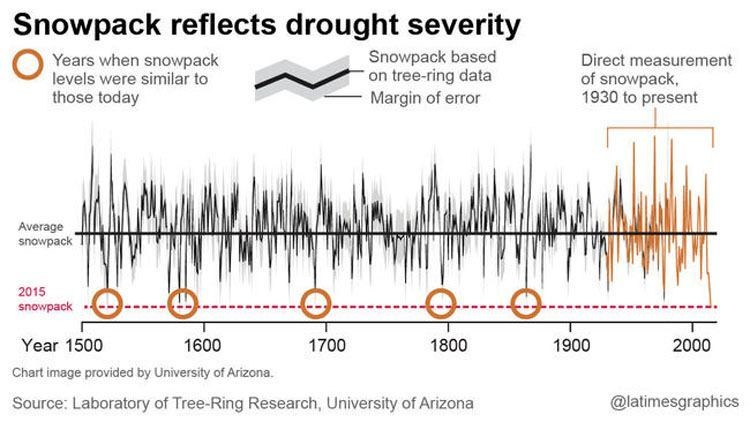 "The 2015 snowpack in the Sierra Nevada is unprecedented," Valerie Trouet, one of the authors of the study, told The Times. "We expected it to be bad, but we certainly didn't expect it to be the worst in the past 500 years."
Last winter was the hottest on record for California, so the little precipitation the state received often fell as rain and not snow. This has grave implications for the state's water supply because snowmelt provides one-third of the state's drinking water and is also critical for fighting the state's increasing wildfires. California is in the midst of a four-year drought that has produced devastating wildfires like the Valley Fire in Northern California, which is happening right now. This past spring, NASA scientist Jay Famiglietti warned that Californians only have one year of water left in the state's reservoirs.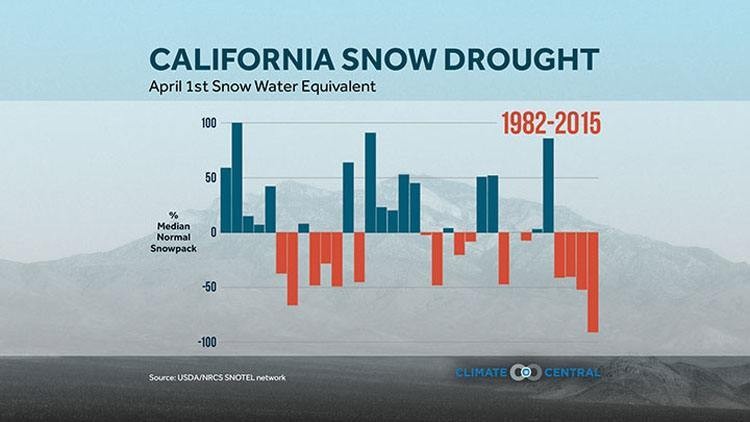 "The scope of this is profound," Thomas Painter, a snow hydrologist with NASA's Airborne Snow Observatory, told The Times. "This has been a very bad drought, and being able to understand the context of it is extraordinarily important."
To determine snowpack levels that far back, researchers combined two data sets of blue oak tree rings. "The first set provided historical precipitation levels from more than 1,500 blue oaks from 33 sites in California's Central Valley," explains The Times. "The team compared part of that data from the years 1930 to 1980 with actual snowpack measurements and found that both findings matched. Using this correlation, the team combined the precipitation data with a second data set of tree rings that looked at winter temperatures from 1500 to 1980." Based on the 500-year record, researchers estimated the odds of such a low snowpack happening more than once over that time period were less than five percent.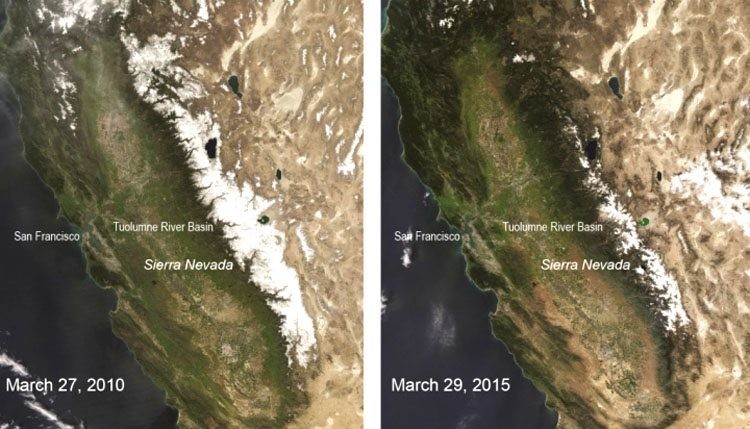 While the April 1 assessment finally goaded state officials into action with Gov. Jerry Brown issuing the state's first-ever mandatory water restrictions, many scientists saw this coming. Peter Gleick, president and co-founder of the water policy-focused Pacific Institute began investigating the impacts of climate change on California's water supply 30 years ago.
"It's shocking in a historical context because we've never seen this bad of a snowpack. It was not shocking in the sense that we sort of knew this was coming, and we just didn't know when," Gleick told Climate Central. "This is the new unpleasant reality" for Western water, not just California.
And don't expect the strong El Niño to "solve the drought" as warmer Pacific Ocean waters are expected to bring lots of precipitation to California this winter. Even if the state receives the much-needed rainfall, the storms might not produce a larger snowpack. If temperatures remain above-average as expected, much of that precipitation could fall as rain and not snow even at higher elevations—just as they did this past winter. Furthermore, Kirsten James at Ceres explains that because of climate change and poor water management, El Niño—not even a Monster El Niño—can't save California from its epic drought.
YOU MIGHT ALSO LIKE
Neglect Over Climate Change Is Putting My Generation of Skiers on Styrofoam Snow
Shocking Polar Bear Photos Show Stark Reality of Climate Change
Plus, learn if there's one that's best for your health.
Catherine Falls Commercial / Moment / Getty Images
An invasive Amynthas worm, also known as a crazy snake worm, Asian jumping worm and Alabama jumper Tom Potterfield / Flickr
By Jason Bittel
My wife and I built a house two years ago on a few acres of woodland outside of Pittsburgh. The backyard is full of maples, poplars, briars and common spicebush. Two-lined salamanders and grumpy-looking crayfish wade among the rocks in the small stream that runs down the edge of the property. Deer, raccoon and opossum tracks appear regularly in the snow and mud. Sometimes, my trail-cam even catches a pair of gray foxes as they slink through the night.
AleksandarNakic / Getty Images
By Kate Murphy
No matter the time of year, there's always a point in each season when my skin decides to cause me issues. While these skin issues can vary, I find the most common issues to be dryness, acne and redness.

David Woodfall / The Image Bank / Getty Images
By Sam Nickerson
The U.S. Environmental Protection Agency (EPA) in April 2018 proposed relaxing standards related to how it assesses the effects of exposure to low levels of toxic chemicals on public health.
Now, correspondence obtained by the LA Times revealed just how deeply involved industry lobbyists and a controversial, industry-funded toxicologist were in drafting the federal agency's proposal to scrap its current, protective approach to regulating toxin exposure.
Steve Irwin poses with a three foot long alligator at the San Francisco Zoo on June 26, 2002. Justin Sullivan / Getty Images
February 22 is the birthday of conservationist and beloved TV personality "Crocodile Hunter" Steve Irwin, who would have been 57 years old today.
Irwin's life was tragically cut short when the barb from a stingray went through his chest while he was filming in 2006, but his legacy of loving and protecting wildlife lives on, most recently in a Google Doodle today honoring his birthday.