This website uses cookies to ensure you get the best experience while browsing it. By clicking 'Got It' you're accepting these terms.
California Drought Threatens Salmon as River Water Levels Drop
Aug. 20, 2014 01:34PM EST
Recalling a disastrous 2002 salmon die-off in the rivers of northern California's Klamath Basin, members of Native tribes in that area, including the Karuk, Yurok and Hoopa, are pressuring the U.S. Bureau of Reclamation to act to prevent another kill they say is imminent.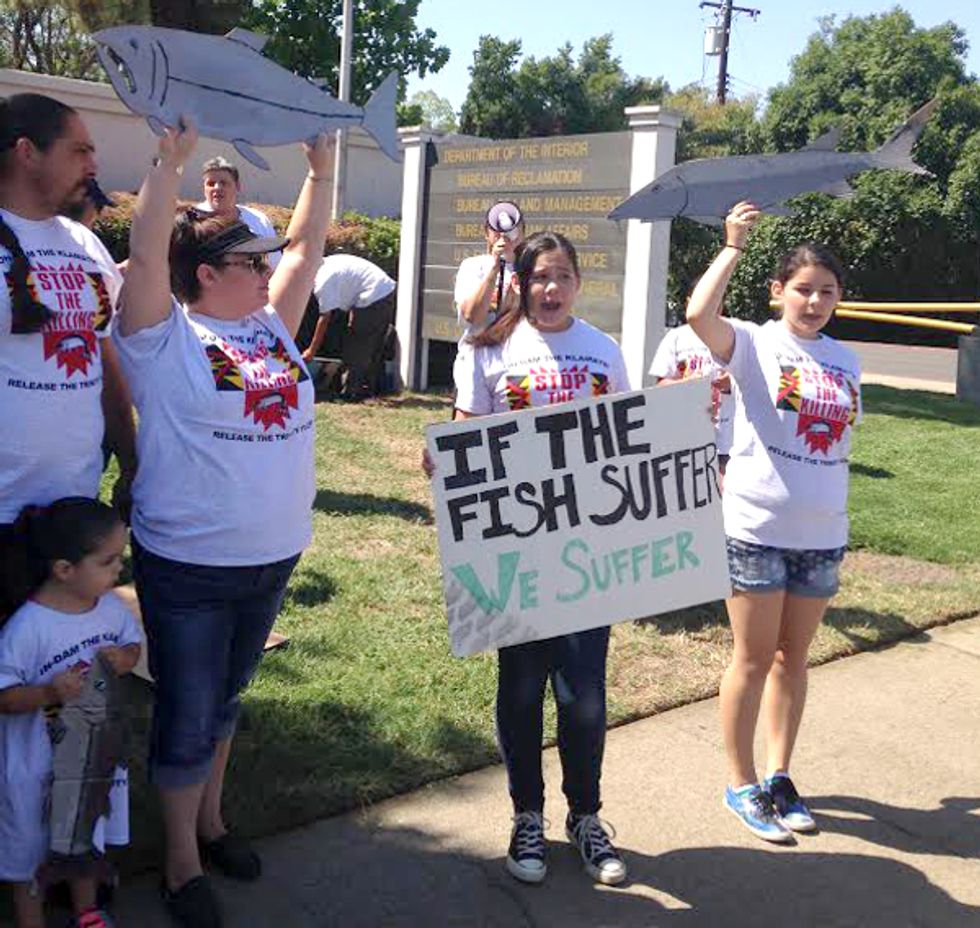 Tribal members are asking for the release of water from the Lewiston Dam on the Trinity River to prevent the spread of a parasite that preys on salmon and thrives in warmer, shallower water. While the bureau says it will release water if salmon start dying, tribal scientists say that that would be too late because the parasite spreads quickly once it takes hold.
Fisheries biologist Nat Pennington of the nonprofit Salmon River Restoration Council, which works to protect the region's ecosystem, said, "Klamath River flows are lower than they were during the 2002 fish kill. River temperatures are consistently higher than the acute stress level for Chinook salmon at 72 degrees Fahrenheit. If this trend continues, a large-scale fish kill is likely and the Klamath could loose the entire run."
While the agency previously denied the request, it said Friday it is reconsidering and is currently consulting with fisheries biologists and others, according to the San Francisco Chronicle.
But tribal members aren't sitting back to wait and see what happens. The Chronicle reports that they spoke with Interior Secretary Sally Jewell last week when she was in the area to visit wildfire-fighting facilities, and she agreed to look into the matter. They also took regional Bureau of Reclamation officials on a boat trip on the Trinity River and a visit to the Lewiston Dam reservoir to make their case.
And yesterday, hundreds of tribal members converged on Sacramento to hold a vigil outside the bureau's offices and demand that more water be released from the Lewiston Dam, as well as the Iron Gate Dam on the Klamath River.
"Fish are pooled up at cold water tributaries because the water in the river is so warm and polluted," said Hoopa Valley Tribal member Kayla Brown. "These fish are diseased and dying. Once the disease starts to spread, it can't be stopped and we will have a fish kill on our hands, courtesy of the Bureau of Reclamation."
Tribal members are also concerned that as California suffers from record drought, more of their local water is being diverted for agricultural use in the state's Central Valley. Since the '60s there have been competing claims for the water, which is shared by farms and fisheries. The Klamath Justice Coalition, which represents local Native tribes in their campaign to un-dam area rivers, said:
Currently, five times more water is diverted to the Sacramento Basin for Central Valley irrigators than is released into the Trinity River. Rally organizers and participants said they support Klamath River fisheries biologists' assertion that a minimum of 2,500 cubic feet per second be maintained near the mouth of the Klamath River. This can be achieved if the Bureau of Reclamation approves preventative releases from the Lewiston Dam reservoir.
"Reclamation says they need the water for Sacramento River salmon, but our rivers are actually being exported to meet the demands of corporate agriculture like the Westland's Water district," said Karuk tribal member Molli White.
YOU ALSO MIGHT LIKE
The Future of U.S. Fisheries: An Ecosystem-Based Approach
California Drought Forces Fisheries to Truck Salmon Smolts to Sea
The California Drought: Who Gets Water and Who's Hung Out to Dry?
EcoWatch Daily Newsletter
Germany reached an agreement Thursday that will allow it to stop burning coal by 2038.
This photograph shows green photosynthetic cyanobacteria growing and mineralizing in the sand-hydrogel framework. The living material has similar strength to cement-base mortar. College of Engineering and Applied Science at Colorado University Boulder /
EurekAlert!
Cement is a remarkable building material; it's cheap, durable and readily available. However, its production is a leading source of carbon dioxide emissions, coughing up 2.8 gigatons of emissions every year, as Advanced Science News reported.
Internal documents from the Department of Homeland Security reveal that non-violent demonstrators targeting the oil industry were classified as "extremists," with some organization members listed alongside known white supremacists, as The Guardian reported.
An additional 2,100 deaths from fatal injuries may occur in the U.S. every year from a 2 C rise in temperatures, which could have grave implications for global changes associated with the climate crisis.