This website uses cookies to ensure you get the best experience while browsing it. By clicking 'Got It' you're accepting these terms.


The best of EcoWatch, right in your inbox. Sign up for our email newsletter!
California Drought Proves Laws of Nature Are Absolute
Jul. 09, 2014 03:13PM EST
Climate

One peril of being human is that we often respond poorly to crises. I'm sure we all have examples—personal to global—where the heat of the moment pushed us in the wrong direction. Because we now face one of the worst droughts in California history, the stage is set to flirt with error on a scale as colossal as the crisis itself.
The House of Representatives, for example, passed H.R. 3964 in February to indiscriminately move additional northern California water southward, to abandon restoration of the beleaguered San Joaquin River and to hang our imperiled salmon out to dry.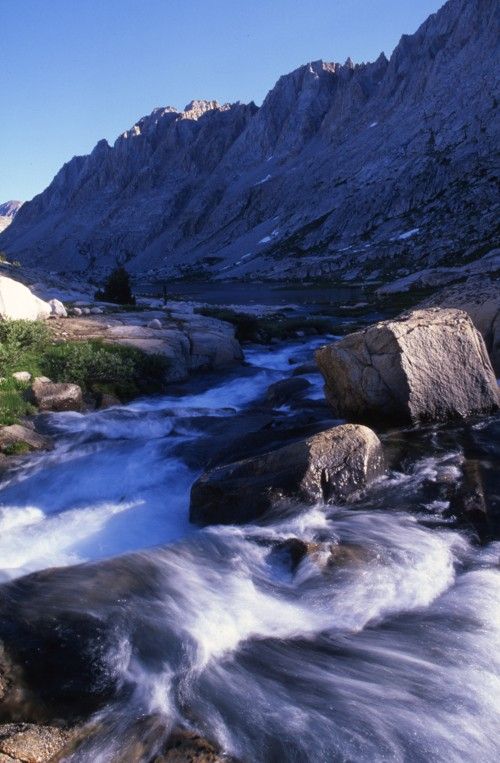 San Joaquin headwaters. Photo credit: Tim Palmer
For the first time ever, National Wild and Scenic River designation would be rescinded—the Merced below Yosemite our unlikely victim. None of this would ease the drought or solve the problems we face, as noted by Gov. Brown (D), who called the bill "unwelcome and divisive." Far more important than this retrograde edict, likely to be blocked in the Senate, the drought portends a future of chronic and crippling crises unless Californians embark on some reflection, initiative and change. Real change.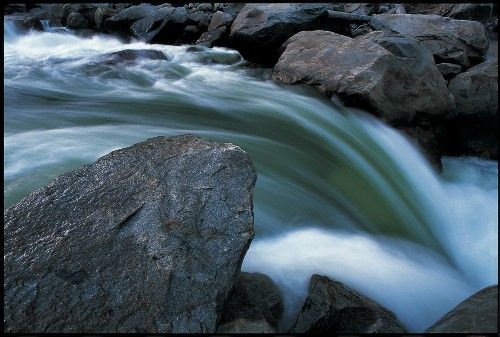 Merced River below Yosemite National Park. Photo Credit: Tim Palmer
Projections for global warming mean that 2014 could become a typical year in the decades ahead. The Scripps Institution forecast that Sierra snowpack may shrink by 80 percent this century. The Department of Water Resources reported that spring runoff will likely decrease by 52 percent, with farm deliveries curtailed 25 percent—optimistic figures at this point. The old-days of wide-open spigots are gone, and driving our salmon to extinction for a few emergency soakings of subsidized Central Valley croplands will not bring the old times back.
While we have no choice but to wait for the rain whenever it comes, the way we respond to this crisis is up to us. If we invested further in water efficiency, total demands could be cut by 20 percent, according to the Pacific Institute. Statewide, eight out of 10 gallons are used for irrigation, and the potential for savings in the farm sector are enormous. Drip irrigation, for example, is far more efficient than flooding or sprinkling, and vast acreage has been converted to drip methods in the past 20 years. More can be done if economic incentives would lead farmers to give up tenaciously held water rights from a time of great surplus instead of today's great scarcity.
Urban water supply improvements have made it possible for southern California to add millions of people without increasing water use. More can be done to stretch domestic supplies statewide (many consumers in Sacramento, for example, are not even metered). Efficiency gains will be mandatory to simply keep pace with population growth, which is slated to again double in the next 50 years or so, posing ominous requirements that will intensify after all the feasible water-saving measures are taken. Water's long-term availability raises questions about the sustainability of growth itself, and the current crisis is not a bad time to begin asking how we expect to accommodate ever-rising demands.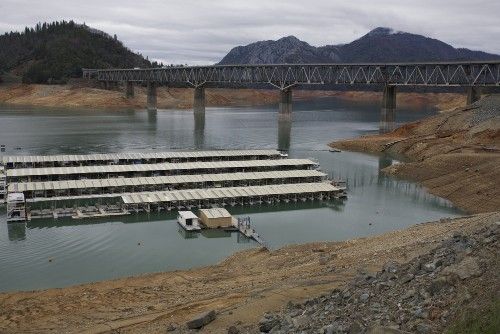 Shasta Reservoir. Photo credit: Tim Palmer
If we used the money that some are eager to lavish on uneconomic new dams and, instead, invested in efficiency, we could shift away from crisis and toward smart management. The saved water would allow California to cope with the reductions mandated by a harsher climate, and perhaps to buy some time to question unlimited growth and the cultural, economic and demographic challenges it forces upon us.
Our response to the drought highlights an unfortunate axiom of the human condition: as a society, we regard the laws of nature as optional when in fact they are absolute. Meanwhile, we regard our own customs and laws as immutable when in fact we can change them whenever we collectively decide to do so. In our minds we have perfectly reversed the way nature and culture actually function.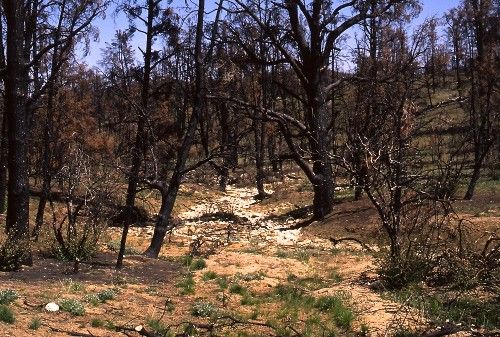 Piru Creek basin, drought, fire. Photo credit: Tim Palmer
We can't control the drought. But we can respond with foresight to the crises it delivers.  
Tim Palmer is the author of Rivers of America, Field Guide to California Rivers and The Wild and Scenic Rivers of America.
EcoWatch Daily Newsletter
Pxhere
By Richard Denison
Readers of this blog know how concerned EDF is over the Trump EPA's approval of many dozens of new chemicals based on its mere "expectation" that workers across supply chains will always employ personal protective equipment (PPE) just because it is recommended in the manufacturer's non-binding safety data sheet (SDS).
By Grant Smith
From 2009 to 2012, Gregory Jaczko was chairman of the Nuclear Regulatory Commission, which approves nuclear power plant designs and sets safety standards for plants. But he now says that nuclear power is too dangerous and expensive — and not part of the answer to the climate crisis.
A lake in Rocky Mountain National Park. Brett Walton / Circle of Blue
By Brett Walton
When Greg Wetherbee sat in front of the microscope recently, he was looking for fragments of metals or coal, particles that might indicate the source of airborne nitrogen pollution in Rocky Mountain National Park. What caught his eye, though, were the plastics.
Gabriele Holtermann Gorden / Pacific Press / LightRocket / Getty Images
In a big victory for animals, Prada has announced that it's ending its use of fur! It joins Coach, Jean Paul Gaultier, Giorgio Armani, Versace, Ralph Lauren, Vivienne Westwood, Michael Kors, Donna Karan and many others PETA has pushed toward a ban.
This is a victory more than a decade in the making. PETA and our international affiliates have crashed Prada's catwalks with anti-fur signs, held eye-catching demonstrations all around the world, and sent the company loads of information about the fur industry. In 2018, actor and animal rights advocate Pamela Anderson sent a letter on PETA's behalf urging Miuccia Prada to commit to leaving fur out of all future collections, and the iconic designer has finally listened.
Amer Ghazzal / Barcroft Media / Getty Images
If people in three European countries want to fight the climate crisis, they need to chill out more.
That's the conclusion of a new study from think tank Autonomy, which found that Germany, the UK and Sweden all needed to drastically reduce their workweeks to fight climate change.
Amazon Employees for Climate Justice held a press conference after the annual shareholder meeting on May 22. Amazon Employees for Climate Justice
An artist's rendering of the recomposition facility. MOLT Studios
Washington became the first U.S. state to legalize human composting Tuesday, offering residents a more environmentally friendly way to dispose of their remains, AFP reported.
Mr.TinDC / Flickr / CC BY-ND 2.0
Many nutrients are essential for good health.