This website uses cookies to ensure you get the best experience while browsing it. By clicking 'Got It' you're accepting these terms.
Buzzing Artist Swarms City Walls to Save the Bees
Mar. 31, 2015 09:19AM EST
With a little help from a spray can, a London-based street artist is swarming urban walls with a simple but important message: Save the bees.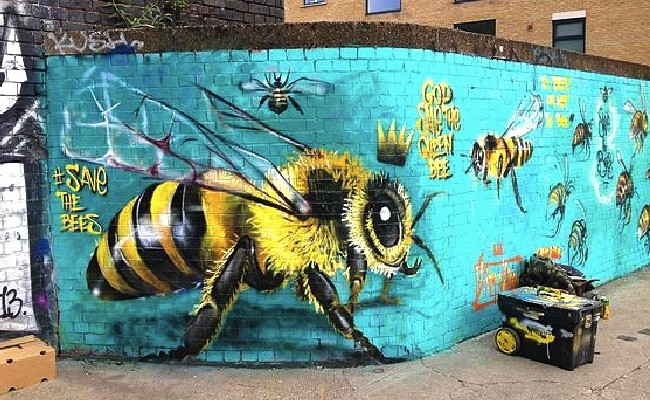 According to the artist's website, Louis Masai Michel and his collaborator Jim Vision have painted these beautiful bee murals to raise awareness about the planet's dwindling bee population and the "detrimental effects upon the human race if they disappear."
Protecting the planet's fragile bee population is not only important for saving honey and wax, honey bees—wild and domestic—perform about 80 percent of all pollination worldwide. In fact, seventy out of the top 100 human food crops, which supply about 90 percent of the world's nutrition, are pollinated by bees. However, our favorite black-and-yellow pollinators are dying off due to pesticides, drought, habitat loss, pollution and other major environmental concerns, scientists have said.
Insights writer Dr. David Suzuki wrote that neonicotinoid pesticides, or "neonics," have been identified as one of the main culprits to the die-offs. While scientists say the evidence is clear, the global food market has been slow to wake up to this reality. As Suzuki pointed out, "Neonics make up about 40 percent of the world insecticide market, with global sales of $2.63 billion in 2011—and growing. That may explain why, despite increasing evidence that they're harmful, there's been such strong resistance to phasing them out or banning them."
A report from the U.S. National Agriculture Statistics found that the honey bee population in the country has declined from about six million hives in 1947 to 2.4 million hives in 2008, a 60 percent reduction.
Looks like being a bee isn't so easy. Some of Michel's artworks appears to show what life may be like for the buzzing insects. Check out the murals below with the haunting words, "When we go, we're taking you all with us" on a wall in Shoreditch.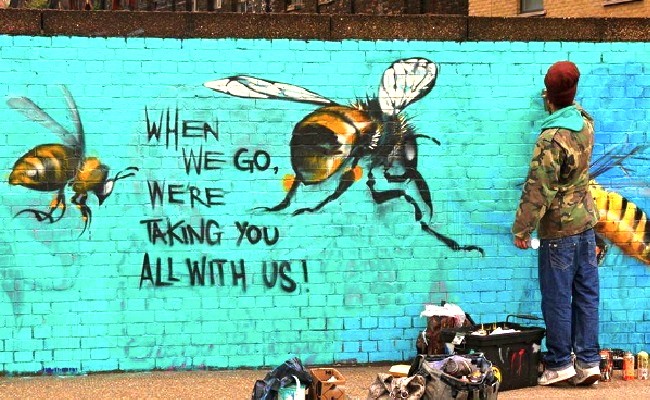 There's also this grim closeup of an overturned bee with a sign that says "Save me" on Brick Lane's Sclater Street in England.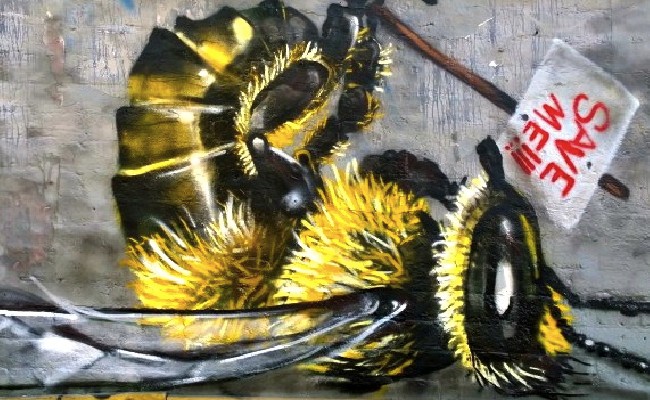 According to Colossal, after the murals became wildly popular in the English capital, they have since spread to Bristol, Glastonbury, Croatia, New York, Miami and New Orleans. You can track the artist's work with the Twitter hashtag #SaveTheBees. Below, you'll see a commissioned mural at a quince farm in Devon, England.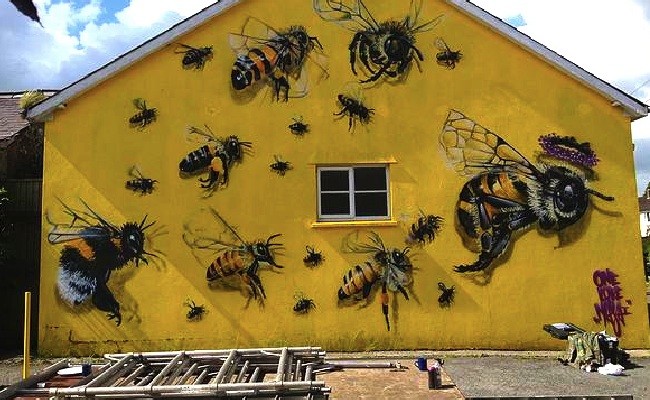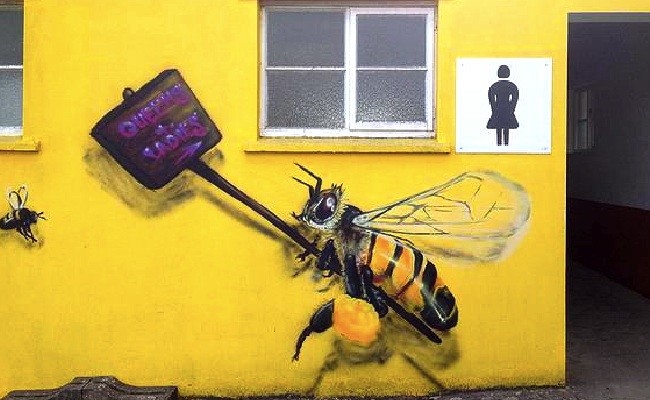 The inspiration behind the murals stemmed from a trip to South Africa where Michel learned about the devastating impacts of colony collapse disorder that's plaguing honeybee populations around the world. Colossal writes that Michel is currently taking a break from the bee murals to work on a different art project, but he plans to pick up phase two the bee project sometime next year.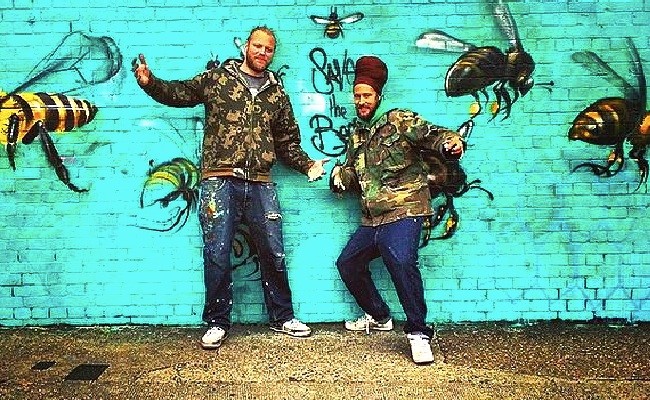 Ever the artist-conservationist, Michel also creates art to raise awareness for other rare or endangered animals species around the world, such as the grey African crowned crane,  Rothschild's giraffes, rhinos and more.
@World_Wildlife #savetherhino painted this in london to raise awareness of rhino poaching pls share it...one love pic.twitter.com/DPZao38U85

— louis masai michel (@louismasai) May 15, 2013
Michel realizes there is only so much that art can do, but points out the importance of raising awareness. "I'm not saying that by me painting a painting it's going to save any animals," he says in the video below (where he's spray-painting a picture of a Scottish bobcat at an art party). "But it might mean that people are a little but more woken. They're like, 'Oh, okay, there's only 400 bobcats left in the world. That's pretty interesting.' And then maybe they might look into it a little bit."
YOU MIGHT ALSO LIKE
Pick the Winner: 32 Endangered Animals Face Off in March Sadness Bracket
SeaWorld Whistleblower Tells Jon Stewart 'Morally This is Just Not Right'
Revolutionary Honey Harvesting Beehive Crowdsources $2 Million in First Day
Plus, learn if there's one that's best for your health.
Catherine Falls Commercial / Moment / Getty Images
An invasive Amynthas worm, also known as a crazy snake worm, Asian jumping worm and Alabama jumper Tom Potterfield / Flickr
By Jason Bittel
My wife and I built a house two years ago on a few acres of woodland outside of Pittsburgh. The backyard is full of maples, poplars, briars and common spicebush. Two-lined salamanders and grumpy-looking crayfish wade among the rocks in the small stream that runs down the edge of the property. Deer, raccoon and opossum tracks appear regularly in the snow and mud. Sometimes, my trail-cam even catches a pair of gray foxes as they slink through the night.
AleksandarNakic / Getty Images
By Kate Murphy
No matter the time of year, there's always a point in each season when my skin decides to cause me issues. While these skin issues can vary, I find the most common issues to be dryness, acne and redness.

David Woodfall / The Image Bank / Getty Images
By Sam Nickerson
The U.S. Environmental Protection Agency (EPA) in April 2018 proposed relaxing standards related to how it assesses the effects of exposure to low levels of toxic chemicals on public health.
Now, correspondence obtained by the LA Times revealed just how deeply involved industry lobbyists and a controversial, industry-funded toxicologist were in drafting the federal agency's proposal to scrap its current, protective approach to regulating toxin exposure.
Steve Irwin poses with a three foot long alligator at the San Francisco Zoo on June 26, 2002. Justin Sullivan / Getty Images
February 22 is the birthday of conservationist and beloved TV personality "Crocodile Hunter" Steve Irwin, who would have been 57 years old today.
Irwin's life was tragically cut short when the barb from a stingray went through his chest while he was filming in 2006, but his legacy of loving and protecting wildlife lives on, most recently in a Google Doodle today honoring his birthday.