This website uses cookies to ensure you get the best experience while browsing it. By clicking 'Got It' you're accepting these terms.
Butchering Keystone XL Facts, George W. Bush Says 'Build the Damn Thing'
Nov. 18, 2013 12:10PM EST
By Sharon Kelly
Make private companies happy. Don't worry about the environment. Stop fretting about long-term sustainability. Forget renewables, property concerns, the safety of our water and air. Make private companies happy. This was the forty-third president's message to the current administration at the DUG East conference held by the shale gas industry on Thursday.
With characteristic bluntness, former President George W. Bush spoke his mind on energy policy to several thousand oil and gas executives gathered in Pittsburgh, PA, at an exclusive luncheon on Wednesday.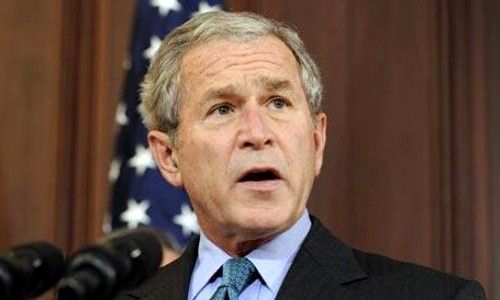 "I think the goal of the country ought to be 'how do we grow the private sector?'" President George W. Bush said. "That ought to be the laser-focus of any administration. And therefore, once that's the goal, an issue like Keystone pipeline becomes a no-brainer."
"If private sector growth is the goal and Keystone pipeline creates 20,000 new private sector jobs, build the damn thing," President George W. Bush said, prompting a burst of applause from the more than 4,000 oil and gas executives attending the conference.
In his candor, President George W. Bush also highlighted the essence of what burns bright but short in the fossil-fuel doctrine.
In emphasizing a get-it-now, don't-worry-about-the-future approach to energy, he drove home why the Keystone XL pipeline has become such a lightning rod issue. The reason: it is symbolic of the overall short-sightedness of increasing our long-term addiction to oil rather than pushing with urgency toward renewable energy.
If the Keystone XL is completed, it will pump up to 830,000 barrels of tar sands dilbit a day from the boreal forests of Canada to refineries in Texas. Producing and burning tar sands oil releases 81 percent more greenhouse gasses than conventional oil, according to estimates from the State Department and the U.S. Environmental Protection Agency. And because mining tar sands destroys the carbon-absorbing boreal woodlands, the Natural Resources Defense Council estimates that rapid production of tar sands oil shipped via the pipeline could release an additional 47.3 million metric tons of carbon dioxide equivalent into the atmosphere.
That helps explain why prominent climatologist James Hansen, former head of NASA's Goddard Institute for Space Studies, has called Keystone XL the "fuse to the biggest carbon bomb on the planet."
In 2011, more than 1,200 people were arrested for civil disobedience in protest of the Keystone XL. More than 75,000 people have signed a pledge stating that they will also risk arrest if the State Department's ongoing National Interest Determination finds in favor of the project.
Part of the pipeline project is already underway. The southern half of the Keystone pipeline is nearly finished construction, but workmanship has been shoddy, a recent report by Public Citizen found. The permit for the northern half, which would cross the U.S.-Canada border, has been on hold since January 2012.
This is not the first time President George W. Bush has backed the Keystone XL, nor even the first time he labeled the project a "no-brainer." Similar comments in 2012 prompted The New York Times' editorial page editor to respond that "[i]f there were no-brainers in this area, Americans wouldn't be so dependent on foreign oil and so worried about rising prices."
Although it is one of very few issues he has spoken out about,President George W. Bush has struggled to keep his facts straight on Keystone XL. In 2012, he cited estimates that 20,000 jobs could be created by the pipeline project. "But these claims are greatly exaggerated," a fact check that year by The New York Times concluded. "The federal government estimates that it would create 6,000 to 6,500 temporary construction jobs at best, for two years." Nonetheless, Bush continues to cite that flawed statistic.
And just like Keystone construction jobs, the impact on the international oil market from tar sands will be short lived, according to a new report by the International Energy Agency. "The role of OPEC countries in quenching the world's thirst for oil is reduced temporarily over the next ten years by rising output from the U.S., from oil sands in Canada, from deepwater production in Brazil and from natural gas liquids from all over the world," the IEA wrote in a report released on Tuesday. "But, by the mid-2020s, non-OPEC production starts to fall back, and countries in the Middle East provide most of the increase in global supply."
During his talk Wednesday, President George W. Bush largely avoided addressing current controversies, saying that he no longer wants to be "in the swamp."
"I think it's bad for the country to have former presidents out there undermining the current president and so whatever I say I'll try to be as vague as possible with this many people in the audience," he said. "If I want to make news, I'll either criticize the president or the Republican Party, and I don't intend to do either," he added.
But when it came to the Keystone XL, Bush apparently could not restrain himself.
President George W. Bush's love affair with the oil industry has been longstanding. "I think it's mostly because I'm from Midland, TX," he said at the conference. "And we don't like government, we don't like Wall Street, we don't like much. We like oil and gas."
His close ties to the industry became a hallmark of his administration's domestic and foreign policy positions. He passed the Energy Policy Act of 2005, which helped to spur the current drilling rush by ensuring that fracking would be exempt from key provisions of the Safe Drinking Water Act. And anti-war organizers accused him of trading "blood for oil," by sending troops to invade oil-rich Iraq.
President George W. Bush came close to conceding that point at the conference on Wednesday. "We never said 'keep the oil flowing,' but it was implicit in foreign policy," he said. "There's a certain realism to the world."
But a minute later, he seemed to reconsider his words. "You know, people accuse me of going into Iraq because of oil. Wrong," President George W. Bush said, adding that he made the decision to invade under "the Bush doctrine," a philosophy he describes in a memoir he published a few years ago.
He began the conversation at the luncheon by discussing Wounded Warriors, a program through which President George W. Bush meets with wounded vets. His unease at confronting those soldiers and the injuries they endured was palpable. "I see them all the time," Mr. Bush said about veterans. "I mean I, you know, I do my best to explain why the decision that was made and the importance of their sacrifice."
He was silent on the toll that wars in Iraq or Afghanistan took on people in those countries, nor did he mention Guantanamo Bay. But the rest of the world has not forgotten and there are hints that his foreign policy actions might eventually catch up with him—or at minimum pose the occasional headache.
In 2011, President George W. Bush cancelled a trip to Switzerland after human rights activists said they would file a complaint with Swiss prosecutors against him for violations of the Geneva Convention, including the Convention Against Torture.
For the most part, the former president seemed eager to relinquish the spotlight as he spoke in Pittsburgh. "Eight years of fame and power is enough," he said. He repeatedly steered the conversation away from politics and towards his new hobby. "I'm a pet portrait painter," he told the crowd.
And international law or human rights were not a focus of concern for this crowd. This was a warm gathering of old friends.
"Ever think about getting back into the oil and gas industry?" moderator Richard Mason asked the former president.
"I take small working interests right now," President George W. Bush said, "Yeah. But giving speeches for money is better than royalty checks sometimes," he added with a grin.
Visit EcoWatch's KEYSTONE XL page for more related news on this topic.

EcoWatch Daily Newsletter
Wesley Martinez Da Costa / EyeEm / Getty Images
By David R. Montgomery
Would it sound too good to be true if I was to say that there was a simple, profitable and underused agricultural method to help feed everybody, cool the planet, and revitalize rural America? I used to think so, until I started visiting farmers who are restoring fertility to their land, stashing a lot of carbon in their soil, and returning healthy profitability to family farms. Now I've come to see how restoring soil health would prove as good for farmers and rural economies as it would for the environment.
skaman306 / Moment / Getty Images
Radish (Raphanus sativus) is a cruciferous vegetable that originated in Asia and Europe (1Trusted Source).
The Centers for Disease Control (CDC) released new numbers that show vaping-related lung illnesses are continuing to grow across the country, as the number of fatalities has climbed to 33 and hospitalizations have reached 1,479 cases, according to a CDC update.
During the summer, the Arctic tundra is usually a thriving habitat for mammals such as the Arctic fox. Education Images / Universal Images Group via Getty Images
Reports of extreme snowfall in the Arctic might seem encouraging, given that the region is rapidly warming due to human-driven climate change. According to a new study, however, the snow could actually pose a major threat to the normal reproductive cycles of Arctic wildlife.
Vegan rice and garbanzo beans meals.
Ella Olsson /
Pexels
One common concern about vegan diets is whether they provide your body with all the vitamins and minerals it needs.
Many claim that a whole-food, plant-based diet easily meets all the daily nutrient requirements.
A fracking well looms over a residential area of Liberty, Colorado on Aug. 19.
WildEarth Guardians / Flickr